The point of sale systems used previously took up a lot of space and was complicated to use. They required manual input by the owner which meant more human errors and wastage of time and energy. But the modern point of sale systems are simple and easy-to-use while being dependable, accurate, and efficient – making your life easier!
Point Of Sale Systems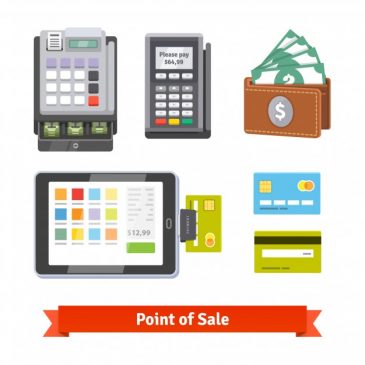 Many retailers are shifting towards modern POS systems for the sake of convenience and efficiency. POS system is a computer system where the cashier inputs the products purchased, calculates the total cost, and processes the customer's bill.
But Point of sale system today does so much more than just scanning your products, barcodes and processing the bills. They also help you track your inventory giving you all the information you need at your fingertips! Not just that, they can even track your customer's shopping behavior giving you a complete analysis of their shopping pattern so you can personalize your marketing strategies.
Advantages Of Having Point Of Sale
Switching to the new POS system is the best thing you can do for your business. Here are a few advantages of having a POS system over the old-fashioned cash registers:
1.Managing the Inventory
Managing a physical inventory can be expensive and pretty time-consuming. Products may have different volumes, sizes, or colors, and organizing the products based on such variations can get hectic. With a modern POS system, you can easily categorize products based on their name, brand, supplier, or even color.
2.Sales History
Modern POS systems maintain the product's sales history so you can know which products are selling fast and which aren't. With a comprehensive sales history, managing your inventory will be easier as you can avoid understocking or overstocking of products.
3.Time and Money Management
Maintaining a manual cash register takes up a lot of time. On the other hand, POS systems are faster and much more efficient. Carrying out the whole payment process from scanning the barcode to the processing of the bill, using a POS system will save you and your customer a lot of time.
4.Real-Time Sales
POS systems can give you direct access to your back office servers keeping you in the loop of all your store's activities in your absence. Important information including sales reports, profits, sales per employee are all readily available for you to view. You can access all this data from anywhere and anytime you want!
5.Easy Sales Tax and Accounting
POS systems are faster and easy to use. They can help you with all the complicated tax and other calculations. These days, POS systems come with accounting modules integrated into them to make your life easier.
6.Financial Control
Managing your finances becomes an easy task with a POS system. Interest rates, installment plans, and other financial possibilities can be easily calculated. With a modern POS system, you can rest assured that all your numbers are accurate, and without a flaw!
7.Enterprise Resource Planning (ERP) Connectivity
ERP refers to the organized management of business processes like orders, profits, sales, accounts, and more. Connecting POS terminals with the back-office server and other terminals lets you manage the business processes effortlessly.
8.Easy Access to Information
POS systems allow easy access of information to you and your staff. The POS system will tell you what products are being sold and at what prices. The POS systems will also benefit the customer as a detailed bill with accurate information about the product will be given to them.
9.Mobility
Customers hate waiting and end up leaving your store when the queue is too long. POS systems will let you work faster. There's a greater possibility of having mobile or handheld devices in many corners of the store to help you process bills faster.
10. Employee Training Made Easier
Earlier, training the employees on how to use electronic devices used to take weeks, sometimes even months. Using modern POS systems is easy and doesn't require a lot of training. Now, the workers will be ready to give their best even in progressive situations.
Shopify provides a variety of software and hardware tools that will benefit every business. These tools are easy-to-use and affordable as well. The Shopify hardware kit contains a cash register, receipt printer, barcode printer, barcode scanner, and an iPad stand. With this, you have everything you need to conduct your business in the most efficient way possible.
POS systems are capable devices that will help your business grow. Find the right one for your store now!