For years, memes have been a ray of hope and fun in the judgemental and pessimistic world of social media. While some memes have become classics, others have turned to a flash in the pan. These days, content creators are experimenting with their hands on several meme generator tools to create hilarious content. Such content has a higher possibility of getting viral on different social media platforms. Using memes to grow marketing is one of the efficient marketing strategies.
The popularity of memes can be attributed to the fact that memes allow you to convey a point in minimal words. In the modern world, where the attention span of the average internet user is dwindling by the minute, this provides a unique opportunity for brands to get their voices heard. That is why many organizations are incorporating memes as a part of the social media marketing initiatives.
While you will see memes driving the social media success story of multiple brands, hundred other such campaigns fall flat. You need to understand the right way to incorporate memes and plan your strategies accordingly. In this article, we get into the details of meme marketing and tell you how to leverage this trend to boost your marketing efforts.
Boosting Your Marketing Strategies with Memes
Before you get to use memes in your marketing, you need to understand that memes have a reference to popular culture. Over time, they become irrelevant. If you want to strike a chord with the audience, you need to create the right meme at the right time. When used properly, memes are an efficient way of conveying your brand personality. The fun aspect of memes and the appropriate placement of the brand logo helps organizations humanize themselves in front of their target group.
Such efforts at humanizing a brand cause people to engage better with your digital content. The higher the engagement of a post, the more likely it is to appear on the feeds of people. That is why, if leveraged properly, meme content stands a higher chance of getting viral.
The process of creating memes is simple, and there are multiple dedicated tools. If you are out of ideas on new content, you can refurbish a popular meme by adding a quirky caption. Moreover, since most social media platforms acknowledge the popularity of memes, you can cross-promote your memes to cater to multiple audiences. Thus, from a marketing perspective, memes give a good return on your investment.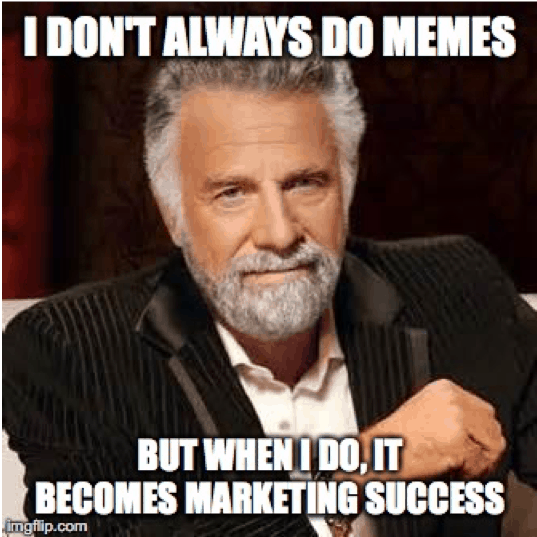 Using Memes in Marketing
Contrary to popular beliefs, the use of memes in marketing need not be restricted to social media. You can add appropriate memes to your website, landing pages, and advertisements. Memes can also be a part of your email marketing initiatives.
However, when you use memes in marketing, you need to realize that it becomes a part of your brand image. Callousness would cause the marketing initiative to backfire and get you negative publicity. That is why you need to be cautious about the appropriate usage of memes in marketing. Here are some tips to help you.
Find Memes to Match Your Personality
Understand that not all memes share the same language, and you need to be extra cautious to ensure that your meme language is in alignment with your company values. The meme that you post should not be offensive to any group or community. While it is acceptable to poke fun at yourself or your brand, make sure that you do not poke fun at your viewers.
Incorporate Your Brand Identity in The Memes
As a brand, you will have your logo, brand colors, tagline, and other things that form your digital identity. If you can incorporate these in your memes, people will relate them to your brand when they see the meme elsewhere. This will boost your brand identity and help in your marketing campaigns.
Understand the Origin of Your Memes
The reason why many brands take to meme marketing is that they want to cut the chase and create quick content. While it is acceptable to refurbish meme content, do the necessary homework and understand the origin of the meme before posting it. It is a good practice to avoid controversial memes that can land you in legal problems or put you in a situation where you must apologize to the audience.
Choose a Relevant Meme
Before you market a meme, see that it has not reached its saturation point. Do your research on Google Trends to gauge the popularity of a meme. If the meme has an increasing number of searches, it will be relevant, and you can market it.
The only situation where you do not have to worry about the decreasing popularity of a meme is when the meme has a retro factor. Such memes do not go out of style, and you can reuse them as necessary.
Place Your Memes Correctly
While memes are hugely popular across all platforms, you need to confirm that you are placing a meme in the right position. For example, a retro meme that compares modern life with that of the 1980s will not be appropriate for a platform that is dominated by millennials.
If you are unsure about the success of a meme, we recommend that you implement that on a small scale. For example, you can share the meme only on one of your social media pages and watch its performance before incorporating it into your website.
Repost Relevant User Generated Memes
The existence of memes centers around the idea that they are meant to be shared. Hence, if you come across some of your follower's meme that are relatable to your brand, you can consider reposting it. However, follow the basic courtesy and take permission from the meme's original creator before you repost it.
Organize Meme Contests
If you are running out of meme content, you can organize digital competitions where you incentivize your followers into creating a meme on your brand or its products. Reward the users who create the best memes and repost their content from your brand page. That way, you will get access to fresh, witty content with minimal effort on your part.
When you set out on the journey of using memes for marketing, we recommend that you spend some time evaluating the different meme creation tools. Depending on whether you intend to edit and repost old content or want to create a meme from scratch, choose an editing tool.
If you are creating fresh meme content, we suggest that you show it to your immediate friends and family before you circulate it online. That way, you can take in constructive criticism and create better memes. As you leverage memes to improvise on your marketing strategies, we wish you the very best in your journey ahead.