Hum Tum And Them is a web series centrally based on the stories of two single divorced parents Shiva and Yudi. Shweta Tiwari has started her second journey with this web series, it is airing on ZEE5.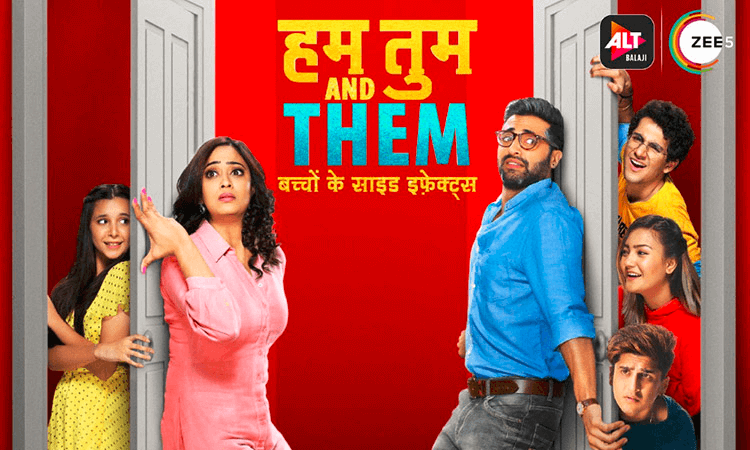 STAR CASTS
Shweta Tiwari- as  Shiva and  Akshay Oberoi- as Yudi plays this character in real life.
SYNOPSIS
This is the story of Shiva who is a separated single mother of 13- year-old daughter, Jahan. Shiva loves Jahan a lot but her daughter didn't enjoy her company so much.
On the other side, the story is totally different because Yuvi as a father didn't want to take responsibility for his three children's Aaryan, Ojhas, and Vyom. So, his children live with their Grandparents.
Shiva is a young talented lady who wants to achieve her dream in life but her husband never supported him in that way which will become a measure reason behind her separation.
But in  Yudi's case, he lost his wife due to cancer 5 years ago. After losing his wife to cancer, freedom is the only thing that matters to Yudi.
STORY TIME
In the first season, the story begins like this, Shiva with her daughter moving towards the airport for their pre-planned trip to Kasauli, that they were about to take together but unfortunately, Jahan was no so much attached with Shiva so she ditched her right in the airport because she doesn't want to join her. A heartbroken Shiva left the airport all alone, where for the first time Yuvi and Shiva crossed each other.
Shiva reaches the hotel and with a very disheartening moment she is thinking about Jahan and takes a bottle and spends her first evening at a hill station and crying, begging Jahan over voice notes and messages to come down.
Yudis story begins with his children after he reached Kasauli after so long time to meet their kids after he enjoyed his five years of bachelor life.
But now there is a twist in the story: his children want to re-enrol in his life again which is very disturbing his mind, as his parents are leaving India for some medical issues for a few months, so they asked Yudi to take the responsibility.
After all, this Yudi too has drowned himself in alcohol after learning that his three kids Aaryan, Ojhas and Vyoma shall stay with him for 3 months. After losing his wife to cancer, freedom is the only thing that matters to Yudi.
If you haven't watched the full season of Hum Tum and Them yet. Then download the Vodafone Play for free and also in ZEE5 to see how Shiva and Yudi find love again in each other, but their personal inhibitions, as well as children's disapproval, keep them from truly coming together.
REVIEWS
Sahir Raza's simple, and realistic storyline in Hum Tum And Them. Since the audience liked the drama which was work to a degree.
This web series has lots of Indian Serial dramas but continuous with entertaining bits involved throughout the narrative. All the modern-urban class life's cliches seen throughout the season. Basically, all the topics are related to sex, feminism, live-in,  and entertainment. It's all fine until the final few episodes when the story takes a serious turn. The few final episodes take away the fun and engaging content. Although the climax is understandable, it seems unsatisfactory because the intended end comes so earlier.
Overall HUM TUM AND THEM is still a watchable entertainment which you can enjoy with your family. Give it a try.
Watch trailer:
Highlights?
Shweta Tiwari is starting her second journey from this ZEE. Lead Pair Chemistry between Shweta Tiwari and Akshay Oberoi. Entertainment quotient: Modern Narrative
Will You Recommend It?
Yes, but with reservations.


Users can access the entire ZEE5 content library on 5 screens simultaneously. Get ZEE5 subscription today and enjoy binge-watching. Download the latest version of ZEE5 Android App & ZEE5 iOS App today.