5 – Khandahar Waterfall
Khandahar waterfall is the 12th highest waterfall in India. Originating from the Korapani Nala it falls from a height of 801ft. in a single stream. Gushing amidst thick jungle and rugged terrain, this waterfall is perennial which makes it a famous picnic spot for locals as well as tourists from every corner. Adventurous travelers can try hiking and trekking but should also be careful, should be fully equipped and well aware of the area as the dense jungle has many wild animals and also many other natural dangers. One should be careful and not try to climb the steps along the walls of the waterfall as they are slippery and can cause accidents.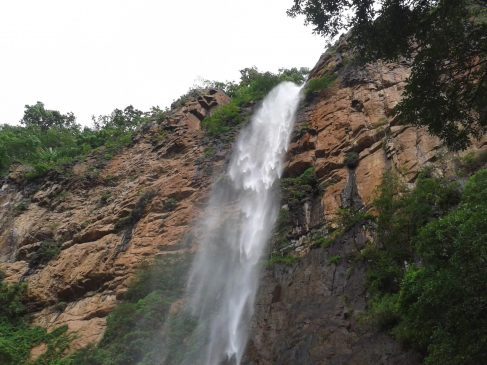 Before going one must make arrangements to return back the same day as there is no hotel around and there is no night stay facility. There is only one guest house run by PBDA which is given only to VIPs.
Location of Khandahar waterfall – 
Sundergarh district, Odisha
How to reach Khandahar waterfall?
The nearest airport is Ranchi. You can take a train from Ranchi to Rourkela or Keonjhar and book a cab or bus to Khandahar falls. It is 104kms by road from Rourkela. The road is available up to Bonaigarh in all weathers and the last 2kms has to be covered by foot. Although the journey is arduous and hectic, once you reach there the beauty will make the tiredness vanish into thin air and the cool water will refresh the body.
Best time to visit Khandahar waterfall – 
November to February.
Places to explore near Khandahar waterfall – 
Although there aren't any particular tourist spots near the falls, one can explore the jungle but make sure not to go too deep. There are a number of ancient temples nearby which can be explored. The city of Rourkela is also not far so you can spend a day there as well.
6 – Chitrakoot/Chitrakote falls
Chitrakoot falls is in the Bastar district of Chattisgarh on the Indravati River, which originates in the Kalahandi region of Odisha flows westwards and forms Chitrakoot falls before turning towards Andhra Pradesh and finally meeting river Godavari. Although it is just 29 mts in height, its width of 300mts makes it the widest waterfall of India. Due to its width and magnanimous form during the monsoon has made it the "Nigeria falls of India". The falls is in a horseshoe shape with many small streams falling down the edge during the low water days but during monsoon, it floods and falls down as gigantic gushes from the entire breath. It's a perfect exhibition of the power and glory of nature.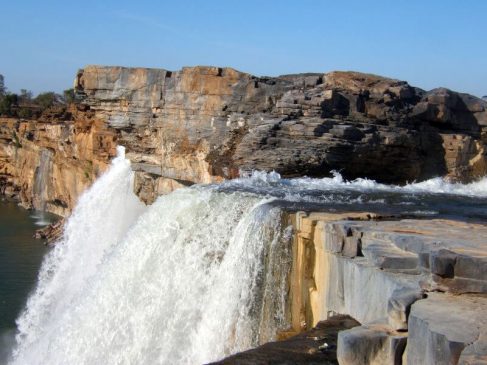 Location of Chitrakoot falls –
West of Jagdalpur city, Bastar district, Chattisgarh
How to reach Chitrakoot falls?
Chitrakoot falls lies 38kms towards the west of Jagdalpur and 276kms from Raipur. It is located inside the Kanger Valley National Park. The nearest airports are Raipur airport (285kms) and Vishakhapatnam airport (340 kms). Both of these places are well connected to Jagdalpur city and you can reach there either by road or train. The Jagdalpur city railway station is well connected with major cities like Kolkata, Vishakhapatnam, Bhubaneswar, etc. from Jagdalpur taxis are easily available to take you to the falls at very nominal rates. Jagdalpur is also well connected with the capital city, Raipur and there are buses from Raipur to Jagdalpur and vice versa.
Best time to visit Chitrakoot falls – 
If you want to see the grandeur and majestic form, it is best to visit during the monsoon, from July to October. During this time river, Indrāvati is flooded and the water which is full of silt appears reddish as it gushes down the slopes in full volume. But if you want to enjoy a serene holiday then visit during the winter season from November to January. At that time the water level is normal and you can enjoy swimming and ride paddle boats. When the sunlight forms a rainbow with the misty clouds it looks heavenly.
Places to explore near Chitrakoot falls – 
Dalpat Sagar lake, Indravati National Park, Kotumsar caves, Teerathgarh falls, Kanger Ghati National Park, Kailash Caves, Chitradhara, Bastar Palace, Kanger Dhara.
7 – Dhuandhar falls
'Dhuan' (smoke) + 'Dhar' (flow), thus the name Dhuandhar means smoke like flow. This name comes from the fact that the water creates a smoky effect as it flows down the white marble cliff. Rising from the mighty river Narmada, this fall is situated in Jabalpur district of Madhya Pradesh. It is 98fts. high. The plunge is so powerful that the roar can be heard from a far distance. The tranquility of the fall is both rough and calm. The hustle bustle of the waves on the marble rocks and the breathtaking scenery will mesmerize you and enchant your mind as well soul. You can also enjoy a cable car or ropeway ride which will take you from the east bank to the west bank and then bring you back. The picaresque surrounding is a perfect backdrop for a picnic with your family and friends. Also, don't forget to buy marble showpieces to decorate your home and to gift others.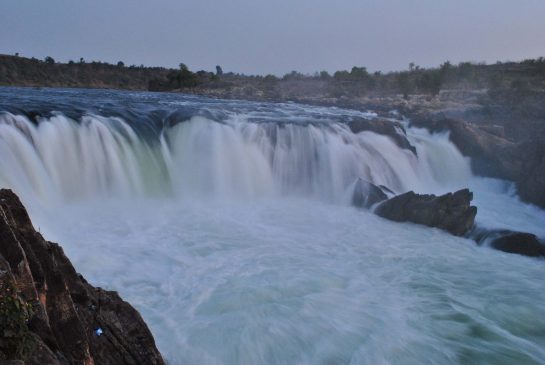 Location of Dhuandhar falls – 
Jabalpur, Madhya Pradesh
How to reach Dhuandhar falls?
Dhuandhar falls is 30.5 kms from Jabalpur. The nearest airport to Amarkantak is at Jabalpur, from there you can hire a car to the falls. Pendra road junction is 17 kms from the city which is well connected to various major cities.
Best time to visit Dhuandhar falls – 
Between the months of September to march is the best time to visit Dhuandhar falls. The weather is very pleasant at this time and you can enjoy boating in the misty waters. During summers it is very hot and in monsoons the water inflow is huge.
Places to explore near Dhuandhar falls – 
Bedaghat, Bandhavgarh National Park, Kanha National Park, Panchmarhi, Khajuraho, Pench National Park.
8 – Langshiang falls
Rising from the Kynshi river, near the village of Sangriang in West Khasi Hills district in Meghalaya, the Langshiang Falls is one of the gems of the Abode of clouds. Meghalaya is well famous for its serenity, hills plains, unmatched beauty, and refreshing greenery. Langshiang Falls is 1106ft high, but the height has not been confirmed yet. With this height, it is the third highest waterfall in India. If you want to take a break from your hectic schedule, enjoy some quality time and a refreshing outing amidst delightful valleys and melodies nature then this place is a perfect one to get lost in the hush of nature. Earlier only local people used to visit Langshiang Falls but recently tourists have been increasing in this area. Thus, the Government is also working to make this place tourist friendly.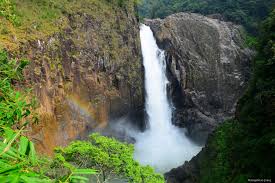 Location of Langshiang falls –
West Khasi Hills district, Meghalaya
How to reach Langshiang falls?
Langshiang Falls is 24kms from Nongstoin and 105kms from Shillong. The nearest domestic airport is Shillong and the nearest international airport is Guwahati (150kms). You can also take a train to Guwahati and then take a cab or bus to West Khasi Hills.
Best time to visit Langshiang falls – 
You can visit throughout the year as the weather is always favorable but if you want to explore the nearby hills and forests then the best time is between July to end of September.
Places to explore near Langshiang falls  – 
You can go on trekking and hiking in the nearby forests. Wei Spi, a lake formed by the Kynshi river. Mawsynram, Kshaid Weinna waterfall, Nongkhnum, Shillong and Guwahati.