9 – Kempty falls
Mussoorie, the queen of hills, is an abode of beauty. Situated within the lap of mountains, surrounded by greenery all around, this is one the most famous hill station getaway among tourists from India as well as abroad. Kempty falls is situated 13kms from Mussoorie in the Tehri Garhwal district, Uttarakhand. A trip to Dehradun and Mussoorie is incomplete without a visit to the kempty falls. For locals and people of the nearby states, it is a favorite weekend getaway. Although it is not much high, Kempty falls is famous for its refreshing and soothing surroundings. Surrounded by mountains of altitude 4500ft., it is evident that the view from kempty falls is mesmerizing. It is a natural landmark with recreation and boating facilities. Grooving through the twisted mountain roads, crossing lean mountain bridges and views of snow-capped Himalayas at the far distance will rejuvenate you. You can enjoy a ropeway to reach the falls and watch the water cascade into a manmade waterhole where you can enjoy swimming in the cool waters of the falls. A dip in the cool water will refresh your mind and body. There is also a nearby park which has terraced polls safe for swimming, water rides, and boating. The slender mountain tracks and smalls streams have to be treaded through to reach this park. This will add a little adventure to your trip.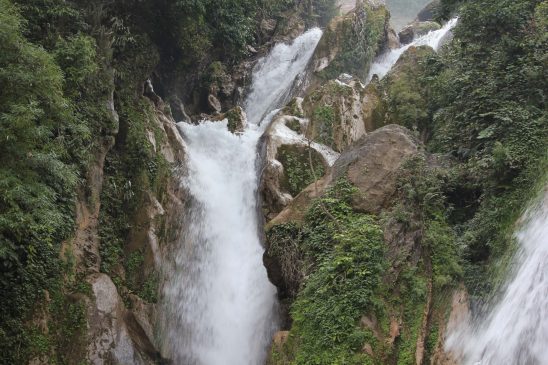 Location of Kempty falls – 
Tehri Garhwal district, Uttrakhand
How to reach Kempty falls?
Kempty falls is 13kms from Mussoorie, 45kms from Dehradun and 300kms from Delhi. The nearest airport is Jolly Grant airport, Dehradun. And the nearest railway station is Dehradun. Both Dehradun and Mussoorie are easily accessible via road from Delhi and other nearby states. You can hire a cab from new Delhi or take a bus to Mussoorie and then hire a cab from Mussoorie to Kempty falls. It's preferable to take a road trip from Delhi to enjoy the scenic beauty of the mountains and the thrill of driving through the twisted roads and dark tunnels.
Best time to visit Kempty falls – 
The best time to visit the Kempty falls is during the summers so that you can enjoy a splash in the cool waters. It's better not to go during the monsoons as the heavy downpour brings frequent landslides and the water level goes dangerously high.
Places to explore near Kempty falls – 
Lal Tibba, Gun Hill, Camel's back road, Company garden, Mall road. You can also explore the small local shops near the falls.
10 – Bear Shola falls
Kodaikanal is a popular tourist spot in Tamil Nadu with many options of recreation and adventure for tourists. Bear Shola falls is one such famous attraction, situated 2kms from the beautiful Kodaikanal lake and 3kms from Kodaikanal bus stand. Bear Shola falls is a perfect picnic spot situated amidst lush greenery. The name came from the fact that a bear used to come to drink water from the falls. The serene beauty is the tempting aspect of the falls. This cascade is a seasonal attraction with a peaceful atmosphere for those who want to free their mind from the concrete jungle and enjoy some time in tranquility. There is a 1km climbing path inside the forest near the falls where tourists go for trekking. The surrounding is full of flora and fauna as the place is a biodiversity hotspot of the Western Ghats.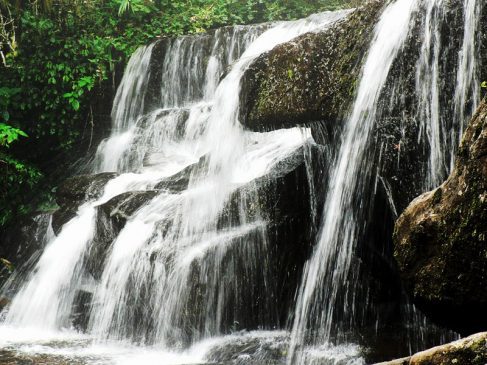 Location of Bear Shola falls – 
Kodaikanal, Tamil Nadu
How to reach Bear Shola falls?
The falls is 3kms from Kodaikanal bus stand. Kodaikanal is well connected from major cities like Bangalore, Chennai, Pondicherry, etc. you can take a bus from these places to Kodaikanal and then hire a cab to the falls.
Best time to visit Bear Shola falls – 
During the rainy season when the fall is full of water. In non-monsoon season the water is very less and you won't be able to see the beauty at its fullest.
Places to explore near Bear Shola falls – 
Thalaiyar falls, Pambar falls, Silver cascade, Coaker's walk, Kodaikanal lake, Green valley view, Silent valley view, Guna caves, Pine forest, Telescope house, Shanthi valley, Kukal cave, etc.,
11 – Elephant falls
Originally called as 'Ka Kshaid Lai Pateng Khohsiew' (or Three Steps Waterfall) by the locals was renamed as Elephant falls by the British due to a stone near the falls resembling an elephant. But it was destroyed in the 1897 earthquake. It is a 3-tier falls of mesmerizing beauty. The first fall is quite broad and hidden among trees. The second and the third falls are connected by many stairs and a bridge on the stream between the second and the third tier. The third fall is the tallest and most spectacular. You have to take down quite a steep flight stairs to reach every fall and these are steps are very slippery. Also, 150steps is rather a difficult task for kids and elderly people but for youngsters, it is more of small adventure climbing down these steps with a steep cliff on one side and gushing water on another. Most of these stairs don't have railings so it is advisable to be careful and keep your children closer to you. Outside the falls there is a huge parking lot. The increasing crowd has resulted in many shops and stalls of food and souvenirs outside the falls. You can also click pictures wearing traditional Khasi dresses which are available there on rent.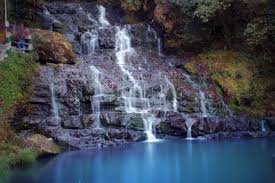 Location of Elephant falls – 
East Khasi district, Shillong
How to reach Elephant falls –
Elephant falls is 12km from Shillong. The nearest domestic airport is Shillong and the nearest international airport is Guwahati. You can take a cab from Guwahati to Shillong. Shillong is well connected by road from all states of the north-east. You can book a cab in Shillong that will take you to elephant caves, Shillong peak and a few nearby places based on the fare you are willing to pay.
Best time to visit – 
This falls is open throughout the year and filled with water although the water levels vary in different seasons. The fall is in its full volume after the monsoon.
Places to explore near Elephant falls –
Shillong peak, Lady Hydari Park, Meghalaya museum, Ward's lake, Cherrapunji, Mawsynram, Jowai, etc.,
12 – Bhagsu waterfall
McLeodganj is a beautiful hill station in Dharamshala, Himachal Pradesh. Situated near Bhagsu village the Bhagsu falls is the main attraction near McLeodganj. Bhagsuang village is a serene village situated at an altitude of 7000ft. the prime attraction of this area is the Bhagsuang temple of Lord Shiva. This temple is of great importance among Hindu devotees. The Bhagsu falls is near the temple and flows beside it. People come here to take a dip in the cold water to wash off their miseries as the water is considered holy. The view from the top the Kangra valley which surrounds the falls cannot be missed by nature lovers and adventure fanatics. Trekking in the surrounding areas will add an extra thrill to your trip. The soul-stirring view and the cold mountain spring will leave you in a trance and refreshed.  The fall is a smooth cascade of 30ft.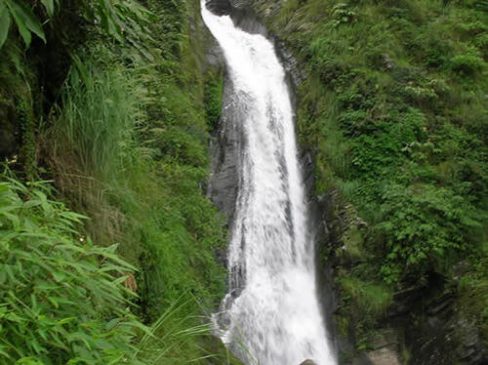 Location of Bhagsu waterfall – 
McLeodganj, Dharamshala, Himachal Pradesh.
How to reach the Bhagsu waterfall?
McLeodganj is a famous tourist attraction and thus it is well connected by roads to other parts of the country. The nearest domestic airport is Gaggal airport (20kms) with connecting flights to Delhi, Manali and Chandigarh. The nearest international airport is Delhi (497 kms). Cabs and buses are available from Delhi to McLeodganj. Trains to McLeodganj are available from Pathankot which is connected to all major cities. HRTC and private operators run regular buses to McLeodganj from Delhi, Chandigarh, Manali, and Dharamshala.
Best time to visit Bhagsu waterfall – 
February to October. The winters are very cold due to the geographical conditions.
Places to explore near Bhagsu waterfall – 
Triund hill, Dalai Lama temple Bhagsunath temple, Kangra valley, Dharamkot, Dal Lake.
Which is the best waterfall in India, according to you. Let us know in the comment sections.