A man once said "It doesn't matter who among us will live to see India free. It is enough that India shall be free and that we shall give our all to free her." And he was none other than Netaji Subhash Chandra Bose.
Seventy-four years down the lane, we today enjoy the perks of living in free India. If the utterance of "Jai Hind" overwhelms you with patriotism, thanks to this man.
One of India's most revered freedom fighters, Netaji Subash Chandra Bose was born on 23 January 1897 in Cuttack, Orissa to Prabhavati Dutt Bose and Janakinath Bose. Born into an affluent and wealthy family, Bose was their ninth child and sixth son. Though most of his formal education was anglocentric in nature, his mother instilled in him the importance of learning about the glorious history of his motherland. This made him value the freedom of his nation above his own life.
To commemorate his dedication and contribution to the country, the government of India has announced January 23, his birth anniversary to be celebrated as the 'Day of Valor' or 'Parakram Diwas'. India is celebrating the 125th birth anniversary of Netaji Subhash Chandra bose this year. Here are a few interesting and less known facts about this iconic freedom fighter that you ought to know.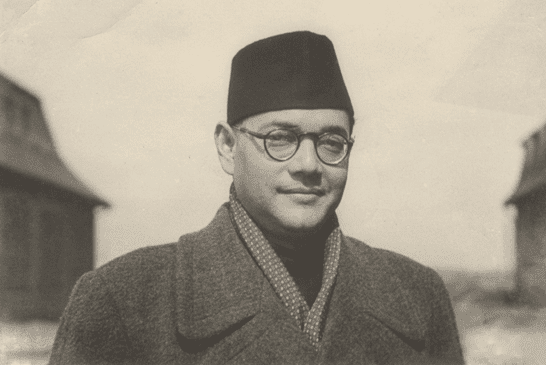 1. ABOUT HIS SCHOOLING
Subhas Attended the Protestant European School in Cuttack from January 1902-1908. A 12-year-old bose was then shifted to the Ravenshaw Collegiate School in Cuttack where ideas from the Hindu scriptures such as the Vedas and the Upanishads were brought into his life.
2. HE WAS FASCINATED BY THE TEACHINGS OF SWAMI VIVEKANANDA AND RAMAKRISHNA PARAMAHAMSA
At the age of 16, having read most of their works, he was hugely influenced by their lives. Swami Vivekananda's emphasis on social services and reform gave shape to his socialist political ideologies.
Raja Ram Mohan Roy, Tagore, and Sir Aurobindo were a few others who Subhash admired as a young adult.
3. EXPULSION FROM COLLEGE
In 1913, Bose chose to pursue philosophy from Presidency College in Calcutta.
Over there, he happened to encounter one of his teachers, Professor Oaten, man-handling his fellow Indian students and making anti-Indian remarks.
This led to a scrimmage between Professor Oaten and him, ultimately resulting in Bose being expelled from the college and being rusticated from the university. Later, by July of 1917, he was permitted to rejoin the University of Calcutta but to continue his education in a different college.
4. HE WAS A BRILLIANT STUDENT
He was academically brilliant throughout his school and college years. On insistence from his father, Subhash moved to England and joined the University of Cambridge to appear for the multi-step Indian civil services examination.
As expected, he performed excellently and stood fourth on the merit list.
5. RESIGNATION FROM THE POST OF ICS INTERN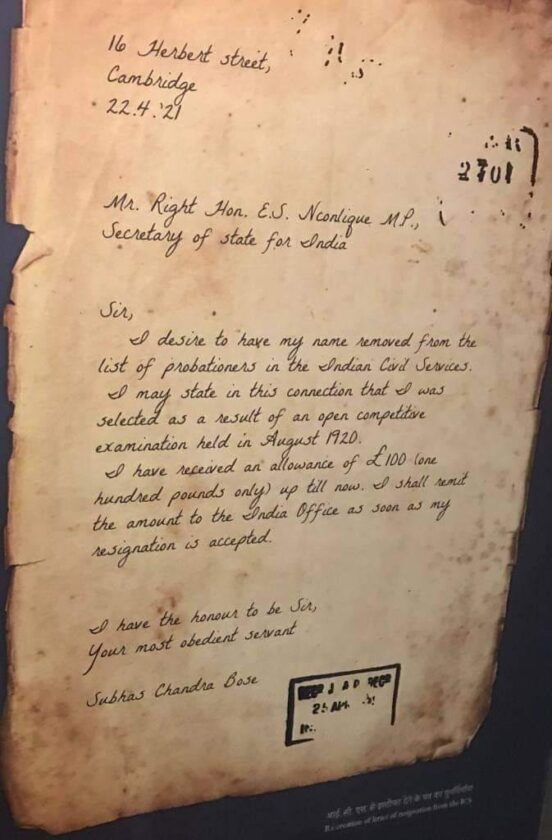 Bose did not want to work for the British government that he now grew up to hate. And thus he decided not to appear for the final examination of the Indian civil services.
Moreover, the 1919 Jallianwala Bagh massacre had left a lasting impression on him and thus Subash decided to return back to his motherland.
6. HE IS KNOWN AS THE PATRIOT OF PATRIOTS
Netaji's views on how India should fight for her freedom were starkly different from Gandhi Ji's philosophies. Yet, he was bestowed with this honor. He was completely committed to the cause of independent India.
He wanted complete independence whereas other leaders wanted to take the first step by having partial independence through dominion status for India.  All he wanted was freedom for the nation and did not care for whom he had to go and ask for assistance. Even his rivals had the utmost admiration for this man.
7. HIS FIRST MEETING WITH GANDHI JI
In the year 1921, Netaji returned from England and came to Bombay to meet Gandhiji for the first time. On learning about his ideas and philosophies, Netaji concluded that the nation needed a more aggressive approach towards freedom.
8. HIS MENTORS IN THE EARLY DAYS OF INC
As he arrived in India, he was under the mentorship of a well-established lawyer named Chitranjan R Das in the Bengal province.
9. BEING ELECTED AS THE PRESIDENT OF AIYC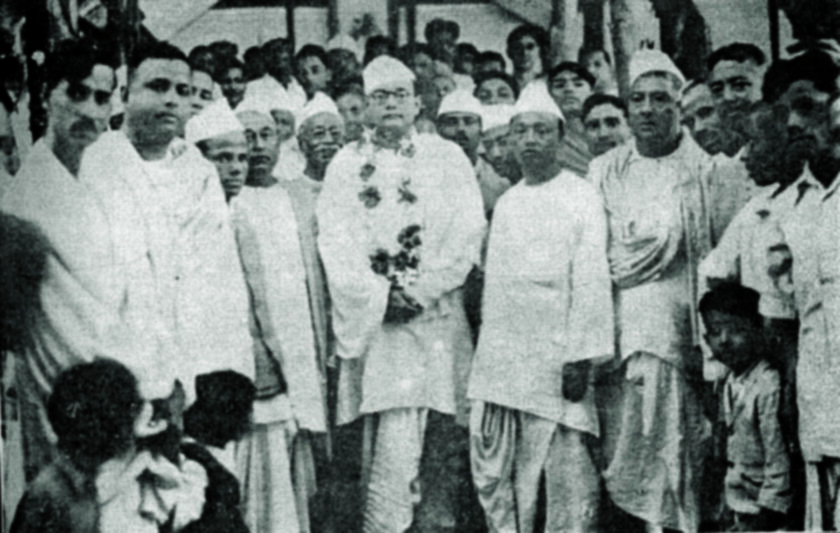 He was elected as the president of All India Youth Congress in 1924 and eventually became the congress president in 1938. A rift between him and the Congress party leading to Bose being expelled from the leadership position in 1939.
10. 'SWARAJ' THE NEWSPAPER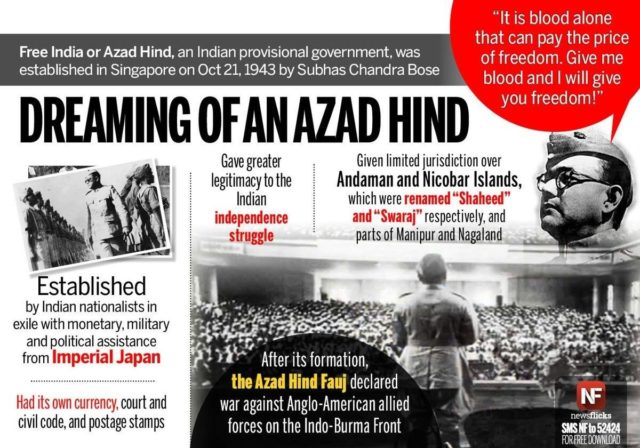 Bose was working under the mentorship of C.R.DAS where he ventured into journalism and started the newspaper 'SWARAJ'. Later he also became the Editor of a newspaper named 'FORWARD' that was run by Chitranjan das.
11. THE AUTHOR
He wrote a book named ' The Indian struggle' that was published in 1935. This was banned from sale in India as the Britishers feared unrest amongst the people upon reading it.
12. IMPRISONMENT RECORD
Netaji was imprisoned 11 times by the Britishers between 1921-1941.
13. "THE ENEMY OF MY ENEMY IS MY FRIEND"
Netaji realized that the Britishers will have to be forced out of the country and a simple non-violent approach would not be good enough to get them out. To make this happen, he went on to the extent of taking assistance from the Germans and the Japanese.
14. THE JOURNEY TO GERMANY
He is the only Indian freedom fighter to have reached out to Nazi-ruled Germany for help.
In 1941, after a daring escape from house arrest in India, Bose traveled from Kolkata to Peshawar, and then via Afghanistan finally reached Germany to seek India's independence from Adolf Hitler.
15. ENCOUNTER WITH HITLER
On reaching Germany, Netaji was asked to wait outside Hitler's office. Following a long wait, Hitler came outside the office multiple times, went past Bose but never acknowledged his presence. After several such encounters, at last, Hitler went to Netaji and put his hands on Netaji's shoulders.
Netaji looked up to him and said "Hitler!".
Surprised Hitler asked Netaji as to how he was so sure that he was Hilter.
Netaji replied back in these words, "No one in this world has the courage to put his hand on Subhash Chandra Bose's shoulder, not even his men, except Hitler".
To fool his enemies, Hitler had kept many look-alikes but couldn't fool our great Netaji.
16. THE FREE INDIA CENTER IN BERLIN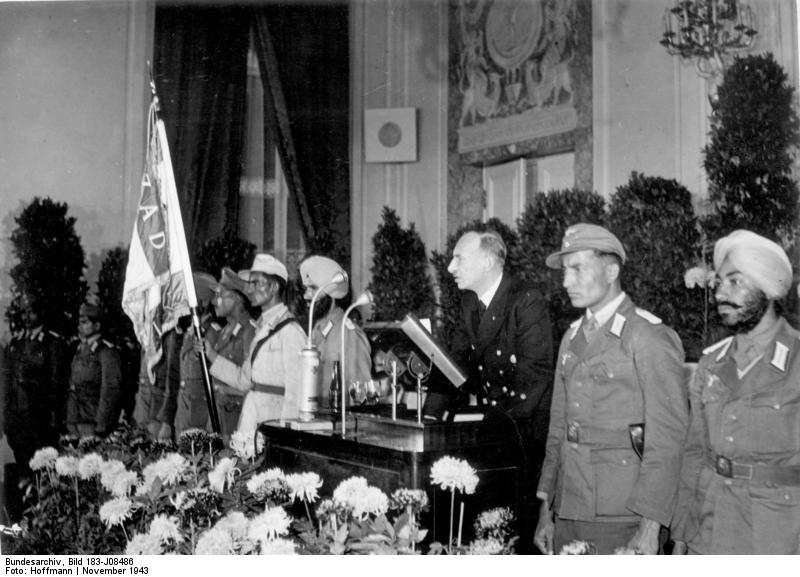 In 1941, he found the free India center in Berlin and recruited some 4000 Indian prisoners of war as a part of it. This center gave birth to the Azad Hind Movement.
He also led the german sponsored Azad Hind Radio. But on finding out Hitler's true intentions of using the army to win propaganda victories instead of military victories, Netaji decided to leave Japan and take help from the southeast Asian powers.
'SUBHASH CHANDRA BOSE WAS GIVEN THE HONORIFIC TITLE "NETAJI" BY GERMAN AND INDIAN OFFICIALS IN THE SPECIAL BUREAU OF INDIA IN BERLIN'
17. HIS FAMILY
During his stay in Germany, he married a German citizen Emily Schenkl. They have a daughter named Anita Bose Ptaff, who is a renowned economist in Germany.
18. THE ONLY CIVILIAN EXCHANGE IN WORLD WAR II
In February 1943, he boarded a German submarine and left for Imperial Japan via Africa. This was the only civilian transfer between two submarines of two different navies during World War II.
19. THE BIRTH OF AZAD HIND FAUJ/ INDIAN NATIONAL ARMY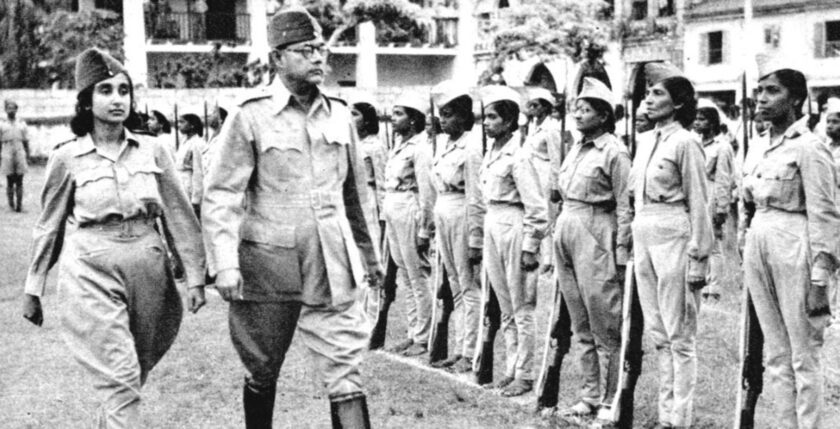 The Indian national army was actually the brainchild of a Japanese major IWAICHI FUJIWARA. It took form in 1941 but was soon disabled in 1942 due to disagreements between the people who led it.
The Japanese government revived the idea of forming an independent army upon the arrival of Netaji subash Chandra bose in 1943.
With the help of this army, Bose was able to free the Andaman and the Nicobar islands from British rule. But soon things went against their favor as Japan lost WWII.
20. NETAJI WANTED WOMEN TO ENLIST IN INA
He was a progressive soul for that era. He encouraged women to join in and play an active role in demanding freedom for their motherland. The INA had a separate women's unit, The Rani of Jhansi regiment headed by captain Lakshmi Swaminathan.
21. AIRPORT
In commemoration of his contribution to the Indian freedom struggle, the airport in the capital city of West Bengal was renamed Netaji Subhas Chandra Bose International airport in the year 1995. It was previously known as the DUM DUM airport.
22. BOOKS ON HIM
Some of the famous books written about him are as follows:
BOSE: An Indian samurai
An Indian pilgrim
His majesty's opponent.
Mahanayak
23. A FEW VIDEOGRAPHIES THAT HAS KEPT HIM ALIVE ARE
Subhash Chandra (1966)
Netaji Subhas Chandra Bose: The Forgotten Hero (2004)
Bose: Dead/Alive (2017).
24. MYSTERY AROUND NETAJI SUBASH CHANDRA BOSE'S DEATH
Netaji Subash Chandra Bose's death is surrounded by Mysteries. Some say that his death was faked to escape the possible execution by the British government as a traitor.
Though officially it is documented by the Japanese government that he died of third-degree burns due to a plane crash in 1945 in present-day Tokyo.
The Indian government had appointed three committees to solve the mystery around his death namely:
1)Mukherjee commission
2)Shah Nawaz commission
3)Khosla commission
Apart from the Mukherjee commission, the other two concluded that Bose died in an aeroplane crash, but what did Mukherjee Commission conclude and why was it different from the other two commissions?