From Soothing sound to enjoying time in nature is why waterfalls could be your next holiday destination. India has a number of most beautiful waterfalls which will make you fall in love with natural beauty. We have brought down a list of the best waterfalls in India and how you can reach there.
1 – Dudhsagar waterfalls 
As the name suggests "Dudhsagar" literally translates to 'sea of milk' which many believe is due to the allusion of white spray and foam it creates as it cascades majestically into the waters of the lake. Rising from the Deccan plateau, the river Mandovi winds its way through the Western Ghats and falls from the highest peaks near the borders of Karnataka and Goa, thus forming the majestic Dudhsagarfalls.
The Dudhsagar falls is 310m (1017 ft) in height and about 100ft in width. Dudhsagar falls is India's tallest waterfall. It's in full gush during the monsoons but a famous tourist attraction all year round. The falls are surrounded by forests that come under the Bhagawan Mahavir Wildlife Sanctuary and are home to a variety of flora and fauna. These are considered the most beautiful waterfalls in India.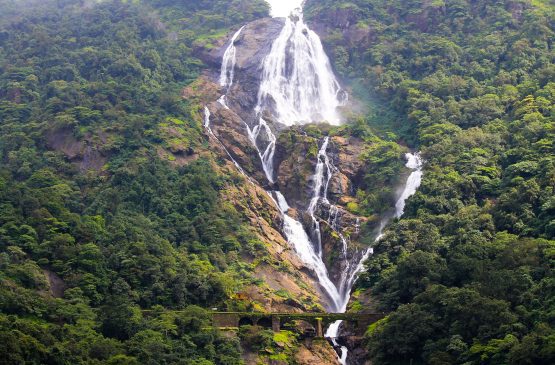 Location of Dudhsagar waterfalls – 
Goa – Karnataka Border (60 km from Panaji)
How to reach Dudhsagar waterfalls?
The falls cannot be reached directly. You will have to break the journey into few steps and need proper planning and persistence. You have to board a train to Londa Junction. From there you can take a local train or taxi or bus to Kulem or Castle rock. From Kulem your trek to the Dudhsagar falls starts. It takes approximately 3 hours to reach Kulem from Londa junction and after that, it is a trek of 12kms and from Castle Rock about 14kms. You will get the proper view of the falls when you are 1km away from them.
There has been a lot of discussion about the Dudhsagar Trek being closed for tourists but the trek to the bottom of the falls is still open. This trek includes walking through a winding railway track, walking through dark tunnels, and crossing many small waterfalls. The greenery around gives a refreshing feeling to your mind and soaks up the tiredness. It takes about 4-5 hours to walk up to the falls. Once you reach there you can enjoy the full view of the falls with their grandeur and enormity. To get back you will have to walk back either to Kulem or Castle rock.
Best time to visit Dudhsagar waterfalls – 
Towards the end of the monsoon, when it is full of water and the scenery is lush green after being washed by the recent rains. Also, it is easier to trek once the rains are over.
Places to explore near Dudhsagar waterfalls – 
a) – Bhagwan Mahavir wildlife sanctuary
b) – Devils canyon, Dudhsagar Waterfalls trail
c) – Mahadeva temple
2 – Jog waterfalls 
Rising from the Sharavathi River, Jog falls in the Shimoga District of Karnataka is one of the tallest waterfalls in India. It is also known as Gerusoppe falls, Gersoppa falls and Jagada Gundi. Falling from a height of 253mts., it forms four cascades – Raja, Ravi, Roarer, and Rocket. It forms a misty pool at the bottom and is a great tourist attraction, especially after the monsoons when it is in full volume and gush. One can also trek to the bottom of the falls when the gates of the Linganmakhi dam are closed.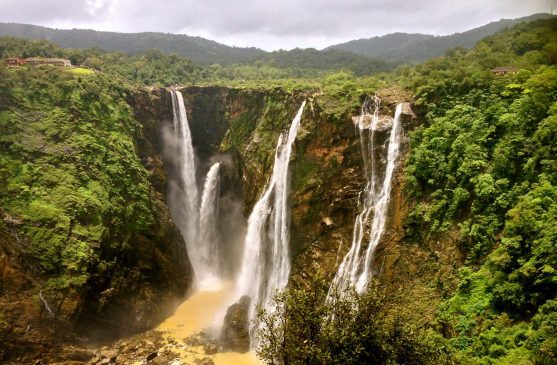 Location of Jog waterfalls – 
Shimoga district, Karnataka
Jog falls is 100kms from Shimoga city and 379kms from Bangalore. The nearest airport is Bangalore. One can also take a train from Bangalore to Sagra and then a bus to jog falls. Or, a direct bus from Bangalore to Jog falls. The least expensive and ideal way to reach jog falls is to reach Talaguppa station which is only 13kms from the falls. You can get a bus from outside of the station to reach the fall. Talaguppa can be easily reached from Shimoga station, which is well connected to Bangalore and Mysore via trains.
There are many viewpoints from where you can admire the grandeur of the falls. The viewpoint close to the parking area is the most famous one. You can also stride down the steps that reach the base of the falls. These 1400 steps will take you to the base of the falls where you can soak up the showering sizzles which will definitely cure you of the exertion.
Best time to visit Jog waterfalls – 
Between August to December
Places to explore near Jog waterfalls – 
You can club your trip to the jog falls with Badami caves, Hampi, Udupi, Chikmagalur, Murudeshwar, and Gokarna.
3 – Bhambavli Vajrai Waterfall
The source and starting point of river Urmodi and falling into a height of 853ft. The Bhambavli Vajrai waterfalls attract tourists due to their perennial beauty and rejuvenating scenery. It is situated just 5kms from the beautiful Kas flower valley and 2kms from Bhambavli flower valley. The scenic beauty is very peaceful and you can enjoy it with utmost solace as there are no hawkers, guides, and cameramen to hinder the tranquility. You can also stay at the Bhambavli village and experience the lifestyle of rural India. You will be at the disposal of unmatched beauty and calmness.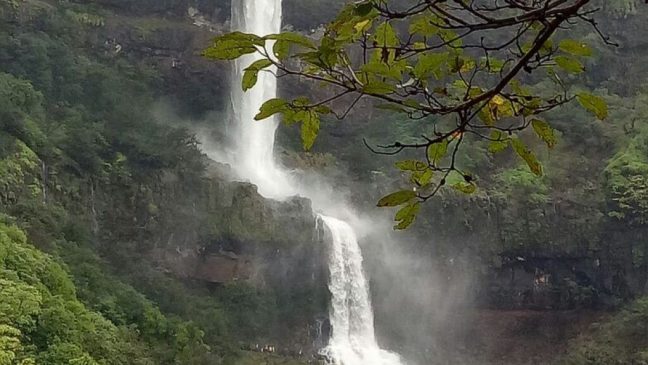 Location of Bhambavli Vajrai Waterfall – 
Satara, Western Maharashtra
How to reach Bhambavli Vajrai Waterfall?
Vajrai is located 286kms away from Mumbai. It takes about 5.21 hours to reach there from Mumbai via the Sion-Pavel Expressway and Mumbai-Pune Expressway. You can also catch a bus from Satara ST bus stand to Bhambavli village. Satara bus stand is nicely connected to all major cities in Maharashtra like Mumbai, Pune, Nasik, Aurangabad, etc.
Satara is the nearest station to reach Vajrai falls. You can also hire private vehicles to reach the falls.
Best time to visit Bhambavli Vajrai Waterfall  – 
It is a perennial waterfall but it is better to visit after the monsoon when it is full of water. Do not try to reach the base during the monsoon season because this area receives heavy rains and it can be very dangerous to reach the base.
Places to explore near Bhambavli Vajrai Waterfall – 
Caves near the waterfalls, Sajjangad Fort, Thosegrah waterfalls, Tapola hill station, Kaas plateau, Urmodi dam backwaters, Mahabaleshwar & Panchgani hill station.
4 – Athirappilly Falls
Athirappilly Falls is situated on the Chalakudy River in the Thrissur district of Kerala. With a whopping height of 80ft, it is Kerala's largest waterfall. It is full of water all year round and gushes with water during monsoons. It is a vital source of hydroelectricity. Surrounded by dense forests all around, the surrounding thrives with rich flora and fauna and is home to many endangered species. It takes around 2-3 hours to explore the entire place around the falls. A 15mins. A walk will take you up to the top from the entrance of the falls.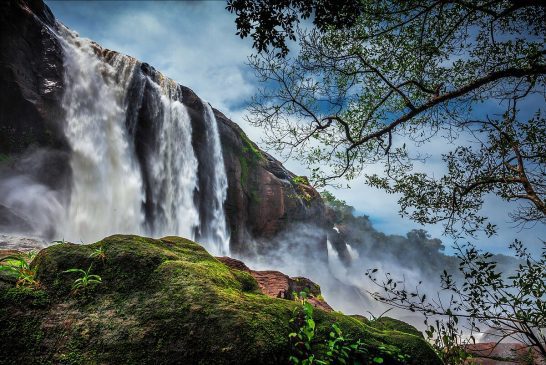 Location of Athirappilly Falls – 
Athirappilly panchayat, Thrissur district, Kerala
How to reach Athirappilly Falls?
Chalakudy (32kms) is the nearest railway junction to Athirappilly falls. Chalakudy is well connected by bus from major cities like Thrissur (55kms), Kochi (73kms). Nearest airport- Cochin airport (40kms).
Best time to visit Athirappilly Falls – 
September to January
Places to explore near Athirappilly Falls – 
Vazhachal waterfall, Charpa falls, Sholayar dam, Valparai, and Malayatthur wildlife sanctuary, Thrissur, Kochi, Munnar.