All the Kabaddi fans no matter if stand in support of Telugu Titans or positions themselves against it, one thing is sure that they just can't be oblivious to the team as it is known to be one of the most active teams. Apart from the team, no fan can be oblivious to one player who is Vishal Bharadwaj. He demonstrated his impressive talent in Pro Kabaddi League season 5; which was his breakthrough campaign where he scored 71 tackle points securing the position of third most successful defender. His eloquent skills earned him the captainship in season 6, where he also showcased his leadership skill as well as performed brilliantly as a defender. In season 6 he scored 60 tackles, nine super tackles, five high 5s (making the new record), and a total of 60 points alone.
Besides being an efficient player, in Pro Kabaddi League (2017-18) he unveiled his leadership skills leading Telugu Titans team to win eight matches of total 22 played by the team and finishing at position 5 in the final table list. Total raids of Telugu Titans were 953, out of which 289 were successful, 229 unsuccessful, and 435 empty. Successful raids accounted for 37% of total raids, which was though a fall from past season performance, nonetheless a decent score. Talking about the zone of expertise that Bharadwaj had, in defence, Telugu Titans scored total 486 tackles, with 202 successful tackles accounting for 45%, and 284 unsuccessful tackles; clear upward mobility marked from all the previous seasons. The improved performance indicated towards the inspiring techniques Bharadwaj bestowed to his team under his captaincy.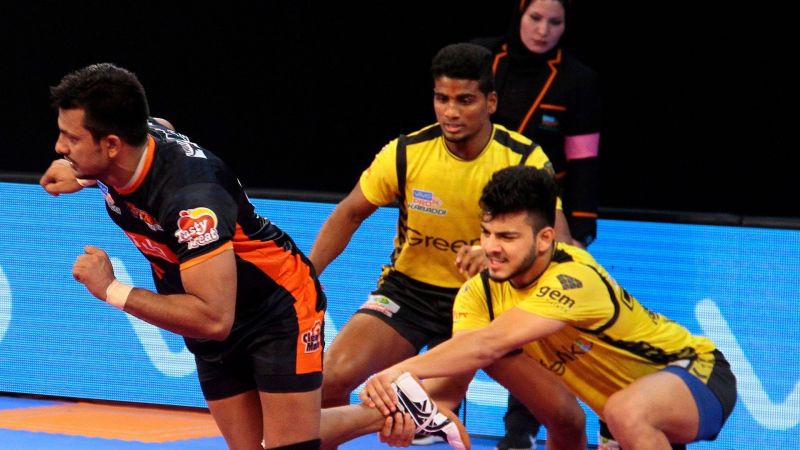 The first match of Telugu Titans was against Tamil Thalaivas, held on 9 October 2018, which they won with the margin of 5 points. Telugu Titans scored 33 points while Tamil Thalaivas score was 28. It was followed by the second win against UP Yoddha where the score was 34-29. After losing its third match to Bengal Warriors, the team rebounded defeating Patna pirates. Likewise, the other matches were against U Mumbai, Patna Pirates, Bengal, Puneri Paltan, Dabang Delhi, Fortune Giants and other teams in which they won 8 matches, drew 1 with UP Yodha, and lost 13. The highest score in the season was 53 against Patna Pirates while the best winning margin of 1 point was also against the same team.
Being one of the most active performing team it wasn't an exceptional performance for the Telugu Titans like season 2 or season 4 where the team managed to be on the second position, yet they manage to maintain their position on the fifth rank, and not falling further. There were some wow performances and skills shown on the ground by several players including Rahul Chaudhary, Abozar Mighani, Nilesh Salunke, and the all-rounder Vishal Bharadwaj.
Being an all-rounder, a splendid defender, and the star performer of season 5, it was expected more from Vishal Bharadwaj to lead Telugu Titans to a different height. The performance was not bad rather commendable; instead, it was the laid expectations that led to a little disappointment. Nonetheless, Telugu Titans didn't fail to maintain it's status in season 6 as well where the possibility was also of to get a degenerative performance. All in all, the captaincy skills are shown in the season was enough for the team to stay motivated and manage yet to be known as one of the most dynamic teams of the Pro Kabaddi League.