11. Salman Khan
Bollywood Star is adamantly helping the 25,000 unemployed Cine workers in times of devastating outbreak in the state of Maharashtra. His initiative 'Being Haangryy' aims to provide free meals to frontline workers. His collection from his latest movie 'Radhe' will go into relief fund too.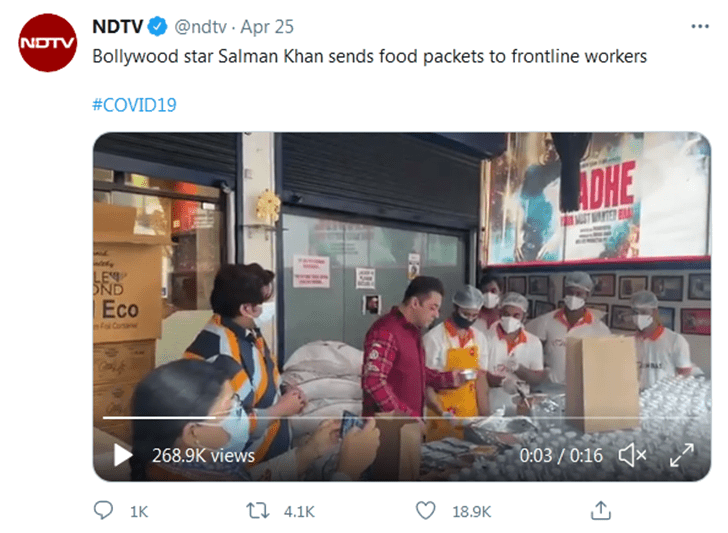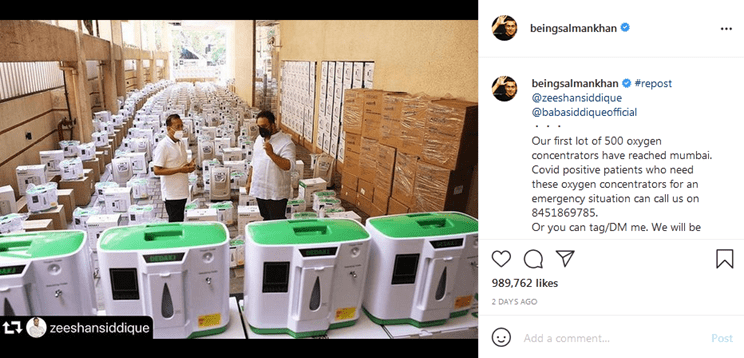 12. The Adani Group, Tata and SAIL
The Adani Group has so far arranged oxygen 80 tons of liquid oxygen and 5,000 cylinders from Saudi Arabia. Also, Tata Steel is giving out 1,000 metric tons of oxygen regularly to many states. SAIL is a major oxygen producer in the country.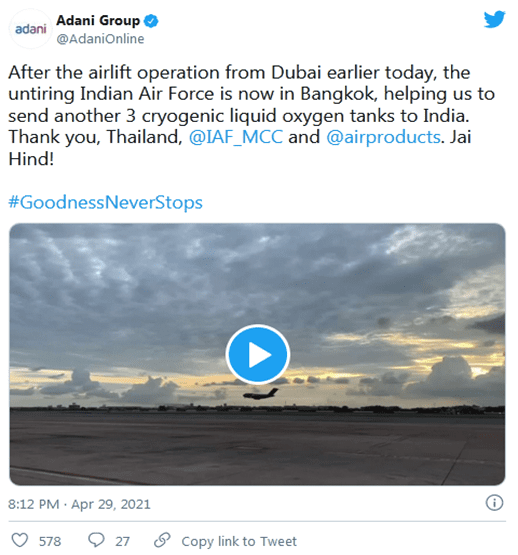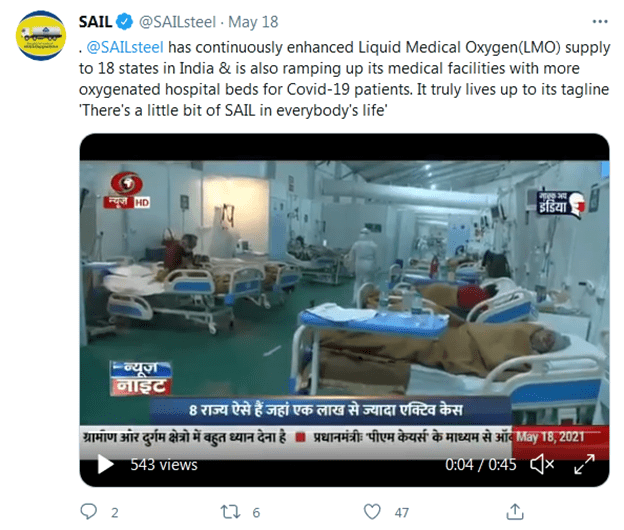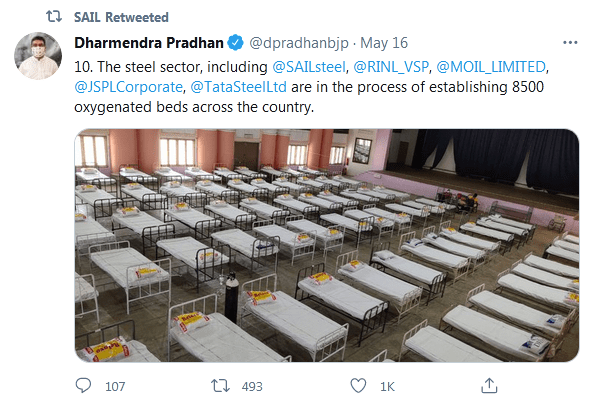 13. Suresh Raina
Former Indian Cricketer sympathizes with people struggling everyday for medical essentials and is saddened about the scarcity of resources. He donated 31 lakhs to PM Cares Fund and 21 lakhs to Uttar Pradesh's CM Yogi Adityanath's Disaster Relief Fund. He had requested an oxygen cylinder for his aunt on an urgent basis and was eventually helped out by Sonu Sood.
14. Bhumi Pednekar
The Indian Actress has collaborated with Ketto.org to aid India in crisis financially and to build a better medical infrastructure. She along with her team has been arranging beds, oxygen cylinders and other critical medical supplies. She has also been amplifying requests to donate plasma.
15. Sreeni Gangasani
Chairman and Co-founder of e-Global Doctors Dr Sreeni Gangasani along with other U.S. based physician volunteers (called 'Sewa' volunteers) are providing medical consultations online with 2,000 registered Covid-19 patients so far. Based on data provided by state governments, the crumpling medical infrastructure and paucity of essential medical supplies is resulting in increased number of deaths. It is highly recommended to isolate oneself if tested positive because the situation outside is worse. In such a critical time, it is best to recover at home with consultation from trusted doctors and necessary precautions.
16. Shilpa Shetty
"My family has contracted Covid-19", cited the actress, mother of 2 young children, with a heavy heart. The actress is an active yoga practitioner and has been promoting healthy eating and lifestyle for a long time now. Since 2020, she has been sharing important information regarding eating right, vaccination and precautionary measures.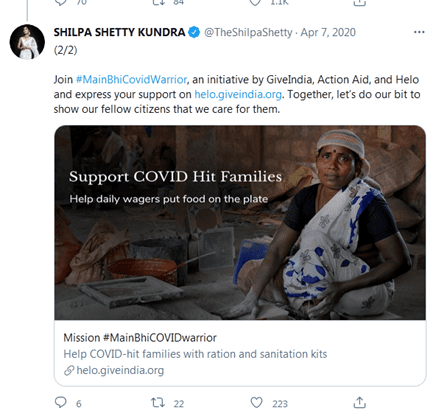 17. Balaji Srinivasan
The CEO of Counsyl had pledged to donate in crypto for India's battle with the virus.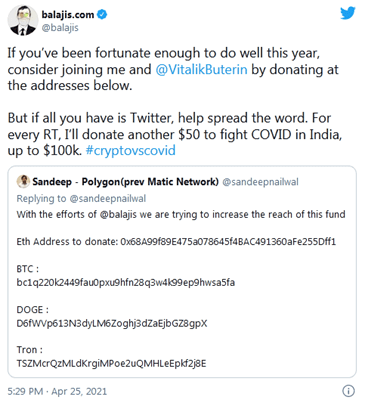 18. Virat Kohli & Anushka Sharma
The cricketer-actor duo has taken a step to help for the people battling the dreading impact of Coronavirus. They began raising funds for India's Relief fund with Ketto.org. They came to social media and asked their fans to donate and help the fellow civilians.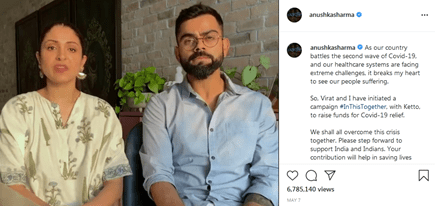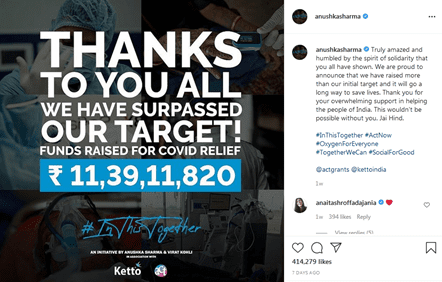 19. Ajay Devgn
The Bollywood Star has opened a Covid-19 facility in Mumbai equipped with oxygen and ventilator support. He along with other Bollywood artists have come together to contribute towards inception of more such facilities, added Rs. 1 crore to Brihanmumbai Municipal Corporation (BMC)'s fund.
20. Rupi Kaur
A Canadian poet of Indian origin, Rupi Kaur, in a recent video on social media, urged people to take an initiative to help people in India by donating to Khalsa aid, Student Islamic Organization of India, Mission Oxygen and Hemkunt Foundation.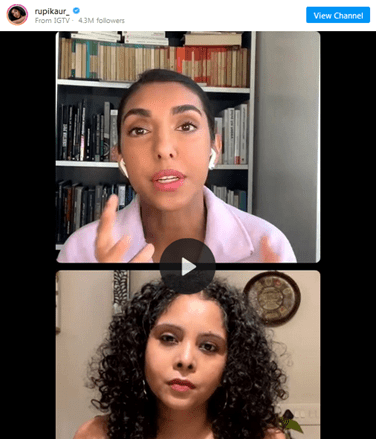 21. The Yash Chopra Foundation
Yash Chopra Banner started a foundation in light of Covid-19 crisis in India with an aim to provide financial aid to those who are unemployed or lost jobs because of the pandemic with Rs. 5,000 given to women and the elderly along with ration kits. They recently got in touch with Maharashtra government to provide 30,000 vaccinations for workers of The Federation of Western India Cine Employees (FWICE).
22. Vinod Khosla
Businessman Vinod Khosla has decided to fund for better medical equipage (oxygen etc.) in India. He added $10 million to 'Give India Foundation' earlier while pressing on the need to act fast and do more urgently.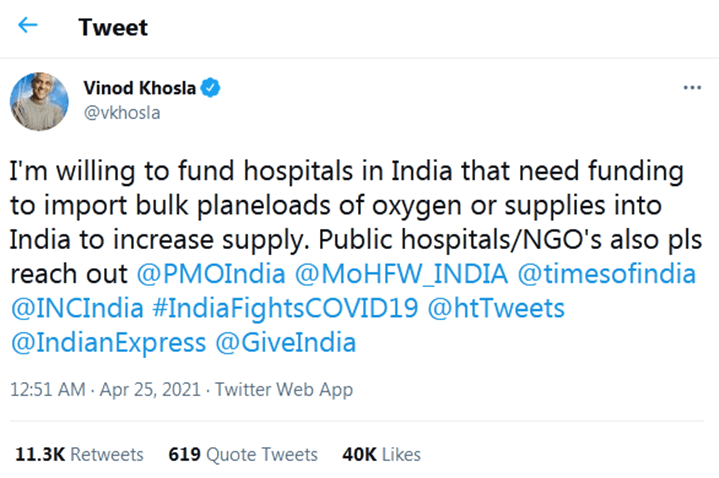 23. Madhavan Malolan
CEO of Questbook.apk Madhavan has been raising donations online to help the cause.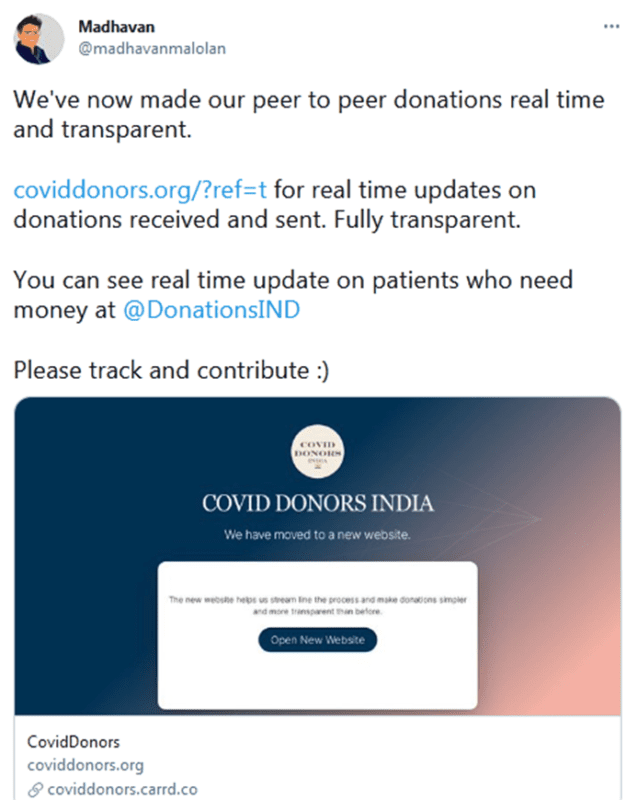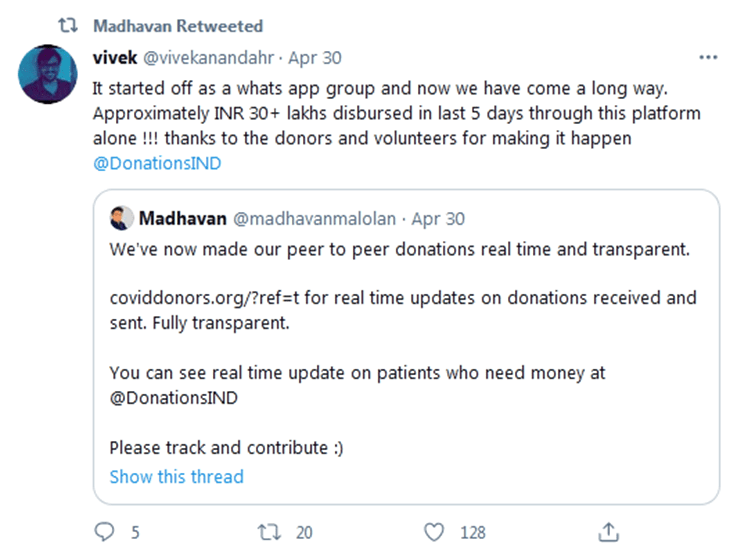 24. Kanchan Kumar
Indian Entrepreneur Kanchan Kumar, based in the U.S., urged people online to donate so that more essentials could be sent to India.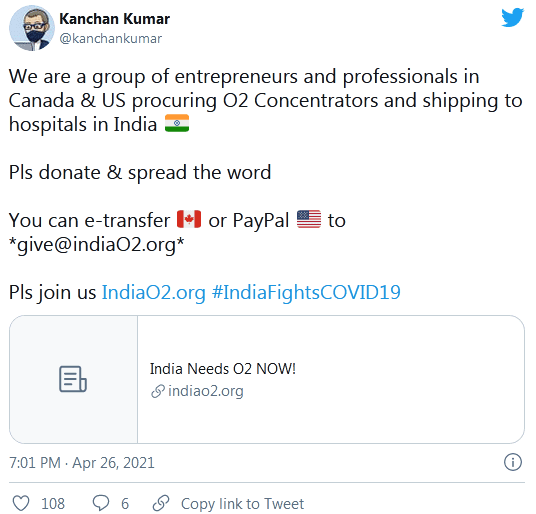 25. The Dubai Indians Group
Sanjay Paithankar along with other Nagpur-origin settled abroad (Dubai) had coalesced to arrange 600 oxygen concentrators and 200 cylinders and them send them to their hometown Nagpur, India. 500 more concentrators were arranged from China by Mr. Paithankar who is a doctor by profession and has clinics in Dubai. He is driven to serve the needy.
India is the worst Coronavirus afflicted country worldwide with approximately 4 lakhs fresh cases recorded daily and nearly 4,000 deaths every day. Active cases stand on 2.6 crores. The country is currently struggling with a new variant which has fueled the second wave and resulted in a record-breaking surge in April-May this year.