In times of the SARS-CoV 19 pandemic, we are being taken care of by many. From doctors and frontline workers to vaccine manufacturers and oxygen producers, their care has saved many lives and smiled a million faces. People from all around the world have come to help India struggling to curb the Covid-19 peak. There are uncountable Indians who preserved their solidarity in the pandemic, we want to thank you corona virus helpers, and we are listing a very few of them.
Here are 25 Indians/Indian entities who came forward to provide aid to the country affected by the outbreak.
1. Manish Mundra
This year when Covid-19 cases exploded again in the country, Manish Mundra, the producer of movies like Masaan and Newton, donated a whopping Rs 3 crore for arranging about 70 ventilators. He said that he would identify the hospitals that needed aid. He identified six cities of Bangalore, Jaipur, Cochin, Deoghar and Mumbai where the ventilators could be set up.
Mundra displayed exemplary generosity and humility during the times of the Wuhan virus pandemic. Apart from the abovementioned gestures, he has been involved in lot of humanitarian work during the pandemic including mass distribution of PPE kits and serving food packages to the needy. Speaking to OpIdia, Mundra had said that his motive behind all the work he has been doing was to help the country particularly the medical staff who have been fighting the pandemic at the frontline.
2. Sonu Sood
The Indian actor-philanthropist Sonu Sood has been diligently working throughout pandemic to help people in crisis. He along with his team had helped migrant workers reach their home when the the big cities were badly hit by Coronavirus. He provided free transportation facility to them so they could reach their home state no matter how distant it was. Not just them but also the students who were stuck abroad away from their families were brought back to India.
With worsening situation, he took an initiative to save the unemployed through 'Pravasi Yojna', a website through which jobless migrant workers could be trained and employed. The program was developed in collaboration with Schoonet India, National Skill Development Corporation and Learnet Skills.
Mr. Sood went on to start a free meal drive 'Shakti Annadanam'. It feeds 45,000 people every day. He also came out to help the people struck by floods with food supplies and provided study supplies to students who lost access to their belongings in the floods.
To this day, his team is working hard to help the needy and has saved thousands lives. He arranges emergency medical supplies (hospital beds, surgeries, injections and oxygen concentrators) requested by people online or on-call. His multitudinous service goes out to everyone across India. In addition to this, he provided 1,500 PPE kits to paramedics and 25,000 face shields to police officers in his home, Punjab.
His unswerving humanitarian work is lauded worldwide. Upon the success of his relentless charity, people have been actively contributing to his foundation.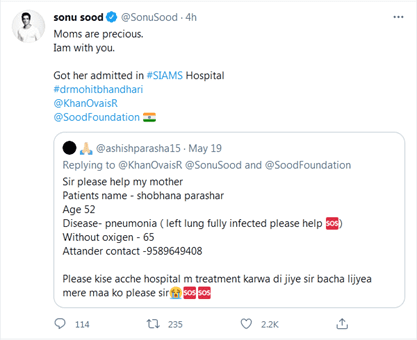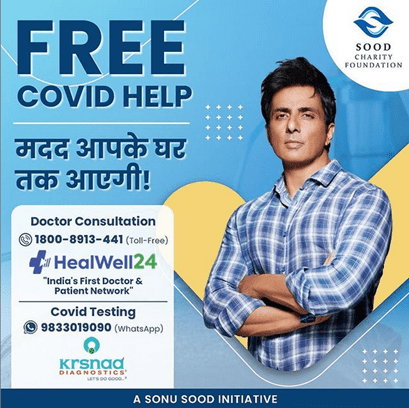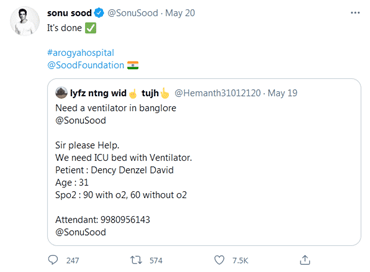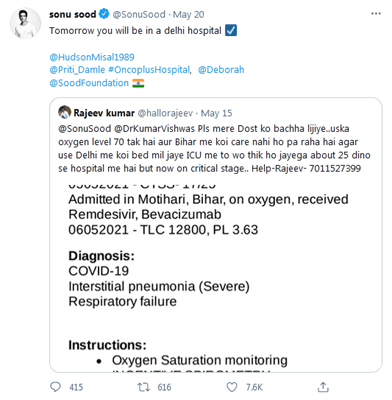 3. Sundar Pichai
Google and Alphabet CEO Sundar Pichai tweeted on 26th April 2021 that Google has decided to fund Rs. 135 crores to @GiveIndia for providing financial help to needy families and to @UNICEF to assist the availability of medical supplies in times of second wave crisis. Mr. Pichai, who hails from Tamil Nadu, had taken this step in view of the Covid-19 peak that the country has been struggling for a long time.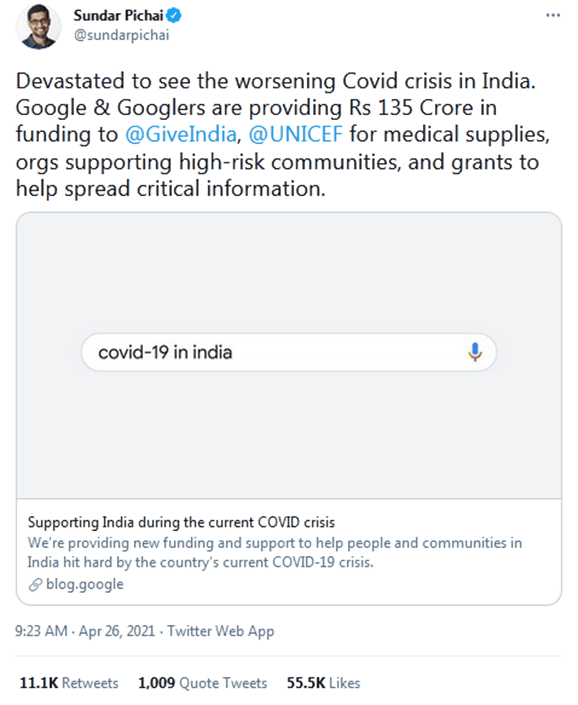 4. Reliance Foundation
Nita Ambani led Reliance Foundation prepares to set up a 400-bed Covid-19 care facility at Government Dental College and Hospital, Jamnagar, Gujarat and another 600-bed facility at another location in the city. They are currently running an 875-bed facility in Mumbai free of cost. Reliance supplied over 15,000 metric tons of oxygen helping lakhs of patients. They also imported oxygen from Thailand, Saudi Arabia, Germany, Belgium and Netherlands.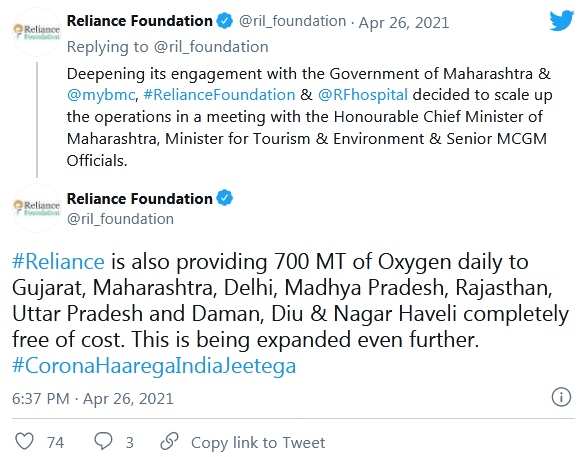 Reliance has become one of the biggest medical-grade oxygen producers amidst the Coronavirus outbreak.
5. John Abraham
John Abraham gave away all his social media accounts to NGOs helping out people affected by the pandemic. This way, he provided a platform to the organizations who want to reach out to more and more people and spread awareness effectively. John's following on Twitter stands on 3.2M, 8.9M on Instagram and 7.3M on Facebook.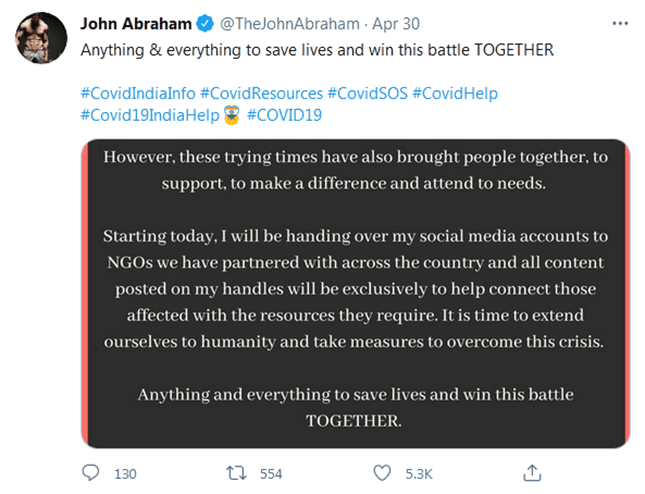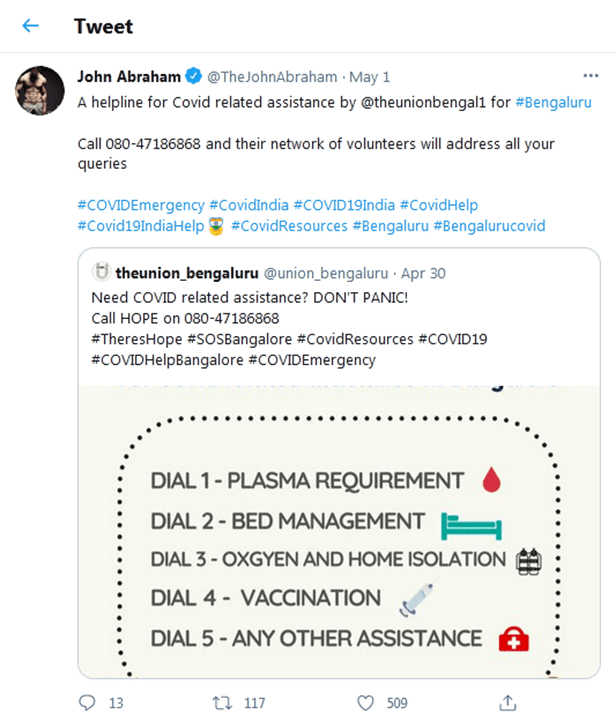 6. Akshay Kumar
Indian Actor Akshay Kumar donated Rs. 1 crore to Gautam Gambhir's foundation for providing aid to the affected people. Furthermore, he affirmed to donate Rs. 25 crore more. Besides, he and his wife Actress Twinkle Khanna recently donated 100 oxygen concentrators to Daivik Foundation.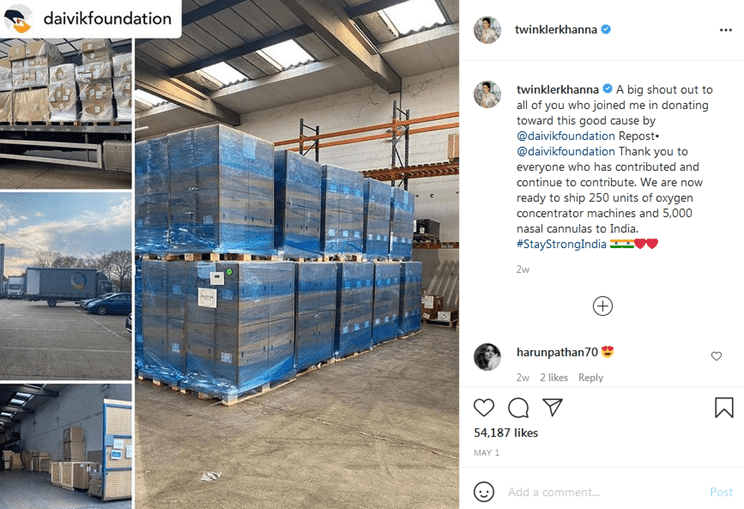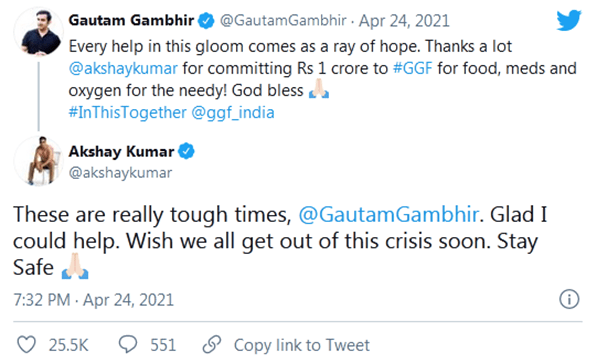 7. Vikas Khanna
The Indian-origin U.S.-based Michelin Starred chef Vikas Khanna has been passionately sending help from abroad during first and second wave. His Feed India Initiative has fed over 30 million. His team of volunteers from India and the U.S. also provided 400,000 slippers, 3 million sanitary pads and 2 million masks among other essentials. Vikas Khanna recently sent away 500 oxygen concentrators and 5,000 PPE kits to the country and is working out to send more. He has partnered with a California -based aid group 'Vibha' and India's National Disaster Relief Force for aid and logistics.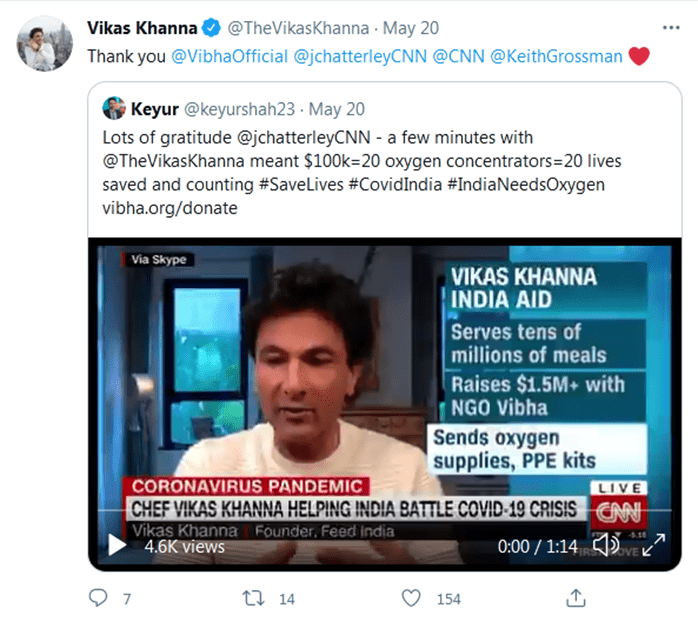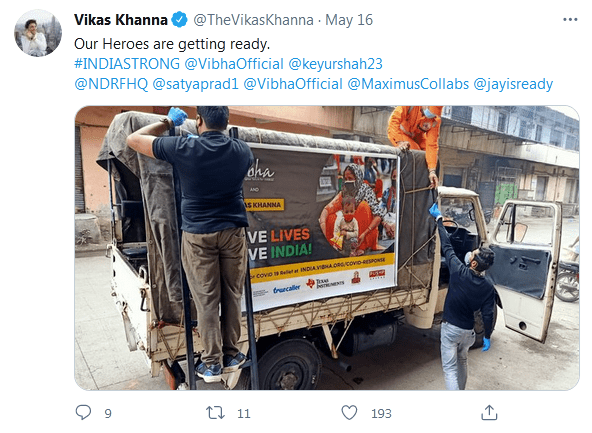 8. Satya Nadella
Microsoft CEO Satya Nadella expressed solidarity upon the grim reality of India's battle with the pandemic and said that Microsoft would continue to provide for medical supplies and technology to help India fight.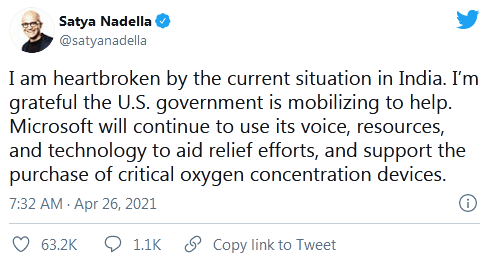 9. Rohit Sharma
In 2020, Cricketer Rohit Sharma donated 80 lakhs to Covid-19 Relief funds, 45 lakhs to 'PM Cares Funds', 25 lakhs to CM's Relief Fund Maharashtra, 5 lakhs to 'Feeding India' and 5 lakhs to 'Welfare of Stray Dogs'.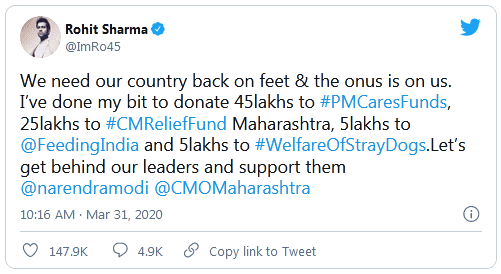 10. Priyanka Chopra
The Indian Actress is actively raising funds for India's Covid-19 relief. So far, she has raised Rs. 22 crores for the cause. Hollywood Star Hugh Jackman supported her initiative and asked his fans to help raise more funds.