"Baahubali total collection till date", is probably the only question every neighbourhood uncle aunty ask. During Eid, they'll ask about Salman. It comes to Shahrukh during Diwali and towards Christmas, it'll be Aamir's turn. Nowadays though, it's not only the Khans ruling the box office. New actors, directors, producers with new and different style of movies are gaining popularity. Reviews of the audience play a big role in determining which movie will do well. So if you're sitting free at home, you might as well get some fun out of the day by going through these blockbusters. Here is a list of the Top 15 Highest Grossing Bollywood Movies of all time.
1) Baahubali 2: The Conclusion-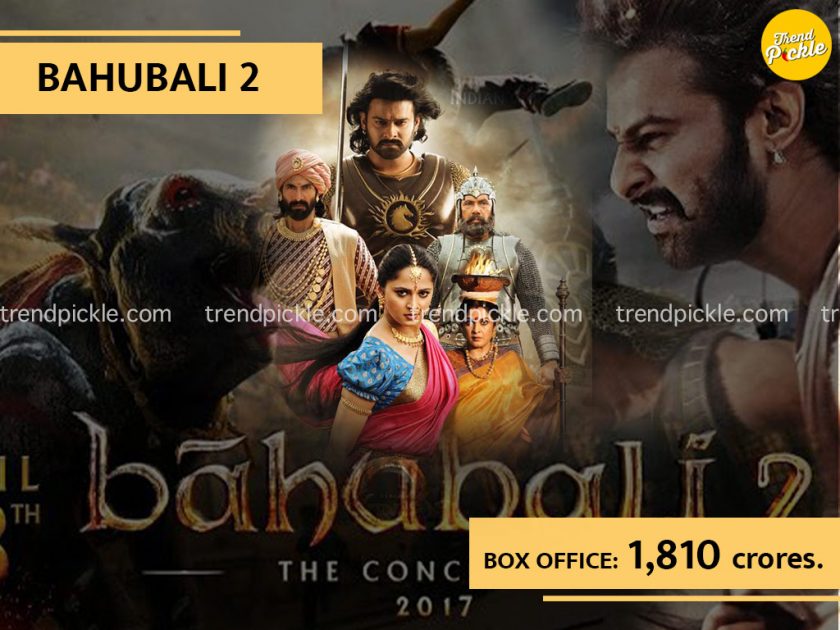 Maybe the society won't accept you if you haven't watched this blockbuster even once. The storyline, characters, sound and every dialogue was just spectacular. It got a rating of 8.3 on IMDb and 88% on Rotten Tomatoes. The budget of the movie was Rs 250 crores and an investment of 5 years from the whole team which resulted them to be on the top of the list. Baahubali 2 box office collection was approximately Rs 1,810 crores and Rs 1,429 crores from India alone.
2) 2.0-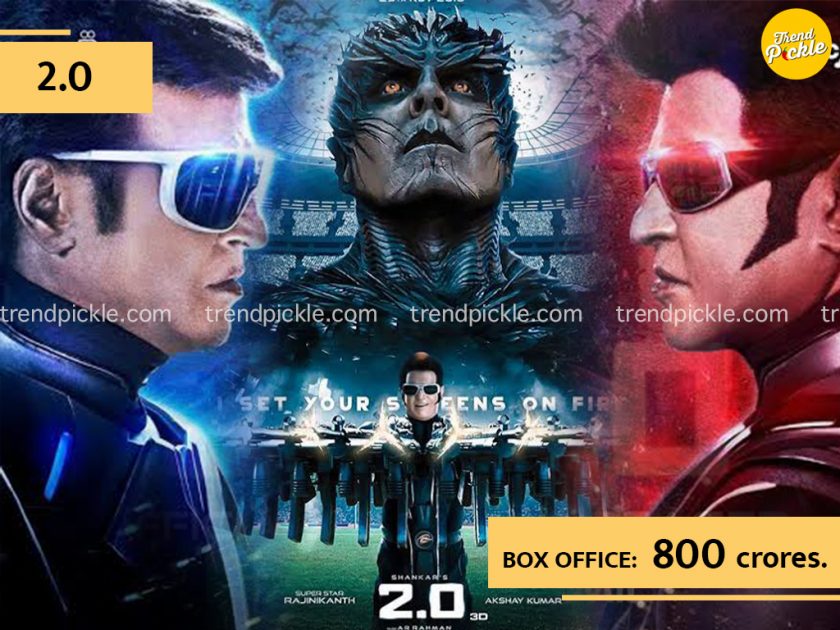 This Rajnikanth and Akshay Kumar starrer broke all records when it released in 2018. It is said to be the most advanced 3D film ever made in the history of Indian cinema. Though it's IDBm rating is a 6.5 and on Rotten Tomatoes it's 59%, this film deserves a onetime watch. It's budget being 565 crores, it's box office collection was 800 crores approximately. It's also the sixth highest grossing Indian film worldwide.
3) Dangal-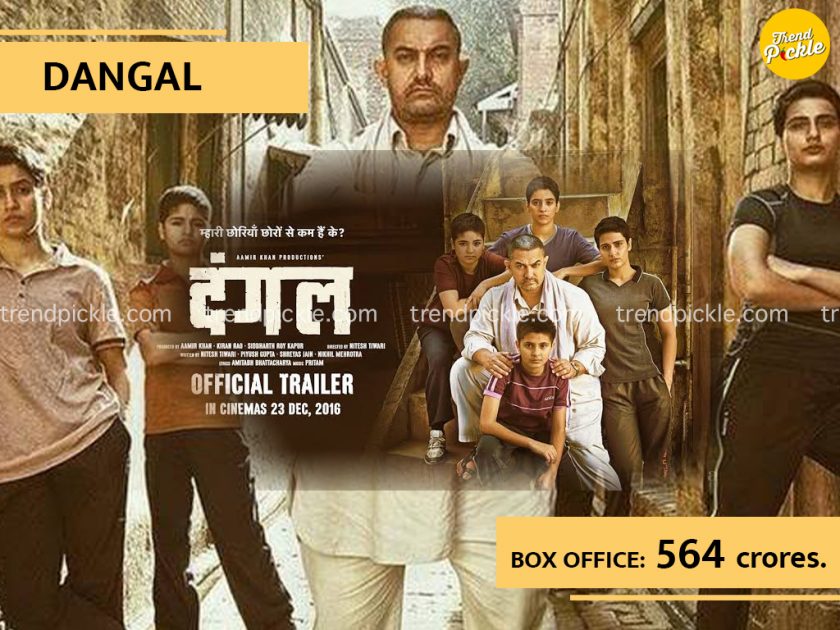 This 2016 Aamir Khan starrer doesn't give you a chance to remove your eyes from the screen because it's so engrossing. The struggle of real life wrestlers, Geeta and Babita Phogat is portrayed very beautifully through this film. It has a rating of 8.4 on IMDb and 88% on Rotten Tomatoes. It's budget was only 70 crores and it has earned a total gross of 564 crores approx. It is the highest grossing Indian film in the overseas markets.
4) Baahubali: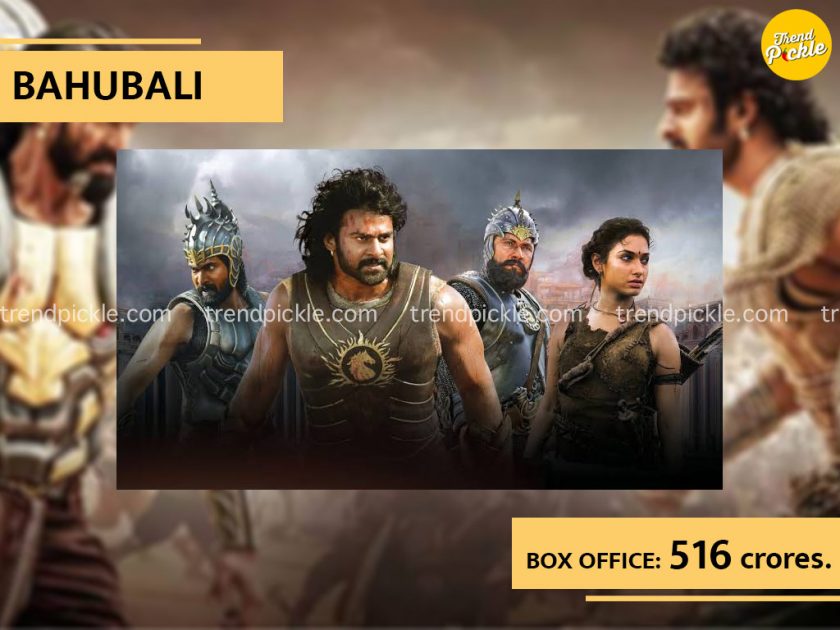 The Beginning- This movie had to be in the list. The effort, time and people involved in the making of the movie was huge. If you want to experience a different world of kings and kingdoms, this 8.1 rating movie is the one to watch. Baahubali box office collection is approximately 516 crores.
5) Bajrangi Bhaijaan-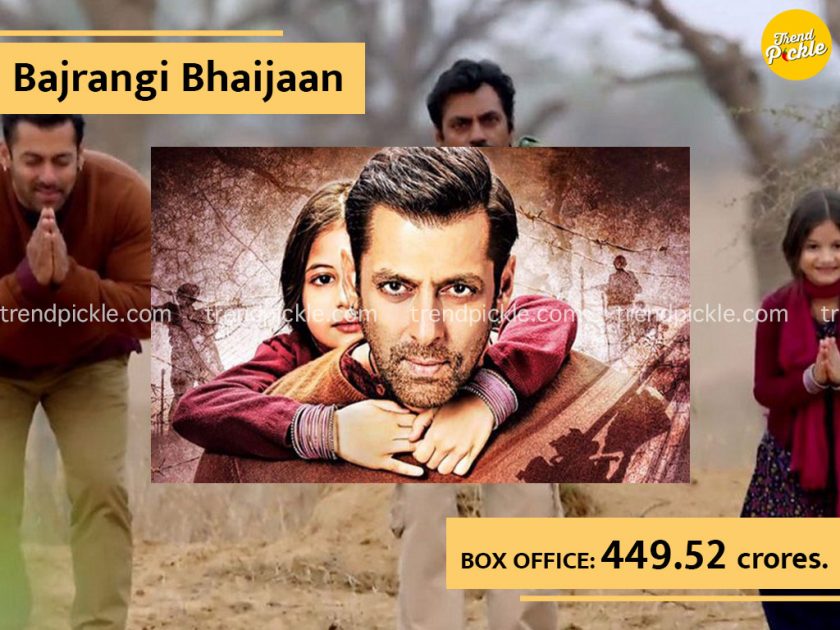 The 2015 Salman Khan movie melted everyone's hearts with the innocence of the child and Salman Khan himself. It reaches out to peoole in a different way and gives us a better understanding of life. The approx box office collection of Bajrangi Bhaijaan is 449.52 crores, with an IMDb rating of 8 and 93% on Rotten Tomatoes.
6) Tiger Zinda Hai-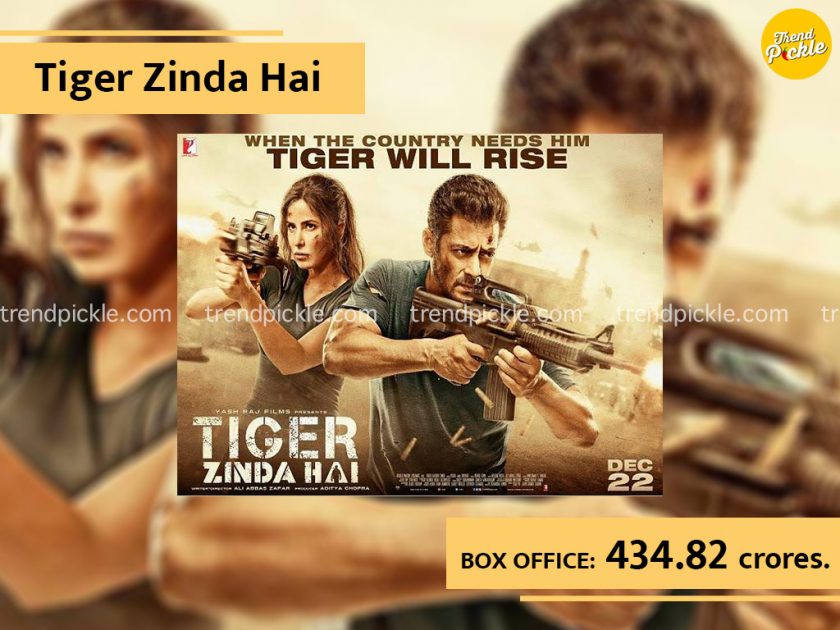 Another blockbuster by Salman Khan, which is a lot different than Bajrangi Bhaijaan, the previously mentioned movie. He is an Indian spy who later joins a Pakistani spy as they go on to deal with terrorism. The chemistry of Salman and Katrina is something worth watching in the movie. It got a 6/10 on IMDb and it's total gross is 434.82 crores.
7) Sanju-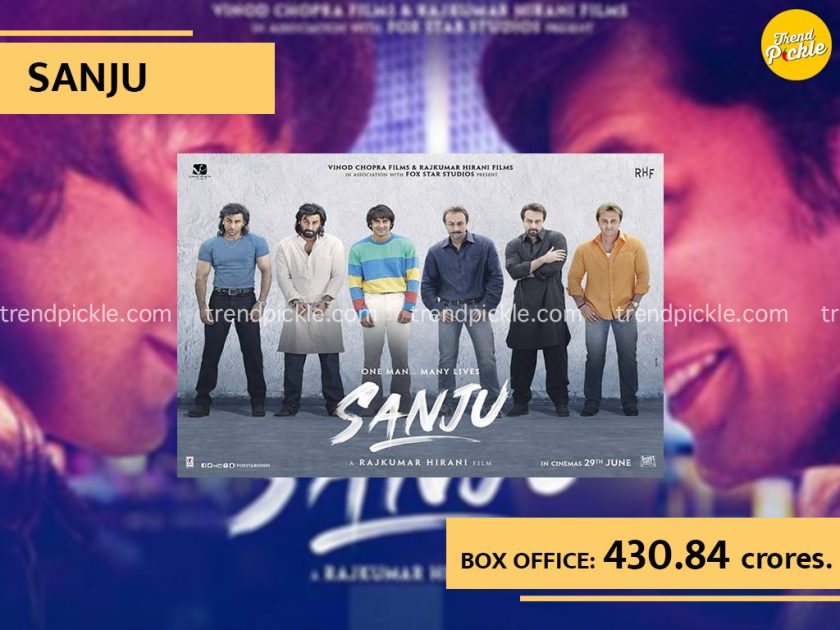 If after watching the movie, you say you weren't even a little motivated to become something better in life, I won't believe you. The songs, dialogues, screenplay and the acting of Ranbir Kapoor make this movie a delicious treat in watching. The ratings of the movie on IMDb is 7.9 and its total collection is 430.84 crores.
8) Sultan-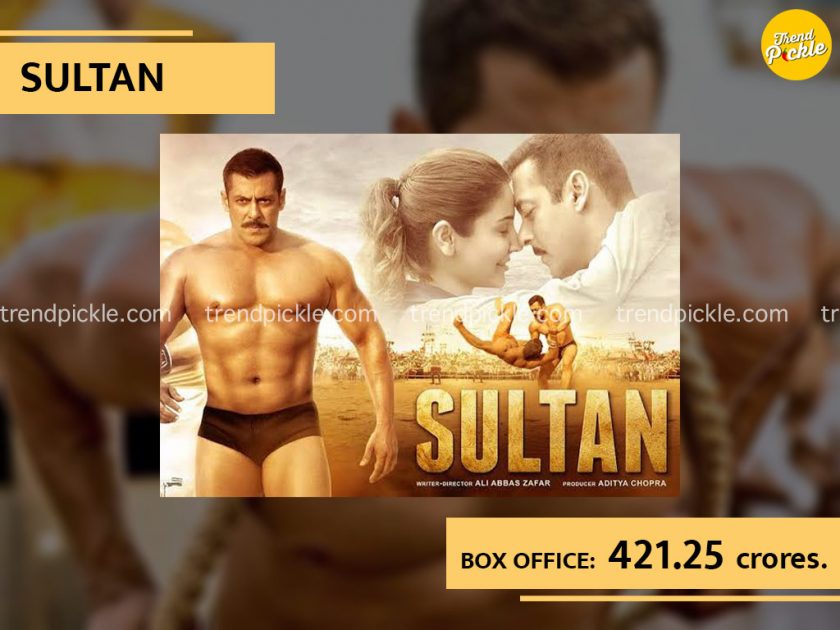 Salman Khan movies do great in box office apparently. The movie starts with a love story having a humorous tilt to it but towards the end it takes a twist and teaches us the lesson of compassion in life. It deserves a lot more appreciation on the story line, which is truly out of the box. It's box office earnings are 421.25 crores and the ratings on IMDb and Rotten Tomatoes are 7.1 and 83% respectively.
9) Padmaavat-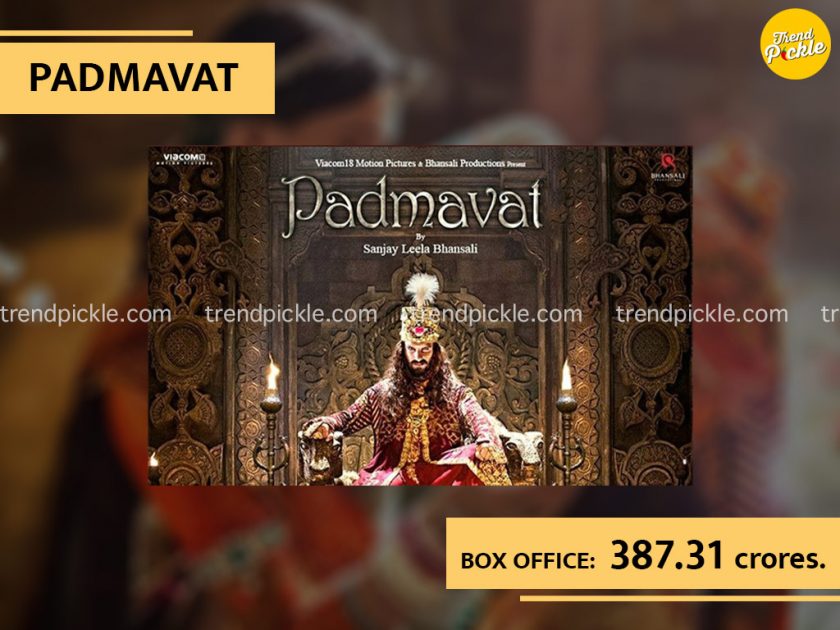 If the most controversial film of recent times can make huge in the box office, then this can only prove that howmuchever one tries, you can't keep a good movie from the audience. Even after getting boycotted from large number of groups, the film made a budding 387.31 crores. The story, along with the acting is commendable. It got a rating of 7 on IMDb.
10) Dhoom 3-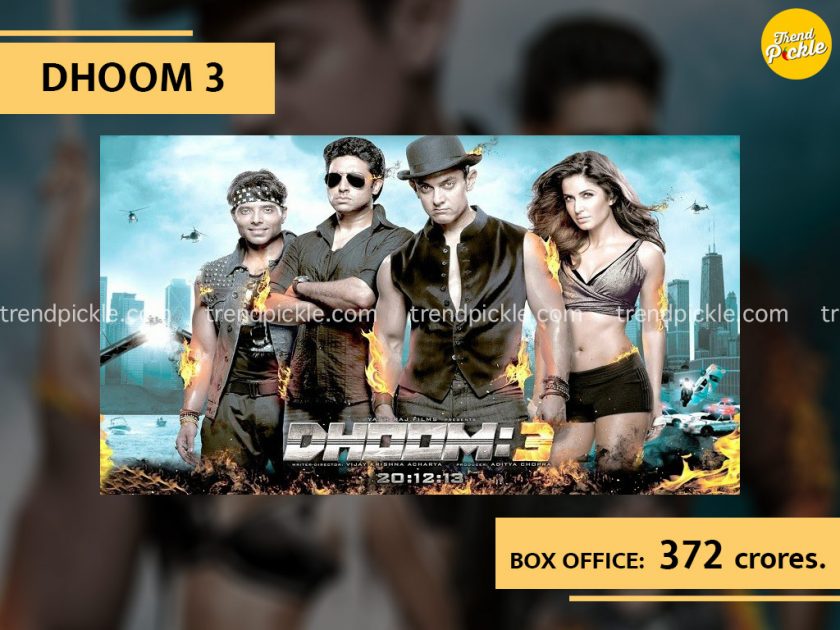 Dhoom 3 was released in 2013, a lot earlier than any other movie in the list and it was still able to earn 372 crores. Another Khan, Aamir Khan's movie with a full on suspense. The Vijay Krishna Acharya film got only a rating of 5.4 on IMDb. Irrespective of that, it is the ninth grossing film in overseas market.
11) Kabir Singh-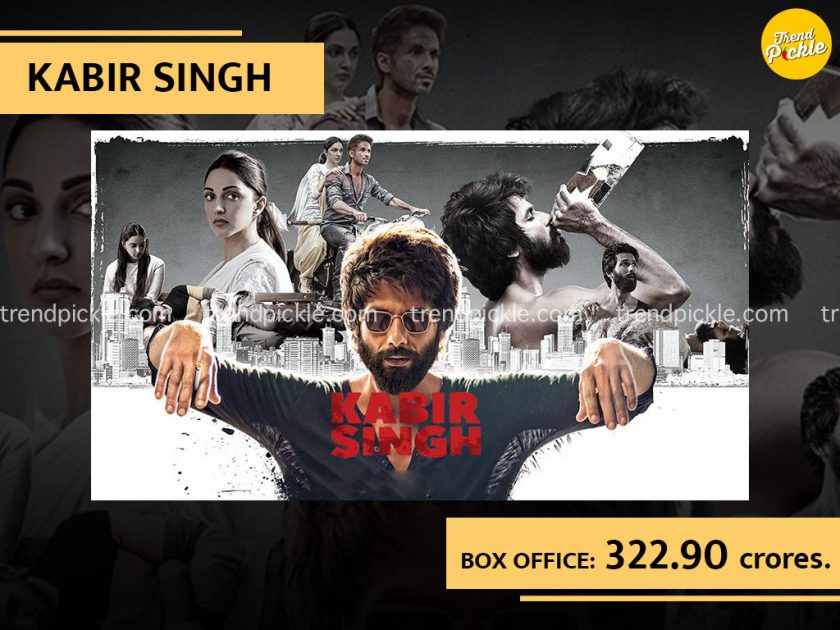 With Shahid Kapoor's acting and the storyline of Arjun Reddy, how could this movie not be in the list. All the heartbroken aashiqs' contributions have made this film earn 322.90 crores. It got a 7.6 rating on IMDb. The story is spectacular and if you're in the mood for watching some aggressive love, this is recommended 100% .
12) Krrish 3-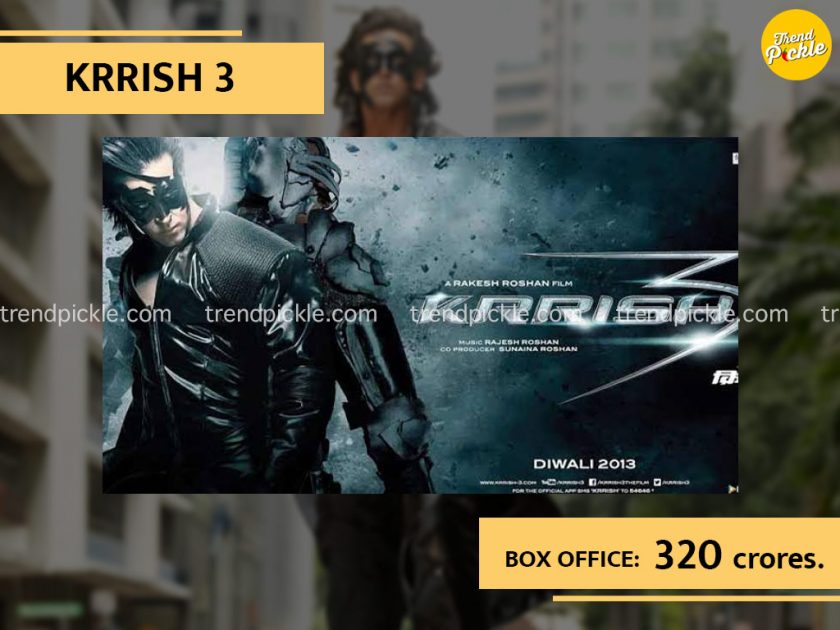 A lot of Indian superheroes cone and go but Krrish still remains the favourite of all people. This time, Krrish and his family manage to save the world from human-animal mutants who were hell bent on destroying the world. It has a rating of 5.3 on IMDb and 69% on Rotten Tomatoes. It's total gross is 320 crores.
13) Kick-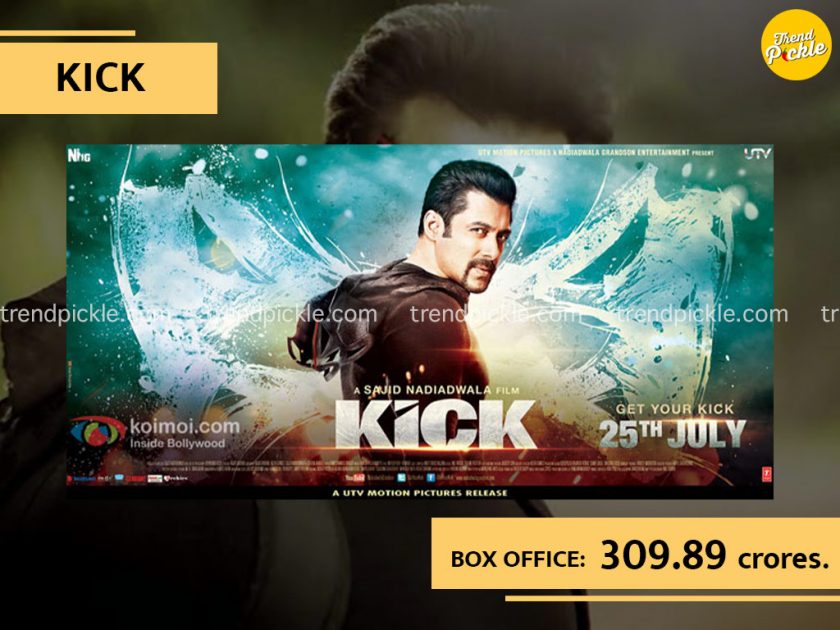 Another Salman Khan movie which has managed to earn a total gross of 309.89 crores. This movie contains a dose of everything including humour, romance, action and the sense of social responsibility that exists in almost every Salman Khan movie. It has an IMDb rating of 5.4.
14) Simmba-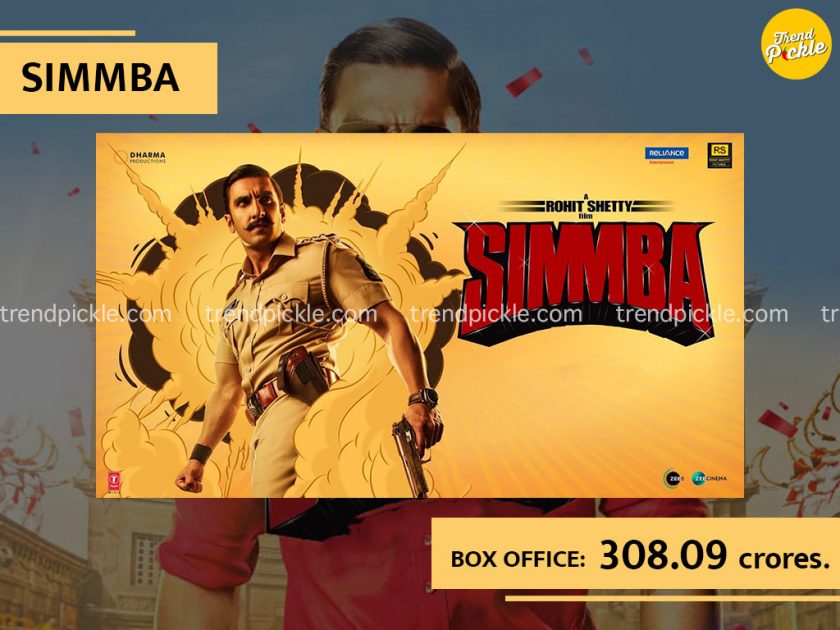 Such an action packed paisa vasool movie had to attract the audience and collect as much as 308.09 crores in the box office. Directed by Rohit Shetty, it is a spinoff of the Singham franchise. The story involves a change of heart in a corrupt police officer after solving a certain case.
15) Prem Ratan Dhan Payo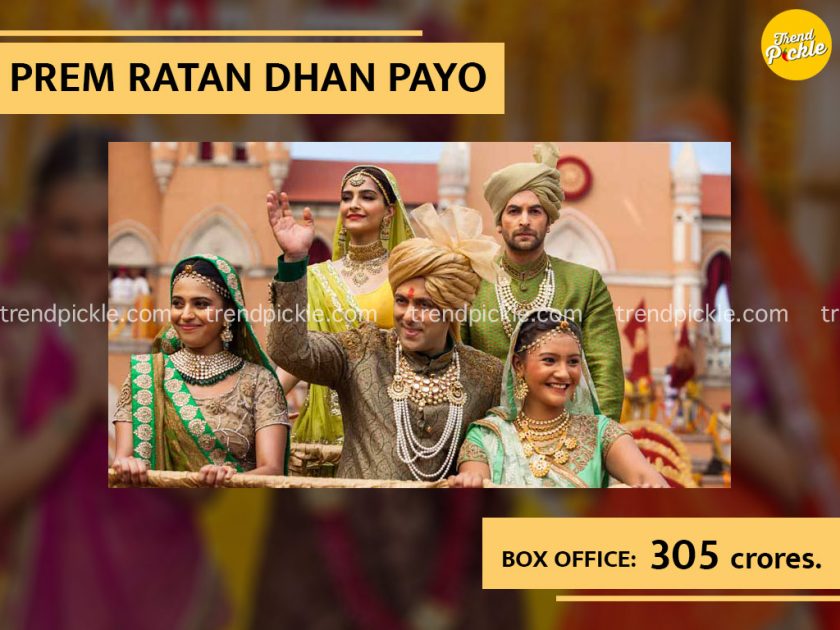 It had to end with a Salman Khan blockbuster. A very average movie which shows the unusual lifestyle of modern kings and queens. Salman Khan plays a double role in the movie. It earned a total of 305 crores with ratings of 4.6 on IMDb.