15. Chashme Buddoor (1981)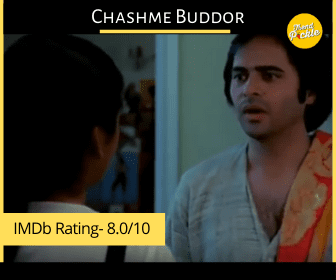 Two womanizing slackers, Omi and Jai (Rakesh Bedi and Ravi Baswani respectively) attempt to woo the new girl in the neighborhood, and fail – miserably. Their third room-mate, shy, and a bookworm – succeeds, much to their surprise. The two scheme up comical ideas to split the two lovebirds, so that their secrets and humiliation are not revealed. This was one of the best Bollywood comedy movies to come out in the 80's.
Director – Sai Paranjape
Star Cast – Farooq Shaikh, Deepti Naval
IMDb rating- 8.0
Watch Scene from Movie:
Check out the best bollywood comedians of all time. Read interesting facts about them.
16. Angoor (1982)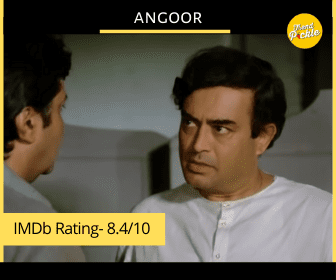 Based on Shakespeare's 'A Comedy of Errors', this is a story of identical twins (2 pairs) and mistaken identities.
Director – Gulzar
Star Cast – Sanjeev Kumar, Moushumi Chatterjee, Deven Verma
IMDb rating- 8.4
Watch Comedy Scene from Movie:
17. Chupke Chupke (1975)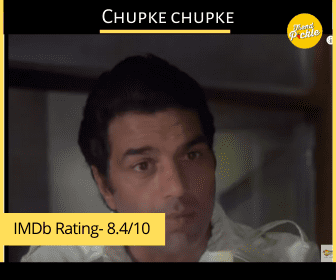 A newly wedded husband plays a practical joke on his wife's family with full support from his wife and friends.
Director – Hrishikesh Mukherjee
Star Cast – Dharmendra, Amitabh Bachchan, Sharmila Tagore
IMDb rating- 8.4
Watch one comedy scene from Movie:
18. Padosan (1968)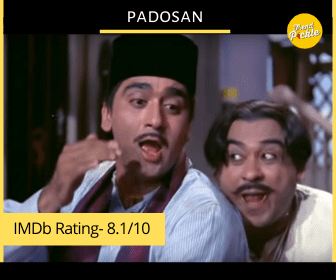 A simple man from a village falls in love with his new neighbor. He enlists the help of his musical-theater friends to woo the lovely girl-next-door away from her music teacher.
Director – Jyoti Swaroop
Star Cast – Sunil Dutt, Saira Banu, Mehmood
IMDb rating- 8.1
Watch Comedy Scenes from Movie:
19. Ishq (1997)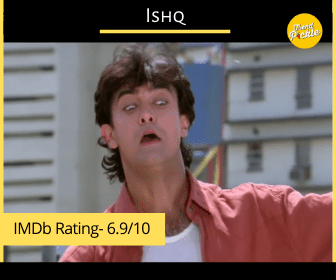 Harbans Rai and Ranjit Rai are two wealthy businessmen who absolutely *loathe* poverty and poor people. As fate would have it, Harbans Rai's daughter Madhu falls for a poor mechanic Raja while Ranjit Rai's son Ajay romances a poor girl Kajal. When Harbans and Ranjit come to know of it they try various ways to separate the lovers.
Director – Indra Kumar
Star Cast – Aamir Khan, Ajay Devgn, Juhi Chawla, Kajol
IMDb rating- 6.9
Watch Comedy Scene from Movie:
20. Haseena Maan Jaayegi (1999)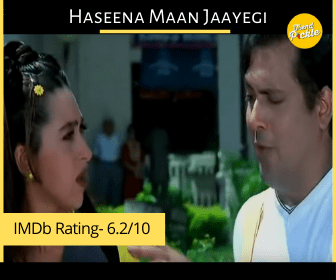 Wealthy Seth Amirchand (Kader Khan) has two good-for-nothing sons, Sonu (Sanjay Dutt), and Monu (Govinda). Their time is mainly spent on comically attempting to extort money from their hapless dad, by hook or by crook, by threats or blackmail. Amirchand decides that the best way to deal with them is to separate them, he then asks Sonu to proceed to Goa and Monu to look after work in Bombay. Will Sonu and Monu meet again?
Director – David Dhawan
Star Cast – Sanjay Dutt, Govinda, Karishma Kapoor
IMDb rating- 6.2


Watch Comedy Scene from Movie:
21. Deewana Mastana (1997)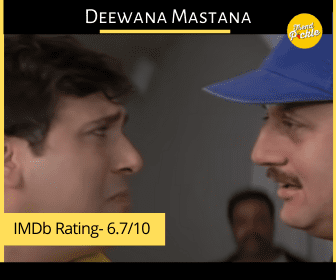 Chaos ensues when a small-time crook and a mental patient tries to win the heart of a beautiful woman with comical outcomes.
Director – David Dhawan
Star Cast – Anil Kapoor, Govinda, Juhi Chawla
IMDb rating- 6.7


Watch Comedy Scene from Movie:

22. Munna Bhai M.B.B.S (2003)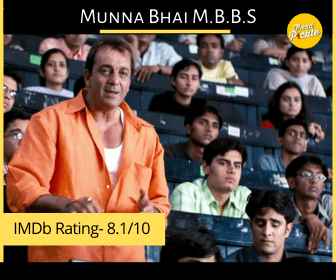 This film marked the directorial debut of Rajkumar Hirani, who managed to make a place in everyone's hearts with this film itself. Starring Sanjay Dutt and Arshad Warsi in pivotal roles, this film proved to be a turning point in Sanjay Dutt's career. He played the role of a gangster who is adamant on becoming a doctor to fulfill his father's dream.
Director – Rajkumar Hirani
Star Cast – Sanjay Dutt, Arshad Warsi, Boman Irani
IMDb rating- 8.1