Everyone loves going to serene, peaceful places for a trip with their loved ones. But what if these serene places were embellished with wonderful flowers that were also unique? It would be an amazing experience, indeed. Every 12 years, the hills of Munnar are flooded with a beautiful shade of blue. The reason behind this wonderful blue shade is the stunning Kurinji or Neelakurinji flowers that bloom after every 12 years, in the shola forests of the Western Ghats in South India.
Described by Christian Gottfried Daniel Nees von Esenbeck in the 19th century, the Kurinji plant belongs to the Strobilanthes genus. This genus comprises of about 250 species, of which 46 species are found in India. A large number of these species show unusual characteristics with their blooming cycles varying between  1 to 16 years. It grows at an altitude of about 1300 to 2400 metres and it is about 30 to 60 cm high. These plants that take a long time to bloom are known as piletesials.
Neelakurinji Flowers Blooming Season for 2018: August 2018 to October 2018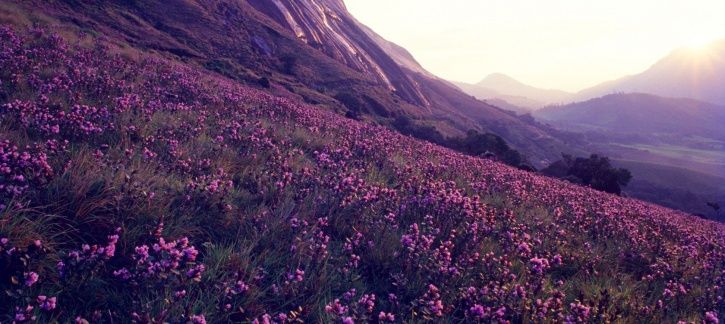 This plant occurs in large quantities near the Kunthi river that flows through Kerala's Silent Valley National Park. There was a time when Kurinji grew and spread on the Nilgiri hills as well as Palani hills like a blue-shaded carpet during its flowering season. It is also seen in Shevroys in the Eastern Ghats, Sanduru hills in Bellary district of Karnataka and Agali hills in Palakkad in Kerala. After these flowers had bloomed in 2006 in Kerala and Tamil Nadu, the Strobilanthes cuspidatus, one of the species of Kurinji flowers were seen blooming in 2016 at Udhagamandalam. The Neelakurunji flowers were also seen at Sanduru, Bellary district in the hills behind the Kumaraswamy temple in 2017.
In 2006, when the Neelakurinji had last bloomed in Kerala after a time span of 12 years, Kerala had declared it as 'The year of Kurinji'. Also, they had released a commemorative stamp. There are sanctuaries in Kottakamboor and Vattavada villages of Idukki district. The prime objective of these sanctuaries is to protect and conserve Kurinji. The sanctuary is called 'Kurinjimala Sanctuary'.
Kodaikanal, a famous hill station in Tamil Nadu, is the best place to see the plant as well as its blossoms. Kodaikanal is known as the 'princess of hill stations' and is a favorite summer destination for most of the tourists. Surrounded by dense forests, Kodaikanal is located above the Palani Hills and is around 6998 feet high. The famous Kurinji Andavar Temple is also located in Kodaikanal and named after the Kurinji flowers. And even after all this, people are not as aware of Kurinji as is expected. In order to change this, the Dindigul district administration has decided to celebrate a festival based on Kurinji this year, as the beautiful flowers will be blooming this year after 2006. The ideal time to see Neelakurinji blooming is between August and October.
There is only about 10 percent of Strobilanthus in Tamil Nadu and Kerala, which is why Kurinji is a species that needs special and serious attention. The shola forests as well as the grasslands, which are the habitats of Kurinji, are being replaced by tea and coffee plantations. Also, an increase in tourism, water depletion as well as improper garbage disposal is affecting the ecosystem. Hence, taking necessary measures to conserve and improve the ecosystem without any more degradation is the need of the hour and is something that will help in maintaining and improving the grasslands and forests in which the Kurinji occurs.
So, plan a trip to Munnar or Kodaikanal at the earliest as the Kurinji can be seen only until October. And you don't want to miss out on the beautiful blue carpets of flowers adorning the hills and forests of Western Ghats, do you?