In today's day and age we are always on the move, so why not our documents? Also who wants to get into the hustle of re-obtaining  the documents and id proofs because we just damaged them or worst lost them. No one wants to and  with the facility of  DIGILOCKER there is definitely a way out!!!!
What is DigiLocker?

Eliminating the use of physically carrying the vital documents like driving license or the voter id, DigiLocker is a part of the Prime Minister NarendraModi's Digital India initiative. Available both in website and mobile app form , the documents are stored on the cloud.Indian citizens who sign up for a DigiLocker account get a dedicated cloud storage space that is linked to their Aadhaar (UIDAI) number. Organizations that are registered with Digital Locker can push electronic copies of documents and certificates (e.g. driving license, Voter ID, School certificates) directly into citizens lockers. Citizens can also upload scanned copies of their legacy documents in their accounts. These legacy documents can be electronically signed using the eSign facility.
Benefits of Digilocker

1. Since the documents are stored digitally, they can be accessed anywhere and anytime.
2. Reduction of administrative overhead of the Government Departments by minimizing paper usage.
3. Easy validation of authenticity of the documents as they are issued by registered issuers.
4. eSign facility is synonymous to the process of self attestation.
StakeHolders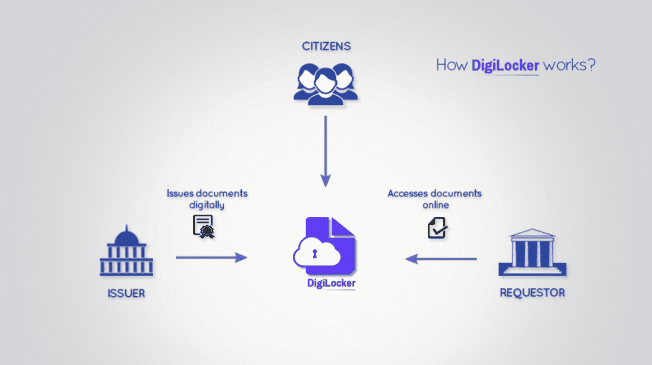 The following are the key stakeholders in the DigiLocker system:
Issuer: e-documents issued to individuals by an entity in a standard format and making them electronically available. Organisations registered with DigiLocker include the UIDAI, the road transport and highways ministry, the Income Tax Department, various school boards, including the CBSE, and departments of various state and central government ministries.
Requester: Entity requesting secure access to a particular e-document stored within a repository (e.g. University, Passport Office, Regional Transport Office, etc.)
Resident: An individual who uses the Digital Locker service based on Aadhaar number.
How To Use DigiLocker?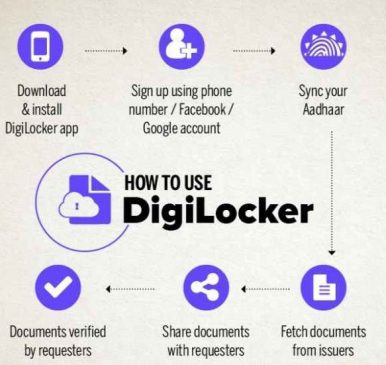 1. Access digital locker at https://digitallocker.gov.in/
2. Click on 'Sign Up'.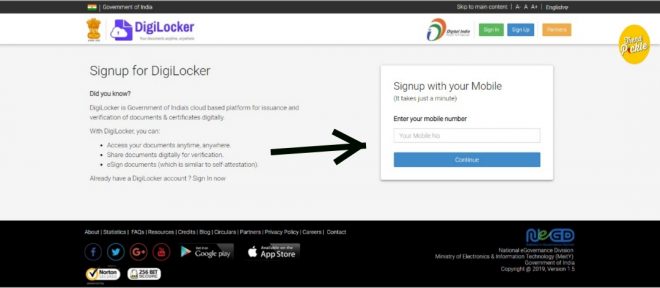 3. Enter your Aadhaar Number. Enter your unique 12 digit Aadhaar number. Two options are there to proceed further-Use OTP or Use Fingerprint.
4. User ID Creation –
-The application will prompt the user to create 'Username' and 'Password'. Enter your desired User name and Password for 'Digital Locker' account.
– Click on Sign Up button.
– After successful account creation, the application will show the 'Dashboard' page.
Once Signed Up…..you are now ready to use it. To Sign In, the following steps need to be followed:
1. Go to https://digitallocker.gov.in/
2. Enter User Details – User can login via any of these 3 available options :
– Aadhaar Number and the OTP.
– User name and Password provided during account creation.
– Facebook ID validation.
3. Uploading Documents
After signing into Digital Locker, click on Uploaded Documents and then click on Upload to upload your documents in the Digital Locker Account. Multiple documents can be uploaded at a time. Click on 'Select Doc Type' for any document listed in Uploaded Documents list. Choose the Document type from the given drop down. If your document does not match with any of the predefined document types then select "Others" from the drop down. After above mentioned steps, click on Save button.
And with this all the vital documents are ready to be used anywhere and anytime!!!!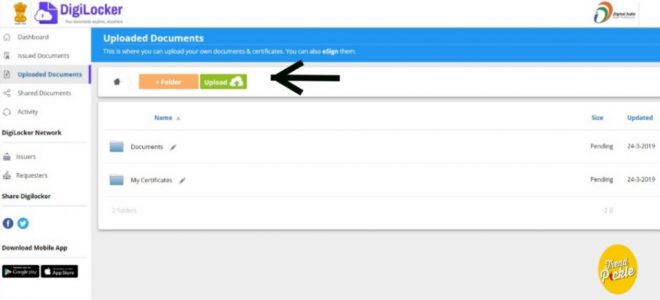 Now that we are using the DigiLocker ….Let's know some amazing facts about it.
1. 1 GB of storage space is offered to users to store identification card.
2. The storage space provided was 100 MB initially.
3. As of March 2019, DigiLocker provides access to over 350 crore digital documents from 115 issuers.
4. The individual file size for upload cannot exceed 10 MB.
5. The beta version of the service was rolled out in February 2015, and launched by the Prime Minister on 1 July 2015.
If you face in issue in create account on digilocker and uploading the documents? Let us know in the comments section!