If you're thinking of enjoying a holiday weekend somewhere you may want to consider visiting Eastern Europe. This part of the world is full of incredible architecture, exciting market squares, and amazing histories. Below you will find a brief guide to some of Eastern Europe's best cities:
Krakow, Poland
Krakow is Poland's most beautiful city and is home to a stunning market square. The market square is overlooked by St. Mary's Basilica which was built during the 1300s and the Renaissance Cloth Hall which is just stunning. Krakow is also home to the Wawel Castle that stands proudly over the cobbled streets that are full to the brim of restaurants and bars.
Budapest, Hungary
Budapest seems to be the art nouveau capital of the world. Budapest is a remarkable city and the streets are lined with old fashioned eateries and remnants of communism making Budapest even more fascinating. Take a walk along the Danube, and cross a bridge when you come across it. You could find yourself in Buda, home to hot springs and a palace which is nothing short of amazing.
Warsaw, Poland
Warsaw is known as being a very dynamic city and it's easy to understand why when you're there. The rich cultural life affords visitors and locals alike the luxury of seeing a wide range of concerts, stunning operatic performances and amazing art exhibitions.
Warsaw is also home to a great nightlife which may be ideal if you love to stay out late. The restaurant scene is huge in this city and is well worth exploring. Along with many restaurants, you will also find some amazing museums such as the Marie Curie-Sklodowska Museum which is well worth visiting.
Ljubljana, Slovenia
Ljubljana is a bijou capital city and is home to a very picturesque Old Town along with a fairytale-like castle. Food markets in this part of the world are well worth visiting as are the local restaurants that proudly serve local dishes. A laid back but very pretty town, Ljubljana is a must-visit destination.
Wroclaw, Poland
Wroclaw is a red-bricked town that sits next to the river Oder. The river has more than 100 bridges over it, and these bridges help to link the islands up, thereby creating the wonderful city of Wroclaw.
If you're a fan of parks and gardens you will love Wroclaw as this city is home to more parks and gardens than you could imagine. Don't forget to dine out in one of the many restaurants that adorn the streets and invite you in to enjoy a delicious meal.
Tallinn, Estonia
The capital of Estonia and complete with a medieval Old Town that is beautifully preserved, Tallinn is one of those places you must visit. The city has a wonderful art museum and the glorious Kadriorg Park. Many people visit from Finland as they love the bars, restaurants, and how easy it is to reach Tallinn.
Prague, Czech Republic
Prague is a very old city but it's becoming an increasingly modern one. With baroque architecture and some beautifully cobbled lanes that are located in the Old Town it's a wonderful place to be. If you can avoid visiting in the months of June to August, do as Prague can get very busy. However, whenever you visit you're sure to love the glorious gothic spires and the feel of this remarkable city.
Tbilisi, Georgia
Tbilisi is a city where the East and the West meet, making it a very special place to be. If you choose to dine out in Tbilisi you will find that the local cuisine is a mixture of Turkish, French and Indian cuisine. When it comes to the town's architecture it's a mixture of Soviet-era styles and Art Deco, making it even more unique.
Bucharest, Romania
With a wonderful cafe culture, recently revived cobblestone streets and Orthodox churches, Bucharest is nothing short of vibrant. A mixture of old and new influences and a new entrepreneurial vibe, Bucharest is unlike anywhere else. Enjoy the city's tasty coffee, glorious parks and new restaurants.
Riga, Latvia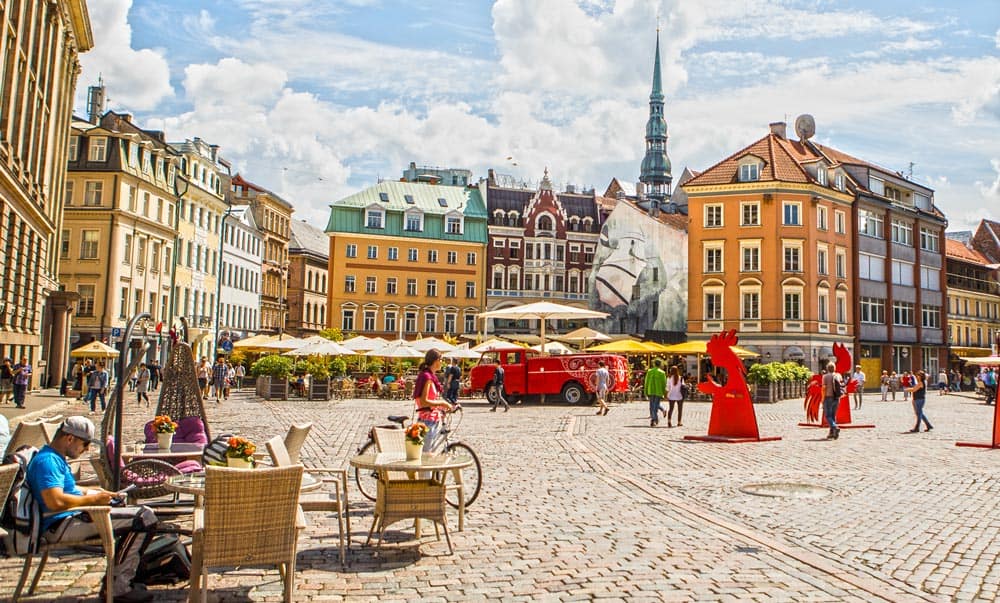 Riga is home to the largest number of Art Nouveau buildings in the world. The centre of the Old Town is a UNESCO World Heritage Site and the city itself is nothing short of compelling. With an amazing skyline, many beautiful parks and impressive maritime history, Riga is the ideal city if you want to experience Eastern Europe at its finest.
Bratislava, Slovakia
Close to the Danube and surrounded by forests, Bratislava has a charming Old Town and a labyrinth of beautiful cobbled streets. Full to the brim of treasures that are just waiting to be explored, this city is home to many an art gallery, museum and wonderful cafes.
Eastern Europe is full of some amazing cities but we think the above 11 cities are all well worth visiting. Why not make it your ambition to visit each one of these intriguing places? They all have so much to offer.
Which is most charming city in Eastern Europe according to you? Let us know in the comments section!