Financial Apps are useful in various aspects of your financial life as it helps you save money for the future. Budgeting your money is very important. It includes budget creation to debt tracking, savings goals, and even investment coaching. It manages both your personal and business expenses and even handles property management functions like rental payments from tenants. Read this guide if you are looking for passive income ideas in India. Here are the best android apps to manage your personal finances, take a look.
List of the best Personal Finances Android apps 2023
1. Mint
Mint is actually a replacement for an older app called Mint Bills. Mint, probably the most popular budgeting app for mobile phones and the web. After connecting bank accounts, clients can automatically import transactions and see where they are spending money each month. These amounts can then be used to determine how much to budget for each month moving forward, and then can be compared to income levels to see how sustainable spending is over different lengths. You can see everything in one place, manage your bills and money, and even pay your bills if you want to. It will also provide your credit score, remind you of upcoming bill payments, multifactor authentication (for security), and a web app that you can use.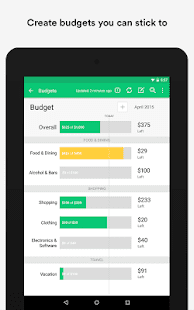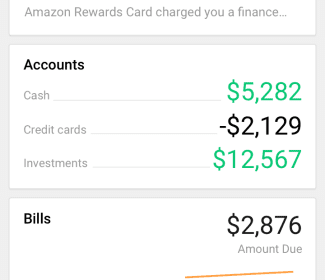 Download the Mint app.
2.Goodbudget
Goodbudget is a fairly popular app for budgeting. It features cross-platform support so you can check it out on Android, the web, or iOS if you want to. Everything syncs between those platforms. Additionally, you'll get expense tracking, income tracking, and some other decent budgeting tools. It uses Material Design and it looks lovely. You can also export your data as a CSV file, QFX (for Quicken), and OFX (Microsoft Money) in case you need that. It's one of the more simple budget apps. Some of the main features are free. The rest require a subscription.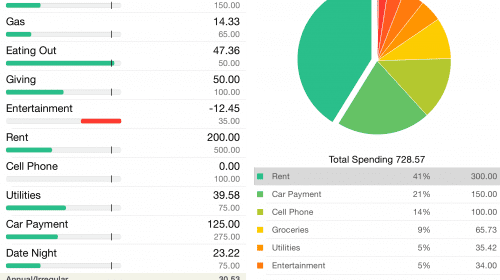 Download the GoodBudget app
3. Personal Capital
Personal Capital is a free service which focuses primarily on Investing. They are two services combined into one: the free personal finance app and their paid financial advisor service. Personal Capital can be used for planning for future financial goals such as retirement, saving towards college, buying a house, etc. It is one of the best apps which helps in managing personal finances.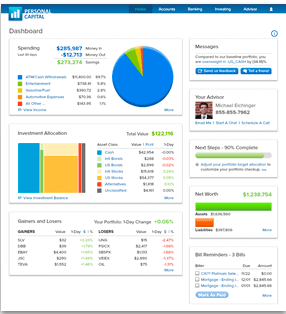 Download the Personal capital app.
4. YNAB ( You Need A Budget )
YNAB ( You Need A Budget )is an app that provides both the mechanics of monitoring your income and expenses and instructional support to help you deal with the root causes of financial distress. YNAB safely and securely connects to your bank through a third-party provider and instantly imports all your transactions.YNAB's budgeting strategy is built on three rules designed to help you live within your means, get out of debt, save money and stop living paycheck to paycheck:
Rule #1: Every dollar in your budget should be allocated to a certain purpose.
Rule #2: Smooth out your budget and reduce stress by continually allocating money each month to all your expenses, including insurance premiums, birthday expenses, and vacations.
Rule #3: — Anticipate and adjust for overspending in certain categories in some months and stay on track with your long-term goals.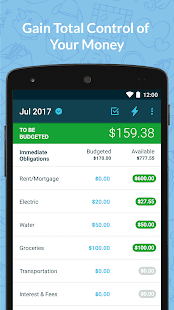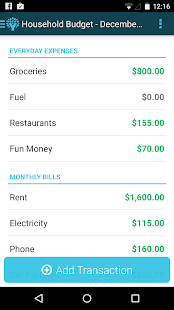 Download the YNAB app.
5. Acorns
Acorns monitors your bank account and automatically invests the change from your daily purchases. Acorns app is the 21st-century version of a piggy bank. The app helps you save and then it invests the spare change for you. The real genius of the Acorns app is that if you link it to your debit card, it will round up your purchases to the next dollar and put that extra change into an investment account.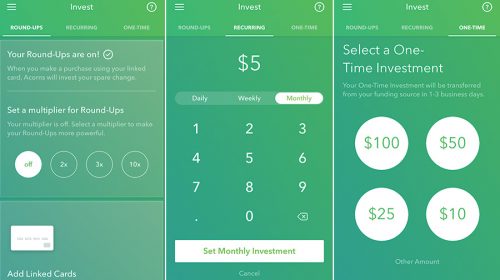 Download the Acorns app.
6. Robinhood
Robinhood is a game-changing investing app with a unique and unbeatable feature: transactions are free. It's also one of the personal investing apps for your finances. It is a simple, stylish stock-trading app. It also introduces bitcoin and another cryptocurrency. it invests in stocks, ETFs, options, and digital assets side by side, all commission-free and easily accessible in one app.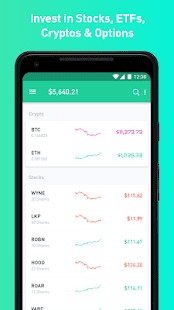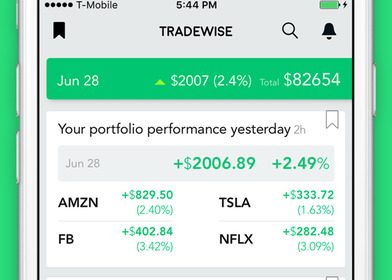 Download the Robinhood app.
7. Digit
Digit is a saving and investing app which helps consumers save money without them having to think too much about it. After analyzing a user's spending habits, the app automatically removes $5 to $50 from an attached checking account and puts it aside in a Digit savings account. A no-overdraft guarantee ensures that the company never takes out more than the customer can afford. The savings account can then be accessed for emergencies, vacations or other purposes with no attached fees.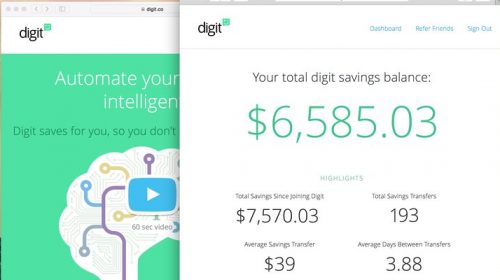 Download the Digit app.
8. Buxfer
Buxfer helps you see all your accounts at one place, understand where your money goes, reduce unwanted spending, track investments, and save for future goals. Transactions from banks are automatically downloaded to your account. You can see everything in one place, manage your bills and money.it Reduces unwanted expenses by setting spending limits per tag.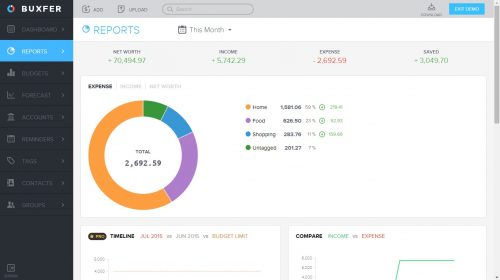 Download the Buxfer app.
9. Moneydance
Moneydance is easy to use personal finance software that is loaded with all the features you need: online banking and bill payment, account management, budgeting, and investment tracking. Moneydance can automatically download transactions and send payments online from hundreds of financial institutions. It learns how to automatically categorize and clean up downloaded transactions. You can set up a payment schedule for single or recurring transactions so you'll never miss a payment.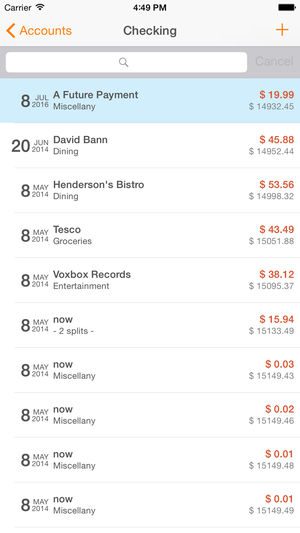 Download the Moneydance app.
10. Spendee
Spendee is an awesome new app for managing your personal finances on the go. It gives you the power of unique data analysis. The Spendee app is free expensive tracking app allowing you excellent management tools. It is useful for anyone who wishes to track expenses. It also allows you to connect all your bank accounts, so you can easily manage your account.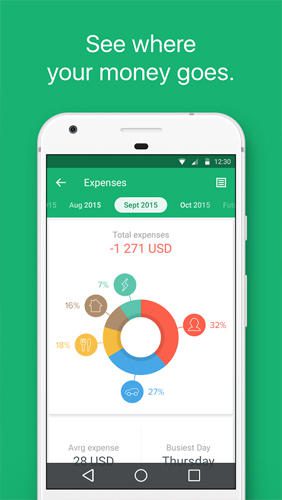 Download the Spendee app.
11. Wallet
Wallet is your finance planner that helps you flexibly plan your budget and track spending, so you stay in control and achieve your goals. Actively plan, manage and get a report concerning your finances, together with the people you trust, across multiple currencies, banks, and financial institutions. Upload your Loyalty or Reward cards too. Get and keep full control of your finances. Tracking your money just got easier. You can easily control your spending & save more using finance tracker. Transactions are automatically and securely synced with your bank.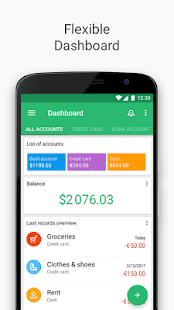 Download the Wallet app.
12. Monefy
Monefy is an amazing application with exciting features due to its simple navigation. The Monefy app is a great app for tracking expenses it also possesses multiple currency spots, budget mode, the ability to backup and export data. It has multiple accounts and built-in calculator.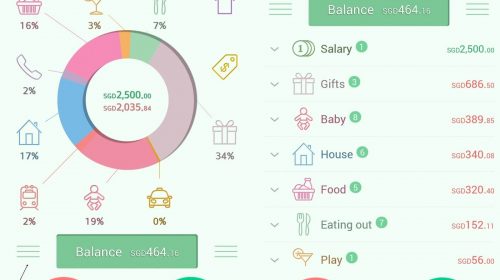 Download the Monefy app.
Which is your favourite personal finance app, let us know in the comment section!