In this article, we are going to see the best Bollywood movies of 2017. Hindi cinema, often known as Bollywood, is the Indian Hindi language Film industry. Bollywood is one of the largest centres of film production in the world. In 2017, Indian cinema produced 1,986 feature films with Bollywood as its largest producing 364 Hindi films in the year. Below, we are going to see the fifteen best Bollywood movies of 2017.
1. HINDI MEDIUM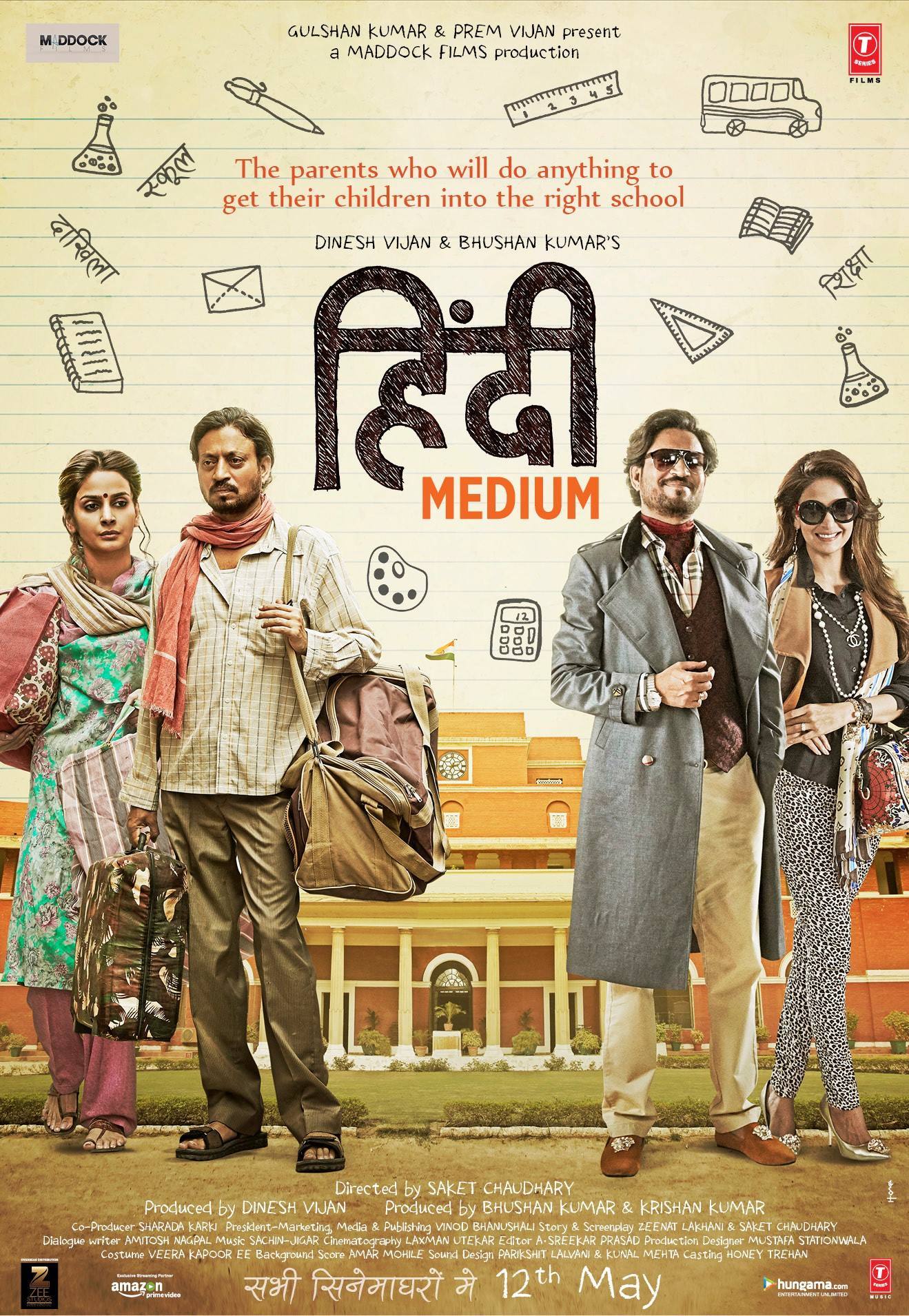 IMDb: 7.8
DIRECTOR: Saket Chaudhary
CAST: Irrfan Khan, Saba Qamar, Deepak Dobriyal, Amrita Singh
BOX OFFICE: 322.4 crores INR
Hindi Medium is a 2017 Indian comedy film directed by Saket Chaudhary. The movie stars Irrfan Khan and Saba Qamar in the lead roles. The film centres on couples struggle to get their daughter admitted to a prestigious English- medium school to rise in society. Raj and Mita yearn to get Pia, their daughter educated from a reputed school. When they learn that their background is holding her back they do everything to ensure her.
REASONS TO WATCH
The film focuses on the education system in India, as the education system is not perfect here. It also talks about Hindi as the language of the poor that Hindi is considered the language of the lower and English to be higher.
The movie explores the parent-child relationship as Indian kids have a unique relationship with their parents. It shows the crazier side of Indian parents, who will do anything to give their kids the best of what they can get.
This is also the debut movie for Saba Qamar. Of course, it's Irrfan Khan's movie, which always gets the attention of the audience with his witty remarks and sarcastic demeanour. It's an interesting movie to watch.
2. SECRET SUPERSTAR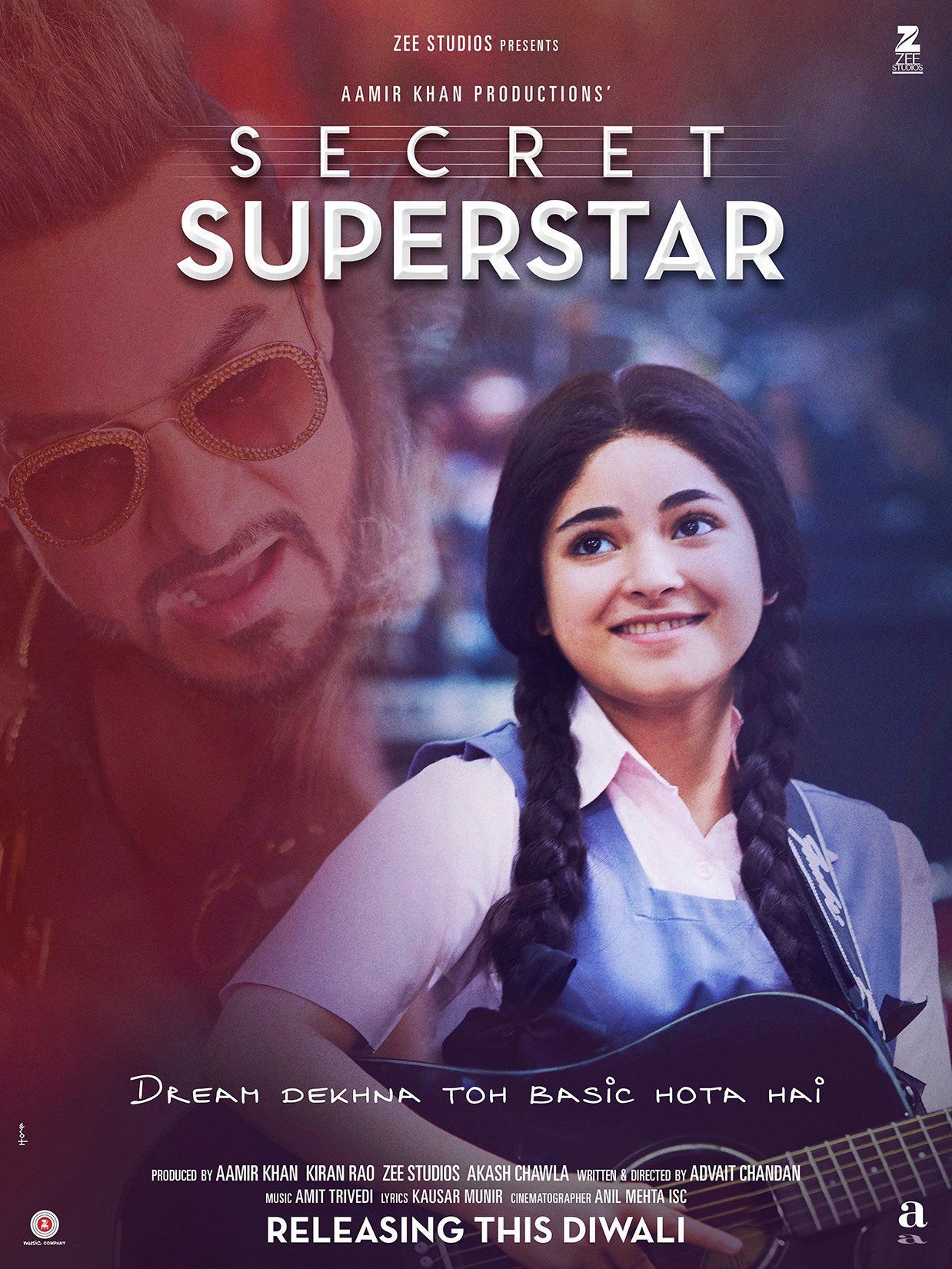 IMDb: 7.8
DIRECTOR: Advait Chandan
CAST: Zaira Wasim, Meher Vij, Raj Arjun, Aamir Khan
BOX OFFICE: 977 crores INR
Secret Superstar is a 2017 music film directed by Advait Chandan stars Zaira Wasim, Meher Vij, Raj Arjun and Aamir Khan in the lead roles. The film tells the story of a teenage girl who aspires to be a singer, uploading videos on YouTube while disguising her identity with a niqab and her relationships with her father, mother and mentors. The film also deals with social issues including feminism, gender equality and domestic violence.
REASONS TO WATCH
The movie Secret superstar talks about the empowerment of the girl child. Insiya, who belongs to a conservative Muslim family is standing up to her father trying to speak up for her dream of singing what she feels is right.
It also addresses the issue of domestic violence that Insiya's father beats his wife for every issue leaving her physically as well as emotionally wounded most of the times.
The movie celebrates motherhood. Then it also tells about the power of social media that Insiya uses YouTube to put forth her talent around the world.
Finally, it also talks about fulfilling our dreams. That shows how everyone irrespective of gender and social background must have the right to dream. This is one of the best movies to watch.
3. POORNA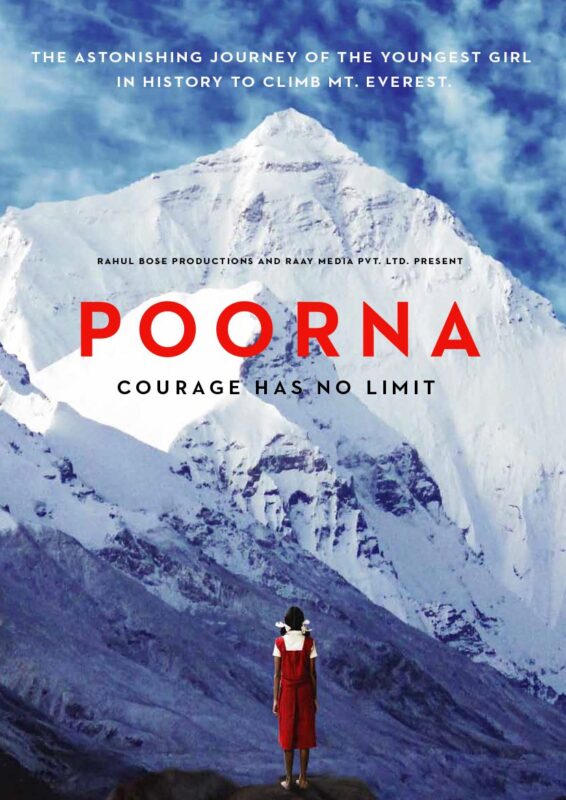 IMDb: 7.8
DIRECTOR: Rahul Bose
CAST: Aditi Inamdar, S. Maria, Harsha Vardhan, Rahul Bose
BOX OFFICE: —
Poorna is a 2017 biographical adventure film directed by Rahul Bose stars himself with Aditi Inamdar as Malavath Poorna, the youngest girl to climb Mount Everest. The film is about a 13 year old girl from a tribal family, to be a part of operation Everest, she reaches the peak and becomes the youngest girl to scale Mount Everest.
REASONS TO WATCH
Rahul Bose's attempt at bringing forth a story that many of us don't know must be really appreciable. It's an inspiring story.
Poorna's story is certainly jaw dropping. It is a story that needs to be heard. Why the movie is important is because of the circumstances the little girl rose from.
Aditi as Poorna gives a good performance. Rahul Bose who directs the film acts well in it. He also returned to direction after 15 years. He captures the rural setting extremely well. It is really an inspiring one to watch.
4. NEWTON
IMDb: 7.7
DIRECTOR: Amit V. Masurkar
CAST: Rajkummar Rao, Pankaj Tripathi, Anjali Patil, Raghubir Yadav
BOX OFFICE: 81.65 crores INR
Newton is a 2017 black comedy film directed by Amit V. Masurkar stars Rajkummar Rao, Pankaj Tripathi, Anjali Patil and Raghubir Yadav in the lead roles. The film is about a government servant who is sent to a politically sensitive area in Central India for election duty. He attempts to hold a fair and free election despite various obstacles.
REASONS TO WATCH
This movie shows the crucial themes such as demonetisation and election. This focuses on hard hitting issues such as election, corruption, lack of education etc… These themes are extremely important to the nation because these are the biggest problems that bother our society.
Rajkummar Rao as Newton is an angry and sincere character looks great. It is an international acclaim film receives many awards.
With all the mess going around with confused citizen, various political parties and infinite corruption cases, this movie promises good inspiration to people.
Besides Rajkummar Rao, the movie also features talented actors such as Pankaj Tripathi and Sanjay Mishra as their screen presence is another reason why we should watch Newton.
5. THE GHAZI ATTACK
IMDb: 7.6
DIRECTOR: Sankalp Reddy
CAST: Rana Daggubati, Atul Kulkarni, Kay Kay Menon, Taapsee Pannu, Rahul Singh
BOX OFFICE: 34.5 crores INR
The Ghazi attack is a 2017 Indian war film directed by Sankalp Reddy is shot simultaneously in Telugu and Hindi. The film is based on the mysterious sinking of PNS Ghazi during the Indo – pakistani war of 1971, the film stars Rana Daggubati, Taapsee pannu, Kay Kay Menon and Atul kulkarni in the lead roles. The story is about an executive naval officer a submarine of the Indian navy and his team who remained under water for 18 days. The film explores the mysterious circumstances under which submarine PNS Ghazi sank off the coast of Visakhapatnam in 1971.It is inspired by true events.
REASONS TO WATCH
The movie stars Rana Daggubati, Taapsee pannu, Atul kulkarni, Om Puri, Nassar and Kay Kay Menon all are from different film industries, they complement each other perfectly.
The director's effort is commendable to bring the true story on a silver screen . The second half of the film keeps you on the edge of your seats as the submarines go head to head, firing torpedoes while dodging and defending themselves. The movie also leaves us in awe of the soldiers who lay their lives for our country.
The cinematography is excellent as Madhi has created magic with the vast endless blue sea and a submarine. From the first scene where they show the panaromic view of the sea sets the excitement for this movie. The underwater scenes, the explosions and the insides of the submarine are enough to set your heart racing.
6. SHAADI MEIN ZAROOR AANA
IMDb: 7.6
DIRECTOR: Ratnaa Sinha
CAST: Rajkummar Rao, Kriti Kharbanda
BOX OFFICE: 14.38 crores INR
Shaadi Mein Zaroor aana is a Hindi romantic film directed by Ratnaa Sinha stars Rajkummar Rao and Kriti Kharbanda in the lead roles. The film is about Sathyendra who will become an IAS officer and Aarti who becomes a PCS officer. They both are brought together by a marriage proposal and fall in love with each other but on the night of their marriage, destiny and individual decisions takes the two of them in two different directions.
REASONS TO WATCH
Like every romantic story, the film does give you a cliched romance but it has a twist, an unexpected turn that takes place in Rajkummar Rao and Kriti's life.
The story also set in the backdrop of India's civil services, explores the challenges that Sathyendra and Aarti faces as a middle class couple in India.
The character of Rajkummar Rao in this movie helps him growing his fanbase. The music of the film has a very old school romance touch, which makes it different from what we heard so far. It's a good one to watch.
7. TRAPPED
IMDb: 7.6
DIRECTOR: Vikramaditya Motwane
CAST: Rajkummar Rao, Geetanjali Thapa
BOX OFFICE: 28.5 million INR
Trapped is a survival movie directed by Vikramaditya Motwane stars Rajkummar Rao and Geetanjali thapa in the lead roles. The film is about Shaurya, a call centre employee who gets Trapped in his apartment room without food, water and electricity and Noorie his girlfriend.
REASONS TO WATCH
The film was shot within four weeks under a tight budget and it is tightly capped survival film that beautifully captures the spirit of Indian filmmaking.
This movie borrows inspiration from many survival thrillers without losing its originality. It is about how alone one can be in the middle of the busiest city of the country.
It is a one man -one location film and he beautifully portays the physical and psychological struggle of a man who is trapped in ab empty apartment without food and shelter.
The film taps into our primal fear of getting trapped. Motwane has cleverly uses flashbacks, dream sequence and then hallucinations induced by starvation to depicts the internal struggle of the actor. The film never gets sickening and it gets more thrilling with each second and keeps you on the edge of your seats.
8. BAREILLY KI BARFI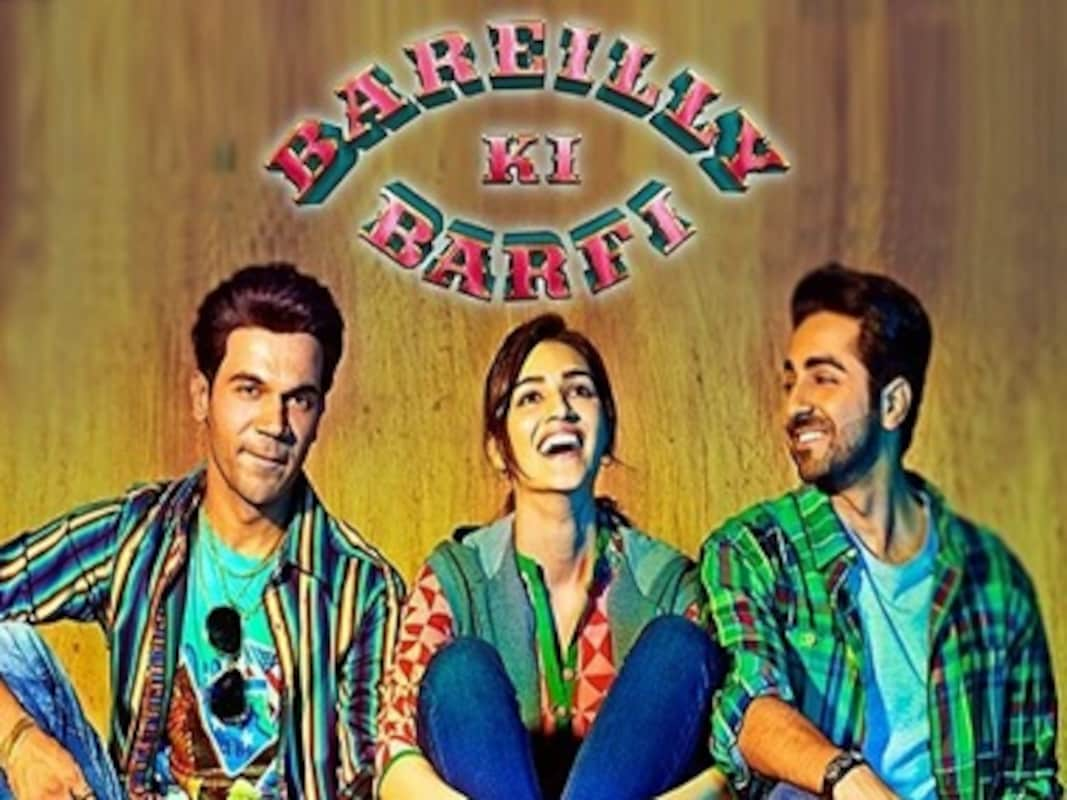 IMDb: 7.5
DIRECTOR: Ashwiny Iyer Tiwari
CAST: Kriti Sanon, Ayushmann Khurrana, Rajkummar Rao, Pankaj Tripathi, Seema Pahwa
BOX OFFICE: 58.75 crores INR
Bareilly ki barfi is a Romantic comedy film directed by Ashwiny Iyer Tiwari based on Nicholas Barreau's novel, The Ingredients of Love. The movie stars Kriti Sanon, Ayushmann Khurrana and Rajkummar Rao in the lead roles. The movie is about Bitti, who is intent on meeting the author after reading a book that changes her life. Her quest takes her to a publisher, Chirag, who leads her to believe that the writer is Pritam Vidrohi.
REASONS TO WATCH
Actually this movie consists of a team of award winners like Rajkummar Rao has won National fim award for best actor, Ayushmann Khurrana has won several awards and Kriti sanon has also earned the Filmfare awards. Apart from acting the director Ashwiny Iyer Tiwari gas also won Dadasaheb Phalke award in 2012 for her first short film What's for breakfast.
The writer adapted the book into the script and changed the setting of the story from France to Uttar pradesh. So, the three actors worked hard pn their looks and characters to make them look more realistic.
The movie has many songs which are actually catchy, fun and peppy for all music lovers. Nazm Nazm song from the movie became very famous after movie release. It gives a glimpse of the 90s music.
9. MOM
IMDb: 7.3
DIRECTOR: Ravi Udyawar
CAST: Sridevi, Sajal Ali, Adnan Siddiqui, Nawazuddin Siddiqui Akshaye Khanna
BOX OFFICE: 175.9 crores INR
Mom is a crime thriller film directed by Ravi Udyawar, stars Sridevi and a Pakistani actress Sajal Ali in the lead roles. The film is about Devki, a biology teacher, seeks help from DK, a private detective and vows to get revenge after her step daughter's rapists are acquitted by the court.
REASONS TO WATCH
Sridevi, who has made a mark in Tamil, Telugu, Hindi, malayalam, kannada industries it's her 300th film – Mom. She was last seen in the 2012 movie English Vinglish.
The 'Mom' trailer promises that the film is a nail biting thriller with the right elements of mystery and drama. The puzzle behind what has Befallen her daughter made the audience at the edge of their seats.
'Mom' caught the attention of many for it's phenomenal group of actors like Akshaye Khanna, Abhimanyu Singh, Sajal Ali, Adnan Siddiqui and Nawazuddin Siddiqui is a special appearance. This movie has been shot extensively in New delhi and Mestia, a town in Georgia. This looks made a glimpse when looks into the trailer.
10. JOLLY LLB 2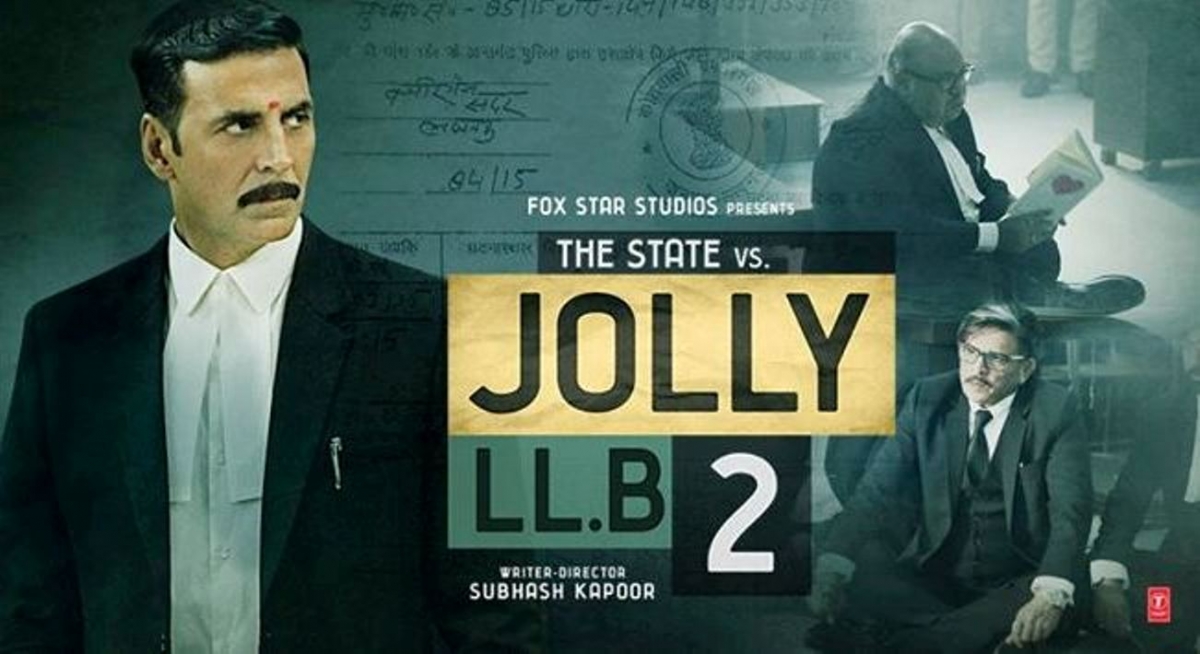 IMDb: 7.2
DIRECTOR: Subhash Kapoor
CAST: Akshay kumar, Annu Kapoor, Huma Qureshi, Saurabh Shukla
BOX OFFICE: 197.33 crores INR
Jolly LLB 2 is a black comedy film directed by Subhash Kapoor serving as a sequel to the 2013 film jolly LLB. The story follows a lawyer in lucknow, who fight a case against a ruthless and powerful advocate to bring justice to the deceased victim of a fake encounter involving a corrupt police officer. Akshay kumar plays a main role Jagdishwar Mishra, replacing the 2013 films lead actor, Arshad Warsi and other characters also replaced.
REASONS TO WATCH
The trio Akshay kumar, Annu Kapoor and Saurabh shukla have delivered smashing performances and their chemistry onscreen is infectious. The movie provides ample of those Akshay kumar and Annu Kapoor entertain trying to one up each other inside and outside the court looks well.
Also the supporting cast including Huma Qureshi and Sayani Gupta played well and the director also focus on minor role and chose the best actors.
The trio deliver some amazing monologue, there is a freshness when comes to the dialogues. A movie like this is incomplete without a good twist and there are lot of them here. This movie is fun to watch and everyone likes this one.
11. TOILET: EK PREM KATHA
IMDb: 7.2
DIRECTOR: Shree Narayan Singh
CAST: Akshay kumar, Bhumi Pednekar
BOX OFFICE: 311.5 crores INR
Toilet: Ek prem katha also known as Toilet: A love story is a comedy drama film directed by Shree Narayan Singh stars Akshay kumar and Bhumi Pednekar in the lead roles with Sudhir Pandey and Anupam Kher in supporting roles. The film is a satirical comedy in support of governmental campaigns to improve sanitation conditions in India with an emphasis on the eradication of open defecation, especially in rural areas. Keshav falls in love with Jaya and gets married to her. However, she complains that there is no toilet in the house and he tries to pacify her with temporary arrangements.
REASONS TO WATCH
The film explores the subject of open defecation and talks about the hardships women have to face because of this nation wide issue . This movie is an out and out entertainer.
Bhumi Pednekar proved herself with her debut performance in Dum Laga Ke Haisha. This is her second film and she has stolen hearts all over again.
The chemistry between husband and wife is good. The two keep it simple, but you surely feel the love. In this movie, the actor spelt his charm time and he also takes the entertainment quotient to whole new level and simultaneously educates his audience.
12. QARIB QARIB SINGLLE
IMDb: 7.1
DIRECTOR : Tanuja Chandra
CAST: Irrfan Khan, Parvathy Thiruvothu
BOX OFFICE: 24.11 crores INR
Qarib Qarib singlle is a romantic comedy film directed by Tanuja Chandra stars Irrfan Khan and Parvathy Thiruvothu in the lead roles. This is Parvathy's Hindi debut film. The story revolves around Jaya Shashidharan, a widow who lives alone and works at an Insurance policy company. One day, she meets Yogi, on an online dating website called abtaksinglle.com. They both journey around the country to meet Yogi's three ex – girlfriends, during which they fall for each other.
REASONS TO WATCH
Playing the character, Yogi, a quirky, happy-go- lucky man who takes his date on a trip down memory lane, Irrfan Khan looks convincing in the lead role. Alongside Irrfan, Malayalam actress Parvathy Thiruvothu made her debut in Bollywood through this film. Parvathy do full justice to her fussy, action hungry character.
Qarib Qarib singlle also the coveted list of road movies that Irrfan has been a part of Karwaan movie co stars Dulquer salmaan. The beautiful shots from Rishikesh, Bikaner and Gangtok, we are sure this is one aesthetic movie to eat watch.
Tanuja Chandra has not just directed films like Sangharsh and Dushman but she has also written the screenplay for Yash Chopra's 1997 Dil Toh Pagal Hai. From this movie Tanuja is trying something new. So this is good to watch.
13. KAABIL
IMDb: 7.1
DIRECTOR: Sanjay Gupta
CAST: Hrithik Roshan, Yami Gautham, Ronit Roy, Rohit Roy
BOX OFFICE: 155 crores INR
Kaabil is an action thriller film directed by Sanjay Gupta stars Hrithik Roshan, Yami Gautham, Ronit Roy and Rohit Roy in the lead roles. The film follows a blind voice over artist who becomes disillusioned when his wife is raped and the perpretators walk free. He become a vigilante and decides to seek revenge against those responsible for his wife's death, while also dodging police with a cover that no one would believe a blind man can kill someone.
REASONS TO WATCH
The actors plays the part of a blind man to perfection and we can't help but feel for him when he is wronged. His performance is easily one of Kaabil's biggest strength. There are a lot of action packed scenes, which will make us cheer for the hero.
Even though Kaabil is a thriller, the romantic track plays an important role here, it makes Hrithik Roshan and Yami Gautham shares a good chemistry.
The actor decides to take a law into his own hands. The way he gets even with the men who harmed him in thrilling. He makes strategies for his every move and makes sure that his enemy falls into his trap. The Roy brothers, Ronit Roy and Rohit Roy plays an antagonist in Kaabil. They are menacing and make you hate their characters.
14. TUMHARI SULU
IMDb: 7
DIRECTOR: Suresh Triveni
CAST: Vidya Balan, Neha Dhupia, Manav Kaul, Abhishek Sharma
BOX OFFICE: 50.84 crores INR
Tumhari sulu is a comedy film directed by Suresh triveni stars Vidya Balan in the lead role. She is an ambitious housewife who becomes a radio jockey for a late night relationship advice show. Manav kaul and Neha Dhupia costars as Sulu's husband and boss. Sulu, lives happily with her husband and her son. Things change when she wins a contest and auditions for a night show at a radio station.
REASONS TO WATCH
In this movie, Vidya Balan is essaying the role of Sulochana, a cheerful and humorous personality much like how she is in real life. It witnesses the everyday grit of a housewife, a marriage put to test and world that struggles to see the beauty of a simple life.
Manav has been earlier seen in Kai Po che, Jolly LLB 2 and Wazir but this is his first lead role movie. With interesting characters it feels much thought has been put into the cast.
While Bollywood is seeing a number of women centric films and even lesser number features a woman who is a fun loving, humorous and has a candid never say never attitude as Sulochana. Vidya Balan suits for this character well in this movie.
15. SHUBH MANGAL SAAVDHAN
IMDb: 6.9
DIRECTOR: R. S. Prasanna
CAST: Ayushmann Khurrana, Bhumi Pednekar
BOX OFFICE: 64.54 crores INR
Shubh Mangal Saavdhan is a romantic comedy film directed by R. S. Prasanna stars Ayushmann Khurrana and Bhumi Pednekar in the lead roles. It is the remake of the director's own Tamil film Kalyana Samayal Saadham. The story revolves around a shy boy, Mudit, who manages to woo Sugandha and the two decided to get married. However, before the wedding, their relationship undergoes a setback as they discover his erectile dysfunction.
REASONS TO WATCH
The two super talented actors join together in this movie. They both have established themselves as seasoned actors individually. This is the second movie together for them.
Kalyaana Samayal Saadham was a critical success when it came out in 2013.This tells about the sensitive issue of erectile dysfunction and impotency.
One of the biggest plus points of the movie are the dialogues filled with innuendos and jokes. Like Bhumi's mother is talking with her about her first night, it's really funny to watch. The topic of the film had a universal appeal, so the reason being the theme of the film is that is relevant in all languages. Overall it's a good one to watch.
Also Check: 
Best Bollywood Movies of 2018
Best Bollywood Movies of 2019
Best Bollywood Movies of 2020