Heat waves and sun strokes (heat strokes) are very common in Summer season in India. Summer leads to dehydration of our body, which makes us crave for  some flavourful hydration. The beverages available in the market in bottled form may suit us or not but they are not healthy for our bodies. India is rich in its variations of spices, herbs, vegetables and fruits. Every region in India has its own versions, tastes and procedures, and ingredients. Here's a list of some traditional Indian chillers and street drinks made from seasonal fruits, herbs and spices.
1. Shikanji- 
Shikanji is a popular drink in every Indian household and is a favorite of many in the summer season. Prepared using lemon, water, sugar, cumin powder, salt and coriander leaves, this beverage recipe is perfect to cool down the scorching heat during summers. Dress up the drink with some ice cubes and mint leaves to make it even more delightful. This easy beverage can be made in just 5 minutes and will surely leave you feeling satisfied.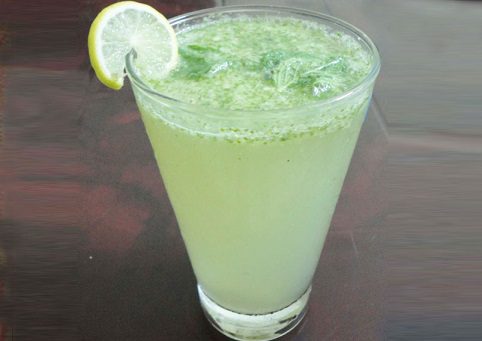 2. Jaljira-

Jaljira is a favourite welcome drink, and a natural choice after meals. A mocktail of spices  including mint leaf and dry ginger impart a tangy, sizzling character when mixed with plain water. It is an ideal appetizer and a great digestive. Jaljira tastes best, chilled.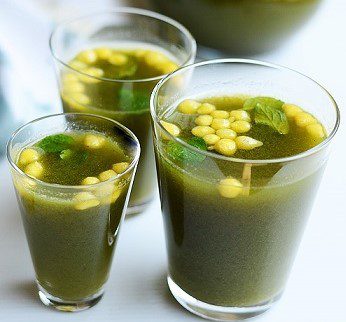 3. Lassi-
Lassi is made with fresh set curd and salt. A small amount of roasted powdered jeera is used to enhance its digestive and cooling effects. There are many variations like rose, sweet, mango lassi and many more.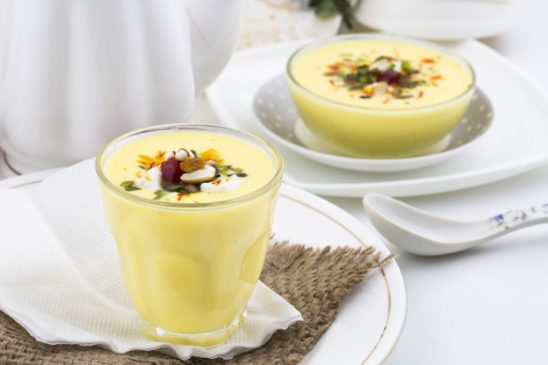 4. Rooh afzah-
Rooh Afza syrup is generally served mixed with cold milk and ice. Rooh Afza is often prepared as part of rosa, the evening meal for breaking the fast, during Ramadan. The concentrate can also be mixed with water, the final drink is a type of sharbat. Rooh Afza is often mixed with Kulfi ice cream and Falooda.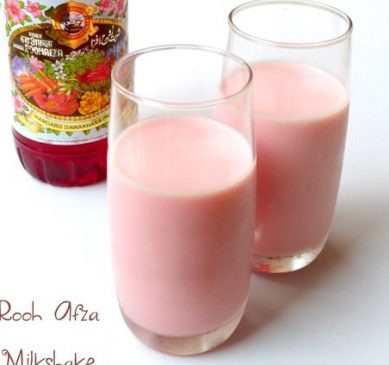 5. Aam panna-
Aam Ka Panna has got lots of health benefits and is very easy to make. It needs few unripe mangoes and some spices to make this drink to gives an amazing and delicious taste. All we need to make this aam panna is take the pulp out of the green mangoes and add spices to it and serve it chilled.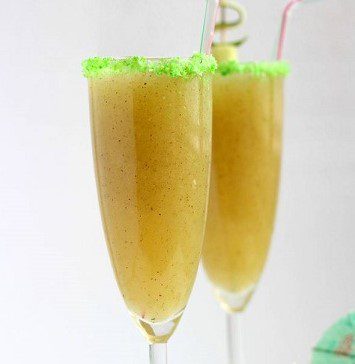 6. Paan gulkand milkshake-
The recipe uses fennel seeds and gulkand which gives this shake a very cooling & refreshing taste. Gulkand already has a lot of sugar in it, add sugar according to taste. And if you happen to love paan then this will give you two benefits at once, taste and cooling effect. Serve the milkshake with some vanilla ice cream or caramel sauce drizzled on top. Chopped nuts like pistachios and cashews can also be added to the paan shake according to taste.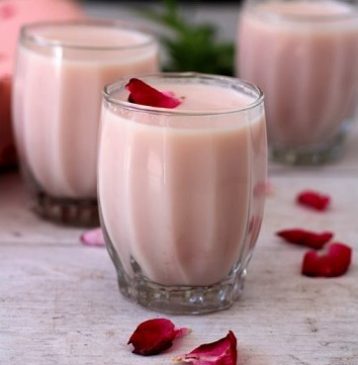 7. Thandai-
Its a traditional drink, made with mix of dry fruits, seeds and few spices. As the name suggests the drink is used for cooling of the body during summer peak. Thandai is very popular on holi and mahashivratri.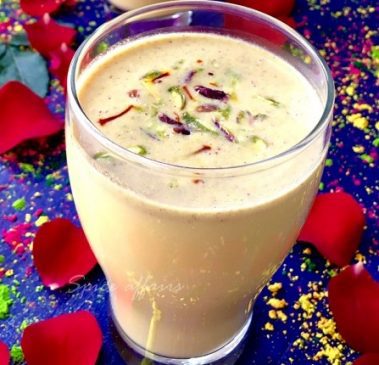 8. Sattu sharbat-
This delightful beverage originating from Bihar is known for its cooling properties. It is popular across the country and has its own variations in states like Punjab, Madhya Pradesh and Uttar Pradesh. In Bihar, Sattu powder is made with roasted ground black chana, bay leaves and roasted jeera
blended together. In Punjab, they have a different version of Sattu, wherein they add
jowar and jau ka atta. Sattu can either be served sweet by mixing it with sugar and water or with jeera
,
hara
dhaniya, green chillies and
kaala
namak. Sattu Sharbat is very filling and healthy as it is full of nutrients, fiber and protein.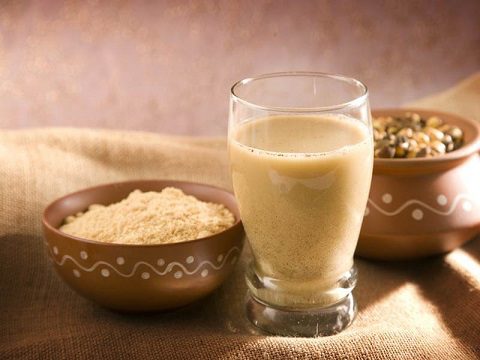 9. Panakam sharbat-
This summer beverage combines jaggery, dry ginger and cardamom and also a hint of crushed peppercorns. The beverage has a strong association with Ramanavami. It is served famouy in Tamil Nadu, Andhra Pradesh and Karnataka through the summer months. Ancient science will probably tell us that Panakam was used as an Oral Rehydration Solution especially in parts of south India with high humidity.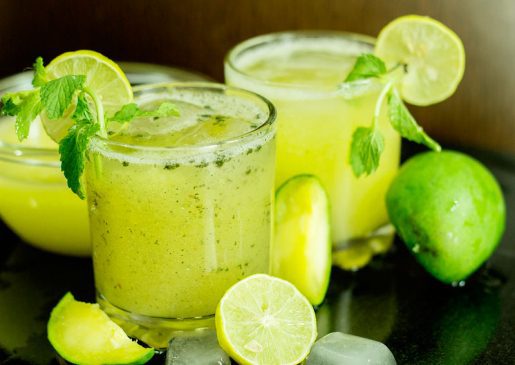 10. Jigarthanda-
Jil jil Jigarthanda, a very popular cooling drink from Madurai, has meaning in its name which is not so subtle. Jigar means heart and thanda means cold, something which cools the heart. While there are some controversies stating jigarthanda is similar to falooda. However these both entirely different dessert drinks. Main ingredients for preparing jigarthanda are Badam pisin or almond bark gum, Nannari syrup, ice cream & Reduced milk.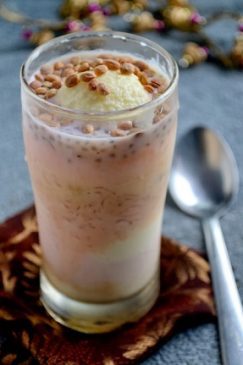 11. Bel ka sharbat-
Bel fruit is also known as bengal quince, stone apple & wood apple. Bel tree along with bel fruits and bel leaves are considered sacred & has a lot of health benefits. Bel sharbat is prepared by removing the pulp and mashing the fruit creating a mixture which is strained and then sugar or jaggery is added according to taste.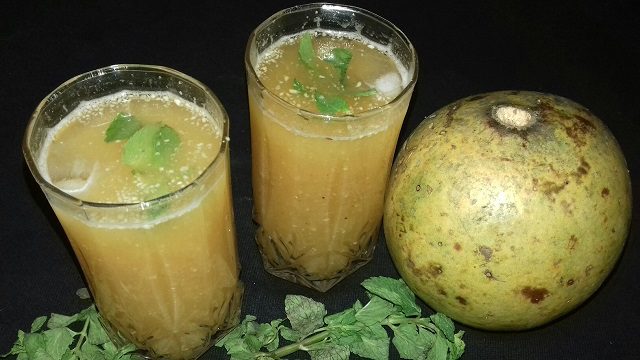 12. Tender coconut water-
It's perhaps the healthiest natural drink for hot summer day.  The drink has a very delicate sweetness and fresh taste. Coconut water is not just a refreshing drink or a thirst quencher, it is a lot more than a beverage. It can do wonders for our skin, is great for your heart and so much more.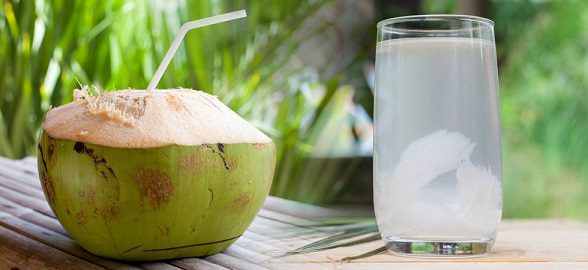 13. Watermelon juice-
This juicy red fruit is low in calories, made up of mostly water is full in nutrients. Watermelon is full of antioxidants and anti-inflammatory properties. It's high in vitamin C, vitamin A, and B vitamins. Lycopene, which gives fruits and veggies their red pigment is beneficial for cardiovascular health and possible disease prevention, is abundant, even more than tomatoes.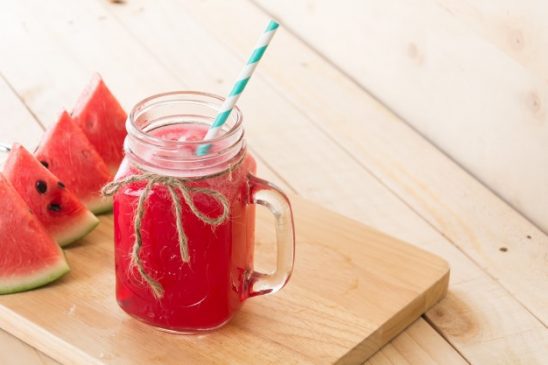 14. Kokum juice –

Kokum is a fruit said to have culinary and medicinal uses. It is a beautiful dark purple coloured fruit, with a botanical name Garcinia Indica, that has anti-inflammatory, antifungal and antioxidant properties, which help stimulate our digestion. Moreover, the fruit is known to reduce body heat, making you feel cool and fresh. Kokum is easily available in the market. Ingredients are Dry kokum, Water, Sugar, Roasted cumin powder, Black salt, Salt to taste.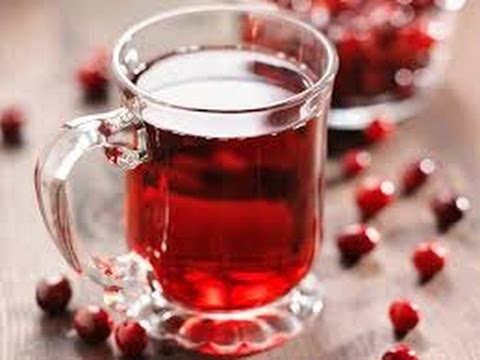 15. Banana or mango milkshake-

Banana milkshake is made with coconut milk, vanilla powder & cardamom with main ingredient which is of course banana. Mango milkshake is made with fresh ripe mangoes. These are very good for health and quenches the thirst too, saving us from scorching heat.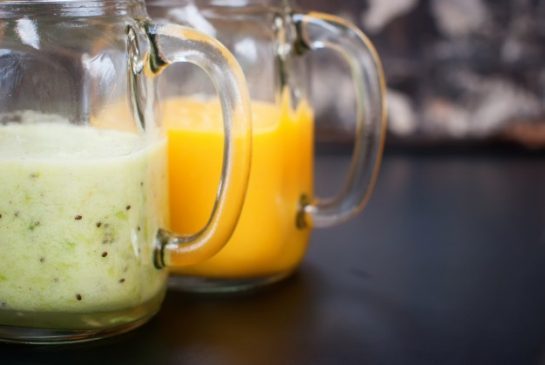 Which is your favourite beverage? Let us know in the comments section!