11). Printed Georgette Saree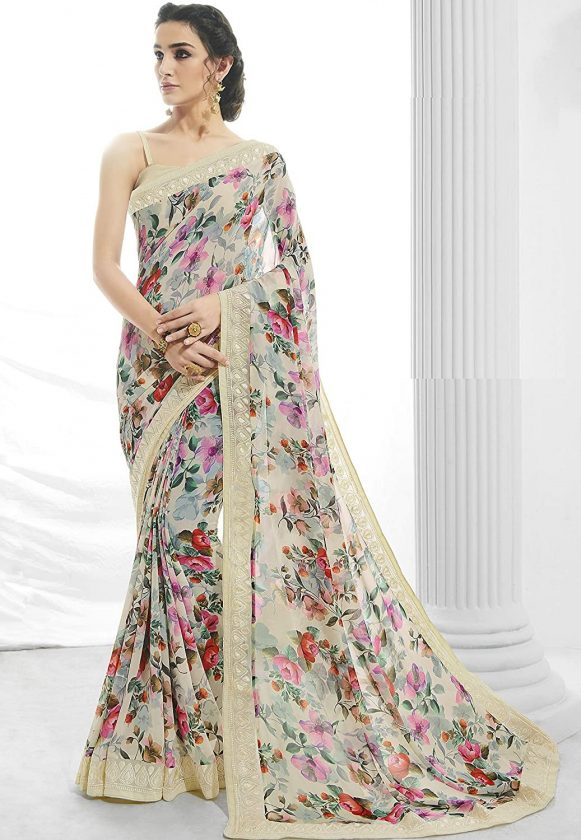 Saree is known for its elegance and all over the world. As you all know that India has vivid and vibrant festivals to celebrate. When it comes to celebration and festive occasion in India, Saree is one of the best things that comes in everyone's mind, there is no dearth of opportunities to buy this beautiful floral georgette saree embellished with gotta lacework. You can be a cynosure while getting this elegant floral saree. Team up this with gorgeous earrings and Stilettos
12). Miss Chase Women's Wine Red Solid Pleated Jumpsuit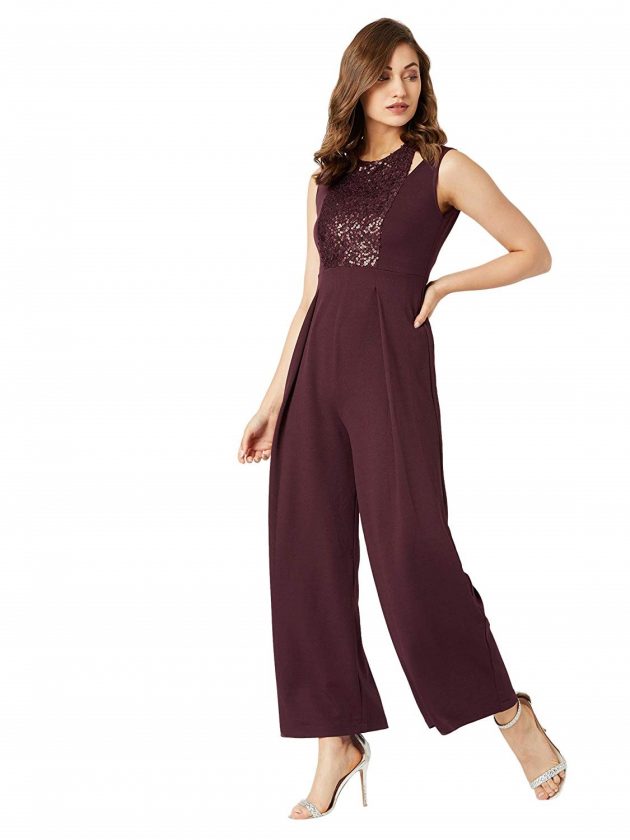 Whether you are going to a party, formal dinner or planning an outing with friends, a jumpsuit is a perfect option for all events. Miss Chase presents a marvelous and classy Wine Red Solid Pleated Jumpsuit which has a beautiful halter neck and sequence work on it. Polyester, superior quality fabric is worked in it. Pair this up with Slingback heels and you are ready to shine.
13). Rayon Flex Dhoti Style Saree With Blouse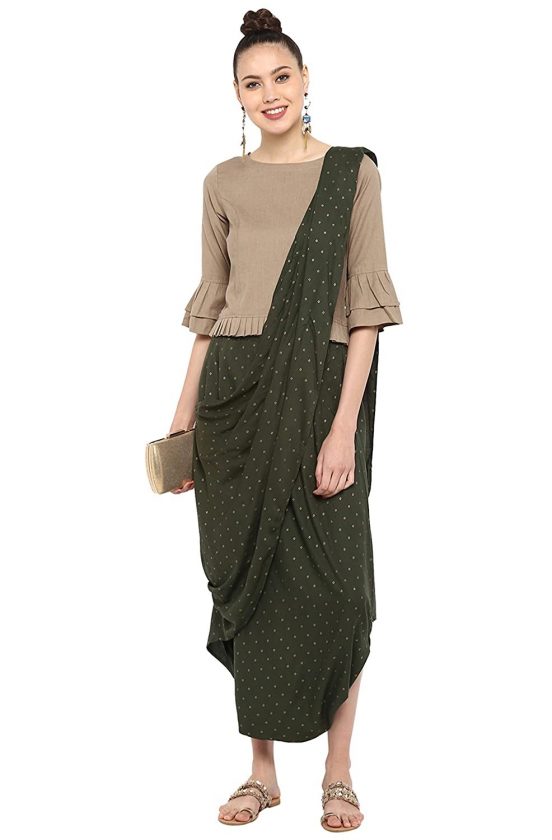 Be the center of attraction and shine in everyone's eyes by trying your hands on this classy Indo -western dress. The mesmerizing dress has a dhoti crop top with the attached dupatta set by Janasya. Dhoti Style Saree manifest cotton fabric in top and rayon flex fabric in dhoti. The soft and soothing texture and color will make you dumbstruck as it appears to comfy and classy. Pair this with gladiator sandals and pretty earrings.
14). Soch Navy Blue Printed Cotton Kurti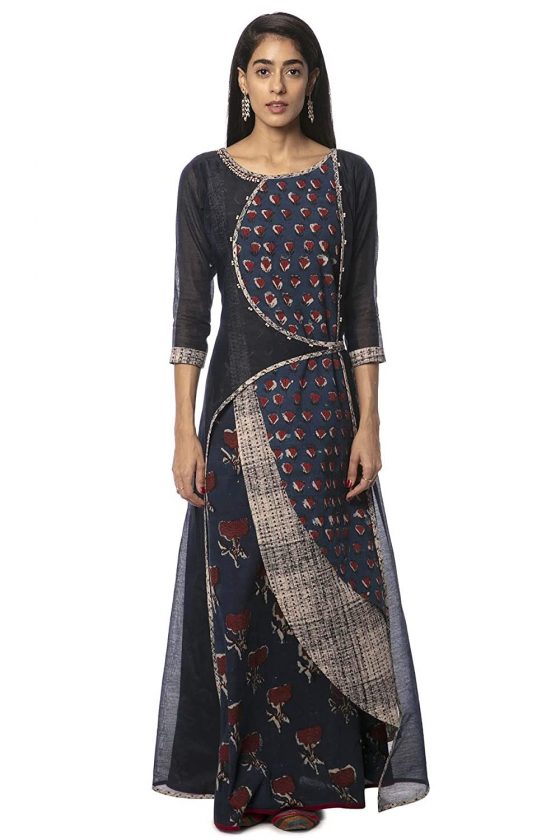 Let your fashion sense play out gracefully in this designer Soch Navy Blue Printed cotton and Chanderi Kurti. The distinct and interesting feature in this elegant A-line creation is the boat neck and the layered pattern. The floral highlights make it look more mesmerizing. Finish this ensemble with dangler and a bracelet as you look forward to making a stylish impression.
15). ONLY Rayon Shirt Dress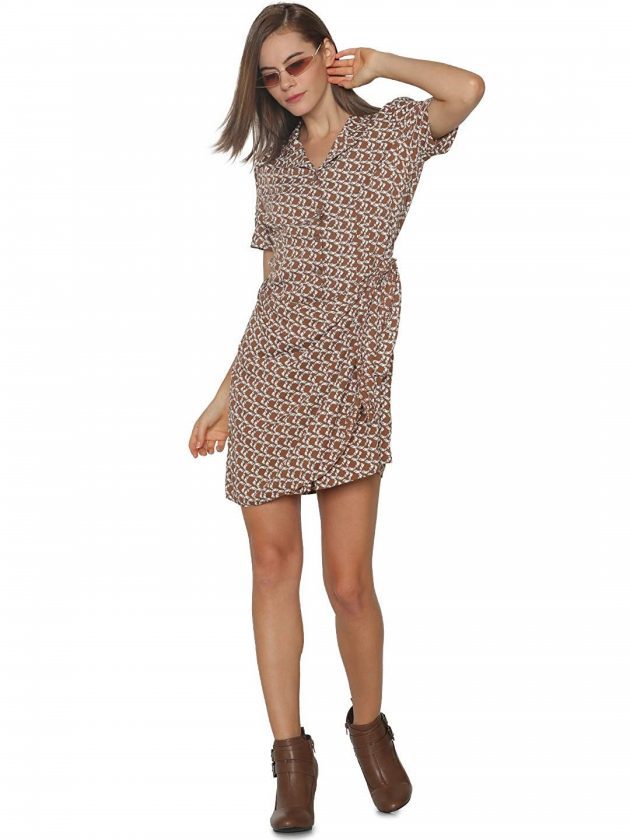 Only introduced an exclusive rayon shirt dress that makes you look beautiful at your friend's party. The cool asymmetric gather on one side waistline adds charm in toffee color rayon shirt. Kill everyone by your killer looks and this classy, comfy and cool dress and be a showstopper. Now you are just one click away. Team this up with splendid earrings and oxfords or boots.
16). Dark Green Crepe Kurti With Sharara And Dupatta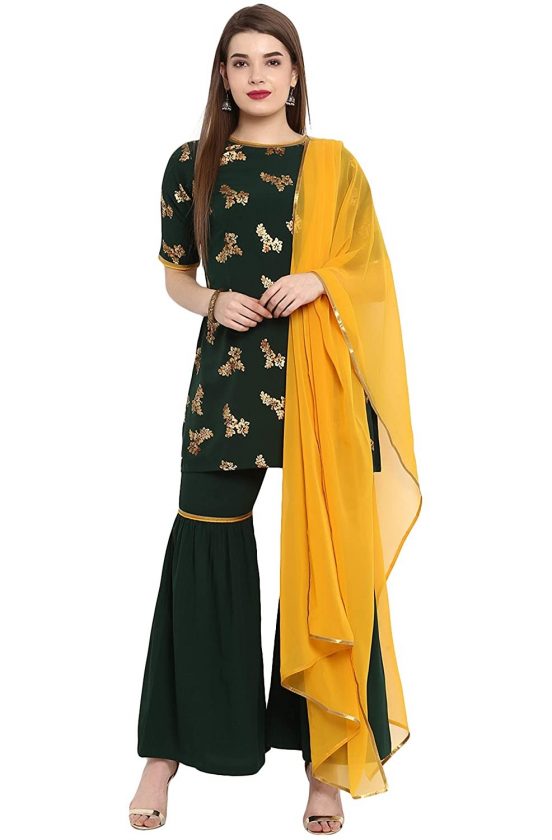 For Indian ethnic dress are best for any occasion and festive season.  The elaborated wedding ceremonies further add to the list of celebrations and proved to be a fabulous excuse to purchase this gorgeous dark green crepe Kurti with Sharara and Dupatta is presented by Janasya. The dark green short Kurti with small design in it makes it look more beautiful and the crepe fabric will be soft for your skin. Go forth and try this beauty with pumps and stilettos and shiny jewelry. Check out here the best wedding dress ideas for women.
17). Women's Multicolored Floral Maxi Top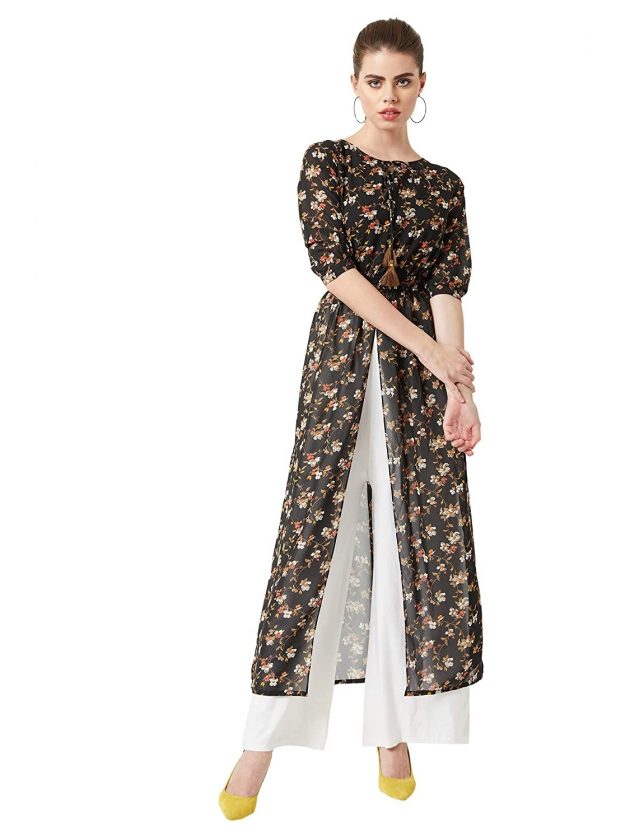 Be a cynosure by wearing the classy multicolored base black floral printed maxi top with front slit. It has a boat neck and three- fourth sleeves that make it more stylish. Miss chase introduced this floral georgette dress. Finished this look by fascinating bracelet or watch and stilettos.
18). Miss Chase Women's Olive Green Jumpsuit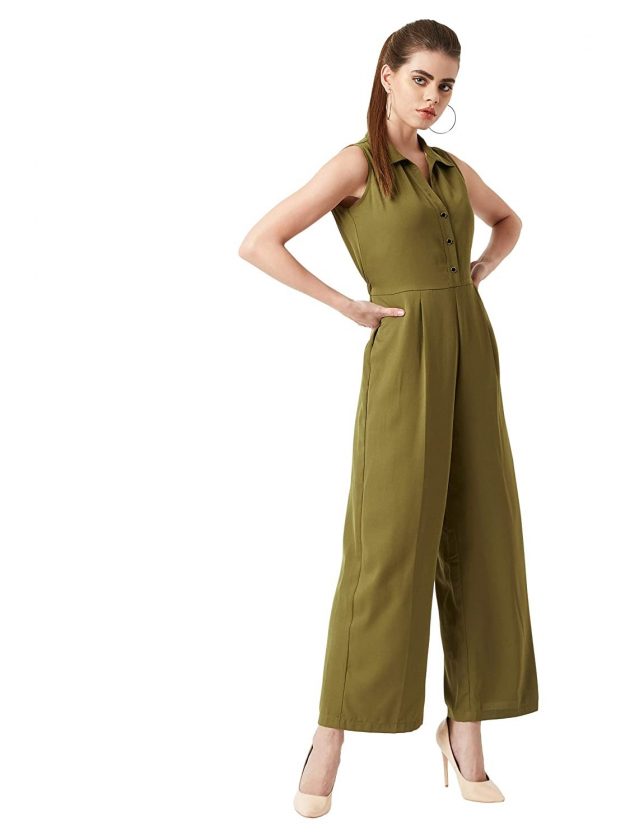 Try this bold and sophisticated Olive green elasticated jumpsuit with solid regular sleeveless. The collar look with front buttoned closure makes it more classy and comfy. The unique style of this jumpsuit makes you look beautiful, fashionable and elegant and this will help you stay relaxed and cheerful all day long. Pair this with open-toe sandals and a classy watch.
19). Forever 21 Cotton a-line Skirt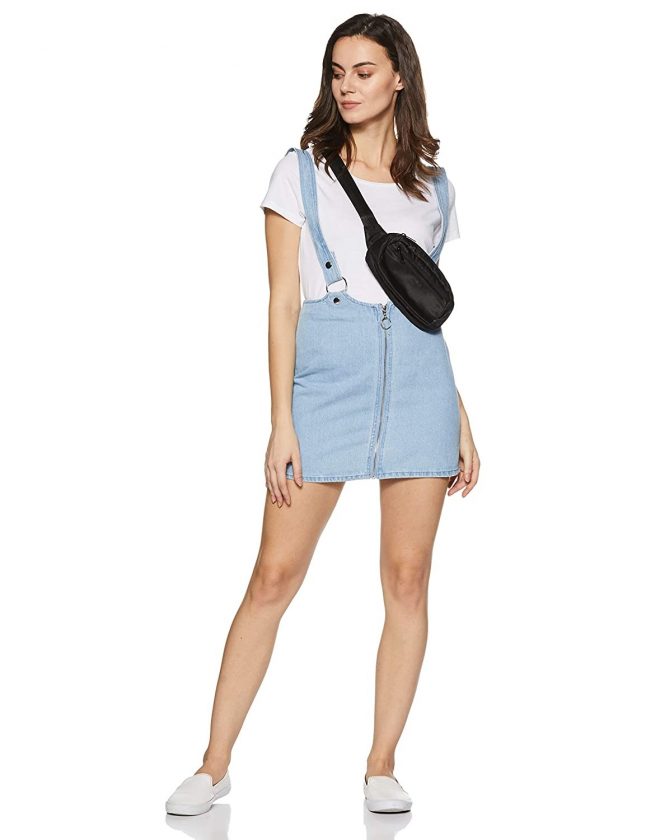 Forever 21 presented a denim overall skirt that has a sporty and stylish look. Try this casual denim dress at your college or a sports day to have a sporty look. Finish this look with sneakers and cute little sling bag. It has a superb look best for teens and adults and gives and overall good look
20). SOCH Women's Rayon Anarkali Kurta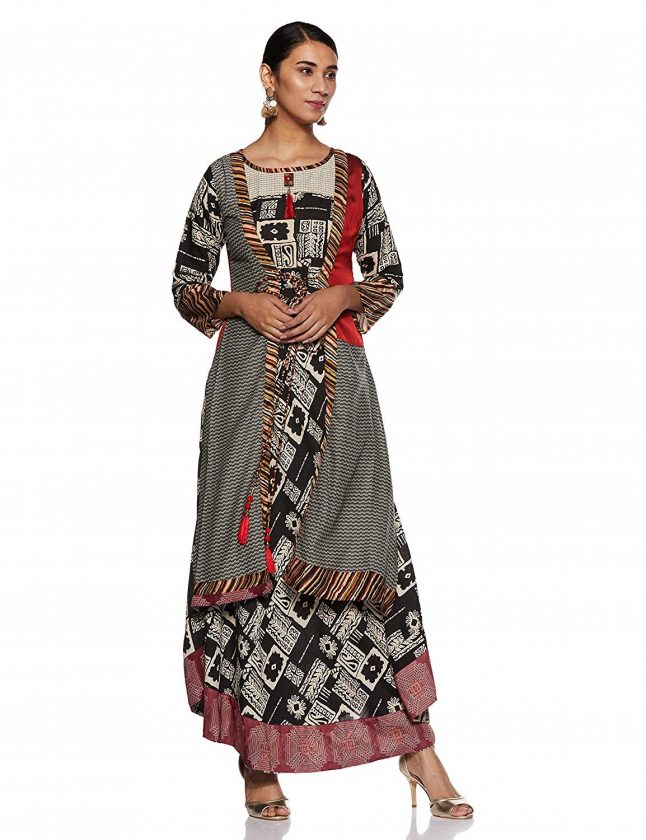 It is no secret that Indians are vivacious people and hence there clothing tends to be classy, bright and vibrant. An A-line Anarkali kurta with ghera presented by Soch. A-line Anarkali kurta has a boat neck embellished with metal tassels dangle. You can be a cynosure while getting this elegant floral saree. Team up this with gorgeous earrings, purse and Stilettos.
Which is your favourite dress on amazon? Let us know in the comments section!