In this fast-moving and busy world, we all need to set our priorities clear. And of course, for those pretty fashionista women shopping has to be a part of it along with managing their work. But how to manage time and flaunt the seemingly classy look besides carrying all the essentials of office. Easy! Choose your bag wisely from online shopping. Not only it saves time but also enhances your look.  Here, to make things easier we are listing down 15 laptop bags for women to check out on Amazon:
1. Van Heusen Tote Bag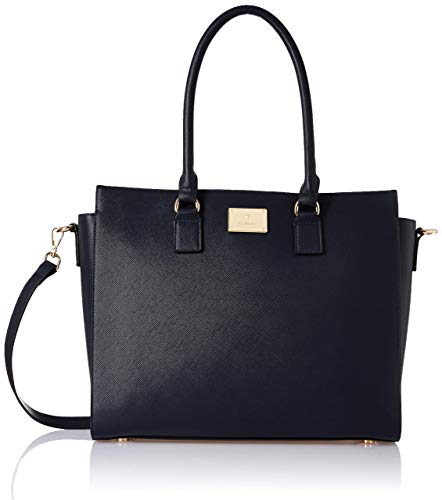 Buy Now!
Van Heusen, a brand whose consumers not only buy its product but know the value of it. You can always find them philosophising it, and why not, after all, it's worth it. This tote bag from the summer spring collection also holds all the classy features, being modern, minimalistic, and of high quality so that you can flaunt it anywhere you want. It's a perfect combo of style combined with functionality to prove to be your perfect companion and catalyst at work.
It has a stunning outer look made of premium quality material, a round handle, good capacity to rest your laptop and other accessories and a detachable sling to carry it with ease. Available at 1,679 rupees (offer), it comes in a wide range of colours that you can choose from, suiting your personality.
2. Today's collection Women's Backpack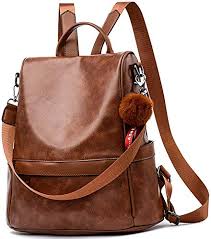 Buy Now!
Available on Amazon at an extremely cheap rate of rupees 449, this stunning piece from House of Darash fashion could be yours. Besides being sleek and stylish it is spacious and modern that will always complement your look. It's made up of PU leatherette that enhances its look, though one thing while using it should be kept in mind is that extreme heat can damage it. Other features that it holds are a padded strap to go easy on your shoulder, zip closure, and two separate compartments one for your laptop and the other for all the rest, with two inner pockets to carry your keys or lip balm.
3. Theskinmantra Artistic Laptop Sleeve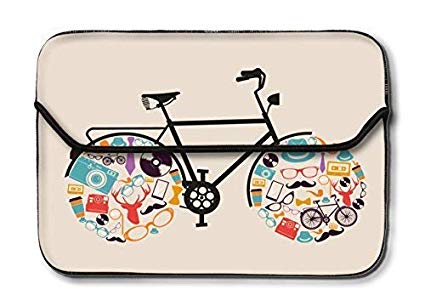 Buy Now!
Present in a beautiful aesthetic look this waterproof bag will be a good option for carrying a 13.3 inches laptop or your Apple MacBook. The bag is cushioned (4.2mm) to protect your electronics from any harm, plus the artistic design along with its colour won't fade as it isn't screen printing but the print is fused with fabric. Made up of hydra flex material which is a hybrid of Polyester and tin sheet of rubber it assures safety plus complement your look. The sides are made of neoprene material sandwiched between Jersey fabric. You can get this at rupees 699, which is pretty cheap looking at its features.
4. Vivinkaa Rounder Sling Bag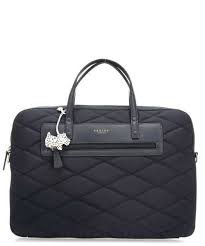 Buy Now!
Available in a wide variety of colours, costing 700 rupees, this sling bag doesn't only look astonishing but is also is durable with a warranty of 6 months (only for manufacturing defects). The material used to make it PU leather, assures strength and style, plus it comes with a detachable sling so that you can carry it however you want; an independent choice of independent women. Though you need to take care of it while cleaning, only dry clothes are to be used to wipe it up. To add to its beauty the zipper chain closure is of royal golden colour.
5. Funk Printed Sling Bag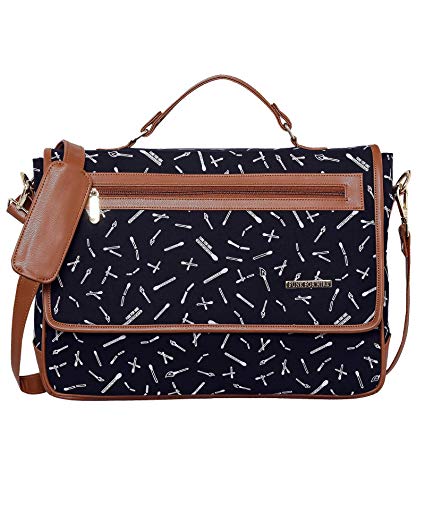 Buy Now!
This bag having the capacity to hold a 15.6 inches laptop comes in funky printed designs that once you set your eyes upon, will automatically become hard to reject. Apart from capturing your eyes, it serves other functions too like protecting your laptop given to its inner cushioned pockets, being comfortable owing to elastic strap closure and being spacious to accompany you at your workplace. It has two straps, the long one can be adjusted and detached while the other one is fixed. The material used to make it is faux leather with an inner lining of waterproof nylon. You can buy this teal blue bag that is made in India for 1,940 rupees.
6. The House of Tara Slim Laptop Bag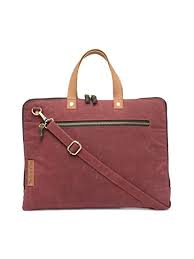 Buy Now!
Available in various colours, though coral pink is the most appealing one, the bag costs rupees 1,000. The material used to make it is treated canvas on the outer part and the inner layer is of bright printed polyester. Being compact, attractive along with having a shoulder strap that is both adjustable and detachable it can hold a 16.25 inches laptop. You can carry this cute bag with metallic zip anywhere, be it your workplace or some casual outlet, its look will suit both without disappointing you.
7. Fur Jaden Anti Theft Backpack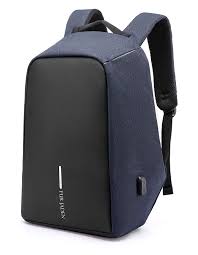 Buy Now!
If you are tired of burdening only one shoulder with all the weight then this backpack is the perfect solution for your problem. Available at rupees 1,100 it holds way too many features like being waterproof, having an anti-theft design, being durable, spacious, lightweight, stylish, and most importantly allows you to charge your phone while travelling. The design is perfect for the fast-moving world today we live in. It has one main compartment where your laptop can rest and 7 small compartments to keep your accessories segregated, like in one you can put cosmetics, while other to hold your stationery, phone, etc.
8. Dell Backpack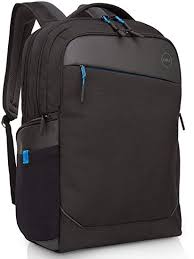 Buy Now!
Another design to share the weight on both the shoulders, though the broad padded shoulder straps won't let you feel much of it. Mostly available in classy black it is available at rupees 850. Being your perfect companion for the daily commute it has multiple compartments so that apart from a laptop you can also carry other kinds of stuff like chargers, folders, or water bottles. It is made up of polyester known for its durability and toughness and can hold a laptop of 15.5 inches.
9. Lavie Wafaa Handbag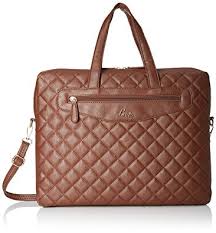 Buy Now!
Though you can find it in plenty of colours the classy beige always stands apart. Priced at 1850, it can accommodate a 15-inch laptop. Its innovative quilled design not only adds to its look but also makes it seemingly comfortable. Made of synthetic material it has a detachable sling belt, 1 compartment and 5 pockets to house all your necessities. If you are opting for it make sure your work doesn't require it to be exposed in sun for a longer duration as it might affect its fabric.
10. K London Handmade Laptop Bag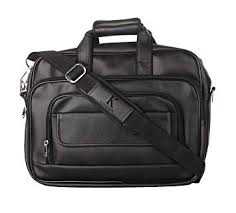 Buy Now!
Apart from being creatively handmade in the country itself, this K London messenger bag is also eco-friendly yet available on amazon at an affordable rate of 1,250 rupees. It can be your best friend in your office that you can flaunt around. It is slim but easily accommodates your 15-inch laptop, tablet, phone and charger. The fabric of the bag is strong and of premium quality giving it a minimal yet elegant look. Also, it has one mini compartment and other at back but isn't fit for carrying your water bottles, or lunch around.
11. Tribe Baiga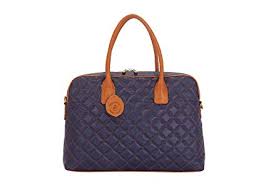 Buy Now!
Made of 100 per cent pure leather in a quilted design this pretty looking bag can easily house your 15.6 inches laptop along with other accessories: thank those extra four inner pockets. Available at the price of 5,000 the bag looks elegant and is inspired by the intricate tattoo design of the Baiga tribe of Central India, thus, achieving its name. the inner part is layered with soft suede to protect your materials while the Kolkata leather tan finishes the outer look perfectly. You can team it up with both Indian and western outfits, so no matter what clothing comforts you the bag surely will.
12. Tarkan Laptop Bag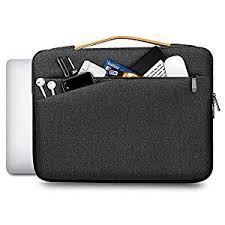 Buy Now!
Priced at rupees 1,599 the multi-pocketed tote bag can be a boon for all you pretty ladies. You can carry your essentials and laptop both to work as well as travel given to those two large compartments with zipper and a small magnetic compartment. The material used to make it is, high-quality nylon and PU leather. Besides being spacious, durable it is also water-resistant, very easy to clean and safe for keeping a laptop as it has padding which is 0.6 cm thick. It is available in a vast range of colours to make your choice a little tough.
13. Everpret Work Tote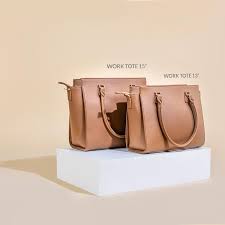 Buy Now!
Available at rupees 4,250 the tote bag can be your companion to work accommodating your 13.3 inches laptop and being easy on your shoulders. It is present in a wide range of colours and comes with a magnetic snap, a padded compartment for electronics, and extra space for water bottles or other accessories.
14. Zouk FloMotif Laptop Bag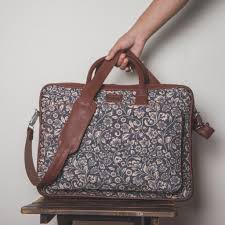 Buy Now!
This trendy crossover shoulder bag you can get on amazon at rupees 2,000 which will be an investment as it bestows you with a stylish look given to the fine printing done on it. The material used is leather mixed with jute which makes it water-resistant and the soft padding will protect your electronics from any damage. It also has an adjustable shoulder strap, an extra compartment for accessories, and a back chain for storing your wallet.
15. Caprese Porsche Women's Tote Bag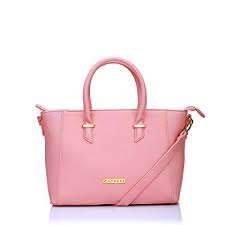 Buy Now!
A brand with which the hoarders of bags can never be oblivious given to their comfortable and amazing range of style-oriented bags. This Caprese bag though looks most elite in the classy black, that you can flaunt around your workplace or any other place you like. Costing rupees 2040, it is made of faux leather material ( so don't take it out in extreme heat) that has around grab handle, plus, internal pockets for your essentials.
Here you can check out our guide on how to choose the best budget laptop? Also, let us know which is your favourite laptop bag among these in the comments section!
Which Laptop Bag Brand is Best?
Some Best Laptop Bag Brands are:
1. Dell
2. HP
3. Lenovo
4. F Gear
5. AirCase
Which Bag is Safe for Laptop?
"Thirdeye India Multitrade" Introduces the latest in safety of your Laptop bag, LAPTOP BAG which is a 100 % safety device for your Bags. It is an Ideal Instrument to protect your beg from theft, lifting & mishandling.
What are Laptop Bags called?