Hanoi is the capital of Vietnam and famous for its culture, architecture and cuisines. At the centre lies this city which is one of the congested and busiest street and where the main market commodities and essentials are available at cheap prices and amazing places for shopping in Hanoi. Here is a guide on how to survive in a foreign country for 5 days!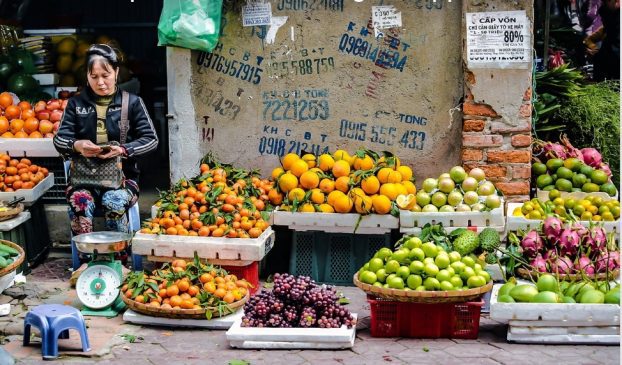 The night markets in Hanoi are vibrant and has vast range of products from food, paper, Silk, hand embroidery, dry fruits, traditional wear, flowers and souvenirs. The Hanoi markets are always hustling and bustling with massive sellers selling products thus making it an important spot of visit for tourists. The marketplace is a treat for people as the atmosphere at night time is mild and enthusiastic.
Here is a list of 7 night markets in Hanoi –

1. Quang Ba Flower Night Market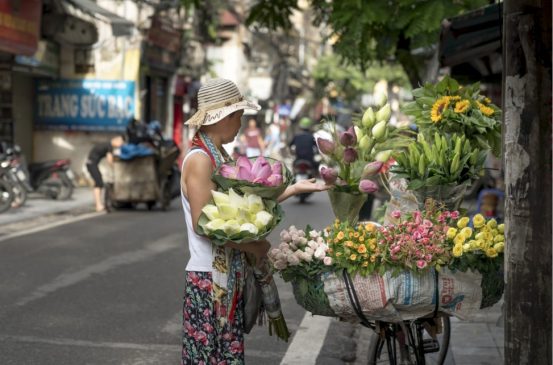 Quang Ba market is near West lake which opens up at 2am and ends at 4am. A lot of wholesalers spread their flowers by reserving their spot.  Paying an early morning visit to this market is very appealing as one can the blissful sight and smell of fresh flowers. There are numerous varieties of flowers from around the world which are attractive and distinctive. The market is filled with people during Tet, when the flowers are required for the new year's eve.
2. Long Bien Night market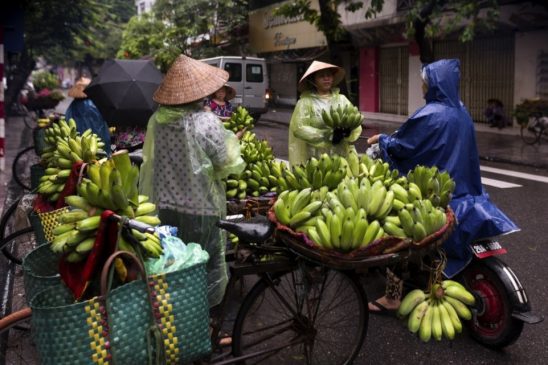 Long bien night market is located in northern side of Hanoi's old quarter. It is a place where one can find Egg, cloths, trinkets, fruits, Meat vegetables, herbs and spices. It is a complete wholesale market with a lot of chaos but vibrant vibes. It is the prominent and prime market in Red River delta region and second in Hanoi. Before the market is opened massive number of trucks enter containing fruits and vegetables from numerous provinces.
3. Nha Xanh-Cau Giay Night Market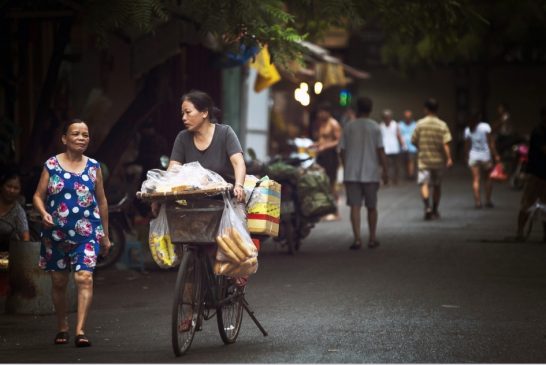 Nha Xanh-Cau Giay market is a place of heaven for students as it is besides Vietnam National University an University of Commerce. The market runs from early morning to late night satisfying the buying instincts of students and locals. Situated in Phan Van Truong it treats people with cloths, footwear and accessories of ongoing trend at affordable price. The main attraction lies in its lip-smacking desserts like ice creams, pancakes and sweet soups.
4. Phung Khoang-Thanh Xuan night market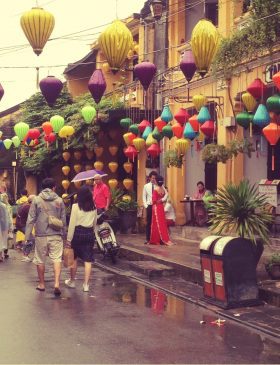 It is surrounded by Hanoi university, University of social science and humanities making it a prime spot of students. During the day food and drinks are sold but at night fashionable and trendy outfits are on sale.
5. Old Quarter market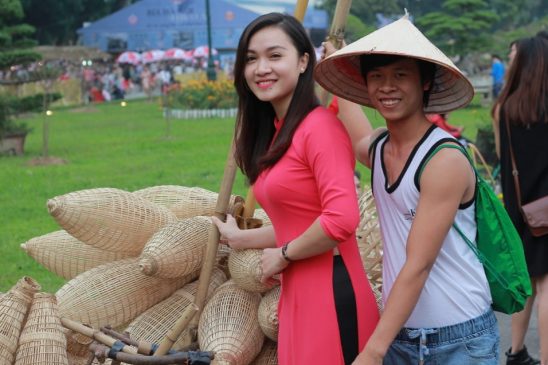 It happens weekly from Hang Dao street to Dong Xuan market. It has postcards, handicrafts and accessories in vast range. One can relish on authentic and fresh Vietnamese street food. During mid-autumn fest there are some traditional Vietnamese music gatherings. It is open every week on friday, saturday and sunday and frequently visited spot of Hanoi. During weekends the enchanting 36 street can be witnessed along with busy vibes. Old Quarter is the most loved market of tourists as well as the locals.
6. Dich Vong night market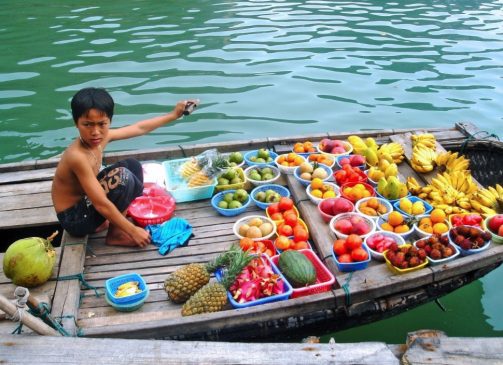 It is adjacent to Nha Xanh night market. A cheap and affordable shopping spot for the people of Hanoi. In the early morning food is sold but at night the focus is shifted to cloths, footwear and bags and can be available at lesser cost. Many of the essentials are imported from China.
7. Linh Nam night market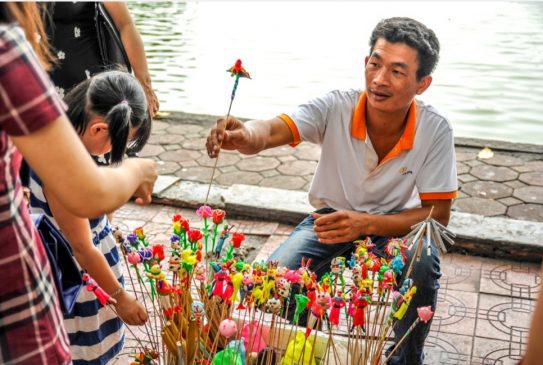 It is a renowned market spot of Hoang Mai district. The marketplace is a spot for lot of traders and dealers to assemble. The commodities are available at cheap and affordable price as the rates are fixed keeping in mind the consumers who are low-wage workers or below poverty line.
What to buy in Hanoi?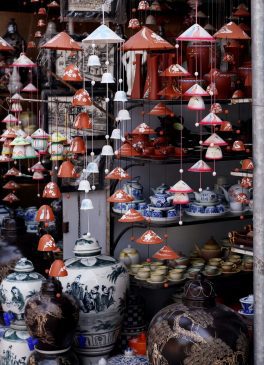 Fine Vietnamese silk is a great product to buy in Hanoi which can be found in the Hang Gai also known as Silk street in Hanoi. Vietnam is very well known for its embroidery in which premium quality of silk threads is used by the makers to give it an artistic touch and can be found at Old quarters and Dong Xuan market. Lacquerware are the specialty of Vietnam where the designs are delicately made on plates, dishes, coasters, wine holders and jewellery boxes. These designs are available in many forms and are a visual treat to the eyes.
The day-to-day happenings in the life of Vietnamese people are the subject of the painters in their canvas oil paintings. The paintings on modern art are available too. A wide range of handicrafts like hand made pouches, wristlets, pencil cases, wood carvings, masks can be found near Hoan Kiem lake. Ceramics are the amazing product that signifies Vietnam at the forefront for its delicate shape and soft texture. One can find varieties of sets used for household purpose which are good in quality and affordable too.
Traveller tips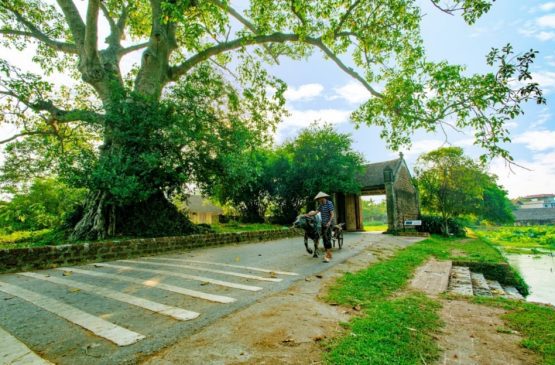 – The night markets and weekend night markets are very congested and hustling with tourists, sellers and buyers. One has to be very vigilant when it comes to entering the market and have to be active in order to go with a flow at local's speed.
 – Hiring a tourist guide is recommended as travelling by a local taxi can burn your pocket as the drivers demand considerably high prices from tourists.
 – In Hanoi markets the products and commodities are in wholesale which has a scope for bargaining and one can bargain at their affordable rate.
 – The city Hanoi is very picturesque and people are warm and nice.
 – Street food is yummy and a great place for foodie people but not for vegetarians.
 – Thorough research on Vietnam and learning little Vietnamese words will be beneficial during the tour. Make use of google maps. Keep check on your belongings.
Bargaining at the night bazaar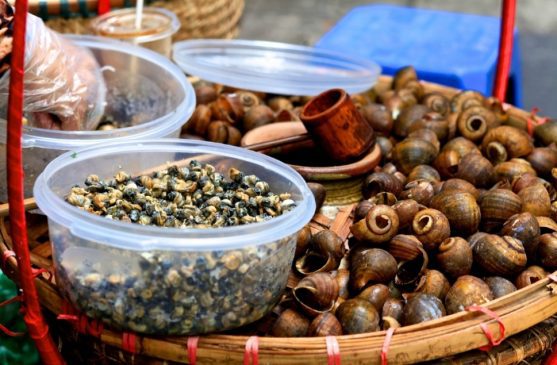 As all the products, items and commodities are brought in wholesale bargaining can be done by the people. The seller quotes a price but a buyer can decrease the cost as much as possible to get it cheaper. At night markets sellers may quote double the rate but can be brought down at low cost. If there is a price tag stuck on the items bargaining cannot be done.
Bargaining is done almost everywhere be it shops, supermarket and hotels. If one lacks negotiating skills can end up getting overcharged. Research on the market prices from the local people is necessary to buy at the same rate of Vietnamese. Vietnamese do not consider overcharging as looting but feel that a person can afford the price. Quote a lowest price and eventually it will be at your satisfactory cost.
Food and drinks at Hanoi market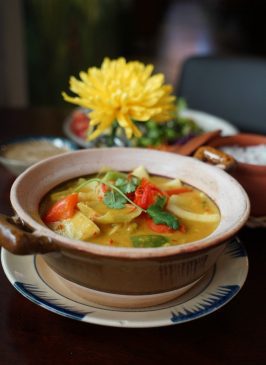 Hanoi is well known for its lip-smacking street food. It is tasty and quick with lot of varieties to choose from every corners of the crowded streets. Pho is delicious a rice noodle soup with herbs, beef or chicken served with quay fried pho gia truyen. Ca phe sua nong is a local coffee of Vietnam mixed with creamy condensed milk which gives an instant zeal and liveliness.
Bang bao is a steamed buns filled with chicken pieces, pork or mushroom and egg. It can be had as a yummy morning or evening snack. Cha ca is a fish coated with garlic, ginger, turmeric served with bowl of rice noodles, peanuts, spring onions, parsley, nuoc cham sauce and red chili.
Banh goi is a deep fried dumplings with fillings of noodles, mushrooms, pork, eggs and coated with rice-flour pastry. It tastes tangy and saucy when eaten with garlic, chili, sugar, lime juice and fish sauces. Che ba mau is a flavoursome dessert filled with yellow mung bean paste, red beans, green pandan jelly and at the top coconut milk is spread.
Sweet corn pudding is a local dessert made with sweet corn and rice starch. It is sweet and tasty. Bia hoi is the local beers served in every small areas and restaurants in hanoi. It is cheap and affordable. Snake wine is a scary beverage in which snakes are put in a jar and preserved for weeks and later served. It is believed that this wine has medicinal properties that can cure many bodily illness.
How to reach hanoi ?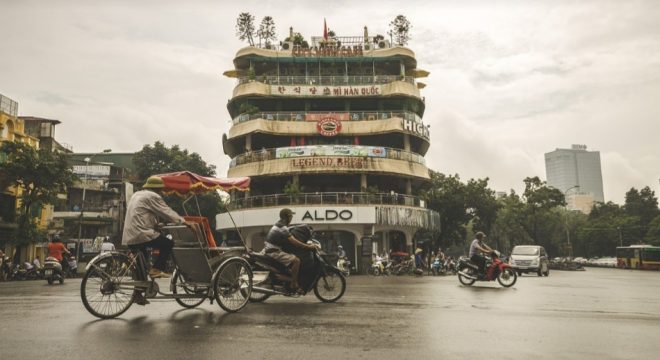 By air :
Located in Soc Son district, Hanoi is 45 kms away from Noi Bai International airport. It will approximately take one hour of journey from airport to hanoi city center. One can make use of shuttle buses with convenient stops, Hanoi city buses and Hanoi airport public taxi. If travelling from India, vietnam is a country where rupees will make you feel rich.

By bus :
There are lot of tourist buses, mini buses to travel around the cities Vietnam. Many buses are available around the cities of hanoi. The open tour buses must be pre booked in advance via travel bureau to roam freely around places in Vietnam.
By road/self drive
Passengers can ride cyclo, Hanoi's bicycle rickshaw with the driver sitting behind. Xeom is Hanoi's motorcycle taxi which can be also driven by travellers with the driver sitting behind. Besides these one can rent bicycles or scooter to roam around the city.
Hanoi is not only known for its night markets but also as the culture point of Vietnam with historical significance. It is also regarded as city of lakes and sword lake. In Hanoi one can encounter cinema, music, festival and culinary delicacies which earned the title City of Peace.
Do you know any more places for shopping in Hanoi, let us know in the comments section!