Today phone has become an indispensable part of our life. What makes our phone worthy is because of the downloaded applications that we use everyday . Some applications help you to communicate with friends, some provide entertainment, some help you organise, while some help you shop, some provide you with news or interesting information and a lot more is available on different apps. Each serves a unique purpose. But how about an app that provides you not only a channel to share and download latest videos and interesting blogs, but also allows you to earn money upon sharing interesting content on it?
Yes, you read it right! The Roz dhan app in a new app on Play- Store, that allows you to not only to enjoy good content but also allows you to earn money everyday (as the name Roj – Dhan suggests), upon sharing interesting content. So let us check us out the unique features this app has to provide to us.
(A) Step to download and sign up: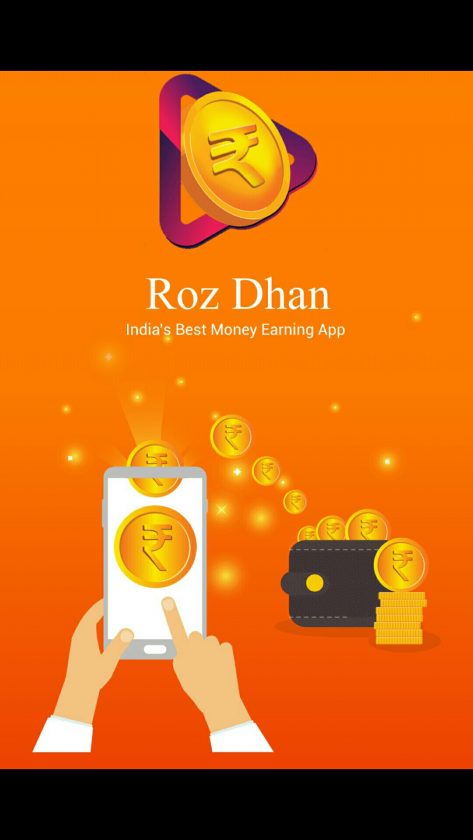 1. Search the Roz Dhan app on Play- Store and download it.
2. Upon installing the app you need to Sign Up on it. This can be done either by signing in the app through your mobile number or you can sign up with your Facebook or Google account.
3. After Verification, Click on Profile icon. Upon doing so you have successfully become a part of the app. But that is not it, you just earned 25 Rs as your sign up bonus. How cool is that!
5. Now click on – Add invite code and enter it and you have earned your money.
Let us explore this app now. The app has three main tabs. Let us take a look at them.
(B) The ME tab ( Profile Tab):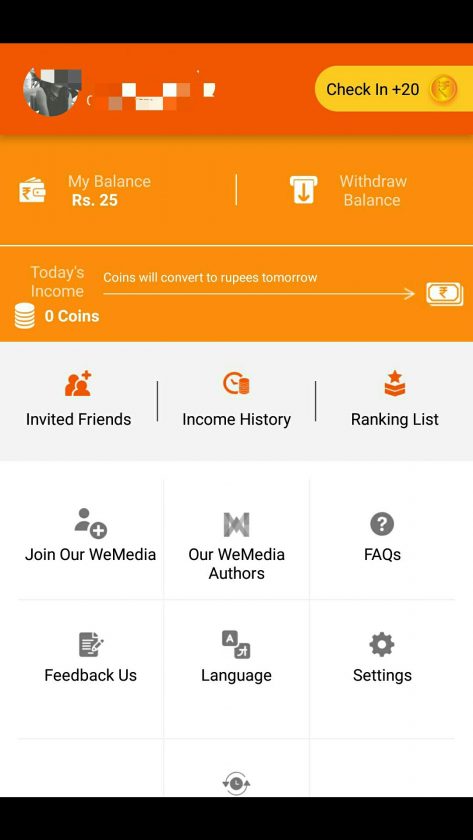 1. This allows you to keep a tab on all your activities and how much have you earned. It shows you your profile name and picture and your code.
2. It keeps a record of your  total money balance and your withdrawal balance.
3. It also shows your everyday income under- Today's Income.
4. Below it there are 3 more options: a) Invite friends– you earn more money when you invite your friends to use this app. All you have to do is allow it to get access to your phone contacts and then you can send in invitation to your friends. b) Income History – it tells you about all the RozDhan coins you earned which will then be converted to rupees. c) Ranking list– shows your position in terms of coins earned compared to other app users.
5. You also have options to change the language according to your comfort, give a feedback about the app, change settings, learn about the blog writers of different niche, etc, all to enhance the experience it has to provide to its  users.
(C) The Home Tab: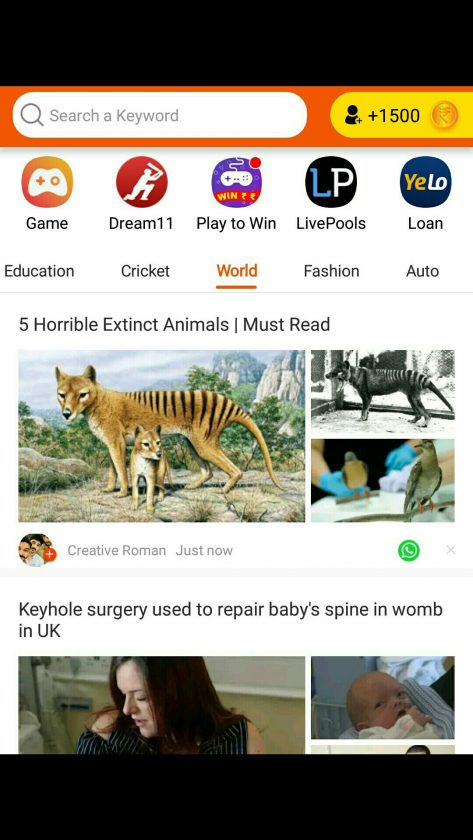 1. Here you will find a bar which has options that allows you to read interesting and latest content of different niche. From Entertainment to Sports, or Technology to Fashion, or Local to National news, be it health or education, to get some relationship advice or to get some cool tips about starting your business, they have it all covered. There are in total 20 fields of interests for you to choose from, providing you with content that serves your different interests all at one place.
2. You can also find a search bar there which allows you to to type in keywords and look up the kind of content you want to read.
When you open up a particular article under any topic you can even see the following features like- recommended articles, related articles, you can comment and express your view about the article and even like and share it with your friends through different social media platforms options it provides. Like this-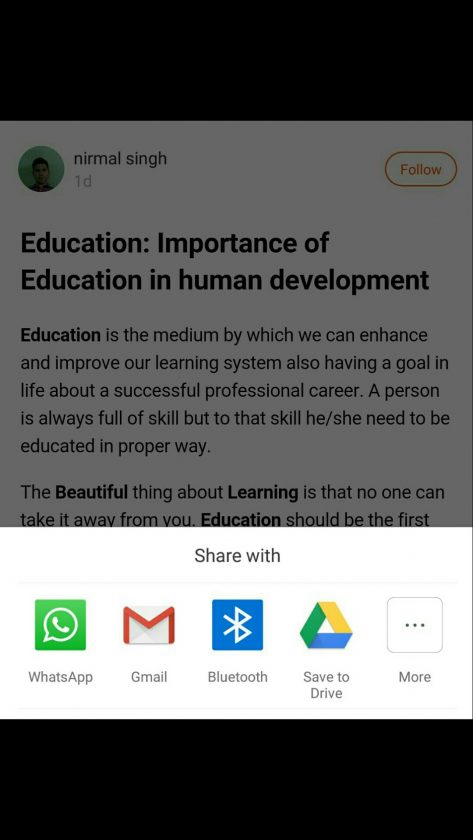 (D) The Earn Money Tab: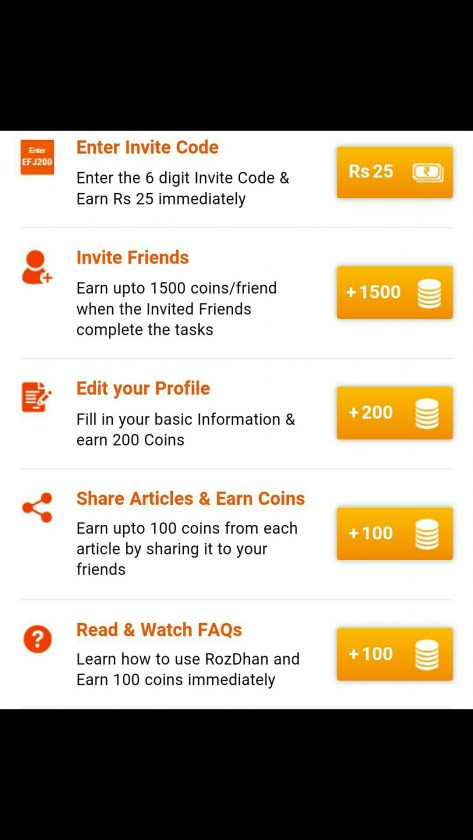 This provides you with various ways you can earn the Roz Dhan coins, which will later be converted into real money.
1. Enter Invite code. You can use mine (061397) Once you successfully sign up with the app you get a 6 digit invite code and upon entering it you earn 25 Rs.
2.  Invite friends, to 1500 coins by inviting them to use the app and perform a given task. All you have to do is allow the app get access to your contacts, once done it will invite them to use the app. This increases your chance to earn more points. As you can see in the picture-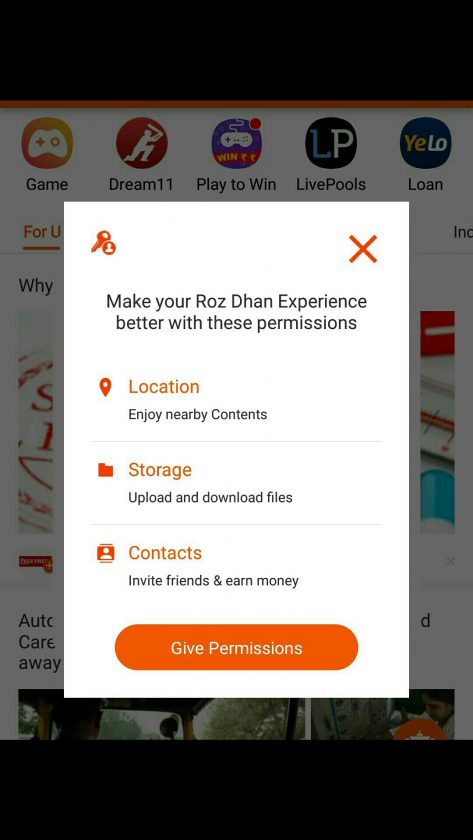 1. Edit your profile, give basic information and earn 200 points.
2. Share articles that you find interesting and has good content and earn more coins.
3.  You can also try reading and learning more bout the app, to make the most of it, and earn some cool coins.
There are various other ways for users to earn money, like-
– Watch and download videos.
– Daily check-ins.
– Fill your profile completely.
– Share videos.
– Answer 12 simple questions of a quick quiz.
Now here are the steps about how you withdraw all the money you earned.
1. Click on Profile icon.
2. Now click on income.
3. Now convert your coin in money.
4. It automatically convert in next day.
5. Withdraw your money in bank or PayTm.
Thus, one can say that this app is unique, useful and interesting to use and I would definitely love to give it a try, what about you? Let us know your views in the comment section.