Travelling is passion for some of us. An amazing and thrilling experience. When it comes to plan a tour, first thing comes to our mind is a foreign trip. The beautiful landscapes, tranquil lakes and greenery. What if you get all these beauty in India. Doesn't its a saying that people should be minded with colorful heart such, is the heart of India. "Madhya Pradesh", a versatile state which taught tourist "live with no excuse and travel with no regrets". Places here depends on reason and season of visit. Summer's are hottest with temperature of 25 to 45 degree celsius, making unfavorable to visit most of the regions. The raindrop welcomes tourism through the eye catching scenes. Winter is most desirable time to witness the color and celebration of the state.
Here are some marvelous place to visit in Madhya Pradesh-
1. Khajuraho​: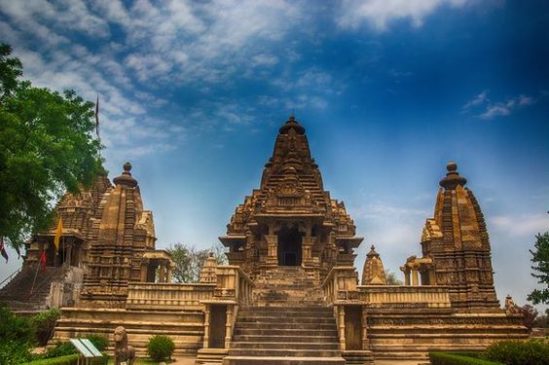 A region of fascinating artefacts, exploring carve and museum. This place is best known for khajuraho dance festival celebrated with great deal. Various dance forms from Kuchipudi to Bharatnatyam, light and sound shows. Cool winter would be having carving look making place more magical and spellbinding. Although monsoon will be lushly green but would be not suitable for trekking or taking leisure of stroll. Summers will be sweating a lot.
2. Bandhavgarh national park: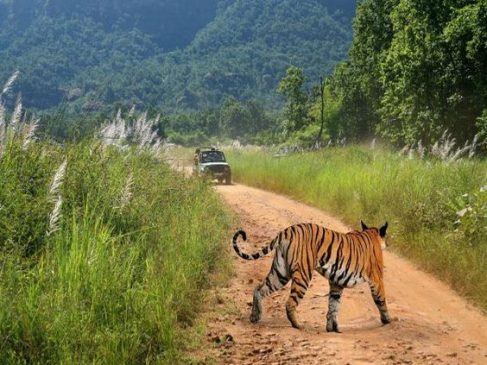 Opened for tourist in the month of mid October to end of June. The most approving will be November to February. The locale has tremendous varieties of flora and fauna with animals mate in winters, hostiled in monsoon, Heroic for tiger safari in summer. Must is to wear light cotton clothes, use caps, wear sunglasses and don't get dehydrated.
3. Ujjain​: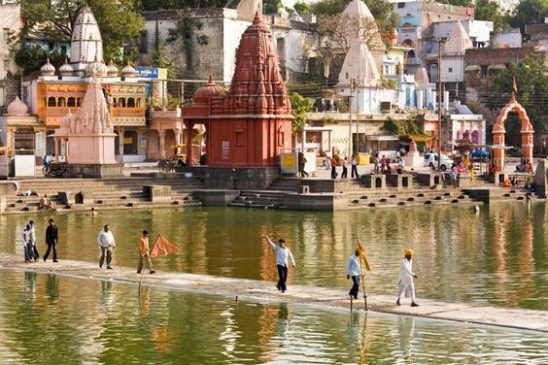 A holy spot to wash the sins of previous life especially at the time of "kumbh Mela" that comes after every 12 years. The October to March all month welcomes with chilled morning and frigid night. Festivals are observed with great passion as India is a land of God. For rain lovers, this area is breathtaking for taking a stroll with umbrella.
4. Gwalior: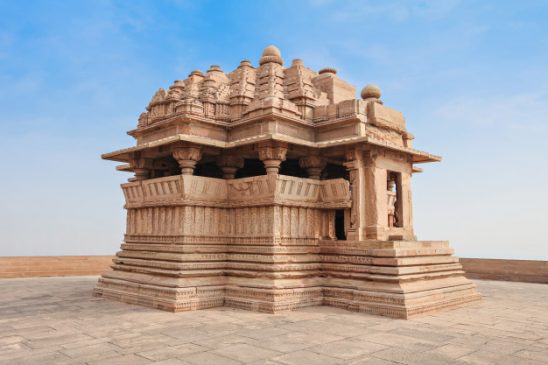 Another place to visit in October to March. Wonderful place for 4 days trip. The center of attraction besides forts of Gwalior, Telika mandir, vilas palace, Indian classical music performance called Tansen Music fest. A tribute by Indian government to Tansen. This fair was initially started by the king of Gwalior. Winter here has pink and cool climate. Monsoon is best time for Sightseeing, difficult task in summers.
5. Bhopal: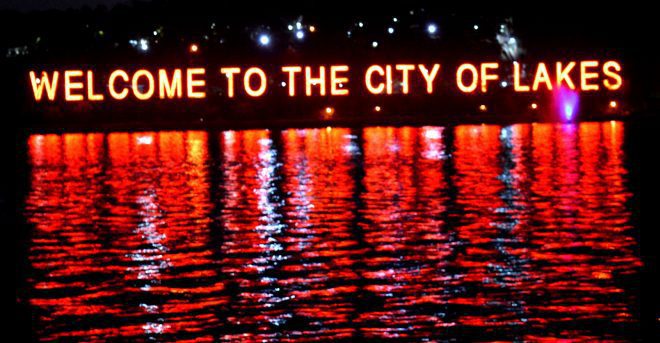 The capital of Madhya Pradesh. July to September is most blessed time to explore the beauty of this city. Chilled climate of monsoon to range over the Bhopal scenes including upper lake, van vihar lower lake, gohar mahal. Temperature is too high and dry in may.
6. Kanha national park: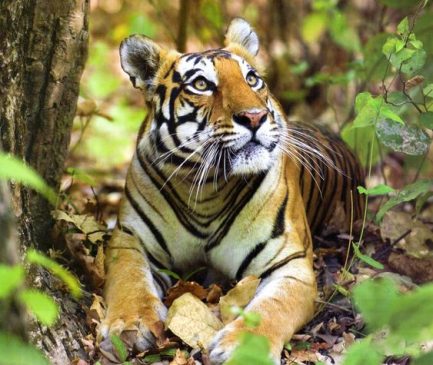 A foggy area with temperature drop to 0 degree Celsius. Park is open from mid October to June end. While monsoon damp the travelling but it give high discount in hot summer. Jeep safari visit explore the forest area. A perfect place for nature lovers. Peace of mind can be achieved here. A greenery refreshing our minds.
7. Bhedaghat: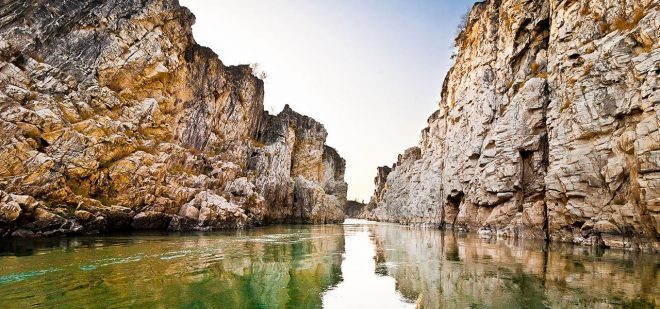 A land of marble, 100 ft tall resplendent rocks. Situation on the either sides of Narmada River. Ideal for boating during moonlight night. The spot of attractions is Dhuandhar falls, Chausath yogini temple, soapstone Artefacts. However, it's not fruitful during monsoon due to heavy rainfalls.
8. Sanchi: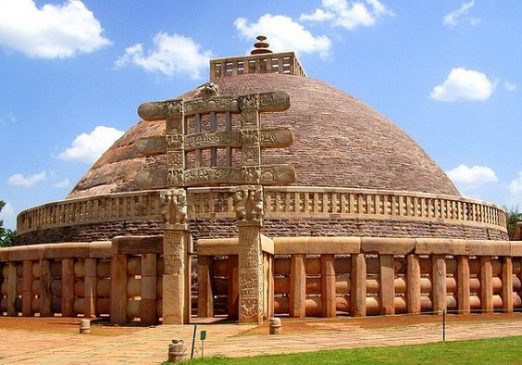 A desirable location for one day trip. Easily be reached through train or car from bhopal. This is a land of stupas, buddhist monuments. Open from 8: 30 am till 5: 30 pm. World Heritage Site for peace and serenity. The sanchi stupa was been built in honour of Lord buddha by Ashoka the great warrior.
9. Orchha: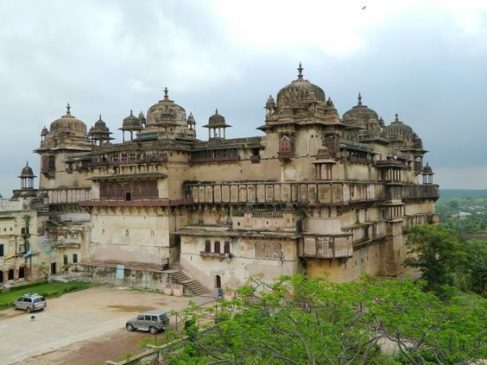 A picnic spot for 2 days. Located near Khajuraho airport. Known for hidden treasures, grand palace, carved temple and striking forts on the bank of betwa river. Breathing beauty of jahangir mahal, orcha fort, ram raja temple. It is crowded during dussehra with hotel prices ₹2495.
10. Indore: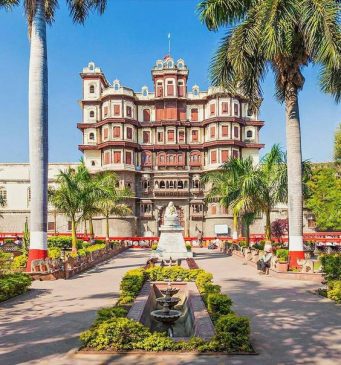 This city is also known as mini mumbai. A food city to be visited in month of July to March. A colourful and magical city, one of the fastest developed heritage is preserved here. Lal bahadur place, rajwada kanch mandir, and annapurna temple are all appealing. Even maratha 's architecture work is eye catching. The transport to reach is through fight would be best.
11. Maheshwar:
What's the point if you came to indore and haven't visited maheshwar. It's one day trip to temple town of madhya Pradesh. It hold a lots of mythological and historical importance.especially of Mahabharata and Ramayana.
Maheshwar is also famous for maheshwari sarees world wide.
12. Bhimbetka: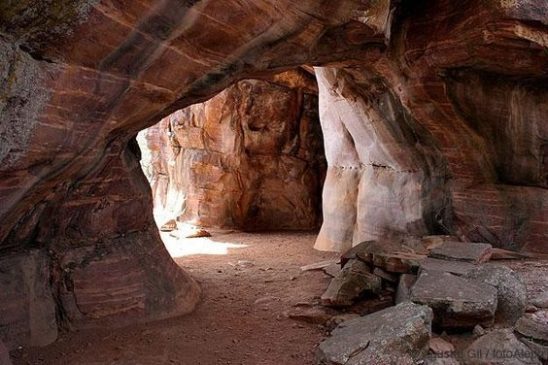 A place near Bhopal known as exotic rock shelter. Charmingly displaying the human life it's beginning from South. Rockes here contain 30000 years old paintings. It's not Troublesome to explore bhimbetka since a cab from bhopal will be sufficient to reach there.