There are plenty of reasons for a parent to purchase a kick scooter for their children. First and foremost, a kick scooter is a great addition to outdoor activities for kids to enjoy. Not only is a scooter great for physical exercises, but it also accords kids with a fun toy to enjoy themselves. Furthermore, they are also a great tool to help young kids develop and enhance their motor skill, even at a very young age. For many kids looking to learn how to ride a bike, the kick scooter is a good stepping stone. It is much safer than a bike but nonetheless, it pushes your child to develop their motor skills. Here is a complete buying guide on how to choose the best scooters sized for toddlers.
However, choosing a kick scooter for your young one is not a straightforward endeavour. For starters, there are plenty of considerations that every parent will have in mind. Equally, there are plenty of options that as a parent you have to sift through in order to purchase the perfect kick scooter for your child. Herein we will explore how to go about how to choose a kick scooter that is perfectly suited for your child.
The Purpose of a Kick Scooter for a child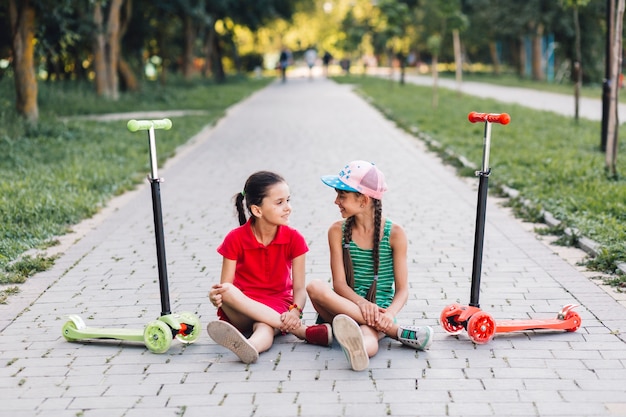 Most parents agree these are the main reasons for buying a kick scooter for their child:
To build the child's physical confidence and to develop motor skills
As an additional option for outdoor activity and exercise
As a preparation for learning to ride a bicycle
For family outdoor fun!
Key decisions to be made
A parent usually goes through the following decisions in the buying process:
Is my child ready to ride a kick scooter?
Should I buy a two-wheeled or three-wheeled kick scooter
Should I buy a kick scooter with small wheels or large wheels (usually pertaining to two-wheeled scooters)
Key considerations
The decisions above are affected by these following considerations:
the physical size of the child (this is a more practical consideration than the age of the child)
the overall motor skill (or physical ability) of the child
whether the child already knows how to ride a bicycle or a kick scooter
Choosing a scooter for a child according to the age of your child
 Usually, young children at the age of 2 have all the necessary skills to ride a scooter, just need a little time to understand how to ride it.
The first thing to consider when choosing a scooter for your child is the number of wheels. The scooter children can have two to four wheels. The more wheels have the scooter, the more stable it will be.
For 2 to 3 years old children: pick a scooter with 3 or 4 wheels, as it will be easier for your child learn to ride a scooter and handle the balance. A 3 – wheel scooter with 2 wheels on front and 1 rear wheel is the best choice since the 4-wheel scooters are heavier and not very mobile. If a scooter has two rear wheels your baby always touches them with one leg and stumbling.
For 3-5 years old children: Choose from models 2 wheels with wide platforms and landings. It is important to teach your child to gain speed, control, and braking.
Scooters For 6 to 8 years old children: have two wheels, small weight, and a narrower platform. If at this age your child already knows how to handle a scooter, so you can choose for a model trick. They are not dangerous and will allow that your child develops physically.
From the age of 10 children: usually stop riding scooters and bicycles prefer if this is not just your hobby. If your child does ride a scooter your hobby, you must choose between advanced models with a stable and manoeuvrable platform.
Choosing a skateboard according to your child's height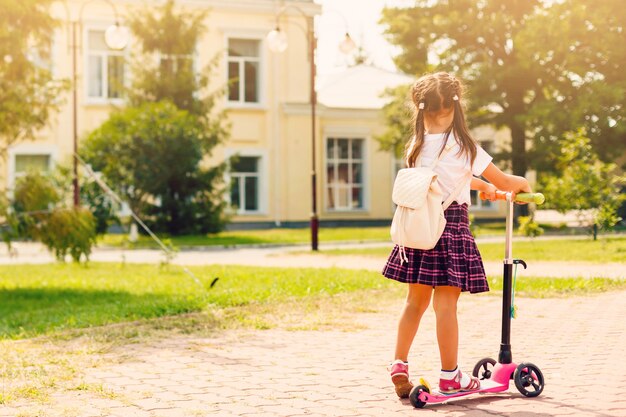 It is important that your child has taken the correct position on the scooter. A good scooter should be appropriate for your child's height, as incorrect posture can injure muscles and arms back. How to choose a scooter that setting? Choose a scooter along with his son and check its position. It should be straight with slightly bent at the elbow's arms posture. The handlebars should be level with your child's chest when he stands next to it.
Other features of a good scooter
Wheel
Large and narrow wheels are suitable for unpaved roads. Top smooth surface imperfections and have a good chance. But these scooters are not very fast and manoeuvrable.
Scooters with small wheels rubber or plastic wheels with rubber are suitable only for smooth surfaces you can easily accelerate a scooter. The wheel width affects the stability of a scooter. As wider the wheels, the better the Stability and less is the speed that a scooter can achieve.
The platform
The platform should be roughened to prevent slippage Scooter with a broad base is best for beginners or young children, as they have less manoeuvrability The length of the platform also matters: The longer, more difficult it is to control the scooter's platform position should not be high for small children, otherwise, a child will need more efforts and therefore the small pilot tires quickly. When mounted on a lower deck, one must be careful to avoid Curbs
Material
Another important difference in children's scooters is the material they are made. It can be plastic, metal or both.
Scooters plastic children are lightweight, so generally are designed for children under two years old. But as you know, plastic is not the most durable option. Therefore, it is not suitable for children, already can actively be mounted. Therefore, for children over 3.5 is better to buy a scooter metal core. it is definitely heavier and harder to ride, but your child will learn! it will also be useful for Their physical development.
Most scooters are made of aluminium, a light material and quite durable. Some models are made of steel. They are very heavy and very durable. The best option is a scooter made of aluminium alloy and steel.
The handlebars
Models trick with a fixed handlebar. In most other models can choose a position properly handle, which is very useful as kids are growing rapidly. The handle must have grips to prevent slipping out of hand. They are often made of foam rubber which is comfortable for hands because it absorbs sweat. The rubber pads are also welcome but do not prevent friction blisters.
Breaks
How to choose the safest place for your child's scooter? You cannot avoid the fall, but you can reduce the number of choosing a model with brakes. In general, the brake is located above the rear wheel, but there are models a front brake. It is a real threat to the health of your child, because the use of high – speed front brakes always lead to falls, sometimes even on the handlebars.
 Construction
Folding scooters allow save space in the apartment, they are very mobile and easy to carry but are important to realize you will not find a cheap folding scooter with high quality. Strong scooters are sturdier a priori; however, they need more space for storage. Therefore, if you want to save money it is better to buy a solid scooter.
Clothing suitable for riding a scooter
While riding a scooter child is basically non-traumatic, it is worth remembering that while riding a child can scratch or hit the knee, so it is best if the child is dressed in pants or shorts below the knee. Shoes must be set firmly on the foot to avoid falling into the wrong time. Also, the child must have a special helmet.
Scooter size safety consideration
The child's ability aside, it is generally safer for a child to ride a kick scooter which handle bars are lower than the child's neck. If the handle bar is in front of the child's face or neck, there is an increased chance of the handle bar causing injury to the face or neck during a collision. If your child is riding a kick scooter with a height-adjustable handle bar, keep the handle bars below neck height as a precaution.
Final Word
If a test ride is possible, observe your child as they test ride kick scooters of different sizes to see which ones they can handle more effectively. Be sure to ask for their opinion. After all this, your decision will lie somewhere between your willingness to allow your child to take risks and your desire for your child to fully develop his or her motor skills. If in doubt, choose the smaller scooter because they are generally easier to handle, and accept that you may need to buy a larger one later on. Whichever way you choose, remember a kick scooter is supposed to be fun, so don't fret too much over it.