Diwali 2018: Date, Lakshmi Puja Timings, Traditions And Celebrations
Diwali is the festival of lights and joy. The word Diwali means rows of Diyas (earthen lamps). Hindus across the world celebrate the festival with great enthusiasm. One of the most popular Hindu festivals, Deepavali represents the victory of light over darkness, good over evil and knowledge over ignorance. Most Hindu families decorate and illuminate the temples, homes, shops and office buildings during the celebration. Hindus worship the Lord Ganesha for good luck and prosperity and Goddess Lakshmi for wealth and wisdom. The preparations, and rituals, for the festival typically last five days starting from the Dhanteras festival and ending on Bhai Dooj.
Diwali 2018 Date and Puja Timings
For the year of 2018, Diwali will be celebrated on 7th November 2018. On the day of Diwali, It is recommended to perform Lakshmi Puja during Pradosh Kaal which starts after sunset and approximately lasts for 2 hours and 24 minutes.
Lakshmi Puja Muhurta -> 17:57 to 19:53, 7th November 2018 (Wednesday)
Duration -> 1 Hour 55 Mins
Pradosh Kaal -> 17:27 to 20:06
Vrishabha Kaal -> 17:57 to 19:53
The best time for Lakshmi Puja is when Sthir Lagna prevails. It is said that If Lakshmi Puja is performed during Sthir Lagna, Goddess Lakshmi will stay in your home forever. hence Sthir Lagna time is the best for Lakshmi Pujan. Vrishabha Lagna is considered as Sthir (or fixed) and mostly overlaps with Pradosh Kaal.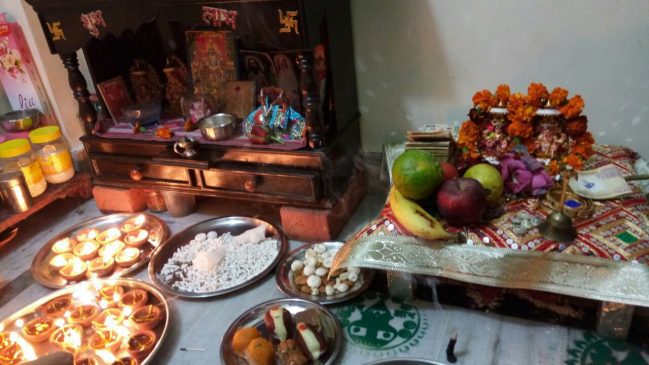 Lakshmi Puja Fasting and rituals
People should get up early in the morning on Diwali and pay tribute to their ancestors and worship family gods. Traditionally, Lakshmi Puja is performed after observing day-long fast. Devotees break the fast after Lakshmi Puja in the evening.
Diwali 2018 Important Dates 
Dhanteras 2018: 5th November 2018, Monday
Choti Diwali or Naraka Chaturdashi: 6th November 2018, Tuesday
Diwali or Lakshmi Ganesh Pujan: 7th November 2018, Wednesday
Govardhan Puja 2018: 8th November 2018, Wednesday
Bhai Dooj: 9th November 2018, Friday
Diwali Significance 
Diwali marks the return of Lord Ram to Ayodhya after killing Lanka's demon king Raavan. As per Hindu scripture Ramayana, Ram killed Ravana on the Vijaydashmi (or Dussehra) and then returned to Lanka with his younger brother Lakshman, his devotee Hanuman and his wife Sita. When Ram returned to Ayodhya after 14 years of exile, residents of Ayodhya became delighted. To mark the occasion, they celebrated the return of their King with joy and lit diyas at their homes.  Next day, the whole city of Ayodhya was illuminated and thus the festival of Diwali started.
In some parts of the country, Choti Diwali is the day when Lord Krishna killed the evil demon king Narakasura. Naraka Chaturdashi or Choti Diwali is celebrated on Chaturdashi of the Krishna Paksha in the Vikram Samvat Hindu calendar month of Ashvin. It is the second day of the five-day-long festival of Diwali.
Diwali Celebrations
The preparations for Diwali festival start by cleaning, decorating and renovating homes and offices. Starting from the first day of the festival, families li diyas at their home and brighten the homes with a variety of lights.  Diwali is the time of the years when most of the Hindu families reunite and celebrate the festival with immense joy. People burn firecrackers after Lakshmi Ganesh Pujan and exchanges sweets. It is also the time when most of the online retailers offer online deals and People love to shop during the festival for gifts.
The whole team of trendpickle.com wishes you a very happy and prosperous Diwali 2018.