In this disquisition, we are going to see about the finest neck designs for Kurti that everyone should try out. No other costume is as comfortable as Kurti. It looks very simple and beautiful. Kurti is one of the most loved and worn by all Indian women. They are cheap and fashionable. Neck designs play an important role in this dress. There are Kurtis with many neck designs. We can now find that kind of neck design.
1. ROUND NECK KURTI DESIGN
A round neck design is commonly chosen by everyone and is suitable for daily use. The Kurti with this neckline is fit for all facial shapes and body compositions. This Kurti is perfect for working women and also for college students. In addition to this, we can wear matching leggings, Palazzo pants and then long skirts. We can wear simple accessories with this type of Kurti.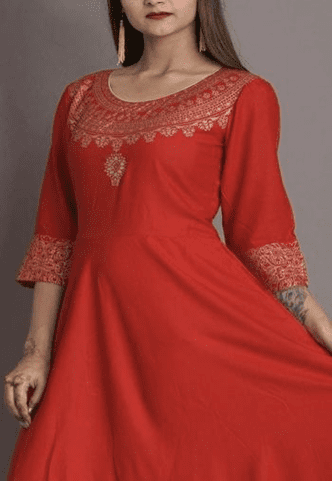 2. SCOOP NECK KURTI DESIGN
Scoop neck designs are almost identical to round neck designs. It looks apt on both sleeve and sleeveless fits. This design shows the wide opening of the neck and then the collar bones. So, it seeks the attention of everyone to make an eye on you. The Kurti with this neckline makes short people look tall. It is mostly used in Anarkali style Kurti. This looks elegant, we can wear it for family functions along with dupatta and matching accessories. This style suits women with a long face shape.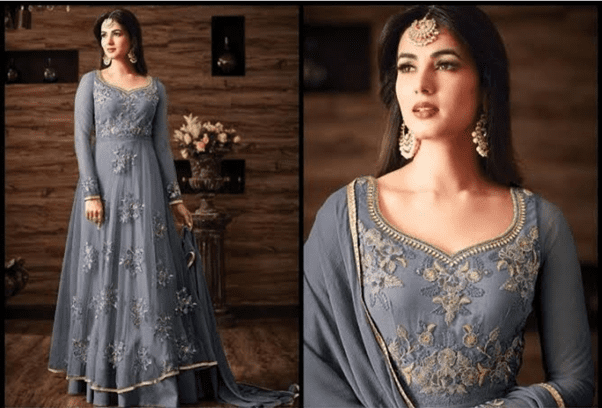 3. SWEETHEART NECK DESIGN
As the name suggests, the sweetheart neck design forms the shape of a heart in the front neck and the back of the neck is closed. This design spotlight the neck and shoulder parts. It may wear as comfy as well as traditional wears. This is everyone's favorite neck design. Sweetheart Kurtis is suitable for chubby women. A short Kurti with a sweetheart neckline is apt with Patiala. This neckline looks good on women with a square and rectangular-shaped face.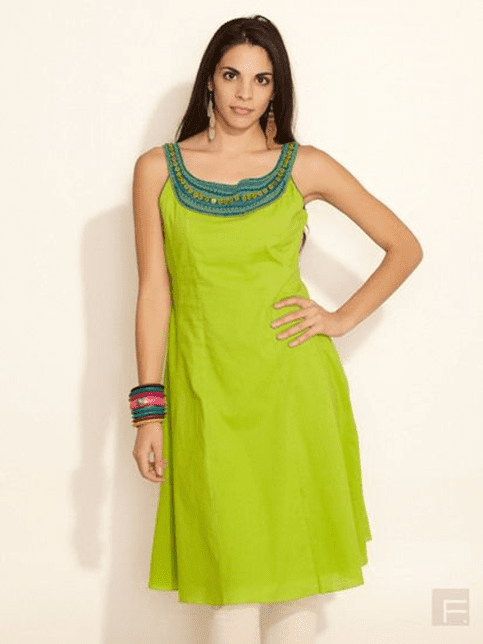 4. SQUARE NECK DESIGN
Like round neck design, it is another common and popular one. This design is suitable for Kurtis as well as blouses. It looks somewhat like U shape, but bends deep and shows a wider neck. This neckline fits for women with round and heart-shaped faces. Most of the comfy Kurtis have these neck designs. This neckline Kurti pairs up with leggings for long tops and then wide-legged bottoms for short tops. All kind of accessories looks good for this Kurti.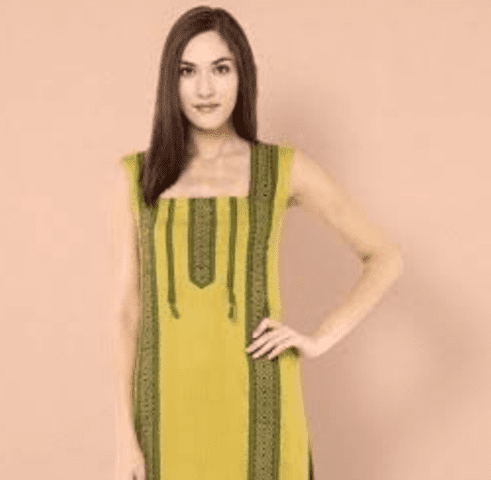 5. BOAT NECK DESIGN
The boat neck design makes you closer to your neck and runs straight between collar bones. This neckline looks the same on both front and back. Also known as the princess neckline. This neckline looks a wider one like scoop design, but it is a narrow one. This looks good on women with diamond-shaped faces and suits for both Chubby and lean women. The main attention is towards the shoulder and leggings match it perfectly. Long and maxi style Kurtis looks better than short one in this style.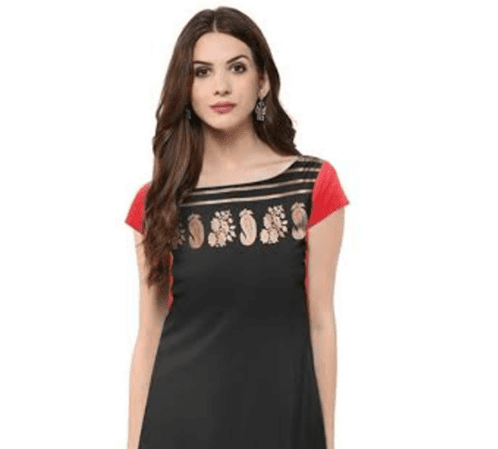 6. COLLAR NECK DESIGN
The regular collar neck design looks like a normal shirt collar and it covers the back and in front looks like a shirt. The collLong ar clothing is popular and apt for leggings and jeans. It looks formal and casual to wear. Collar neckline Kurtis are suitable for all women with varied body sizes and face shapes. Long Kurtis with collar looks amazing to wear. Collar Kurtis has its own standard that it looks classy and we can wear it for all occasions. Casual accessories are a perfect match for this.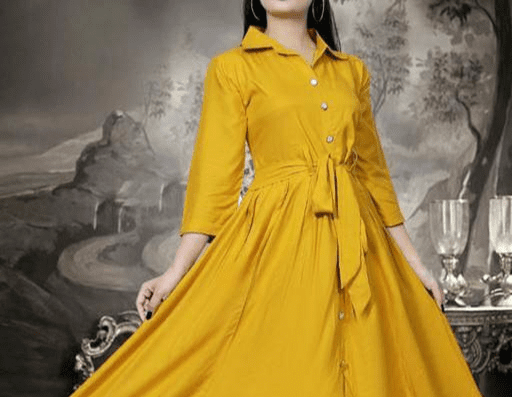 7. WRAP NECK DESIGN
The Wrap neck design is actually known as the Angrakha, which originally means a court outfit that was worn by our ancestors. This neckline is considered a traditional neckline, as the people in the Mughal empire, wrapped the cloth around the body and tied it with strings. Mostly this neckline used in Anarkali Kurtis. It fits for women with a water clock shaped and apple figured body. Most celebrities use this style. This neckline Kurtis is party wear.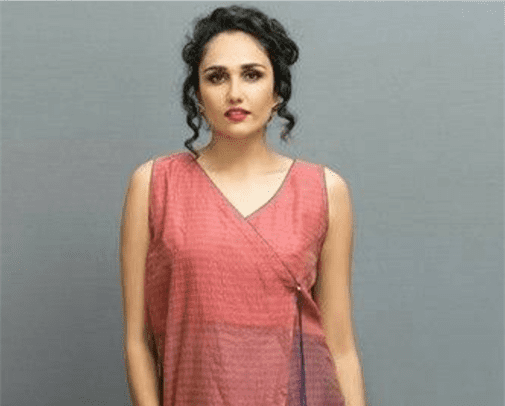 8. MANDARIN COLLAR DESIGN
We all know that Mandarin is the Chinese language. So, the neck design is basically used by them in their outfits. This collar is also featuring of Nehru jacket. In this design, the neck closes but leaves a gap in the front. This is one of the classy and traditional outfit. If you wear this dress it makes you look taller and leaner. This suits for women with round and squar- shaped faces. This neckline perfectly pairs with Palazzos and leggings. This makes a simple look.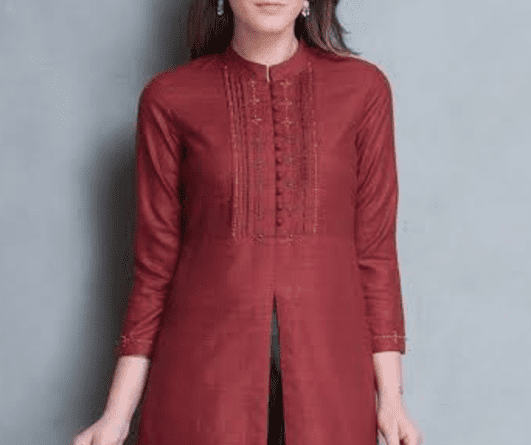 9. KEYHOLE NECK DESIGN
This neck design has a key-shaped hole or opening in the front neck. This design is popular nowadays, as it gives an attractive appearance to the Kurti even it is a simple one. The size and shape of the keyhole can vary. This neckline is suitable for women with square and oblong faces. Long sleeves Kurti looks good with this neckline. This style of Kurtis perfectly pairs up with leggings.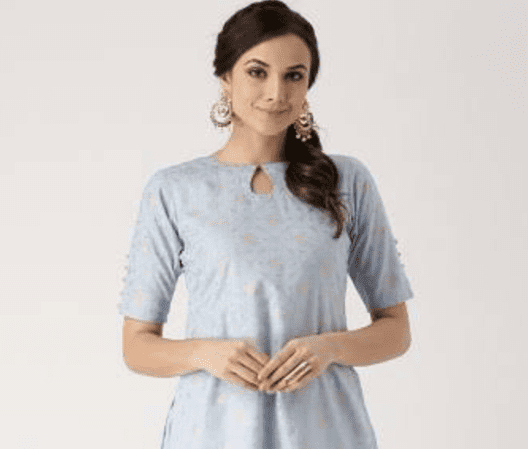 10 . SIDE KEYHOLE NECK DESIGN
This is as same as the keyhole neck design but the keyhole is placed at a side of the front neck. This neckline is popular as everyone thinks the keyhole design to be a more attractive and glamorous one. This neckline looks good on both lean and chubby women. This design can also wear on festive occasions with matching leggings and narrow salwar. This neckline is perfect in both long and short sleeves.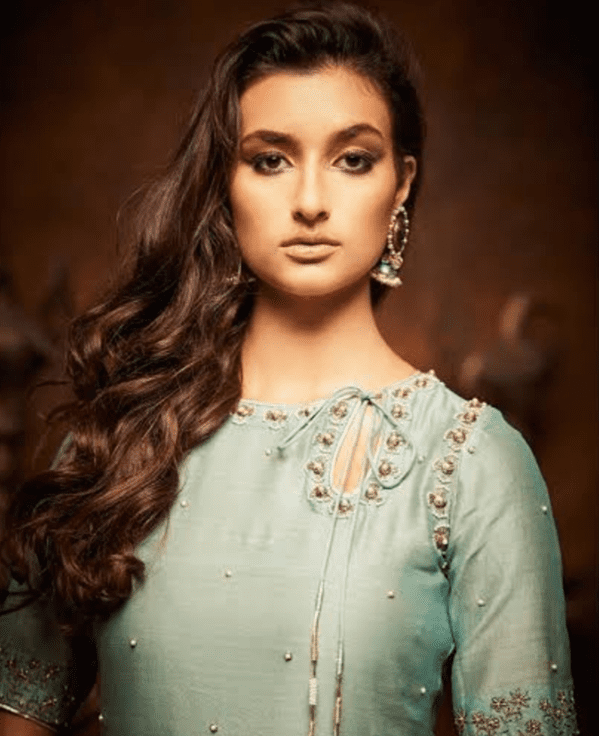 11. COLD SHOULDER NECK DESIGN
This neck design is nothing but the top portion of the sleeve is cut out to reveal a part of the upper arm or shoulder on both sides. This style looks trendy and modern. Everyone must attract to this design, thus it suits all body types and faces shapes. This Kurtis may be short, long, or medium-sized. This looks good when pairs with denim, leggings, or Palazzos. No accessories are needed for this Kurtis.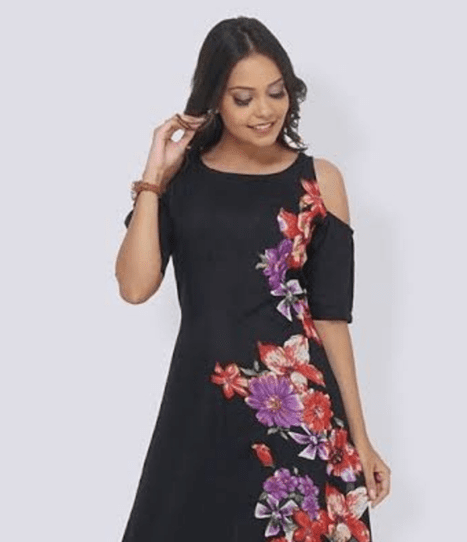 12. OFF- SHOULDER NECK DESIGN
This design is completely opposite to the traditional Kurti neckline. This neckline is suitable for casual and then party looks. This one looks elegant as it has opened and shows the full shoulder on both the front and backside. It is a trendy look for college women. But it is a little tricky for women with broad shoulders and an apple-figured body to pull it off. But the bottom-heavy women can balance it out. This one is suitable for all face shapes and hence it seeks attention. These types of Kurti can be pairs up with leggings and jeans.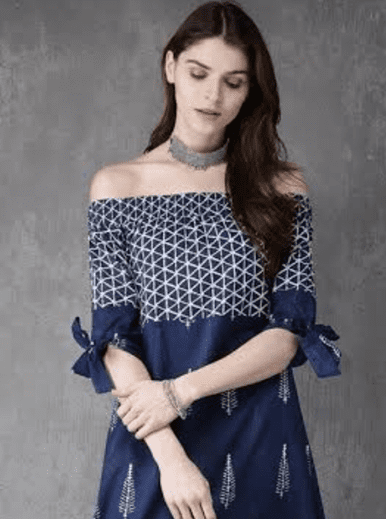 13. HIGH NECK KURTI DESIGN
This type of neckline looks elegant and has an elonging effect. It makes short people look taller. This neckline is embellished to make some attraction to the outfit. There is no need for accessories. This neckline is apt for a person with a narrow facial structure. This style should be avoided by persons who want to deemphasize their midsection. This pairs perfectly with wide-legged bottoms. Long earrings look good on them.