For years, Bollywood has always been criticised for 'copying' Hollywood movies. And while most of them have defended it replacing the word 'copying' by 'inspired', the 'inspired' movies have still not been able to leave an impact as the original movie did. But there are also a few movies made in Bollywood that have been so good that Hollywood has taken inspiration from them. Here is a list of Hollywood movies inspired by Bollywood movies-
1. Fear ( 1996)
This movie by James Foley is a remake of the critically acclaimed intense thriller 'Darr', produced by Yash Chopra in 1993. Based on a guy named David who has had a scaringly dark childhood, this movie shows how he meets Nicole and gets seriously obsessed with her. Although the storyline of Fear had a few differences from Darr, the basic outline of the story as well as the characterization was pretty much similar. Also, the famous scene where Srk carves Kiran's name on his chest was adapted in this remake.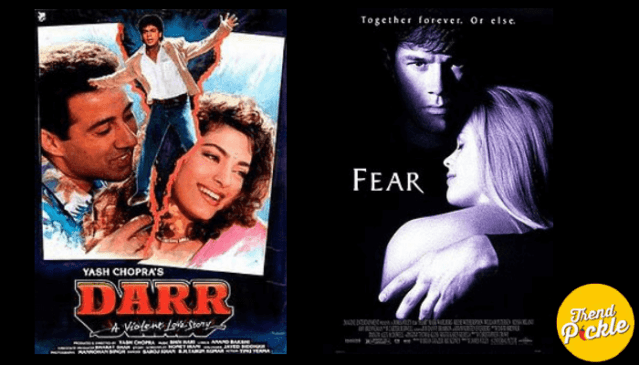 2. A Common Man (2013)
Starring Academy Award winner Ben Kingsley, this movie by Chandran Rutnam is an official remake of Naseeruddin Shah's 'A Wednesday'. The only difference is that 'A Common Man' is set in Sri Lanka unlike 'A Wednesday' that is set in India. Ben Kingsley is, as the title suggests, a common man who places 5 bombs in different parts of the city. He demands the release of four prisoners in order to avoid the blasts. But the climax comes with a twist as he kills all the four prisoners instead.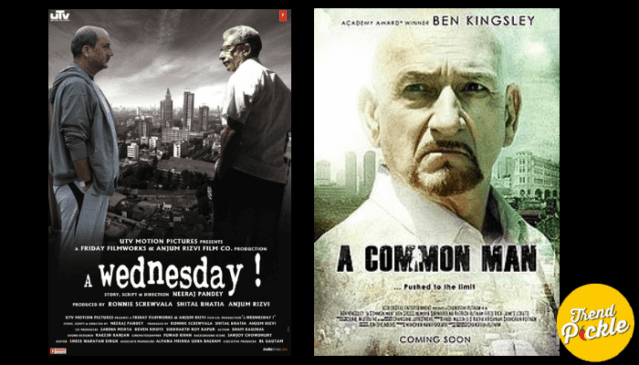 3. Pearl Harbor (2001)
Pearl Harbor is a love triangle set in a war-torn America where two pilot friends fall in love with the same girl. This movie is said to be inspired by Raj Kapoor's classic 'Sangam' that released way back in 1964. Directed by Michael Bay, this movie projects a wonderful tale of War & Romance blended in with History. Apart from being a big commercial success, this movie was also nominated for four Academy Awards.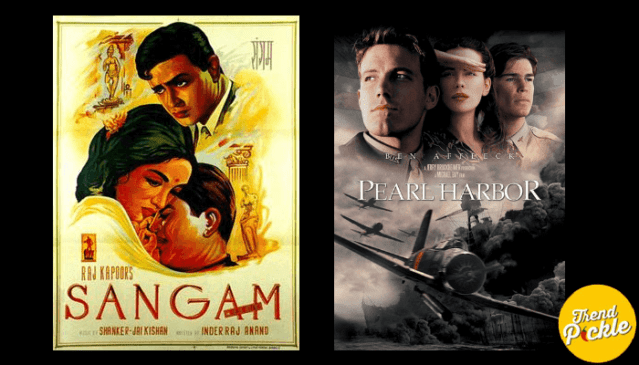 4. Leap Year (2010)
Leap Year, starring Amy Adams and Matthew Goode, is a movie about a bubbly, uptight girl who is on her way to surprise and propose to his boyfriend when she meets a stranger who has a personality completely opposite to that of hers. They start getting to know each other as the journey continues. By the end of the journey, they fall in love with each other but don't express it as she is on her way to propose to her boyfriend. Although the makers of these film denied it, the similar storylines suggest it was a remake of Imtiaz Ali's 'Jab We Met'.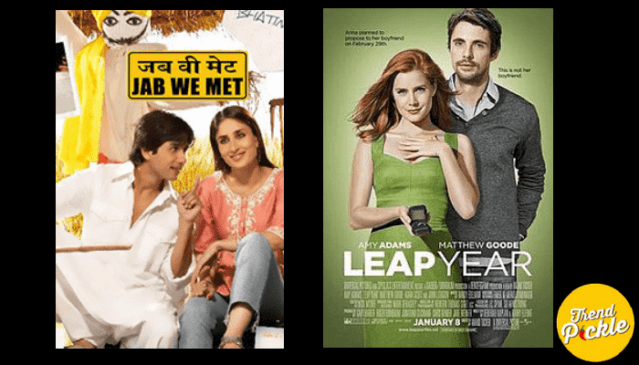 5. Just Go With It (2011)
With Jennifer Aniston and Adam Sandler in pivotal roles, this movie is about a doctor who requests his secretary to pose as his wife in order to back up a lie he told his girlfriend. This movie is strikingly similar to the David Dhawan directorial 'Maine Pyaar Kyun Kiya' starring Salman Khan, Sushmita Sen, and Katrina Kaif. Interestingly, both these movies were inspired by an old movie called 'Cactus Flower' but have changed the storyline a bit.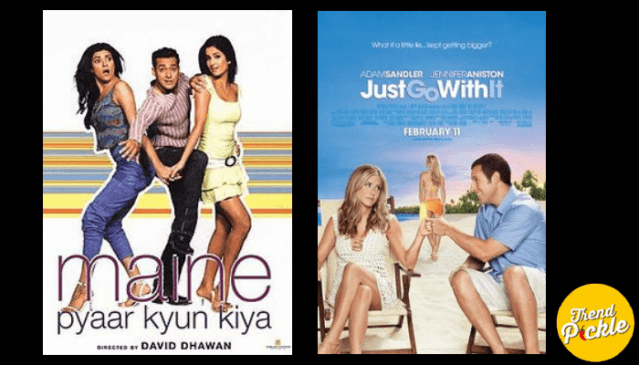 6. Delivery Man (2013)
This film starring Vince Vaughn is based on a very interesting story about a sperm donor. Although there were differences in the plot, the basic storyline was the same as that of Ayushmann Khurrana's 'Vicky Donor'. Vaughn realizes that his anonymous donations to a fertility clinic 20 years ago have given birth to 533 children and 142 of them have filed a lawsuit in order to reveal his identity. Now he has to decide if he should reveal his identity or not.
7. Win a Date with Tad Hamilton (2004)
This unique love triangle by Robert Luketic is inspired by Ram Gopal Verma's 'Rangeela' starring Aamir Khan, Urmila Matondkar, and Jackie Shroff. A girl caught in a love triangle between a movie-star and her best friend makes up the plot of this movie. Eventually, the movie-star lets the girl go when he realizes that she deserves to be with her best friend rather than with him.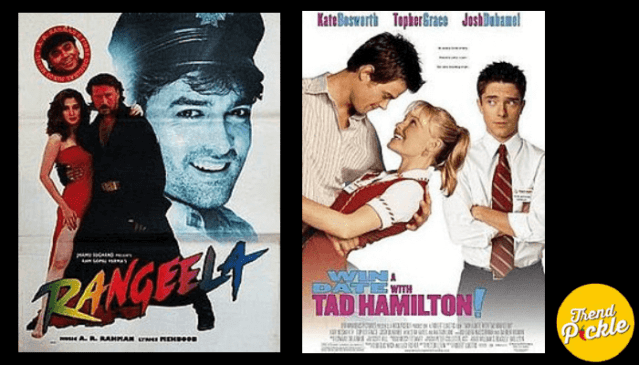 8. Hitch (2005)
Hitch, starring Will Smith, traces an interesting story of a 'love doctor' who helps Men woo the girl they admire. Meanwhile, Hitch(Will Smith) also starts admiring a woman who is a columnist by profession. She exposes Hitch when she realizes he is a 'love doctor'. This movie is inspired from the old classic 'Choti Si Baat' starring Amol Palekar. Interestingly, Hitch was remade again in Bollywood, named as 'Partner'.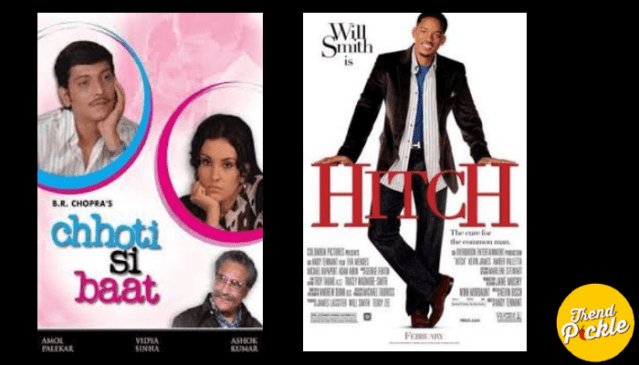 Now that you are aware of all these remakes, the next time you get the chance, watch any of these 'inspired movies'  just to see their striking similarities with our well-known Bollywood classics. And even though the stories are similar; the setting, characters as well as the plot points are changed as per their lifestyle. Thus, you get to see a story known to you from a new and different perspective. So, which one are you going to watch first?