Dravid is undoubtedly one of the greatest cricketers India has ever produced. With over 10,000 runs in both ODIs and Tests, Dravid showed his class and temperament in all conditions. As it is popularly quoted among fans, 'If cricket is a gentleman's game, then Rahul Dravid is that gentleman.' While people might feel they know enough about this batting great, there are a few facts unknown. Here are 40 amazing facts about Rahul Dravid – The Great Wall of India. We all know his playing style and the reason we could call him Mr.Dependable…but in this article, you would also find some unknown facts about him!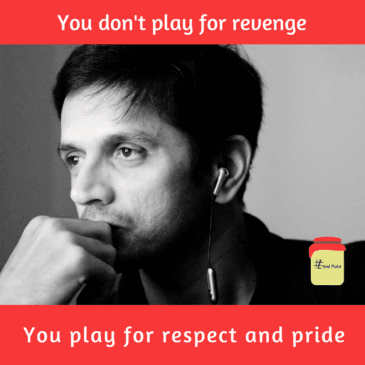 Early Life: Maharashtrian roots:
Rahul Dravid was born on January 11, 1973, at Indore in India. He was born in a Marathi family to his parents Pushpa and Sharad. Dravid lived most of his life in Karnataka. Rahul's mother, Pushpa, was a professor of Architecture at the University Visvesvaraya College of Engineering (UVCE), Bangalore. She was also an artist and held various exhibitions in Bangalore. His father, Sharad, worked in a jam factory and was an ardent cricket lover. Jr. Dravid would often accompany his father to cricket matches.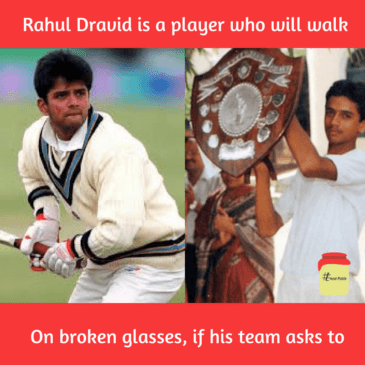 Nicknames of Rahul Dravid
:
Dravid's father worked in a Jam factory which earned him the nickname 'Jammy'. He is also called as 'The Wall' and 'Mr. Dependable'.
Education of Rahul Dravid:
He did his schooling at St. Joseph's Boys High School, Bangalore and earned a degree in commerce from St. Joseph's College of Commerce, Bangalore. He was selected to India national cricket team while studying MBA in St Joseph's College of Business Administration.
Cricketing as a career for Rahul Dravid:
Dravid started playing at an early age of 12. He was quick to impress the selectors and represented his state at U15, 17 and U19 levels. Keki Tarapore, a former cricketer, noticed him at an early age when he scored a century for his school. Dravid made his Ranji debut in 1991 when he was still attending his college. Playing alongside future teammates Anil Kumble and Javagal Srinath against Maharashtra in Pune, he scored 82 runs in the match, which ended in a draw. In the next season, he shot to fame with 2 centuries to his name and an aggregate of 380 runs with an average of 63.3. This helped him get into the South Zone side for Duleep Trophy.
Rahul Dravid – A Scotland player:
Not many would know but Dravid has played 11 matches for Scotland in 2003. He joined Scotland as an overseas player for the National Cricket League in England and made his debut against Hampshire.  scored a majestic 120* against Somerset and 129* against Nottinghamshire, both in losing cause. He ended being the top scorer for Scotland with 600 runs in 11 matches at an average of 66.66 with 3 centuries and 2 fifties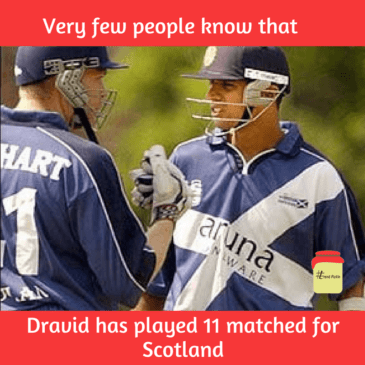 Awards received by Rahul Dravid:
Dravid received the Arjuna Award in 1998 and was the CEAT International Cricketer of the World Cup in 1999. He was awarded the Padma Shri in 2004. He was awarded the ICC Test Player of the Year, ICC Cricketer of the Year and MTV Youth Icon Award in 2004. He was named the captain of the ICC's Test Team in 2006. He had also received Wisden Cricketer of the Year award in 2000. He received the Don Bradman Award with Glenn McGrath in 2012 and received the Padma Bhushan in the same year.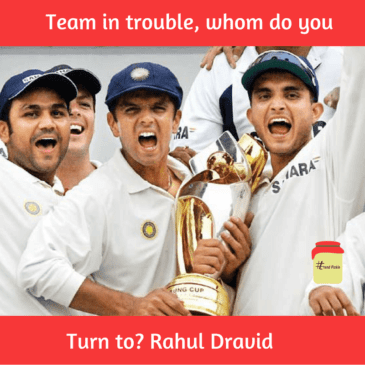 Brand endorsements by Rahul Dravid:
He has been involved with some of the biggest brands like Reebok, PepsiCo, Castrol, Max Life, Bank of Baroda, Gillette, Samsung, Sansui, and Citizen.

Dravid was the brand ambassador for Karnataka Tourism in 2004. Currently, he bats for Traffic Safety and Traffic Rules in Bangalore.
Personal life of Rahul Dravid:
Rahul Dravid married Vijeta Pendharkar, a surgeon from Nagpur, on May 4, 2003. He has two sons, Samit born in 2005 and Anvay, born in 2009. He admits that his sons do not try to copy him but love to play in AB de Villiers' style.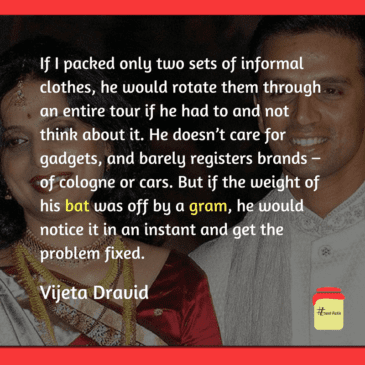 A true gentleman and a humble human being:
Dravid, even during his playing days, used to pick up his children from school. His wife says that he could manage with just two pairs of clothes on any tour. When a young Rahul Dravid fan, suffering from Cancer, expressed his desire to speak to him; Rahul made sure his wish was fulfilled. He Skype'd with him for almost an hour.

He is an active member of the Children's Movement for Civic Awareness (CMCA) and also a member of UNICEF Supporter and AIDS Awareness Campaign.

Rahul Dravid is the only non-Australian cricketer to address the Bradman Oration. He delivered the Bradman Oration on December 14, 2012, at the War Memorial in Canberra.  What a moment of pride!

Dravid was a part of a prank by the popular MTV Bakra Segment. He was proposed by a young girl as a part of the prank. For the gentleman that Dravid is, he asked the young girl to focus on her studies instead!

Rahul was named as the Sexiest Sportsman in 2004 in a survey run by a magazine. He was voted ahead of the liked of Sania Mirza and Yuvraj Singh.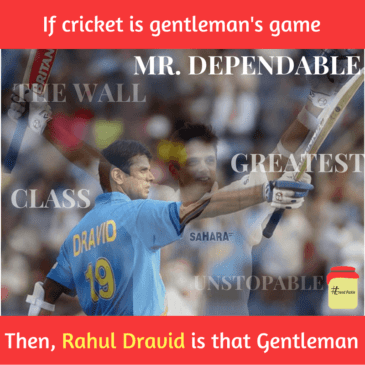 Dravid is nicknamed Jammy. His popularity is such that there is a local tournament held in Bangalore named as the 'Jammy Cup'. The player of the match is called as 'Jammy of the Day'.

Rahul has two biographies to his name. Rahul Dravid – A Biography written by Vedam Jaishankar and The Nice Guy Who Finished First written by Devendra Prabhudesai. ESPNCricinfo released a collection of all articles related to Rahul Dravid in a book titled – Rahul Dravid: Timeless Steel.

After India was knocked out by Bangladesh in the World Cup in 2007, Dravid was graceful in accepting the defeat. He gifted two of his bats to the heroes of that match Tamim Iqbal and Mushfiqur Rahim.

On 1st Nov 2018, He was officially inducted into ICC Hall of Fame. He becomes fifth Indian to join the list of elite players.
Your Turn!
Share, why you admire Rahul Dravid in the comment section, you can also suggest if we missed out any good interesting fact on the list.