Pushkar is a holy town in the Ajmer district in Rajasthan which is famous for the oldest Lord Brahma temple. You can reach here from Ajmer which is situated at a distance of 10 km. The nearest airport is at Jaipur which is situated at distance of 150 kilometers. Pushkar is a pilgrimage site for both Hindus and Sikhs. The city has many temples. Most of the temples and ghats in Pushkar are from the 18th century and later. Many temples were destroyed during Muslim invasions in the area and subsequently rebuilt. It is considered a sacred city by the Hindus. Pushkar is located on the shore of Pushkar Lake, which has many ghats where pilgrims take a dip in the holy water.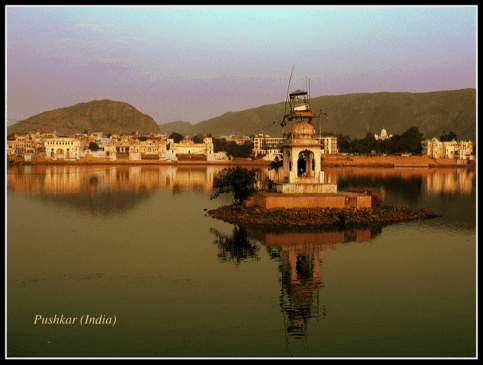 Pushkar is also known for its annual cattle fair. The fair features trading of cattle, horses, and camels. The fair is held for seven days in autumn. The fair indicates Kartika Purnima according to the Kartik month of Hindu calendar which happens in October or November.
Do you know where Jatayu took last breath?
Brahma Temple is the most famous temple in Pushkar. The temple was built during the 14th century. Lord Brahma is not considered as worshipable as Lord Shiva or Lord Vishnu but he is still worshipped in few parts of the country. There are very few temples dedicated to Lord Brahma apart from Pushkar Temple. However, Brahma temple in Pushkar is the oldest dedicated to Lord Brahma in the world
As per legend, The temple was built by sage Vishwamitra after Brahma's yagna. It is also believed that Brahma himself chose the location for his temple.  The temple was renovated by Hindu philosopher Adi Shankara in the 8th century. The current medieval structure of temple dates back to Maharaja Jawat Raj of Ratlam, who made additions and repairs, though the original temple design is retained.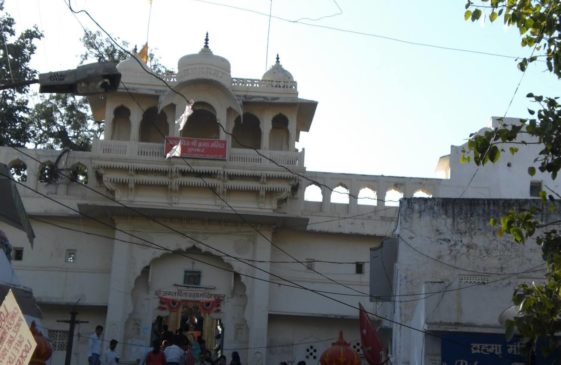 Why is Lord Brahma not worshipped like Shiva and Vishnu?
There are various stories from our Puranas about "why Lord Brahma is not worshipped like Shiva and Vishnu".
1. Lenient in giving boons –
As per Hindu mythology, Brahma, when compared to the other gods was a lot more lenient and would bless his devotees wholeheartedly. At many times Brahma blessed devotees with boons without considering the outcome of his blessings. He is said to have blessed demons from Hiranyakashipu and Mahishasur to Ravana, causing them to torture people and several gods too. In these cases, Vishnu and Shiva had to take control of situations and they killed the demons with their various avatars. Since Brahma continued to be lenient, people stopped worshiping him and instead offered prayers to Vishnu and Shiva.
2. Shatarupa Story –
According to one story from Bhagwat Puran, Brahma created a lady deity and named her Shatarupa which means "one with a hundred forms". As soon as she was created, Brahma was infatuated with her and followed her everywhere to pursue her. However, she tried avoiding him for as long as possible. Brahma developed ahead in each direction wherever Shatarupa went. Thus, Brahma developed five heads, one on each side and one above the others. Since Shatarupa was considered to be Brahma's daughter, Shiva cut off Brahma's fifth head as this relationship was not appropriate. After this, Brahma is believed to be the ignored.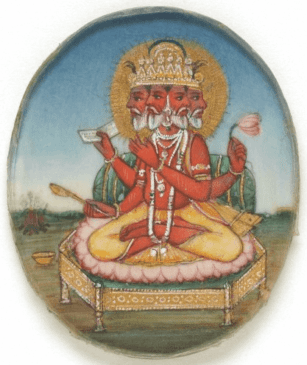 3. Lord Shiva Curse –
Once, there was a bet placed between Brahma and Vishnu to prove who is greater between them, and who should be worshipped first. Lord Brahma lied and tried to trick Lord Vishnu to win the competition. Lord Shiva got angry after watching this opened his third eye and 'Bhairav' was manifested from it. Lord Shiva asked Bhairav to kill Lord Brahma. Bhairav cut one head of Lord Brahma with his sword. Lord Brahma was scared and he was trembling with fear. Lord Vishnu felt pity for Brahma and requested Lord Shiva to forgive him. Lord Shiva then asked Bhairav to stop. He said to Lord Brahma – "You lied with a desire to win the competition so that you can be worshipped first". Then Lord Shiva cursed Brahma that he will not be worshipped by anybody and he will possess only four heads. Lord Brahma begged for forgiveness. Lord Shiva was feeling pity for Brahma and he blessed him with a boon of being the presiding deity of all the yagya (Yajna).
4. Curse of Saraswati –
According to another legend, after Brahma took birth, he soon created Goddess Saraswati. As soon as He created Her, He was impressed by the extreme beauty of Saraswati but Saraswati did not want to be connected to any physical desires and she changed her forms to escape from Brahma's attempts. But He did not give up. Finally, unable to control Her anger, the Goddess Saraswati cursed Brahma that He would not be worshipped by anyone on Earth.
Read here to know about the Mount Kailash Mystery.
5. Curse of Sage Brahmarishi Bhrigu –
Many great sages had gathered at the bank of river Saraswati to participate in Maha Yagya organized. Maharishi Bhrigu was also present there. All the great saints and sages could not decide that out of the Trimurti – Lord Vishnu, Brahma and Shiva who is foremost and to whom should they offer first. It was decided that Maharishi Bhrigu will test and decide who should be worshipped first?. Bhrigu decided to test Lord Brahma first. On reaching Brahmalok, Bhrigu displayed utter disrespect to Lord Brahma on purpose. Lord Brahma got angry and Bhrigu did not find Brahma Brahma worth of being 'Supreme' and cursed Lord Brahma that no one will worship Brahma in Kaliyuga. In another version of the tale, Bhrigu cursed Brahma for ignoring his calls. When Bhrigu went to invite Brahma for a Yagna, he was deeply immersed in the music played by Saraswati and couldn't hear Bhrigu's calls.
Do you know about other prominent temples of Lord Brahma? Please share in the comments section.