TVF creation Panchayat streaming on Amazon Prime Video has received a tremendous amount of love from both fans and critics. Here's all you need to know about it. TVF is known to take alternative stories and push them into the mainstream. They have created a village comedy with a totally real depiction of its community. This is the show that puts a big smile on your face as you watch it. You get in love with every character of the show from Tripathi to Dubey.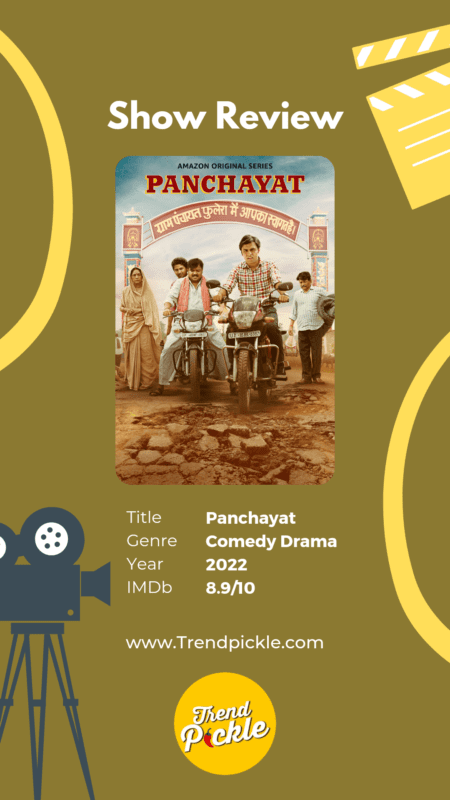 Release date: Season 1 was released on April 3rd, 2020 and season 2 was released 2 days prior to its original schedule, i.e. on May 18th, 2022. It has a total of 16 episodes; 8 in each season.
Streaming: Panchayat is a Hindi language comedy-drama television web series available on Amazon Prime Video. Both seasons, are created by the viral fever .
Cast: Jitendra Kumar as Abhishek, Raghubir Yadav as Brij Bhushan Dubey, Neena Gupta as Manju Devi, Chandan Roy as Vikas and Faisal Malik as Prahlad, Biswapati Sarkar as Prateek, Jyoti Dubey as Sushma and Ankit Motghare as Theka Shopkeeper.
Crew: Directed by Deepak Kumar Mishra and Scripted by Chandan Gupta. Music was composed by Anurag Saika.Cinematography by Amitabh Singh and Series Costume Design by Priyadarshini Majumdar.
Music: Panchayat has been blessed with awesome music. Composed by Anurag Saikia, the music complements the vibe and setting of the show perfectly.Album has 5 songs sung by Vivek Hariharan, Anurag Saikia and Raghav Chaitanya.
Here are the links of the soundtracks from season 1 and 2:
Panchayat Season 1 Story:
Amidst the lockdown, Panchayat season 1 was like a ray of sunshine. An engineering graduate with no placement in his final year, Abhishek is compelled to take the job of a Panchayat Secretary in the Phulera in UP. After initial introductions, he has made up his mind to clear the CAT and get out of the village as soon as he possibly can. And so begin the struggles and perils of a misfit in the village. He works by the day and studies by the night; well, tries to study. Abhishek is unable to adjust with this abrupt change in his life as he is met with constant banters of villagers and perpetual obstacles of village officials in his proceedings. Installation of solar lights, accidentally offensive slogans, theft and accusations and various other small yet significant details finally prove that Abhishek is setting in this new unforeseen role of his. Throughout the season, he earned experiences, friends, and a new ignited love for the village of Phulera. The season ends with a hopeful glimmer that Abhishek just might be perfect for what he's doing and that he is willing to make a change.
Panchayat Season 2 Story:
Things start to heat up and village politics are at its peak. With lagging development in the village, Abhishek is questioned and is obligated to pick sides. After picking his side with Pradhan and having a few hindrances, he begins to question his value in Pradhan's team. Although they make up with each other fairly quickly, which shows the bonds of friendship which have now turned to family. The season ends in an emotional frenzy with Prahlad's son martyred and resultantly the kirtan being canceled.
Panchayat Season 2 Review
The realism depicted is the most outstanding feature in the entire series. From shooting in a real-life Panchayat office in the village of Mahodiya (Madhya Pradesh) to showing the authenticity of villagers of today's day and age, the series has won many hearts. Made for a widespread audience; from a city fellow to a village lad; it is a crowd favorite. The series is a roller coaster of emotions, from humorously written one liners to extremely emotional scenes, which require no dialogues for the viewers to be left spellbound. 'Panchayat' not only throws light upon significant problems like joblessness, corruption and poor development or rural areas; but also breaks alarming stereotypes like display of emotions for men. The second season leaves the audience with teary eyes and a mind full of questions. Will Abhishek be transferred? Is there romance stirring up between Abhishek and Rinky? What will be the ultimate result of the elections? Fans, not disappointed with season 1 and 2, eagerly await season 3.
Ratings:
A wholesome show with a talented cast and wonderfully written script. Panchayat would be a journey you would love to travel.For the first time in the history of web series a show capturing the life of Indian villages is made and that too so beautifully portrayed.
Will there be any season 2 of Panchayat?
Season 2 of Panchayat is streaming on Amazon Prime Video. It was released on 18th May, 2022.
Is Panchayat family web series?
Yes, Panchayat is a family web series. The humor and emotions displayed in the show can be relished with your entire family enjoying the wonderful storyline and acting.
Where can I find Panchayat web series?
Both seasons of Panchayat are currently streaming on Amazon Prime Video.
Is Panchayat series worth watching?
Panchayat has received immense amounts of love from both fans and critics. It is a series combined with a captivating story, wonderful starcast and well-timed dialogues. A humorous yet moving tale, Panchayat is definitely worth watching.
Will there be Panchayat season 3?
Panchayat season 2 was left with a lot of questions in the minds of the viewers. Hence, there will be a season 3 to the show; but the creators have still not mentioned when.
Where can I watch Panchayat season 2?
Panchayat season 2 is now streaming on Amazon Prime Video.