All of us are proud of our brave Indian army and know that they are 24/7 on duty just to protect us. Many soldiers have martyred while protecting the line of control. However, there is one soldier who seems to be duty even after 50 years of his death.
Baba Harbhajan Singh was an Indian army soldier. He is revered as the "Hero of Nathula" by soldiers of the Indian army and a shrine was built in his honor by Indian Army. He was accorded the status of the saint by believers who refer to him as the "Baba". Most of his followers are Indian army personnel posted in and around the Nathula Pass and the Sino-Indian border between the state of Sikkim and Chinese occupied Tibet. His followers believe that baba's spirit protects every soldier in the inhospitable high-altitude terrain of the Eastern Himalayas. Baba Harbhajan Singh is believed to grant favors to those who revere and worship him.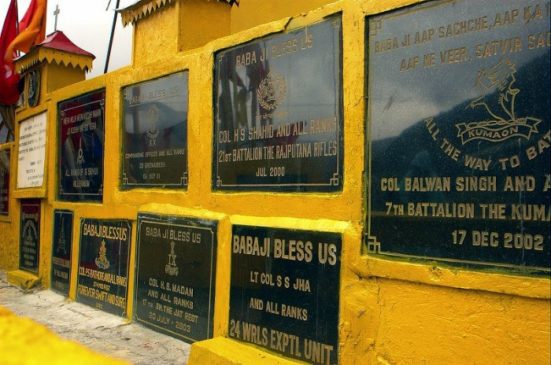 Baba Harbhajan Singh was born on August 30th, 1946 in the village of Sadrana in the state of Punjab (Pakistan). He completed his preliminary education at a village school, and then passed metric from DAV High School in Patti, Punjab in March 1955. In June 1956, he became a soldier and joined the Punjab Regiment. On 30 June 1965, he was granted a commission and posted to the 14 Rajput Regiment. In 1965 war of  India and Pakistan, he served as an Adjutant of his unit / He was later transferred to the 18 Rajput unit and he served in this unit until his death on 4 October 1968 in Sikkim.
All you need to know about The Hero Of Nathula Pass – Baba Harbhajan Singh –
1. He died in 1968 near the Nathu Lain eastern Sikkim, India. Harbhajan Singh's died early at the small age of 22  and become the subject of legend among his followers. His stories have become popular folklore among Indian Army Jawans.
2. The official record about his demise state that he was a victim of battle at the Nathu La, a mountain pass between Tibet and Sikkim where many battles took place between the Indian Army and the PLA (People's Liberation Army) during the 1965 Sino-Indian war. The 70 field coy Engineers were deployed to lay a wire fence along the distributed border area of Nathu La to end the frequent combats between Indian and Chinese forces. The 18 Rajput Regiment was led by Brigadier Harbhajan Singh. This unit provided protection to the Engineers who were doing their job. There was an attack from the other side and the Major led the charge at the attackers. He stabbed three Chinese soldiers and then he turned attention to a light machine gun, the enemy was using. Even as he hurled a grenade at the gunner, bullets ripped through his body killing him instantly.
3. He was posthumously awarded the Maha Vir Chakra (the second highest gallantry award) for his bravery on 26 January 1969.
4. As per legend, Harbhajan Singh drowned in a glacier while he was leading a column of mules carrying supplies to a remote outpost. A search was carried out to find his body and his remains were found after three days. He was given full military honors and his body was cremated.
5. The legend further stated that it was the baba who helped the search party find his body. He appeared into the dream of one of his colleague and instructed him to build and maintain a shrine in his memory.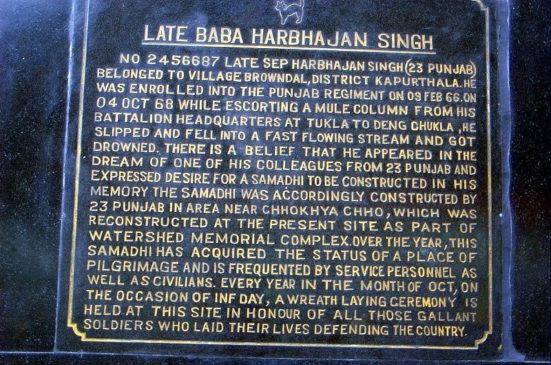 6. Some Indian soldiers believe that in the event of a war between India and China, Baba would warn the Indian soldiers of an impending attack at least three days in advance.  The Chinese army personnel set a chair aside for Baba in his honor during flag meetings between the two nations at Nathu La.
7. As per common belief, army officials who do not maintain a clean and disciplined attire is punished with a slap by Baba himself. His attire is hanged is display and it is believed that it does not need to be cleaned as it gets cleaned magically.
8. It is also widely believed that water kept at the Baba Harbhajan shrine became capable of curing ailing persons. Hence Devotees of baba leave water bottles in the name of sick people and then give this blessed water to the sick.
9. He was promoted to Captain by India Army. He still gets his salary every month and granted annual leave of 2 months every year. Every year, during the month of September, a jeep departs with to the nearest railway station, New Jalpaiguri his personal belongings. Then all of the personal belongings of baba is sent by train to the village of Kuka, in the Kapurthala district of Punjab. In general empty berths on Indian Railways are allocated to waitlisted passengers or on a first come first serve basis by the coach attendants. However, a special reservation for the Baba is made. Every year a seat is left empty for the journey to his hometown and soldiers accompany the Baba to his home. A small sum of money is contributed by soldiers posted in Nathula to be sent to his mother each month.
10. Baba Mandir today has three rooms, Baba's office, store room and living room. In the living room, every item of his need has been neatly kept. His bed, shoes, slippers, water bottle, ironed uniform, an umbrella – everything. On a lot of occasions, soldiers have discovered that Baba still visits the camps and his post. sometimes soldiers have found crumpled bedsheet and his muddy shoes in the room.
This place is not just a pilgrimage for soldiers but an emotion which triggers them to work for the nation or we can call 'Matrubhoomi'(motherland). To keep the emotion live and with them, several Regiments, Battalions, and army personnel have built the stone wall to get the blessing and paying tribute to him.
 "Soldiers Never Die".