Anime is increasingly popular nowadays. They come in all sorts of stories, characters, and settings. Probably the best thing about most Anime series is that kids can learn essential values from them.
Anyone watching a tale involving determination, courage and strength through times of adversity can relate to it.
Elements of comedy, drama, adventure, action or tragedy can be found within any anime show with added benefit of beautiful animation.The plot allows for action to weave so smoothly within the story that it makes any action in the plot justified. There are no limitations in anime so characters are able to do things that cannot be performed in live-action, making fighting sequences all the more jaw-dropping. Here's a list of top 25 animes you can binge watch with a captivating storyline.
1. Golden Time
Golden Time is a 24-episode anime television series based on the light novel series written by Yuyuko Takemiya. Golden Time is a decent—bordering on excellent—romance anime. It has great dynamic characters that develop realistically and does a great job at looking at how personal insecurity and your way of dealing with fear can affect your relationships.
It's a great mix of romance, comedy, and drama that will keep you invested and interested from beginning to end.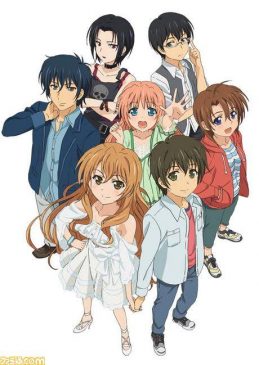 2. My Little Monster
It's a Japanese manga written and illustrated by Robico.
It's unique, sweet (very sweet actually), cute (the love story is so adorable it will easily tug your heartstrings), very wholesome (which is a rarity today), and very lovable.
All starts when Shizuku Mizutani, a cold high-achiever student, is tasked by a teacher to deliver some handouts to a student named Yoshida Haru, a student who was suspended from school. Haru is very touched by Shizuku's delivery, claiming that only a friend would do that (even though it wasn't really Shizuku's intention). Shizuku is really cold, earning her the nickname "Dry Ice" while Haru is very innocent and clueless to the social workings in the world. Both are aloof and weird in a way. From their first meeting, Haru feels a spark in his heart towards Shizuku, so from then on he follows Shizuku. Soon enough, both begin to deal with blossoming feelings and emotions as well as various colorful complications that arise from within their hearts.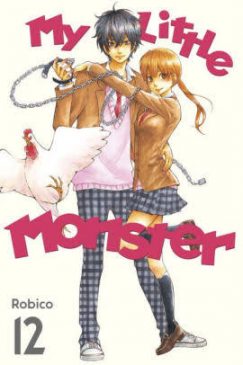 3. Clannad or Clannad: After Story
While walking to school one day, the unmotivated Okazaki Tomoya notices a girl who suddenly mutters the name of some kind of food. The girl's name is Nagisa Furukawa, and unbeknownst to both, it's just the start of the rollercoaster of love and life where they'll first start as friends until they get attached to one another. But of course, no legit rollercoaster is without a bump. It's just the start of their romantic, heartwarming, and even heart-wrenching story.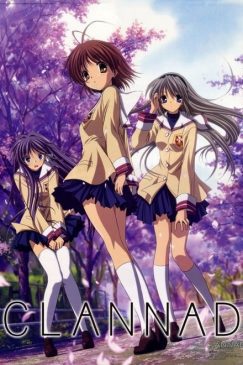 4. Toradora
It is more like a comedy at the beginning of the story, and it becomes gradually more dramatic with every next episode. This anime will not only make you laugh out loud but also will give you many heart-wrenching moments. The story is not full of cliches, it's rather unpredictable, with some plot turns and twists. So, it's definitely a must-watch for every rom-com anime lover.

The series revolves around two high school students, a boy and a girl, who suddenly stumble upon each other. What makes this duo so unusual is that they both have a crush on each other's best friends! They cooperate together in order to help each other to win over their crushes.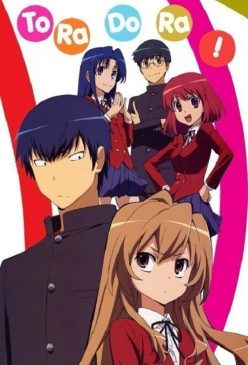 5. Kiss Him, Not Me
Centers on the story of a girl, a second year high school student, and an avid fujoshi (as the title suggests, she prefers to see the boys get together rather then boys and girls). She loses a lot of weight after the depression because of the death of her favorite character in anime series. That's when she becomes the object of affection for many popular boys in school. Will they reveal her secret? Will someone win her heart or not? Watch the anime and you will know!

Kiss Him, Not Me is first and foremost a comedy. Don't expect to see the boys take interest in an overweight girl. However, what the main character proves is that she's still the same person, regardless of how much kilos she weighs. You will be laughing out loud when reacting to the boys' reactions. The reaction of boys to endless girl's surprises is priceless!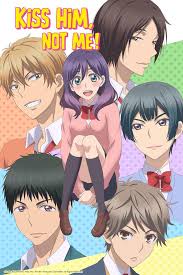 6. Nodame Cantabile
It is enjoyable and funny, frank and heartbreaking at the same time. This anime series is for all the romantics, music fans, dramatics, doubters, or anyone who has ever been passionate about something. It has realistic characters, meaningful dialogues, and important and popular themes such as struggle and uncertainty. If you want to see a lot of warm, fuzzy, light-hearted , loveable and humorous moments as well as dramatic plot twists and heart-wrenching moments, you can't miss this one!

The rom-com follows a first class musician who dreams of playing in front of elites somewhere in Europe. He is a perfectionist -he is not critical only of himself, but also of others. However, the man has a fear of flying. That's the reason why he has never left Japan. During his studies at Japan's music university, our protagonist meets Nadame, a girl who wins over his heart with her passion for playing the piano.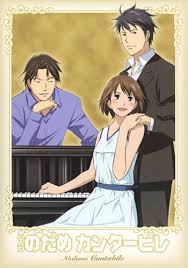 7. Honey and Clover
The pace in this anime is slow and relaxing. As for the characters, it goes without saying that they definitely make the show.The rom-com tells about the life of five college students who live together. Though living in poverty, they find the joy in the small things in life including their romances. It's up to the characters to carry it, which all of them do it phenomenally. Anyone will find a character who they can relate to: they experience the struggles everyone of us goes through, so we begin to see them as our friends. Despite its slower pacing, the story will keep you on the edge of your seat: there's enough twists to keep you interested throughout all the episodes! Humor balances the mood, and some characters will make cry, while laughing.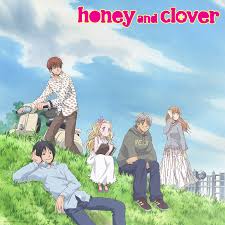 8. Baka to Test to Shoukanjun
So what's it like to have a school that's so unique that you'll never want to be called absent in class? Adding more to that, what's it like to be at either the top or bottom of the rankings of this special school? I'm talking about Fumizuki Academy! At this school, idiots, tests, and summoned beasts are the main attractions. They run rampantly as they're the primary cause of all the hilarity and amusement!

Akihisa Yoshii is the biggest idiot of the school! He's low in practically every subject and has no motivation at all, which explains why he is at the lowest class of Fumizuki Academy—Class F! But when an extraordinarily beautiful, kind, and genius girl named Mizuki Himeji unluckily gets enlisted into Class F, Yoshii and the other students of Class F find unparalleled motivation.

Using wits to turn their overwhelming disadvantages into their very own advantages, Class F, led by the president Yuuji Sakamoto, takes the whole school by surprise! Idiots, tests, and summoned beasts—commence the student wars!