23 best anime series which you can't afford to miss!
9. Nichijou (My Ordinary Life)
The comedic series Nichijou cracks up jokes in day-to-day life in order to show that life is actually funny the way it is. No need to take life too seriously, just find the jokes in it and you're all set for a world of glee!

Nichijou primarily means My Ordinary Life—and it's the not-so-ordinary story of high school girls Mio Naganohara, Yuuko Aioi, and Mai Minakami. Starting off with the three girls, they shall bump into the genius girl Hakase Shinonome. Now that's four! Add Nano and Sakamoto and we've got six! And these six essentially make up Nichijou!

Walking through ordinary life has never been so amusing! From treading the path of normalcy to dashing towards the ludicrous, the six main characters, as well as some others, shall live everyday with high spirits and positivity!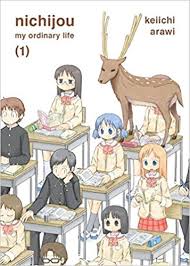 10. Sakamoto desu ga? (Haven't You Heard? I'm Sakamoto)
Hogging the spotlight of the number two spot, Sakamoto desu ga? (a.k.a. Haven't You Heard? I'm Sakamoto) demonstrates to all its shine of being cool, cooler, and coolest! Sakamoto is cool, and so is his show! It's so cool, it's also hilarious! Well-deserving of the spotlight, prepare to drop your jaw by means of endless laugher!

From the first day of school, a new student has taken the spotlight all to himself. Everything he does is cool, cooler, and coolest! He's so stylish in everything—studying, cleaning, eating, doing jobs, the list goes on—that he's totally the coolest! Who is he? Well, Haven't You Heard? I'm Sakamoto!
11. Gintama
Mother of all comedy and parody anime!  With over 350 episodes and counting, Gintama dazzles audiences of all kinds with its funny viewpoints and hilarious moments! Comedy, parody, weirdoes, laughable moments, outrageous jokes, slapstick entertainment, and humorous wits.
Meet oddballs Gintoki Sakata, Shinpachi Shimura, Kagura, and their pet dog Sadaharu! It's feudal Japan and swords have been banned!
The Amanto aliens are the cause of it all! But as Gintoki still has his samurai heart, he and his friends shall continue living to their fullest! Aliens, pirates, magicians, odd beings, and practically everything you can imagine—nobody can get in the way of the fun of Gintoki and the rest!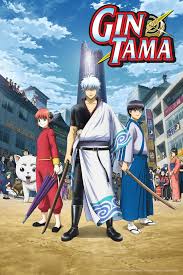 12. "K-ON!"
It is an anime produced by KyoAni, and it tells the tale of four high school girls wanting to revive their school's Light Music Club. Each girl has a different goal which causes the overall atmosphere of the anime to be somewhat hopeful, leaving you to root for all of them at once! The fact that K-On! is generally known to make people laugh does not stray from the other fact that it does indeed have a point, unlike most comedic anime that merely have the common goal to make people laugh.

Each girl's goal somewhat reflects a certain trait that they possess, and when they work together, they bring out the best in each other. This anime is cute, funny, and lighthearted, and hopefully the list below will be sufficient in your search for other anime just like this one!
13. Uta no Prince- sama: Maji Love 1000%
It is a story that revolves around a girl, Nanami Haruka, who enrolls into a prestigious performing arts school, hoping to work together with an agency of her dreams after graduation. Of course, the simple fact that the school is prestigious is enough to tell the audience that there are already numerous composers and idols around her, causing her to feel intimidated.

With a cast that consists of males who are drop-dead gorgeous, the musical aspect of this anime is certainly unique. Once you start, you can't get out of this one!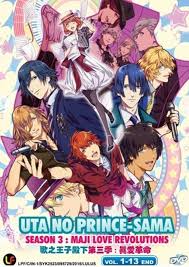 14. Squid Girl
Squid Girl has come to the land from the depths of the sea to conquer humanity for its pollution of the ocean. Unfortunately, she ruins the first house she uses as an invasion base and has to work to pay for repairs. Of course, she can't overcome the Aizawa sisters who manage the house, so who knows whether she can subjugate humankind. Ika Musume decides to take this chance to learn more about the human world, having silly adventures, meeting lots of strange characters, and never once letting world domination out of her sights. Will Ika Musume be able to exact her revenge on the human race that had wronged her? Or will she learn to enjoy the company of these foolish air-breathers and let bygones be bygones?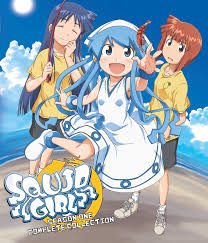 15. Lucky star
Follows the daily lives of four cute high school girls—Konata Izumi, the lazy otaku; the Hiiragi twins, Tsukasa and Kagami (sugar and spice, respectively); and the smart and well-mannered Miyuki Takara. Portrays the lives of several school girls attending a Japanese high school with a very loose humor tone. The main heroine is Konata Izumi, an athletic and intelligent girl who, despite these attributes, is not in a sports club, and her grades remain low. Her laziness at school is due to her love for anime and video games, and she is not interested in much else.