Another jewel of Bollywood passes away, leaving behind his beautiful work that has been etched in our hearts. His image and performance shall always be cherished. He has been an amazing person and an actor. Short of words, he will always be in our hearts. Just ending with something he once said, "Life's Waiting".
1) Movie: Life in a metro
Dialogue: "Ye sheher hume jitna deta hai, badle mein kahin zyada le leta hai"
Year: 2007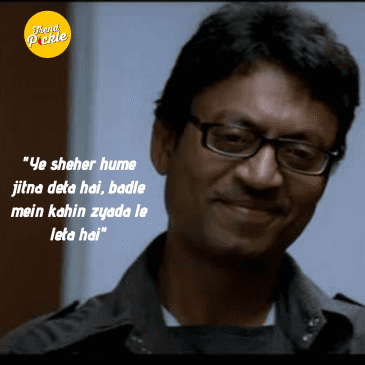 2) Movie: Jazbaa
Dialogue: "Sharafat ki duniya ka kissa hi khatam, ab jaisi duniya vaise hum"
Year: 2015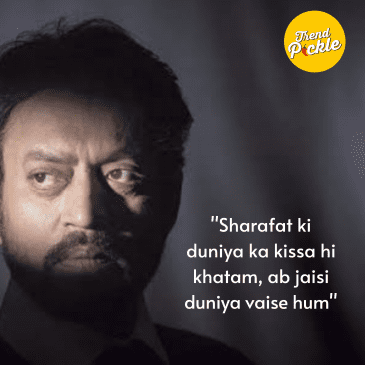 3) Movie: Pan Singh Tomar
Dialogue: "Beehad mein baaghi hote hain, dakait milte hain Parliament mein"
Year: 2012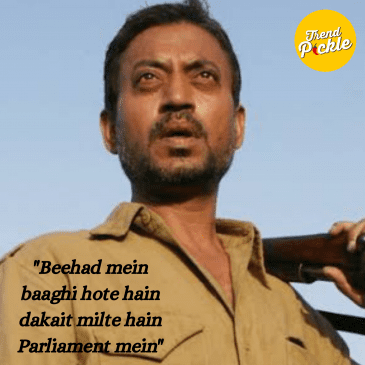 4) Movie: Hindi Medium
Dialogue: "Aajkal Padhai Padhai nahi hai, Dhandha hai Dhandha"
Year: 2017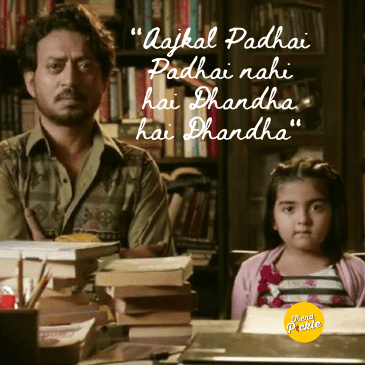 5) Movie: D- Day
Dialogue: "Galtiyan bi rishto ki tarah hoti hai, karni nahi padti… ho jaati hai"
Year: 2013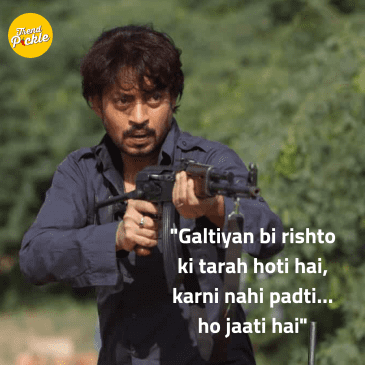 6) Movie: Chocolate
Dialogue: "Paisa agar Bhagwan nahin hain, to Bhagwan se kam bhi nahi hain"
Year: 2005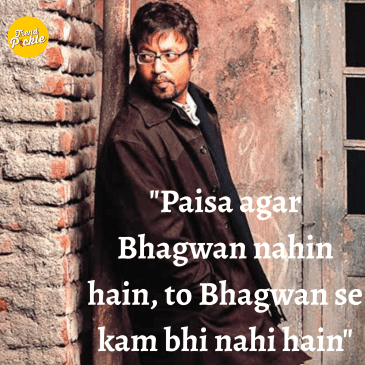 7) Movie: Lunchbox
Dialogue: "There are so many people in the city who only eat bananas for lunch, it's cheap and it fills you"
Year: 2013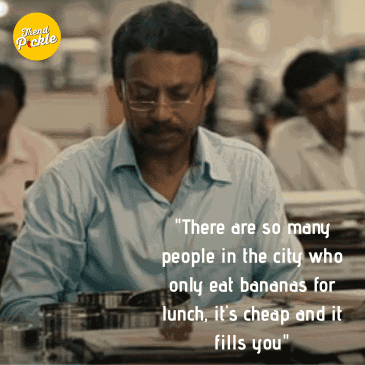 8) Movie: D-Day
Dialogue: "Sirf insan galat nahi hote, kabhi waqt bhi galat hota hai"
Year: 2013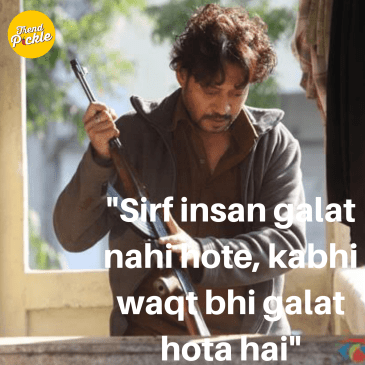 9) Movie: Hassil
Dialogue: "Aur jaan se mar dena beta, hum reh gaye na,marne me der nahi lagayenge bhagwan kasam"
Year: 2003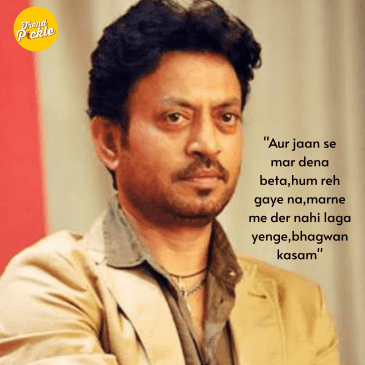 10) Movie: 7 Khoon Maaf
Dialogue: Ik baar to yun hoga, thoda sa sukoon hoga … na dil mein kasak hogi, na sar mein junoon hoga.
Year: 2011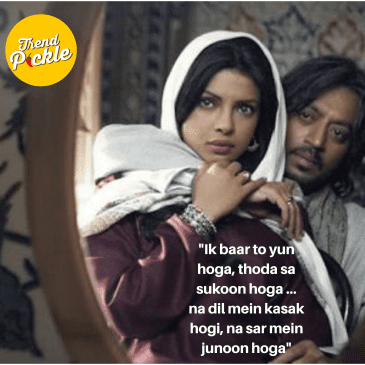 11) Movie: Angrezi Medium
Dialogue: "Aadmi ka sapna toot jata hai na, to aadmi khatam hojata hai"
Year: 2020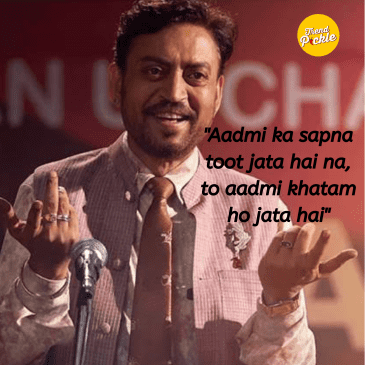 12) Movie: Jazbaa
Dialogue: "Mohabbat hai islie to jane diya, zidd hoti to baahon me hoti"
Year: 2015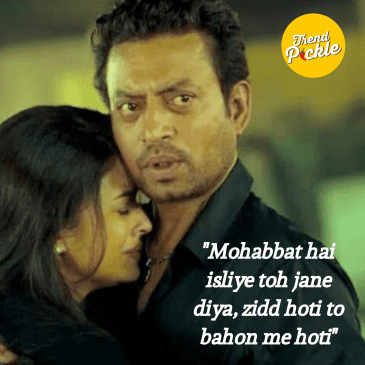 13) Movie: Haider
Dialogue: "Darya bhi main, darakht bhi main, jhelum bi main, chinar bhi mai, dair bhi hoon, haram bhi hoon, shai bhi hoon, sunni bhi hoon, mai hoon pandit, main hu, mai tha aur mai rahunga"
Year: 2014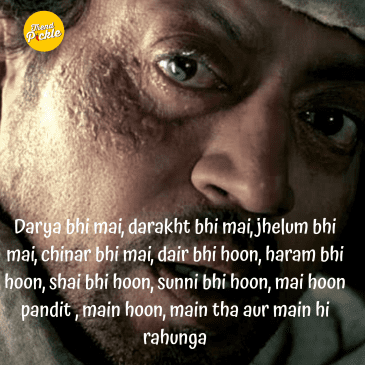 14) Movie: Jazbaa
Dialogue: "Rishton main bharosa aur mobile me network na ho to log game khelne lagte hai"
Year: 2015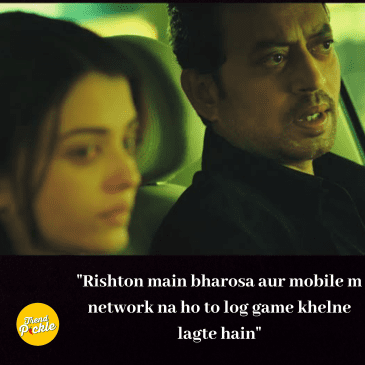 15) Movie: Life of Pi
Dialogue: "Pack a Pillow and a blanket and see as much of the world as you can. You will not regret it. One day, it will be too late"
Year: 2012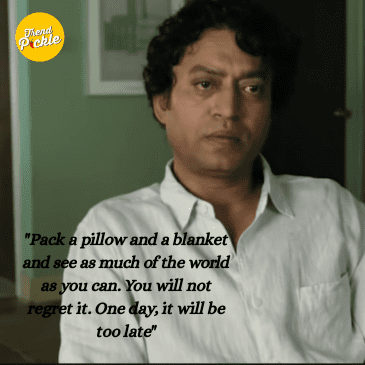 We will miss you, Sir!
Did you miss out any top dialogue of Irfan khan? Let us know in the comment sections! Here you can check out the best movies of irrfan khan which are must watch.