As we are bidding adieu to this decade, it's time we look back to the decade that passed. This decade saw the emergence of OTT platforms and shows that were produced exclusively for the netizens using the OTT platforms. The shows have been positively received by the audience, and have gained huge popularity among the youth. 
But even after the emergence of web series, people have been hooked on to their favourite television serials. The love we Indians have for TV serials can never die. At times, we watch a show for a particular character whom we can relate to, while mostly we watch serials for the couple that it stars. 
Though these reel life couple characters are decided by the writers, but those are the actors who wholeheartedly take up that role and make us fall in love with them. The actors bring in the chemistry on television that we go mad over. 
In the decade 2010-2019, Indian Television gave us many couples to fall in love with. They were literally "couple-goals". From Armaan and Riddhima from Dill Mill Gayye to Karan and Preeta from Kundali Bhagya, many couples managed to create a place in our heart. This article is dedicated to those couples, who made us fall in love with them with their superb acting and fantabulous chemistry. 
1. Armaan – Riddhima (Dill Mill Gayye)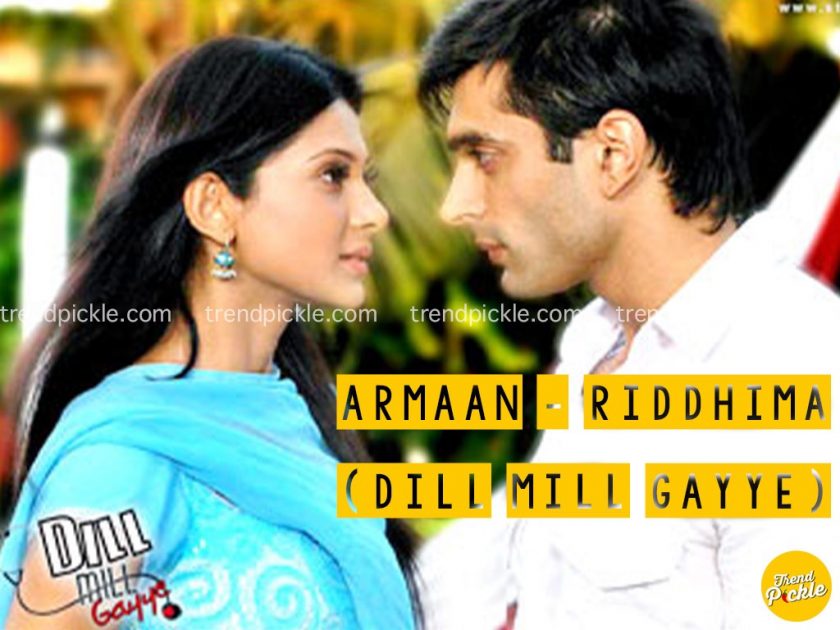 "Hum toh chale the dost banke jaane kahan Dill Mill Gayye", this was a sequel of the famous show Sanjivani – A Medical Boon that starred Mohnish Behl, Mihir Mishra, Gurdeep Punj, etc. The viewers had a lot of expectations with its sequel, and it did stand up to those expectations. It gave us one of our favourite couples, that we crushed over so badly – Armaan Malik and Riddhima Gupta. 
The couple's popularity gave them a show run of 3 years, until Star One became defunct. Armaan, played by Karan Singh Grover was a crush of many girls during that time. The role of Riddhima was essayed by Shilpa Anand and Sukirti Khandpal, before they got Jennifer Winget to play the role of Riddhima. Karan Singh Grover and Jennifer Winget as Armaan and Riddhima, we like a house on fire, no one could separate them and though they did get separated in the show, the ended up together during the last episode of the show. 
2. Samrat – Gunjan (Miley Jab Hum Tum)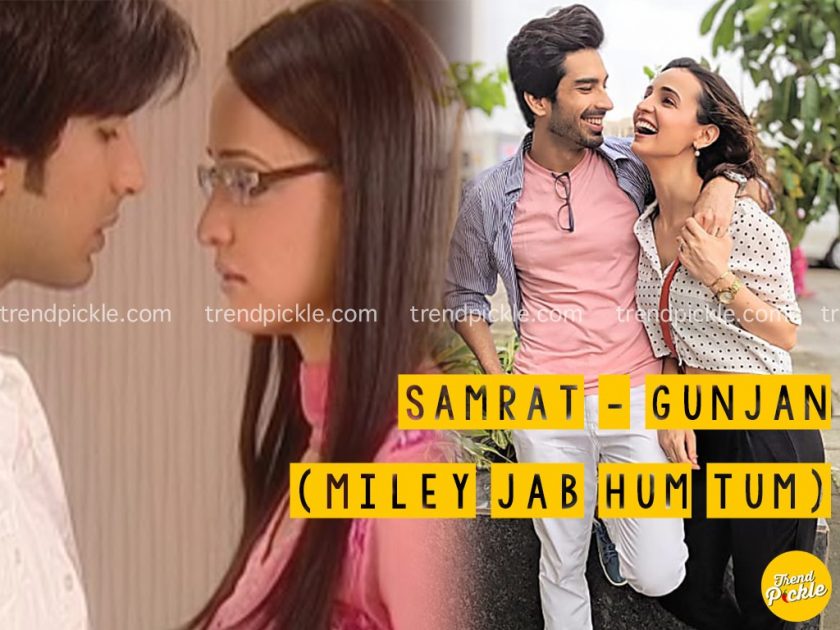 Samrat essayed by Mohit Sehgal and Gunjan essayed by Sanaya Irani weren't only an ideal couple on screen, but also ended up marrying each other off – screen. 
Samrat, a dashing handsome hunk and Gunjan, a timid introvert girl, opposites do attract. Samrat befriends Gunjan and helps her in bringing her talent of music out in the open. During the process, Gunjan unknowingly falls for Samrat and realizes her love, but Samrat is a bit late in realizing his love for her. They go through their own quota of misunderstanding, but at the end they fight all the obstacles and emerge together. 
3. Arnav – Khushi (Iss Pyaar Ko Kya Naam Doon?)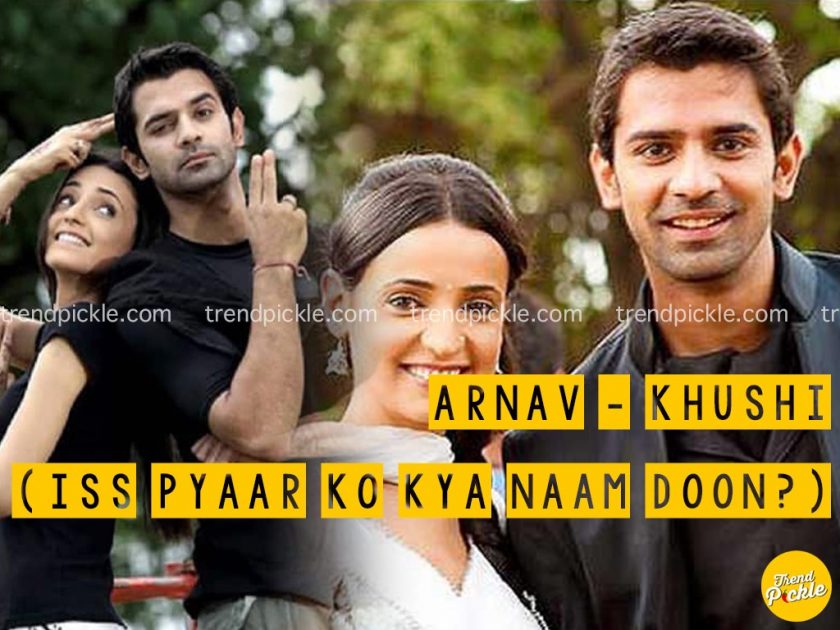 This is a love story between Khushi Kumari Gupta, a middle class girl from Lucknow and Arnav Singh Raizada, a stone hearted wealthy business tycoon from Delhi. This show starred Barun Sobti and Sanaya Irani in pivotal roles. 
Arnav and Khushi's first meeting was filled with hatred and anger when she mistakenly ruined Arnav's fashion show. Later, she takes up a job in Arnav's company and his grandmother appoints her to groom Arnav's fiance. But slowly, with every meet Arnav and Khushi hatred turned into love and they got married. 
In the one year that this show ran, this reel couple managed to touch all our hearts. Due to the popularity of Arnav and Khushi, this serial had to more seasons with different characters. Though, the other two seasons couldn't manage to keep up to the expectations of the audience and were duds. 
In 2015, the producers came up with a spin – off – Iss Pyaar Ko Kya Naam Doon? – Ek Jashn with the same cast which was aired on Hotstar.
4. Naitik – Akshara (Yeh Rishta Kya Kehlata Hai)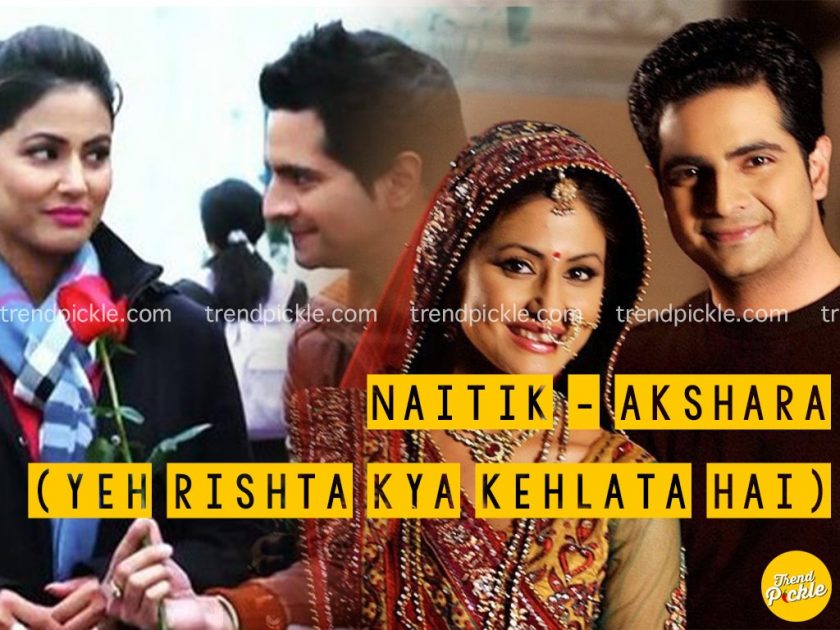 This was the first show of our stylish diva Hina Khan, who made all of us proud when she appeared Cannes Film Festival this year. Hina Khan played the role of Akshara who was paired opposite Karan Mehra who played the role of Naitik. Though rumours had it that the two didn't share a good bond off screen, but guess what? That didn't stop them from becoming an iconic couple and becoming a part of our list of best reel life couples. The story starts with an arranged marriage fixed by Naitik and Akshara's family and they fall in love in the course of their marriage. It was different because it wasn't the same story of a girl and a guy met, fell in love and got married. It was the other way round. The families met, fixed the "rishtas" and then started their arranged cum love story. 
But we had to bid adieu to this cute adorable couple, when Hina Khan left the show resulting in the death of Akshara's character. 
5. Manav – Archana (Pavitra Rishta)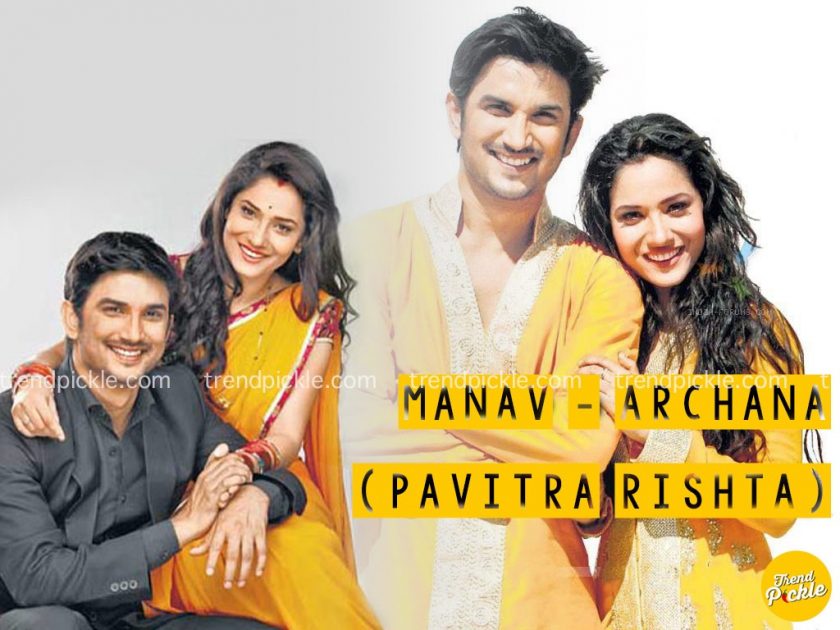 Ekta Kapoor has always been credited for the birth of some iconic couples ranging from Anurag and Prerna to Arjun and Aarohi. She has always been successful in making us fall in love with the idea of falling in love. Another such couple was Manav and Archana. Years before Sushant Singh Rajput made an entry into Bollywood with Kai Po Che and Ankita Lokhande starred in Manikarnika, both of them started together in a show called Pavitra Rishta. A love story between a mechanic, Manav and a less educated homemaker, Archana. They fall in love, and after a lot of opposition from both the family, then marry each other only to be separated a few years. 
But, all's well that ends well. After a leap of 18 years, they meet again but this time only to complete the divorce proceedings. But when there is love, you can never stay seperate. They unite and are united till the end of the show, when Manav dies in an accident, Archana too dies in grief and they meet in heaven, remembering their Pavitra Rishta. 
6. Arjun – Purvi (Pavitra Rishta)
Talking about Pavitra Rishta, there was yet another couple who were destined to be together, and they were Arjun and Purvi. Purvi was Archana's adopted daughter, while Arjun was Manav's partner's son who was earlier his boss. Arjun comes to Mumbai and becomes the boss of the company where Archana and Purvi work. Arjun and Purvi were initially at loggerheads with each other, but slowly fate got them together and they fell in love. But, they were separated when Purvi forced Arjun to marry Purvi's sister (Archana's biological daughter) for the sake of her mother. She left their life for good.
But destiny did have some other plans. They met again, got married this time only to be separated again. Even after so many separations, their love didn't die and they ended up being eternal. Talking about Arjun and Purvi, it's hard not to mention the actors who played these roles, Rithvik Dhanjani and Asha Negi. The show might have shown them get separated umpteen number of times, but off screen Rithvik and Asha fell in love through this show and never got separated. They also participated in Nach Baliye and brought the trophy home. Fans loved their chemistry off-screen and on-screen and call them "AshVik" lovingly. 
7. Kartik – Naira (Yeh Rishta Kya Kehlata Hai)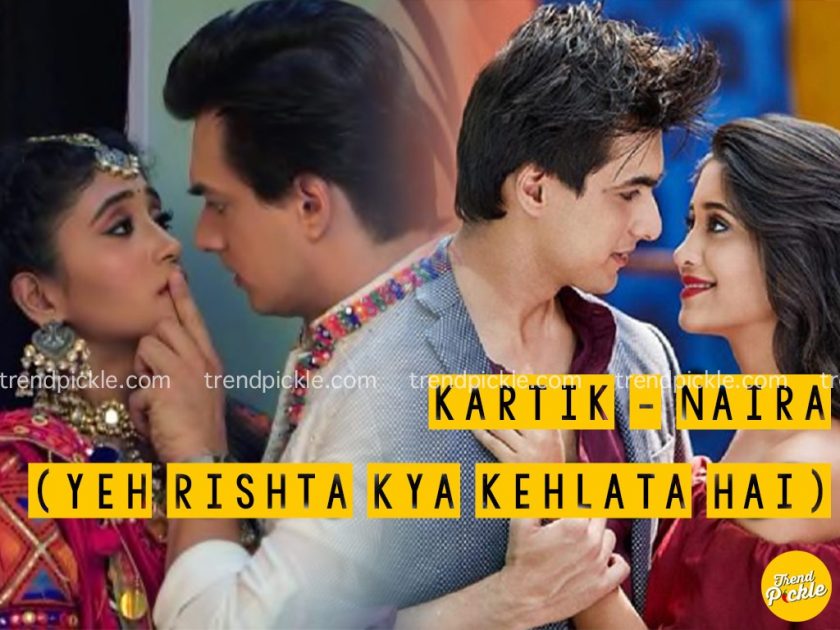 Naira, was Akshara and Naitik's younger daughter who ran off from her house after she committed a crime. After a leap, she came back and a new character was introduced with her called Kartik. Initially, they used to fight a lot. But then love happened. After Akshara and Naitik, they are successfully carrying the baton of the show. 
Though there have been through a lot of issues and difficulties, they have always emerged victorious.