The capital of Telangana and Andhra Pradesh , Hyderabad is well known for its technical development.  But besides being a cyber city it is also a historically and culturally rich place offering ancient landmarks and beautiful temple. These temples not only attract pilgrims, devoted to religion and praying but their captivating architecture magnets art admirers as well. So, while visiting this technically advanced land one must not forget to visit the culturally active temples, to stay connected with past along with future. To make your work a bit easier, here, we provide a list of top famous temples to visit in Hyderabad.
1. Sri Jagannath Temple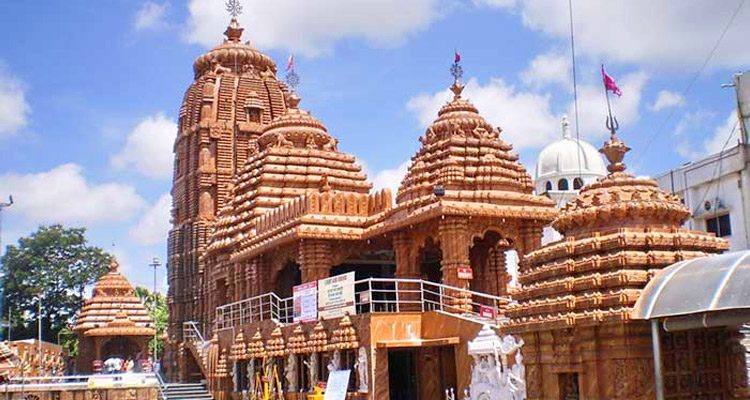 Built by an Odia community, the Jagannath Temple in Hyderabad is one of the most modern temple. It is located at the heart of the Banjara Hills, road number 12 and is famous for its annual rathyatra festival. Though it's the replica of Jagannath temple of Puri, yet provides no less serenity compared to that. Dedicated to lord Krishna, an incarnation of lord Vishnu, the temple houses his brothers Balabhadra and Subhadra along with him.  Built over an area of 3000 sq. feet yard, its construction was completed in 2009. Along with religious devotees it also attracts art lovers for its astonishing architecture. The timings to visit the temple are from 6 am to 9 pm with lunch break between 12 pm to 4 pm, on all days including weekends.
2. Karmanghat Hanuman Temple: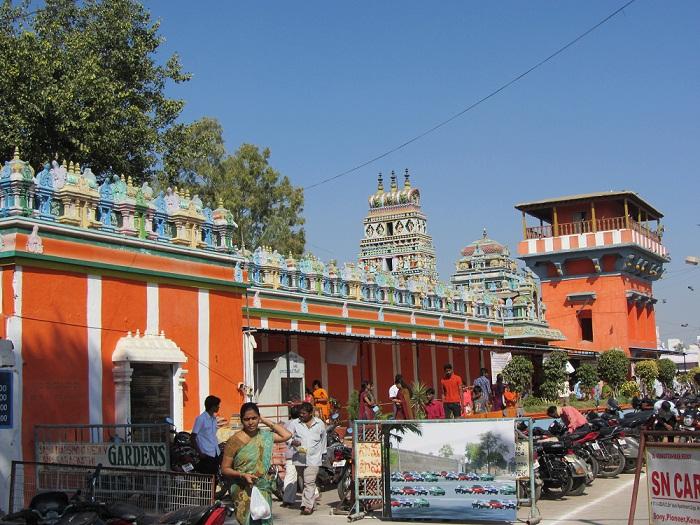 Being one of the oldest temple in India, with a deep rooted history of about 850 years, Karmanghat temple is located in Karmanghat village, near Sagar ring road. . Besides housing a colossal deity of Lord Hanuman, it offers  houses to other deities like Lord Shiva, Goddess Durga, Goddess Santoshi Mata, Lord Venugopal Swammy , and Lord Jagannath. Devotees come here to offer their faith; especially on Hanuman Jayanti. During the time it turns out to be completely glorious here. The management also provides "annadanam" (free food) to needy people. To reach the place you can easily avail comfortable long ride on highway. It is open from 6am to 12 pm and 4:40 pm to 8:30 pm, excluding Tuesdays and Saturdays. On those days the timings are between 5:30 am to 9 pm.
3. Shyam Temple: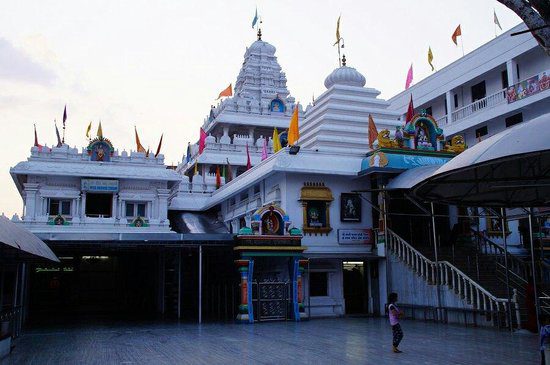 It's a beautiful temple dedicated to Lord Shyam, one of the many incarnation of Lord Vishnu. With its alluring architecture it attracts thousands of devotees to pay a visit here, every year. A unique feature that it provides is the night long bhajans sung during festivals that soothes the souls. It is half an hour drive away from railway station, and 25 km away from airport. Timings are between 6 am to 12 pm and 5 pm to 10 pm. To know more about it you can also visit their official website.
4. Birla Mandir: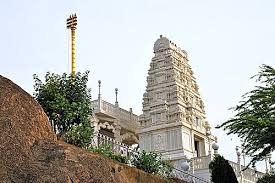 Built on a 280 feet high hillock known as Naubadh Pahad, Birla Temple is a Hindu Temple devoted to Lord Venketeshwara with his granite idol being 11 feet tall, and his consorts Padmavati and Andal. Apart from them it houses various Hindu gods and goddesses including Shiva, Shakti, Laxmi, Ganesh, Sarasvati, and Saibaba. Interestingly, the temple doesn't have bells making it more of a meditative place. Besides Hindu scriptures, even gurbani is engraved here to share enlightenment of all religious teachings. Located towards the southern end of Hussein Nagar Lake, on top of Kala Pahad it is easily approachable and is well connected by TSRTC.  Timings are between 7 am to 9 pm, with lunch break between 12 pm to 3 pm.
5. Santoshi Mata Temple: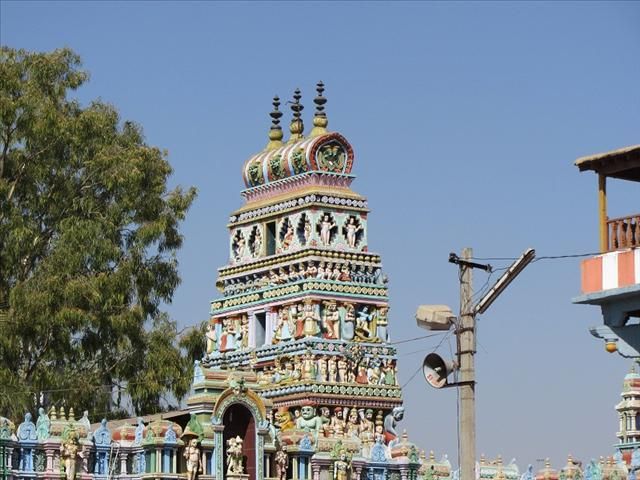 Located in Kalyan Nagar Phase, Santoshi Mata Temple is a religious heritage devoted to goddess Santoshi. The huge altar of the goddess , and the serene lake beside it provides a miraculous view. The lake also allows to admire migratory birds, and the paintings in the temple soothe eyes of the art lovers. So apart from religious peace it offers many other things to seek too. Timings to visit the temple is between 6 am to 10 pm.
6. Sai Baba Temple: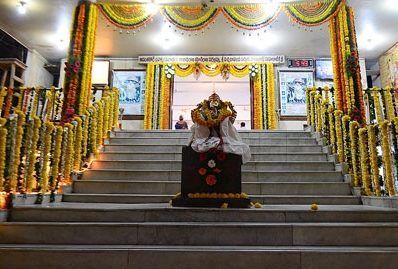 Located in Dilkushnagar, Sai Baba temple is one of the most popular Hindu temple in Hyderabad. Devoted to Sai Baba, as its name suggests, it is mainly crowded on Thursday as it is also the considered day of the dedicated deity. Everyday Marathi puja and Arti takes place attracting a huge number of devotees to witness it. The best time to visit it is during Guru Pournami or Rama Navami in order to enjoy the festive marvel. Timings to breath in the peace is between 4:30 am to 9:30 pm.
7. ISKON Temple: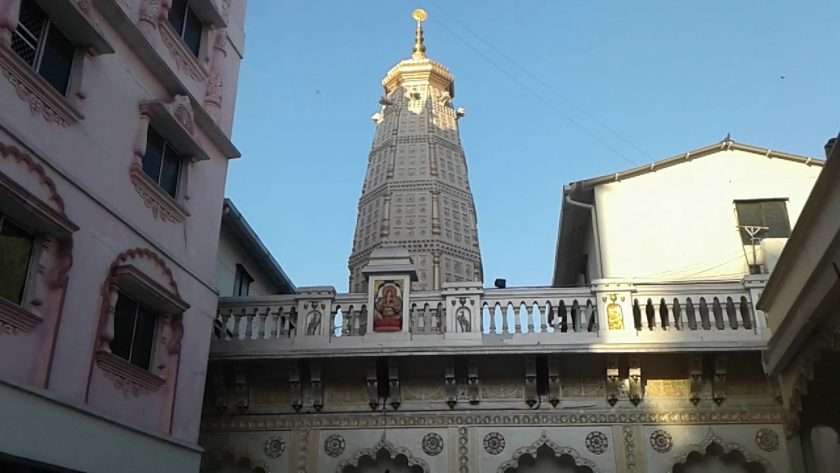 Located in Hare Krishna Land, near Nampally Station Road is the ISKON temple devoted to Lord Krishna. Here, you can find a peaceful atmosphere full of changings, and bhajans providing cultural, religious, and spiritual calm. Local people visit daily to offer prayer, and also attend classes of Bhagwat Geeta and Upanishads in Sanskrit. The temple has its own Vedic library too. It also contributes to society by distributing free and nutritional food to needy people. The timings to visit here is between  4:30 am to 9:30 pm.
8. Chilkur Balaji Temple: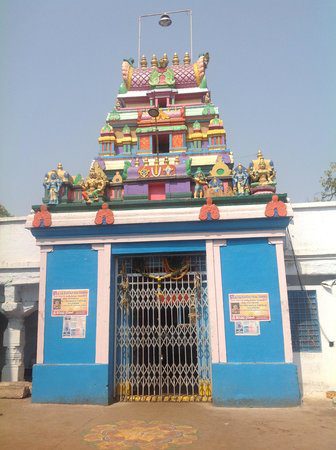 Situated on the banks of Osman Sagar, Chilkur Balaji temple is devoted to Lord Balaji. Unlike other temples here you cannot give money in form of offering neither can VIPs assume to have an extra channel or other privileges reserved to them. A temple advocating true equality. Located at a distance of 30 km from the main city it has a pleasing architecture. It is also known by the name 'Visa Balaji Temple'. Timings to visit here is between 6 am to 6pm on all days.
9. Sanghi Temple:

Managed by famous industrialist 'Sanghi Group', the Sanghi Temple attracts and captivates everyone with its mesmerizing architectural beauty in the chola-chalukya style. Located in Omarkhan Daira on the top of hillock Parmanand hill, it is 35 km away from the main city in a peaceful zone. Many movies has been shot here. It is mainly devoted to lord Venkateshwara, whose deity is the replica of the one in Tirumala. Besides him it also houses other Hindu gods and goddesses. The temple is open on all days between 9 am to 7 pm.
10. Kesari Hanuman Temple: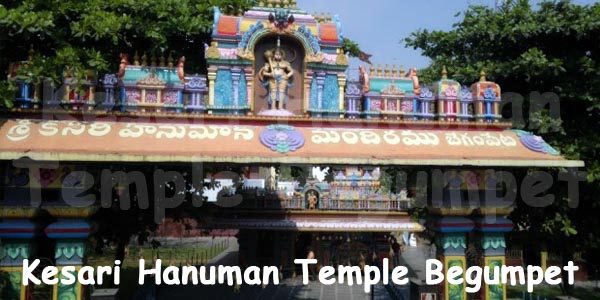 Another famous temple dedicated to Lord Hanuman is the Kesari Hanuman Temple which was constructed by Samartha Ramdas Swami, the guru of Chhatrapati Shivaji. It is a divine place located on the banks of Musi river which has a connection linked to Hindu mythology. According to Ramayana Lord Hanuman visited this place and worshipped Lord Rama. This 300 year old place is swarmed with people on hanuman Jayanti; everyone seen in jolly festive mood. It is open on all days between 6:30 am to 8 pm except for Sundays.
11. Balkampet Yellamma Temple: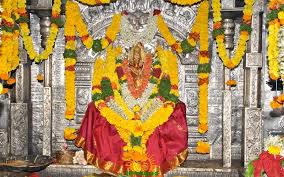 Dedicated to goddess Yellamma meaning ' mother of the universe', the Balkampet temple was established in 15th century. It is located in Balkampet road, in Balkampet suburb. The place is heavily crowded on Sundays and Tuesdays, so if you are the person who doesn't like much crowd it's better to avoid those days. It is known for the marriage ceremony of the temple goddess, that attracts tourist not only from India but all over the globe. The water from the well called Theertham is believed to cure ailments as per the devotees. The temple is open between 6 am to 1 pm and 3 pm to 8 pm.
12. Ashtalakshmi Temple: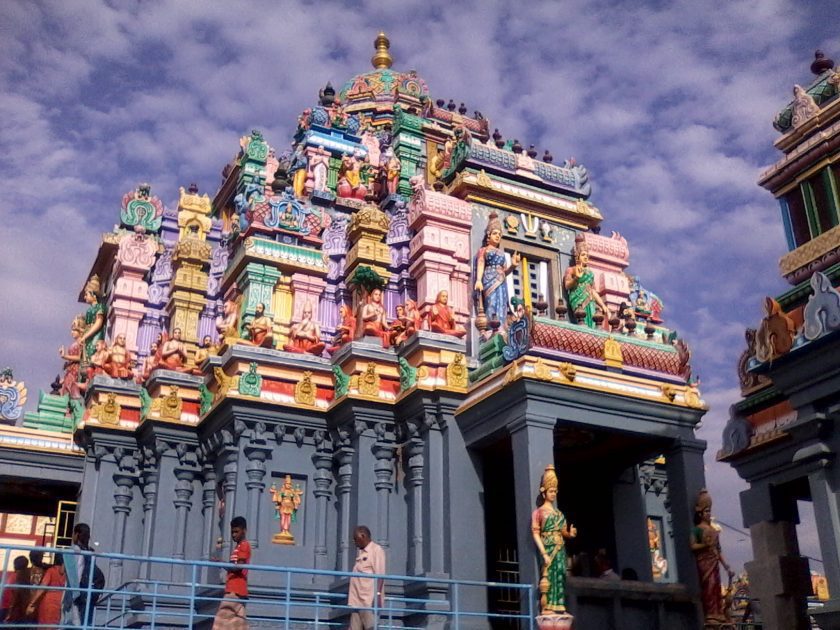 Ashtalakshmi Temple is a temple specifically known for its enthralling architecture having around 134 vigrahams (idols) of lesser known gods known of south India. But  the temple is mainly dedicated to goddess of wealth and prosperity, maa Lakshmi. Located in Kothapet , the temple provides a peaceful environment to calm your soul. One must pay a visit here as it is among those very few temples in which goddess Lakshmi is present in all her eight avatars. The name of the temple itself means eight incarnations of Lakshmi. Timings are between 6 am to 12 pm, and 5 pm to 9 pm on all days.
13. Pedamma Gudi Temple: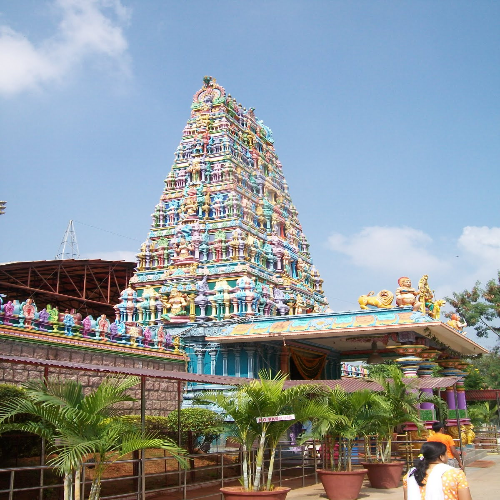 Pedamma means 'mother of mother'. So, as the name suggests this temple dedicated to the supreme mother who according to devotees blesses everyone who visits her. Mostly devotees come here during Bonaalu festival, a festival devoted to goddess Kali, that happens every year in the month of July. Another best time to visit is in February during Mahotsavam and Rathotsavam. The temple is 13 km away from Secundrabad railway station and is well connected with cab services. The timings of the temple is between 6 am to 8 pm, open on all days.
14. Keesra Gutta Ramlingeswara Devasthanam:

Located in the Keesra village, the temple is located on the top of a hill of Medchal Malkajgiri district. The temple is almost 35  km away from the main city but its alluring architecture attracts the tourists nonetheless. It is dedicated o Lord Shiva Bhavani and Sivadurga. During Shivratri it is thronged with lakhs and lakhs of devotees. It is well connected via road and one can easily reach here taking ECIL 'X' road. There are regular buses from Secundrabad bus stop as well. The temple is open on all days between 6 am to 7 30 pm.
15. Sitaram Bagh Temple: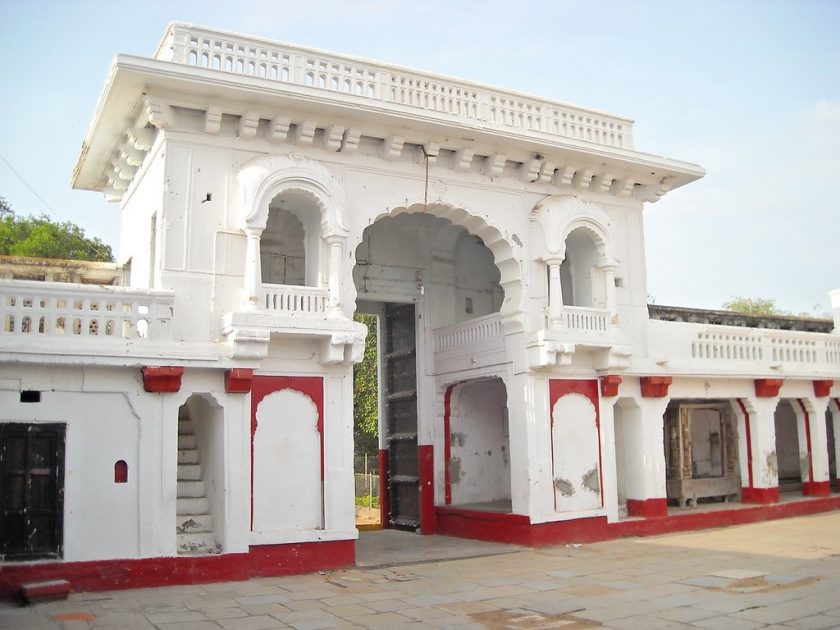 Built by Seth Puranmal Ganeiriwal, the temple covers a land of 25 acres in Manglaghat, a suburb of Hyderabad. It is around 180 years old and is a known heritage building. The architecture is mesmerising with whites and complemented by a tint of red; it is built in a traditional south Indian style. Though it doesn't attract much visitors on normal days but is swarmed with people during Ram Navami. To reach here you can avail TRCTC government run bus service, or choose a cab. It is open on all days of the week between 5:30 am to 11:30 pm and 5 pm to 8 pm.