Ganesh Chaturthi, also known as Vinayaka Chaturthi is a Hindu festival where devotees worship Lord Ganesha. The festival starts on the fourth day of Hindu calendar month Bhadrapada, which typically falls in the months of August or September of the Gregorian calendar. It is believed that Lord Ganesh was born during Shukla Paksha of Bhadrapada month. Ganesh Chaturthi is marked with the installation of Lord Ganesh clay idols at home and Puja pandals. This year, Devotees will be celebrating Ganesh Chaturthi 2018 on 13th September, Thursday.
The festival is celebrated as the birth anniversary of Lord Ganesha, the god of wisdom, good fortune, and prosperity.  Daily Puja is organized at puja pandals, various offerings are made to Lord Ganesha and then prasadam and offerings are distributed from pandals to the community. The offerings include sweets especially Modak, the favorite of the god. Many devotees observe fast on the festival.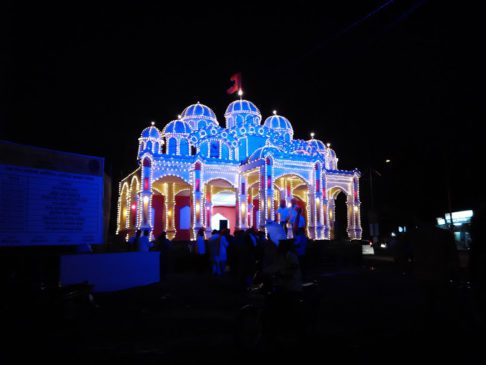 Ganapati Festival Celebration
The festival is usually celebrated for eleven days. On the last day of the festival, the Ganesha idol is carried in a procession where all devotees praise Lord Ganesha and enjoy group dancing on music and dhol. The idol is then immersed into a nearby water body like ocean or river and devotees request Lord Ganesha to visit them again next year.  The clay idol is dissolved and Ganesha is believed to return to Mount Kailash to his parents Parvati and Shiva.
Ganesh Sthapana and Visarjan Date
The complete festivity season, Ganeshotsav starts on the day of Ganesh Chaturthi with Ganesha Sthapana and ends on Anant Chaturdashi with Ganesha Visarjan.
Ganesha Idol Sthapana Day =  Ganesha Chaturthi,  13th September 2018, Thursday
Ganesh Idol Visarjan Day = Anant Chaturdashi, 23rd September 2018, Sunday
Please note that you can keep Ganesh idol for 1.5 days, 3 days, 5 days, 7 days or 11 days. So you can perform Ganesha Visarjan on 14th Sep, 15th Sep, 17th Sep, 19th Sep or 23th Sep 2018 (Anant Chaturdashi).
Ganesh Chaturthi Puja Timing
Ganesh Puja is preferred during Madhyahna (afternoon) as it is believed that Lord Ganesh was born during Madhyahna Kala. Madhyahna Kala is equivalent to midday according to Hindu division of the day. Ganapati Sthapana and Ganapati Puja on Ganesha Chaturthi are done during Madhyahna part of the day. as per Vedic astrology, it is considered the most appropriate time for Ganesha Puja.
Madhyahna Ganesha Puja Time = 11:03 AM to 13:30 PM, 13th September
Duration = 2 Hours 27 Mins
Ganesh Chaturthi and Moon Sighting
It is a prevailing belief that one should not see the moon on Ganesha Chaturthi.  The one who sights moon on this day will be cursed with Mithya Dosh or Mithya Kalank, meaning he may be falsely accused of stealing something.  There is an interesting story behind this. Once Lord Ganesha was returning home with his mouse. Then, moon god Chandra started making fun of Ganesha and commented on his large belly and the tiny mouse. Ganesh got furious and cursed the moon that no light will ever fall on him and the moon disappeared into the sky.
Many Gods and moon pleaded to Ganesha to remove the curse, and Ganesha finally agreed. However, A curse cannot be taken back once it is given, it can only be reduced.  Ganesha then changed the cursed that whoever will see the moon on this day will get Mithya dosh. According to legends, Lord Krishna was once accused of stealing a precious gem.  Narada Muni told him that he had sighted the moon of Bhadrapada Shukla Chaturthi and hence he has been accused of stealing the gem. On Narada's advice, Lord Krishna observed a fast on Ganesh Chaturthi to get rid of Mithiya Dosha.
On 12th Sep, Time to Avoid Moon Sighting = 04:07 PM to 08:33 PM
Duration = 4 Hours 26 Mins
On 13th Sep, Time to Avoid Moon Sighting = 09:31 AM to 09:12 PM
Duration = 11 Hours 40 Mins
It is advised that if you get a sight of the moon on Ganesh Chaturthi, you should observe fast to get rid of the Mithya Dosh.
May Lord Ganesha remove the obstacles from everyone's lives. Happy Ganesh Chaturthi 2018!