Work could be tedious, tiring, or boring but no matter what at the end it fulfills your basic need which is security to live happily. Yet there are work that somehow seize this very need and still people opt for it in order to serve the nation. One such work is spying to extricate crucial data helping Intelligence Agency and government; no matter how thrilling it sounds, it  involves a great danger, sacrifice, secrecy and worst part being that the disguise is even extended to their loved ones. Lets know about few of the valiant souls who successfully returned from Pakistan. Here is a list of 10 such spies.
1. Kashmir Singh: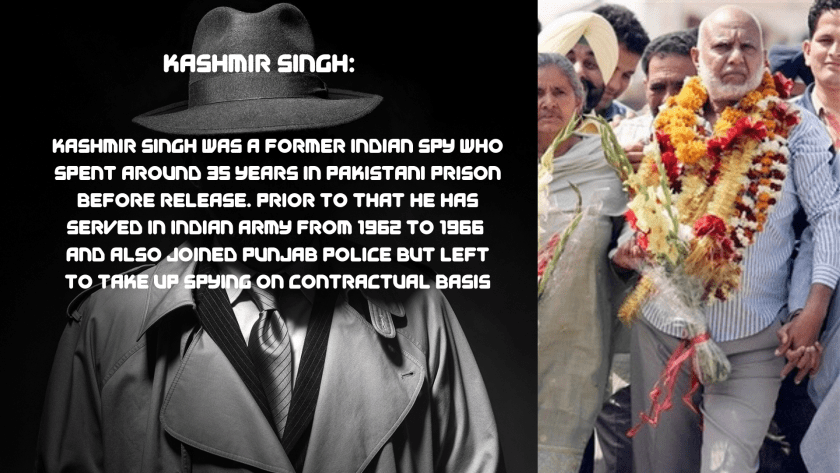 Kashmir Singh was a former Indian spy who spent around 35 years in Pakistani prison before release. Prior to that he has served in Indian Army from 1962 to 1966  and also joined Punjab police but left to take up spying on contractual basis, receiving income of 400/month (in rupees). He went to Pakistan guised as a local Muslim named Ibrahim and secretly passed data. In 1973, he was arrested on Peshawar – Rawalpindi road by Pakistan Intelligence Force and was accused of espionage and smuggling. In the very same year he was sentenced to death by a Pakistani Army court but the verdict was upheld by a civil court between 1976 and 1977 followed by a mercy petition. In that duration he was subjected to 3rd degree torture and lodged in 7 different jails. Finally, in 2008 , the caretaker Ansar Burney put up his case with Pakistani government seeking his release based on Humanitarian ground. The mercy petition was finally accepted by the then Prime Minister Pervez Musharraf to release him on 4th march 2008.
2. Gurbaksh Ram: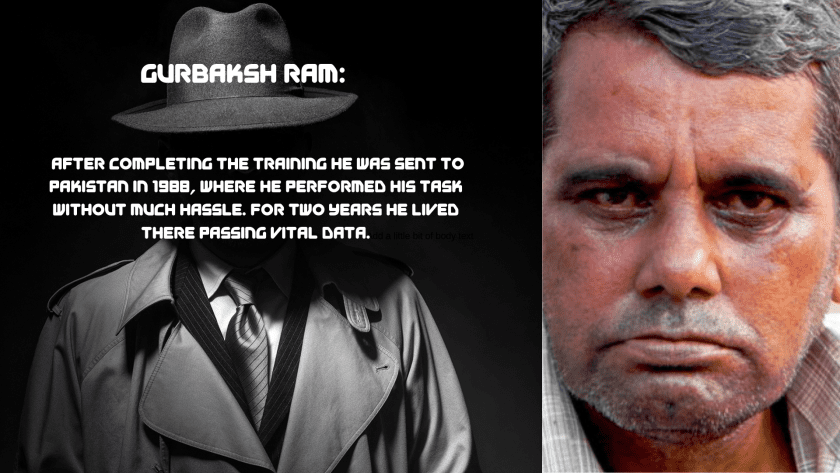 Gurbaksh Ram was a former spy trained for 1 year to garner sensitive information about arms and ammunitions used by Pakistani militancy. After completing the training he was sent to Pakistan in 1988, where he performed his task without much hassle. For two years he lived there passing vital data, but while returning to his motherland he was caught on the border and put in Sialkot's Góra jail. There he was interrogated and later sentenced to 14 years in jail. In 2006, he was finally released and returned to India.
3. Ram Raj: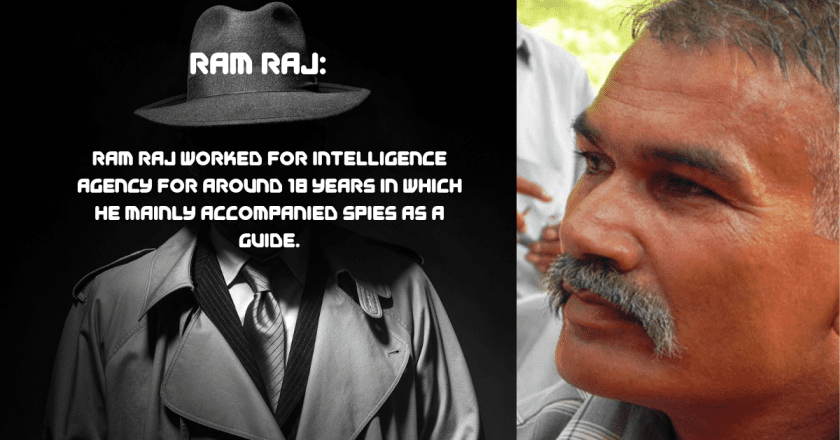 Ram Raj worked for Intelligence Agency for around 18 years in which he mainly accompanied spies as a guide. Once while on such a mission he was caugh,t and for two years tortured to interrogate. Later, he was sentenced to imprisonment for 6 years. After his release on February 2004, he tried reaching officials who vehemently refused to recognise him. While on an interview he also worded that he wasn't just a trained guide but a spy, who faced so much for the country and as a result was denied even recognition.
4. Ram Prakash: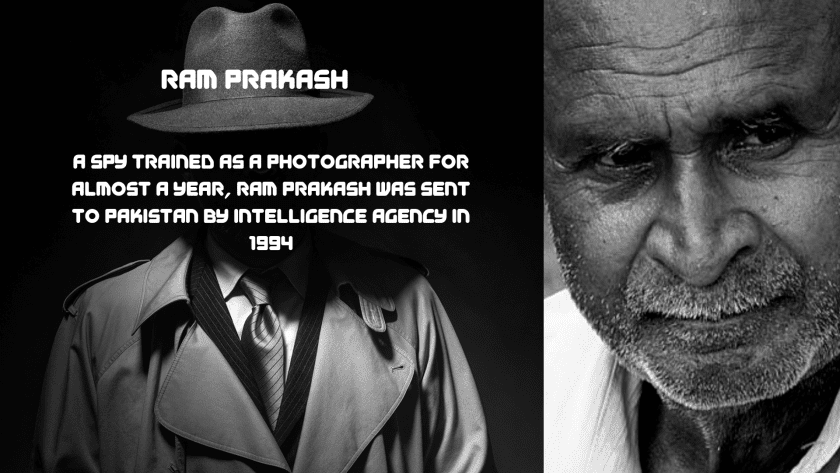 A spy trained as a photographer for almost a year, Ram Prakash was sent to Pakistan by Intelligence Agency in 1994.  In between his task he was arrested and interrogated for one complete year in Sialkot's Gora jail. He was kept under detention before court sentenced him for 10 years imprisonment in 1998. On July 7 he was sent back to India. Prakash claimed that he had crossed the border 75 times in 3 years before being caught.
5. Vinod Sawhney: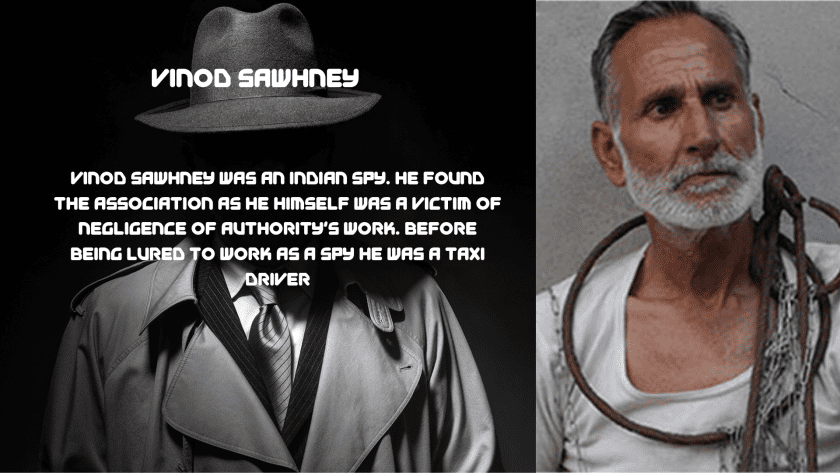 The President of Jammu Kashmir Ex-Slueths Association formed for the welfare of secret agents of Intelligence Agency who are later disowned by the government, Vinod Sawhney was an Indian spy. He found the association as he himself was a victim of negligence of authority's work. Before being lured to work as a spy he was a taxi driver. He left his job to take up offer beguiled by a man who claimed to be an Intelligence Official. After a short training he was sent to Pakistan in 1977, where he was arrested the very same year and sentenced to jail for 11 years. In 1988 when he returned he said to be disregarded by Intelligence Agency compelling him to take action for all the people who suffered the same fate.
6. Daniel Masih: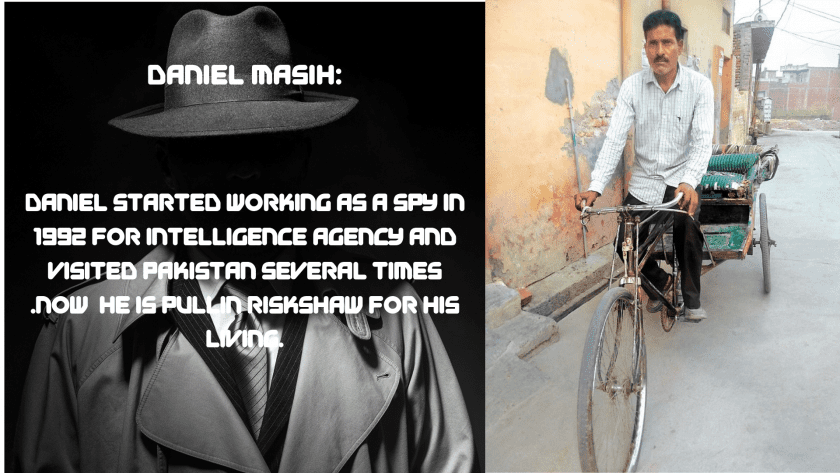 Daniel started working as a spy in 1992 for Intelligence Agency and visited Pakistan a dozen times bringing in photos and maps as per demand of Research and Analysis Wing. While crossing border he was caught in 1993 from where he was sent for interrogation. Despite brutal attempts he never revealed his identity. Later, he was sentenced to jail for 4 years. In 1997 he returned to India and now works as a rickshaw puller to earn his bread butter. In accordance of his statement that he gave in one of the interview  he isn't the only isolated case of a former spy living miserably but the villages of Punjab, specifically Dadwan is flooded with such people who were disowned by the government.
7. Mohanlal Bhaskar: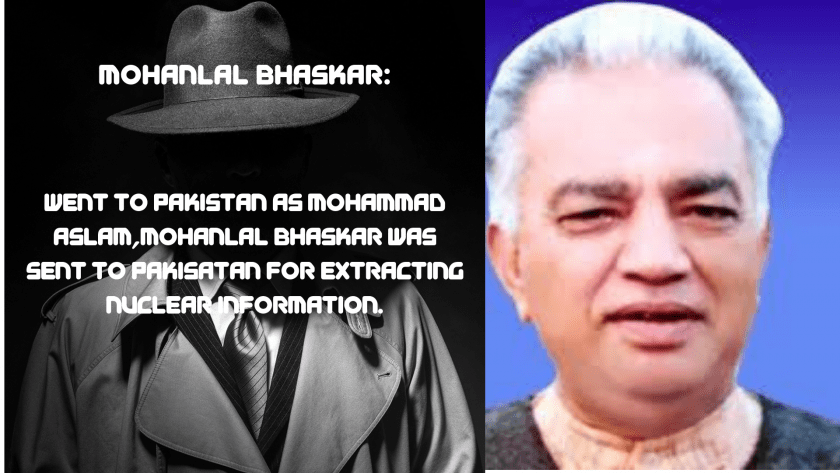 In 1965, Mohanlal Bhaskar was chosen as an espionage for the nation. For his work he took up Islam and a disguised himself as Mohammad Aslam. He was sent to Pakistan to extract information of nuclear program. Though  he did his job gracefully and devotedly, but his veil was pulled up by his own colleague who betrayed him. Because of him he had to spent 14 years in jail. Later, he was released as a part of prisoner exchange between India and Pakistan. His experience propelled him to author a book named " An Indian Spy in Pakistan".
8. Ajit Doval: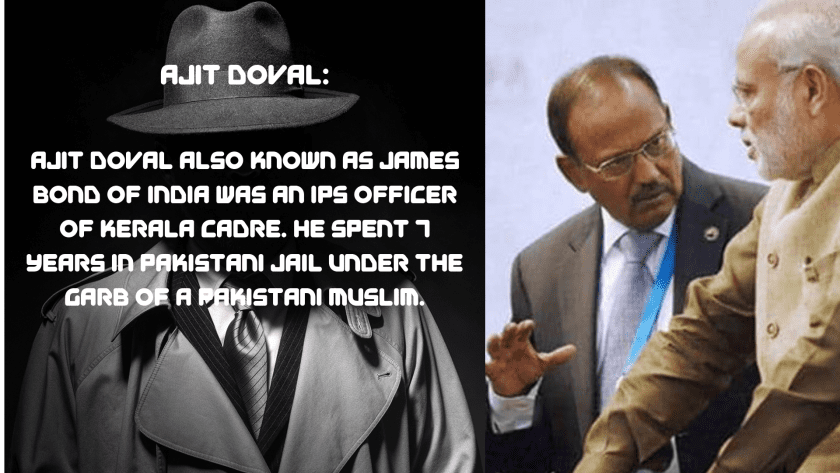 Ajit Doval, also known as James Bond of India was an IPS officer of Kerala Cadre. He spent 7 years in Pakistani jail under the garb of a Pakistani Muslim. He passed vital information to Indian Military during Operation Black Thunder that was meant to disengage Sikh militants to access vital information. In 1988, for his exemplary work he received the highest gallantry award- the Kirti Chakra.
9. Sehmat Khan: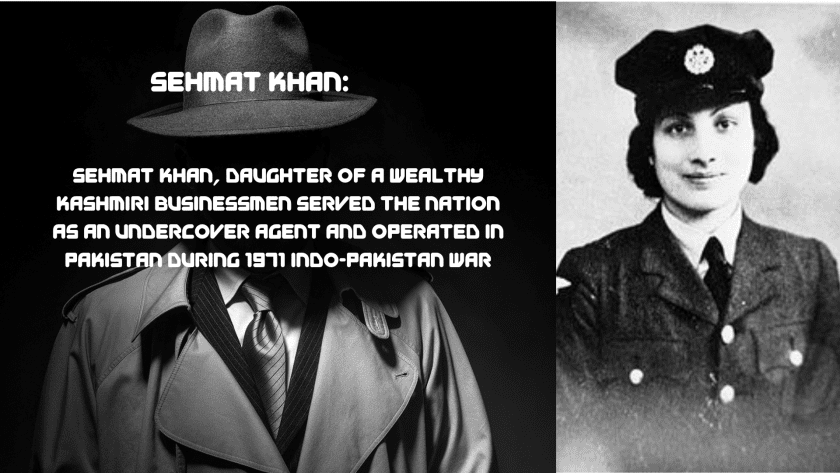 Sehmat Khan, daughter of a wealthy Kashmiri businessmen served the nation as an undercover agent and operated in Pakistan during 1971 Indo-Pakistan war, she was married to a Pakistani army officer that helped her in easy gathering of important security information. She was earlier appointed only as a facilitator but later she proved her skills as an extraordinary spy. It was because of her that India accessed and thwarted Pakistan's plan to sink INS Virat, a Centaur class aircraft carrier of Indian Navy. When she returned to India she was pregnant and her son after growing up joined Indian army. "Raazi" movie starring Alia Bhatt was based on her life.
10. Surjeet Singh: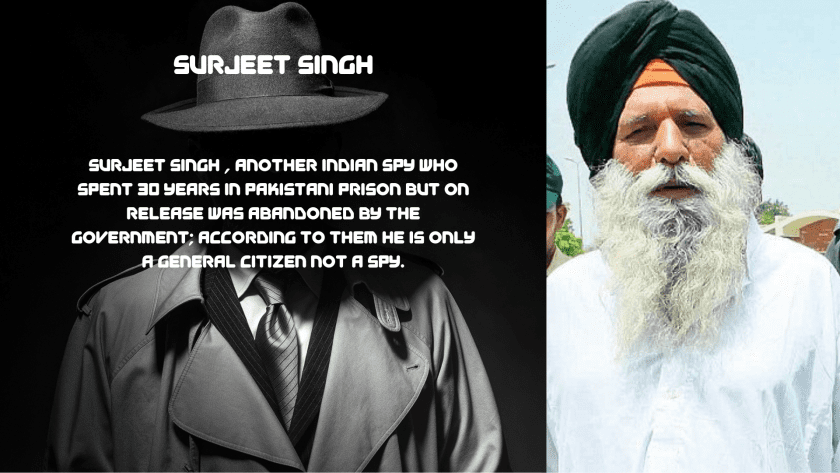 Surjeet Singh , another Indian spy who spent 30 years in Pakistani prison but on release was abandoned by the government; according to them he is only a general citizen not a spy. He went there in December 1981 where he got caught, interrogated and sentenced to death. But later in 1989 President Ghulam Ishak Khan accepted the mercy plea changing death sentence to life imprisonment. He was imprisoned along with another spy Sarabjit Singh whose case according to him was spoiled by media hype. According to his statements his original name is Makhan Singh who before donning the guise was a low ranking government employee. After taking up spying he claimed to do around 85 trips to Pakistan in order to extract crucial data benefitting our army.