Karni Mata Temple is a Hindu temple dedicated to Karni Mata. The temple is located at Deshnoke, Rajasthan. You can reach the temple from Bikaner, it is approximately 30 KM from Bikaner. The Rats are worshipped here and hence it is also known as the Temple of Rats.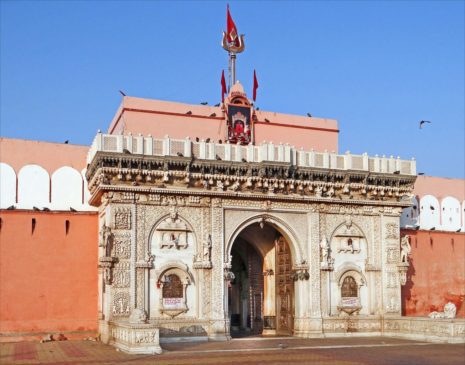 Karni Mata was a Hindu warrior sage who is supposed to live more than 150 years. She was born in October 1387 and she is said to be disappeared in March 1538. Her death could not be confirmed. She was also referred to as Nari Bai ."Shri Karniji Maharaj" is an official deity of the royal families of Jodhpur and Bikaner. Her followers worship her as the incarnation of the Goddess Durga. She is known to live a very simple life. She was widely revered during her own lifetime. The Temple was created in her memory following after she disappeared.
As per stories by locals, Karni Mata went to meet the Maharaja of Jaisalmer in 1538. She was coming back to Deshnok with her stepson, Poonjar, and some of her followers. She asked the caravan to stop for water near Gadiyala and Girirajsar of the Kolayat tehsil in Bikaner district. It was reported that she disappeared there. She was 151 years old at that time.
In the early 20th century, The current temple building was completed in Mughal style by Maharaja Ganga Singh of Bikaner. In front of the temple, there are beautiful marble façade which has solid silver doors built by Maharaja Ganga Singh. There are more silver doors with panels which depict the life and various legends of the Goddess. The image of the Goddess has been kept in the inner sanctum of the temple.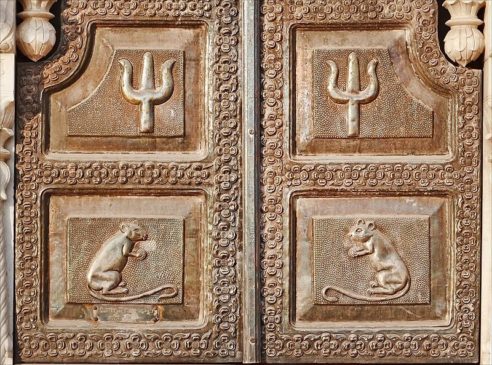 Hyderabad-based Karni Jewelers contributed to further enhancements of the temple in 1999. The Jeweller also donated silver gates and marble carvings to the temple.
The temple is famous for the unique fact that the approximately 25,000 rats that live and keep roaming in the temple. These rats are considered holy and treated as sacred. They are also given protection in the temple. These holy rats are called kabbas. People from across the country visit the temples to pay their respect to kabbas. Among the visitors of the temple, there are curious tourists from across the world who want to know more about this unique temple.
There are many rats in the temple and all are considered holy. However, there are a few white rats, which are considered to be especially holy. Her followers believe them to be the manifestation of Karni Mata herself and her four sons. It is considered a special blessing to see them and visitors put in extensive efforts to bring them forth, offering prasad, a sweet holy food.
What is the history of the Karni Mata Temple?
As per legend, Laxman (Karni Mata's stepson) drowned in a pond while attempting to drink water from it and eventually died. Karni Mata pleaded with Yama, the god of death, to revive him. Initially, Yama refused but later Yama had to agree and permitted Laxman and all of Karni Mata's male children to be reincarnated as rats.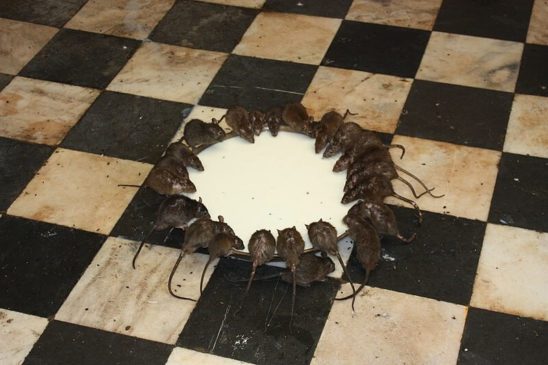 Devotees make offerings to the roaming rats. If you eat the same food that has been chewed by the rats, this is considered very good and auspicious. If any rat is killed, it must be replaced with one made of solid silver. The temple attracts visitors from across the country for blessings of Karni Mata. As you can expect, this temple of rats is not suitable for weak hearts as you need to walk barefoot between roaming rats and let the rats walkover your feet.
Are you applying for visas and facing visa problems, you can visit these visa temples.
Do you know any more interesting Karni Mata temple story? Do let us know in the comment section.