Out of all the necessities and comforts, a dream home is that one longs for, works for and irresolutely searches through millions of locations. There are innumerable considerations a person needs to keep in mind while choosing the heaven where he would reside- budget, location, permissions, area, plan layout and what not. Not only residential but commercial and rental property and property on lease comprise the real estate sector. Real estate industry is one of the major booming industry in our country and the next five years are staked high for the industry as estimates value it at $85 billion and the trends are bullish at 11.2% growth rate approximately.
We still like being the old school when it comes to viewing and selecting our dream home through physical inspections and incessant visits to the brokers and dealers. These local dealers carry a tag of trust but ironically devoid the prospective buyers of a better choice, lesser commission and legal cum authenticated properties. Despite the traditional methods being a popular choice more and more prospective buyers and customers are turning towards online portals that offer way better choices with foolproof details from sellers of trusted credentials.
"Online property market is growing exponentially in India, and it is expected that the internet would take up about 10-15 % of the total real estate advertisement expenditure soon,"

~ Indiaproperty.com CEO Murugavel Janakiram
The classic and amazing amalgamation of technology and expertise has eased up the process of filtering choices, pondering over details and negotiating deals at the clicks of a few buttons while being a couch potato. Not only that sites like MagicBricks.com, QuikrHomes, 99acres.com, Common Floor and many more are jostling for online buyers by providing visual tours of the properties, balcony views and photos of the surrounding locales so that the prospects may easily make up their minds. The Virtual Reality enables aerial views, virtual tours and 3-D views( the technology is still far-fetched in existing portals). This makes these platforms even more interesting to browse. They are a true blue complement to the traditional methods and somehow lessen the need for middlemen too but there is a side of these portals that is earning a bad reputation and is dissuading the customers from dealing through them. Buyers often lack the expertise and knowledge. This further heightens the need for professional advice accessible to all.
"At best, It (online real estate websites) can be used for information dissemination, due diligence, and price comparison. Unlike retail products, here it is better to research online and buy offline".

Subhankar Mitra, Head, Strategic Consulting (West) AT JLL India
However, there are several reasons that delineate these portals. Let us list a few:
– Often lack of interaction among the users reduces the confidence levels which may lead to missing upon great deals.
– The content on these websites is many times unauthenticated and malicious. Innocent clients often become prey to such dupes due to lack of sufficient interactive content.
– Lack of good customer interaction is lowering the trust levels. Portals often fail to register the brokers and actual owners separately. The terms to favor the dealers and brokers more while the buyers are left stranded.
– The expert advice and professional assistance are priced exaggeratedly which further deters the prospects from seeking one.
All these issues need to be addressed soon and a change needs to be brought about for the betterment of the industry and to restore the confidence of the customers. The real estate bulls cannot afford to suffer a relapse. One such real estate portal that seeks to create a better-connected user-friendly interface is PropertyClient. The portal is currently in its Beta Version and is open to scrutiny for everyone. Registrations are welcome for everyone without a single penny being charged right now. They are here to bring change in the stagnant online markets by working on the same lines as others but working differently by providing only genuine information to their customers in a more interactive way thereby slowly building its reputation among the clients. Don't wait, sign up for beta version here and get early access.
PropertyClient.com is several notches higher than its counterparts. The drift from normalcy towards excellence in a single package is its ultimate aim. Besides dealing with residential property, it will go ahead in areas of retail, hospitality and commercial sector as well. All in all, It will serve as a brokerage firm acting as a quality middle person, to sum up, the deals for its clients.
It aims to adhere to strict guidelines and differentiation when it comes to interests and therein lies the portal's USP. let's take a look at how it sorts out the different kinds of users:
Buyer:
Ensuring the title of the property to be clear, special focus on good location and ambiance with respect to the property whether commercial or residential.
Seller:
Ensuring proper place to market the property so that proper attention is given. The interested buyer can easily approach hr seller and finalise the deals.
Builders:
Their main focus is on finding the right locations to build a good commercial or residential infrastructure and finding the right platform to initiate the sale of them.
Then there are initiators or investors who provide capital for the development of a property and realtors who possess the knowledge about the various properties available with respect to the different requirements. PropertyClient.com very efficiently takes up these two categories and provides separate avenues to serve both.
Realtor's Avenue:
Users promote their property on realtor's avenue and the realtors can find properties suiting their needs. The main aim is to create a congenial environment for properties to be sold faster and for good returns. Realtors get the privilege and access to properties whose sale is time-consuming. The customers get the benefit of fast set up of deals while the realtors earn a commission.
Initiator's Avenue:
This additional feature is drool-worthy for the users as they can connect with initiators and investors to either invest in their property or help in developing them or else find the best property to invest in. the investors can easily register themselves as initiators on the firm.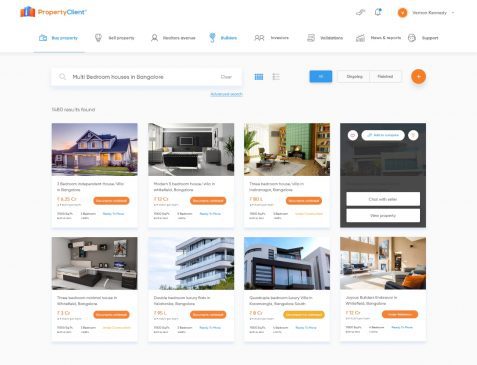 Some other perks available on the portal include:
– Users can post the videos of their properties which is the first for any portal in India.
– All the properties posted on PropertyClient.com are validated legally online and marked genuine.
– Their main focus is on property listing, realtors and investors.
– Currently, the services are available for free ( for the next six months) for the customers to know the portal better. Once the revenue model comes into force the prices will be competitive.
– The portal believes in creating a conducive environment where all users feel confident to involve themselves rather than forcing the customers to avail their products repeatedly as done by other websites.
– They would partner with well established real estate developers as channel partners in a dual benefit relationship where all the parties are benefitted.
– Instead of going for mass advertising, regular emails and cold messages they would build publicity through word of mouth based on their repute.
The site, though in its beta phase, has garnered the response from a thousand users though they began their operations only in January this year. They reached another 5000 through text messages and emails. Their actual operations are yet to start. The pace has already picked up, the need is to amass the attention of the masses to let the stone rolling. The passionate research and work that went into the making of this portal is their Avant garde. The culmination of efforts is yet to take place but the trends at the micro and macro level present great scope for the portal's future.
How you find your dream property now, let us know in the comments section.