Stonehenge is a prehistoric monument in England. Stonehenge is located about 2 miles (3.2 km) west of Amesbury town in Wiltshire County. The structure consists of a ring of standing stones, set within earthworks. It is not clear, who built Stonehenge and what was its purpose. Many studies have been conducted to solve the mystery of Stonehenge's construction. A new study explains the mystery and reveals about the people buried at the monument.
Let's check out some Stonehenge facts to better decode the mystery.
1. The Stonehenge is made up of 2 different types of stones
Primarily, two types of stone were used at Stonehenge – the larger sarsens and the smaller bluestones, which were transported from Marlborough Downs and the Preseli Hills, respectively. There are 93 rock stones visible at Stonehenge now. The standing stones are around 13 feet (4.0 m) high, 7 feet (2.1 m) wide. Each standing stone weighs around 25 tons.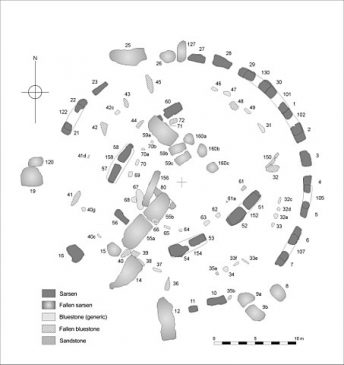 2. The Stonehenge was built in several stages
Stonehenge could be dated at around 5,000 years old, based on the start of construction, but Stonehenge wasn't finished until 1,500 years later. It was built in phases, not all completed at once.
It is believed that its construction was started as early as 3100 BC. Radiocarbon dating suggests that the first bluestones were raised between 2400 and 2200 BC.
3. A ring of 56 chalk pits, known as the Aubrey Holes was found at Stonehenge
The circle is named after John Aubrey, who discovered them in 1666. There are many theories suggesting its various uses including astronomical purposes but its purpose remains still unknown.
The White dots in the picture are Aubrey holes Stonehenge.
4. It is a UNESCO world heritage site
One of the most famous sites in the world, Stonehenge and its surroundings were declared as UNESCO world heritage site in 1986.
5. Stonehenge was restored many times during the 20th century.
Previously, many stones were laying down and many stones were about to fall. Some stones were restored to upright, and some were reinforced with concrete.
A Newspaper Photo of Stonehenge restoration in 1920
6. The first written evidence of Stonehenge is from the 12th century
The first known reference to Stonehenge appeared in an archeological study done by Henry of Huntingdon in 12th Century. In 1130, Henry of Huntingdon wrote a record of English history, discussing "Stanenges," which are enormous stones stacked atop one another. He is said to be the first one to write about the monument followed by Geoffrey of Monmouth. Geoffrey was the first one to associate the monument to wizard Merlin. As per him, Merlin directed the king to collect the magical stones from Ireland. He also claimed that stones were erected as a memorial to hundreds of Britons who were killed by the Saxons. It is said that Saxons (Germanic people) provided the name Stonehenge (or hanging stones) to the monument. He contradicted Huntingdon's claim of confusion about Stonehenge's origins.
7. Charles Darwin studies earthworms at Stonehenge
Charles Darwin, best known for evolution theory traveled to Stonehenge in 1877. He went there to conduct a research on Earthworms. For Darwin, it was the digging power of worms, as well as how they affected other items in the soil, namely rocks that made Stonehenge ideal for such a study. He concluded that fallen Stonehenge stones were sinking through the soil due to crawling earthworms.
8. The first archaeological excavation at Stonehenge took place in the 17th century
The archaeological excavations at the Stonehenge site were started in the early 17th century. The first known excavations at Stonehenge were conducted by Dr. William Harvey and Gilbert North in the early 17th century. Many things like cremation burials, cremated fragments, and human bones were found during excavations which were later studied.
The Excavations at Stonehenge during the season of 1923
9. There are some stones that originate from Wales
Stonehenge still has a mystery about how the heavy bluestones and sarsens were transported, whether they were pushed by glaciers before or if they were lifted by man. If they were transported by our ancestors, then it would have been a challenging task to move those massive stones with just primitive tools available at that time of construction. In 2003, a Welsh group Menter Preseli tried to move a three-ton stone from Wales to Stonehenge using Stone Age methods only, however, so many problems happened and the whole project was scrapped.
10. Stonehenge's ownership changed many times
During the 20th Century, it was privately owned by Sir Edmund Antrobus. Stonehenge was put to auction in 1915 when Antrobus family heir was killed during World War I. Cecil Chubb, a local resident successfully bid on the site and purchased the site for £6,600. Three years later, he donated the monument to the British government and got felicitated by Prime Minister Lloyd George for his noble task.
Cecil Chubb had bought Stonehenge for 6,600 pounds in a public auction in 1915
11. The Great Britain hosts several prehistoric stone circles
Stonehenge is the most popular prehistoric circle in Great Britain but there are 6 more prehistoric stone circles in the country. The largest of them is Avebury, containing the largest megalithic stone circle in the world. Avebury is a Neolithic henge monument containing three stone circles located in the village of Avebury, 25 miles north of Stonehenge.
12. The theory that Stonehenge was used as an astronomical observatory is also very popular
Stonehenge has long been researched for its possible connections with ancient astronomy. The site is aligned in the direction of the sunrise of the summer solstice and the sunset of the winter solstice. The sun rises over the Heel Stone outside the monument on the summer solstice while setting through the trilithon to the south when viewing the circle on the winter solstice.
One theory also suggested that the site was built to predict solar and lunar eclipses.
13. The Stonehenge is a famous Summer Solstice gathering place
During the 1970s, when New Age movements gained popularity, Stonehenge attracted a spike in visitors and worshippers. The Stonehenge festival was first held in June 1974 and it gained huge popularity in coming years. It was forbidden in the 1980s and reinstated in 2000, attracting thousands of visitors again.
Neo-druids flock to the summer solstice festival to worship their ancestors and experience Stonehenge's alleged healing powers, while others attend just for the wild part that literally lasts until the sun rises.
Summer solstice gathering at Stonehenge free festival
14. Most probably Stonehenge was an ancient cemetery
Many studies have suggested that the Stonehenge was a cemetery. The total number of people buried in Stonehenge, mainly in Aubrey holes is estimated to be around 240. Researchers have discovered cremated bodies buried with grave goods within Stonehenge in the 20th century, which suggests the original plan for the monument was to house graves. Stonehenge's cremation deposits were reburied in 1935 after proving to be of no scientific value. According to this theory, the standing stones should have been large tombstones for a royal family who lived around 3000 BCE.
15. The Stonehenge has several carvings on it
Upon first glance, the rocks appear to be just rectangular slabs arranged in a circle. But once you get up close, you will see narrow carvings that are quite beautiful.
16. Stonehenge witnessed a battle in 1985
A convoy of around 600 New Agers and more than 1,300 police went head-to-head for several hours on June 1, 1985, in what has come to be known as the Battle of the Beanfield. During the Stonehenge Free Festival, the travelers were stopped at a roadblock a short distance from Stonehenge, which led to an all-out battle between them. After a violent confrontation, 8 police officers were hospitalized and 16 officers were injured, as well as 537 of the travelers who were arrested.
17. Artefacts from the Roman period have been discovered at the site
Numerous Roman artifacts have been discovered at Stonehenge during the many excavations, including pottery, stoneware, metal objects, and coins.
18. The stones are said to have healing powers and are known as "ringing rocks"
There are unusual healing and acoustic properties in the monument's stones as they produce loud sounds and vibrations when stuck. Many ancient cultures believed that such frequencies contained healing properties. The word Maenclochog in itself means "ringing rock."
19. Stonehenge's first aerial photo was taken in 1906
Lieutenant Phillip Henry Sharpe of the Royal Engineers' Balloon Section shot the photo in 1906 from a military air balloon.
20. More than 1 million people visit Stonehenge every year
Stonehenge is incredibly popular and one of the world's most famous world heritage sites due to the ancient myths surrounding it.
If you know other Stonehenge facts, please share with us in the comments section.