Loaded ammo, guns and drugs, bags full of cash, high-intensity action and morals went astray due to some torturous past, and we have all the best Hollywood gangster movies of all time, ones which have glorified substance use, abuse, violence and local slurs, yet keeps one at the edge of the seat witch action-packed suspense thriller, and viewers mostly developing a liking towards the protagonist, the mafia or the warlord of the flick.
Gang wars ranging between Italian warlords, or the local mobsters of LA or New York, or a deal went wrong with the Japanese mafia, Hollywood has never failed to provide its share of fun and crime in mafia movies. Scenes covered with excessive use of cocaine, or bloodshed in some navy pier, masterpieces directed by Quentin Tarantino or Martin Scorsese or Stanley Kubrick, and stories inspired from real incidents and crime lords, present us the classic Hollywood Movies. So, here are lined up the 30 best Hollywood gangster movies of all time.
1. THE GODFATHER (1972)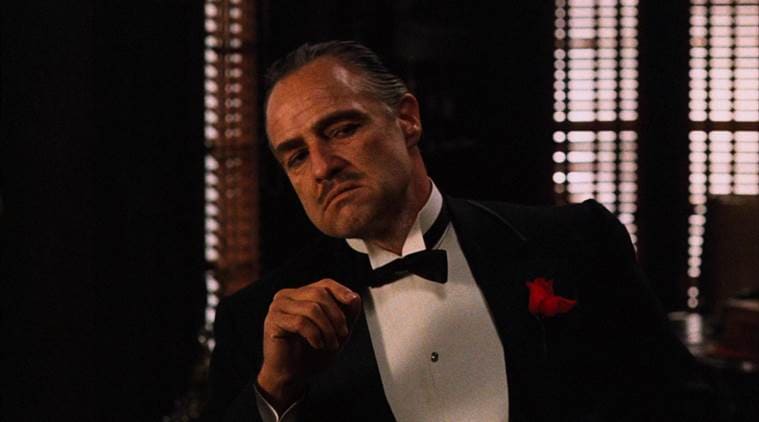 IMDb Rating: 9.2/10
Casts: Marlon Brando Jr., Al Pacino, James Caan, Robert Duvall
Plot:
Rightly deserving to hold the top spot on the list. The Godfather puts forth an ambitious attempt to explore the psychological nuances of the undisputed don Vito Corleone when he decides to transfer the empire to his reluctant son. This gangster masterpiece of Francis Ford Coppola engages viewers with numerous moments of shock and awe, layered with raw emotions.
Watch Trailer:
2. GOOD FELLAS (1990)
IMDb Rating: 8.7/10
Casts: Ray Liotta, Robert De Niro, Joe Pesci
Plot:
This 1990 film is an adaption of a book detailing the life of mobster Henry Hill, and has been directed by one of the best gangster movie masters Martin Scorsese. Revolving around an Italian-American crime syndicate, Good fellas has been a classic since its time with salty dialogues and vivid details of life in a crime.
Watch Trailer:
3. THE KILLING (1956)
IMDb Rating: 8.0/10
Cast: Sterling Hayden, Coleen Gray, Vince Edwards
Plot:
Directed by Stanley Kubrick, The Killing is a story of a crook gang led by Johnny Clay to carry out a two-million-dollar heist at Lansdowne race track, one of the most daring robberies of the time. Considered as Kubrick masterpiece, the film is a slight shift from the typical gangster flicks, yet a classic with a clever script aided by non-glamorous cast of veteran actors.
Watch Trailer:
4. HEAT (1995)
IMDb Rating: 8.2/10
Cast: Al Pacino, Robert De Niro, Val Kilmer
Plot:
When a highly intelligent criminal pulls of a last heist with his gang, things seem to change with their latest act as the robbers feel the heat from the police, who are at their trail with Detective Lieutenant Hanna leading the force. Directed by Michael Mann, Heat has remained a classic since its release, with two excellent actors in cast, i.e. Al Pacino and Robert de Niro.
Watch Trailer:
5. THE UNTOUCHABLES (1987)
IMDb Rating: 7.9/10
Cast: Kevin Costner, Sean Connery, Robert De Niro
Plot:
Set in the era of Prohibition in America, a Federal Agent is set out to stop the ruthless Chicago gangster Al Capone. Director Brian de Palma elevates the tale from a cat and mouse chase to an emotionally complex story, making The Untouchables a gangster-drama tale.
Watch Trailer:
6. CASINO (1995)
IMDb Rating: 8.2/10
Cast: Robert De Niro, Sharon Stone, Joe Pesci
Plot:
A city of gambling is a breeding ground for crime, thus making Las Vegas an ideal gangster haven, the Casino being the main part. Another direction of Scorsese, Casino is a tale of greed, power, deception and murder that occur between two friends. The story depicts the sunset years of the Mafia gripped city of 80s and 90s.
Watch Trailer:
7. BONNIE AND CLYDE (1967)
IMDb Rating: 7.8/10
Cast: Warren Beatty, Faye Dunaway, Michael J. Pollard
Plot:
The unabashedly gory film revolves around a duo, in love. Bonnie Parker, a waitress, falls in love with Clyde Barrow, an ex con-men, and together they start a crime spree through the country, small duo activity, stealing cars and robbing banks. A direction by Arthur Penn, Bonnie and Clyde is considered a modern depiction of romantic criminal life.
Watch Trailer:
8. THE GODFATHER – PART II (1974)
IMDb Rating: 9.0/10
Cast: Al Pacino, Robert De Niro, Robert Duvall
Plot:
Sequel to The Godfather, this follows the life of the reluctant son Michael Corleone gradually taking control of his father's vast empire, as he expands and tightens his hold over the family syndicate, Godfather – II is another brilliant make by Francis Ford Coppola, with violently fascinating new dimensions and brutal drama.
Watch Trailer:
9. ONCE UPON A TIME IN AMERICA (1984)
IMDb Rating: 8.4/10
Cast: Robert De Niro, James Woods, Elizabeth McGovern
Plot:
Sergio Leone's Depression-era epic revolves around the life of a former Jewish gangster, who returns to the Lower East Side of Manhattan after nearly thirty years to reflect and make choices, choices of his crime youth and the euphoric moments. This 229-minute original has been praised as the Godfather of Jewish gangster films.
Watch Trailer:
10. CARLITO'S WAY (1993)
IMDb Rating: 7.9/10
Cast: Al Pacino, Sean Penn, Penelope Ann Miller
Plot:
With Al Pacino in prime role as the anti-hero Carlito Brigante, this Brian de Palma film revolves around a Puerto Rican ex-convict who is reluctantly drawn into a drug deal and comes to realize that there is no turning back now. A relentlessly violent film, Carlito's Way got its place in the cult with huge praise from viewers.
Watch Trailer: