Approximately 67% of surveyed consumers said that they are influenced, at some level, by online reviews. Whether looking for a new appliance, or finding a restaurant for dinner, positive and negative reviews are a strong influencing factor in determining customer purchases. If you are currently running your own business, the fear of getting a negative review can be daunting. Because so many people take online reviews seriously, less-than-desirable reviews have the potential to harm your reputation, and your bottom line. Thankfully, there are several effective steps that you can follow in the event that you do receive a negative review.
Have the courage to face negative reviews as soon as possible
Although you won't feel like doing this, it is important to read and respond to negative reviews as soon as you can. Since some people can be hurtful with the words they choose, reading a review can be a painful experience (especially if your business is new). However, experts with Complaint Base Business Reviews highlight the importance of negative reviews. If the individual who posted the comments brings up genuine issues, this can serve as a great learning opportunity. While it is never fun to admit mistakes, a constructive negative review allows you to improve your services, products, and staff for future customers. On the other hand, some individuals will leave comments that are not valid or helpful. No matter what, you should always read and investigate every negative review that is left on social media, Google, Yelp, or any other sources.
Respond to negative reviews accordingly
After reading and investigating what prompted a customer's comments, responding in a timely fashion is also critical. However, because there are so many variables involved, there isn't one set way to respond to negative reviews. If you found that the review was true, make it your top priority to make the situation right with the customer. Reach out to the individual on the review thread (to show other potential customers that you are listening and responsive), and if possible, also send a direct message. Apologize for what went wrong, explain that you've taken steps to ensure that the issue does not occur again, and provide a solution to the customer. For example, if a person said that his or her meal was undercooked at your restaurant, offer a free meal for the next visit. Create an offer that is proportionate to the individual situation. On the other hand, if the negative review contains false information and/or abusive comments, work with the website to have the comments taken down.
Encourage existing and new customers to post positive reviews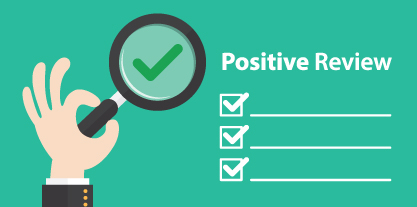 Because negative reviews can happen to even the best businesses, one of the most effective ways to combat low marks is through positive reviews. When you earn multiple 4 and 5 star reviews, they will average out a negative review. To help get strong marks for your business, encourage your current and new customers to post positive reviews online. If appropriate, feel free to provide an incentive for those who do fill out positive reviews. When potential customers see that you have so many more happy customers than unhappy ones, they won't weigh the negative review as heavily.
If your business receives a negative online review, there's no need to stress. By following the steps above, you can preserve your company's reputation, make up for any legitimate errors, and encourage others to overlook the one-off bad review.