Paths are quite necessary for every garden, regardless of its style. They should match the size of the land, the type of flora and the character of the house. Garden paths are a very important factor. Thanks to them you are able to easily reach your favourite and most frequently used parts of the plot. They should be long-lasting and functional but also aesthetically match the whole place. The market offers a big choice of materials. See how to design and create paths in the garden.
Is a straight or serpentine path better for my garden?
The course of the paths must be chosen to match the character of the garden. You should take into account your financial ability and set a limit. If you cannot decide on what shape your path should be, think about what you want to achieve. Simple paths look particularly good in symmetrical gardens. The opposite of those is, of course, natural garden that looks more proper with winding paths. You can design your paths with a full fantasy, and add a soft arch, change their direction, width or type of surface whenever you feel like it. However, you must avoid too sharp and rapid changes when it comes to direction. In case you don't have a garden but still want to grow flowers or other plants at home you can get everything you need from Growace.
Simple but aesthetic wood and stone paths
The least complicated surface with hardened elements and grass diffused along the route can be emphasised by arranging concrete pavement, sandstone or deep "slices" of cut tree trunks at specific distances. The distance between the individual elements should be adapted to the length of the regular step which is approximately 60 cm. Before laying the materials you should cut out turf patches matching to the shapes and sizes of laid elements then fills up a few-centimetre layer of sand. After that just fit the stone or wood to level with the lawn surface which will ensure easy grass cutting. A path allows you to go to different corners of the garden, even directly after the rain without getting wet. It's also quite cheap to do so it's perfect for those that have a strict budget and cannot go over the limit.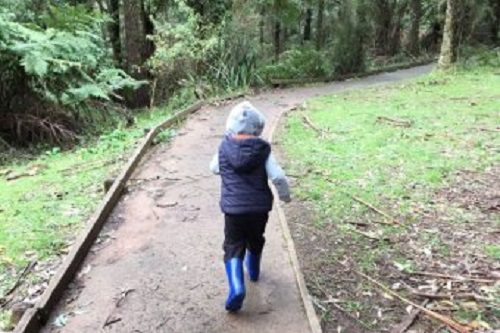 Paving stones and bricks for those who love it neat
Popular materials used for garden paths are cobblestones and clinker brick. People who value the order will adore them. Paths built from demolition brick also have a romantic appeal to them and are much cheaper than the new ones. A brick arranged on a pleat or herringbone has a special charm. The gaps between the bricks look the best when they're filled with some sand. You will need to take care of adding suitable bedding like the substrate of coarse sand, gravel or crushed stone. Then you can place bricks on it and hammer them into the ground with a rubber hammer. This solution is perfect for every garden and climate so it doesn't matter where you're located. You can also use some help from Edinburgh paving experts to make sure everything is straight and well-measured.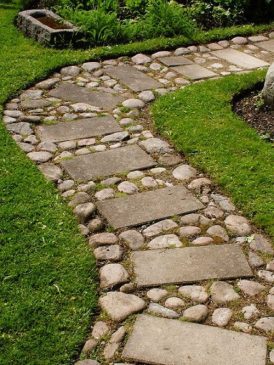 Gravel enhance the natural beauty
The most honest advice we can give you is that a gravel path blends well with plants. It's modest and humble – it doesn't attract too much attention and emphasises the beauty of its surroundings. It's made out of aggregates of 5-25 mm in size with sharp edges and they stuck in their place quite well. River gravel, on the other hand, is not suitable for paths because it has rounded edges. Due to that, its surface makes it easy for the grains to move and the surface is not stable. Aggregates made of soft rocks are also not recommended. They can deteriorate quickly and form a dense layer under the influence of rain and frost. You can create this type of path easily by yourself.
DIY
If you decide to make a garden path of your own, then before you do so, try reading product review sites and watch tutorials on how professionals do it.  This way you will save money and gain new skills.