Olive Oil:
Try and use extra virgin olive oil for the best results, this has been used for centuries for hair and skin moisturisation as it is nourishing and strengthening, perfect for dry and damaged hair! Can be mixed in with other ingredients such as banana or to be used on its own; work it through warm, damp hair as needed,( not too much or risk not being able to rinse it), from roots to tips. Wrap either a warm towel or plastic bag over your hair and leave for 20 minutes, then rinse.
Eggs:
Commonly used due to their high level of protein content and other nutrients as well, eggs are good for strengthening the hair and hair follicles meaning that they are ideal for damaged hair. Can be used alone or mixed into other ingredients, in particular, olive oil for super moisturising hair mask.
Gelatin:
If allowed to set on hair, unflavored gelatin can provide a protective protein coating to the hair. Combine with water, vinegar and humectant and deep condition afterward for best results.
Glycerin:
A strong humectant like honey, but without its bleaching properties. Always mix it with water before use.
Oily Hair: this hair type will especially advantage from making your own hair masks because you will be avoiding all of the heavy things like silicone in many shops bought products which can cause greasy hair. These ingredients will aim to leave your hair feeling refreshed, but without drying it out.
Oily Hair:
This hair type has their own advantage of making their own hair masks because you will avoiding all the heavy things like silicone in shop bought product which will be making your hair and scalp greasy. Following ingredients will help your hair to be feeling refreshed, without making them dry:
Apple Cider Vinegar:
Sounds a bit weird, but apple cider vinegar contains nutrients which make hair stronger, shinier and generally more healthy, and as well as that it removes any residue from cosmetic products which may be what's causing your hair to feel heavy, so it'll give your hair it's bounce back! It also regulates the pH of the scalp so is good for those who get dandruff.
To use, add 4 tablespoons to other ingredients of your choice, or it can be used alone as a rinse by diluting 1 part vinegar to 2/3 parts of water.
Strawberries:
Strawberries are good at regulating oil production in the scalp and rinsing off any oil from your hair, plus they are pack full of vitamin C, which is essential for hair health. Mash a few and apply to hair either alone or with other ingredients of your choice. You may choose to mix with a lightly moisturising ingredient such as mayonnaise to prevent over dryness. Leave it just for 10 minutes and then wash.
Baking soda:
This is an effective ingredient for removing the build up of cosmetic products, grease, and dirt from the hair. A tablespoon could be added to a moderately moisturising ingredient,(like mayonnaise or yogurt) or it can be mixed with water to make a paste and used on the place of shampoo.
Lemon Juice: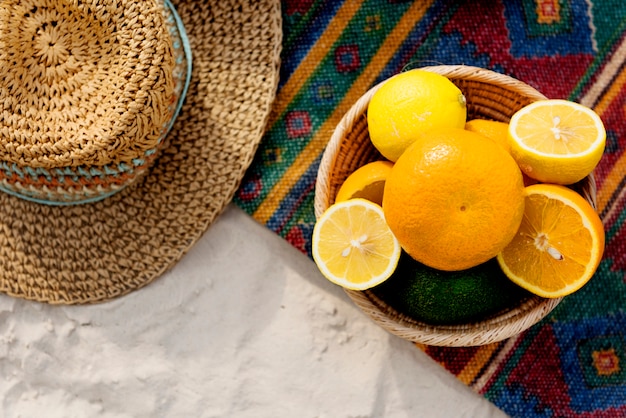 Lemon is a well known astringent, it closes the pores on your scalp, reducing oil production. Be warned that lemon juice may lighten your hair colour if used regularly, especially if you go in the sun with it still on your hair. Can be used alone, diluted( juice of 1 lemon in 1 cup of water), to rinse hair, or can be added to a mask.
These ingredients are mostly aiming to absorb or rinse away any oil and dirt. Unless your hair is extremely greasy, It's best to use these a maximum once in a month to avoid taking away too much oil which can cause the scalp to overproduce oil, otherwise try and use them with moisturising things, either from the dry hair section, or combination hair section to ensure that the hair isn't being over dried.