Serves – 2 people
Veg Hakka Noodles Ingredients –
Cabbage
Chopped Carrot
Chopped Spring Onion
Mushroom (Optional)
Chopped Capsicum
Chopped Onion
Salt
Red Chili Powder
Tomato Ketchup
Sriracha / Schezwan /Green chill sauce
Veg Hakka Noodles Recipe – 
Below are the very simple steps to make veg hakka noodles.
Step 1: Boil Hakka Noodles
Heat enough water in a wok or cooker so that noodles can be soaked, put one pack of hakka noodles into the warm water. Add some salt and few drops of oil to the water. We are adding oil to make sure noodles are not sticky. Boil water until noodles are thoroughly cooked.
Here are 10 simple and useful kitchen hacks you must know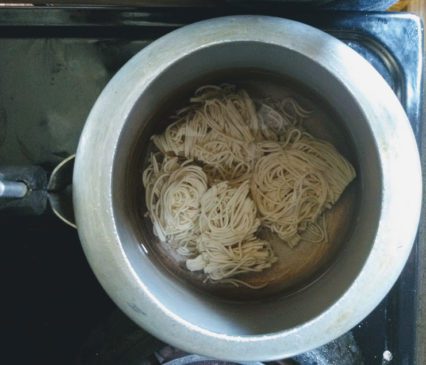 Step 2.  Drain and dry boiled noodles
Drain the boiled noodles and add few drops oil to the noodles. Spread the noodles on a plate and mix the oil well into the noodles so that they do not stick to each other.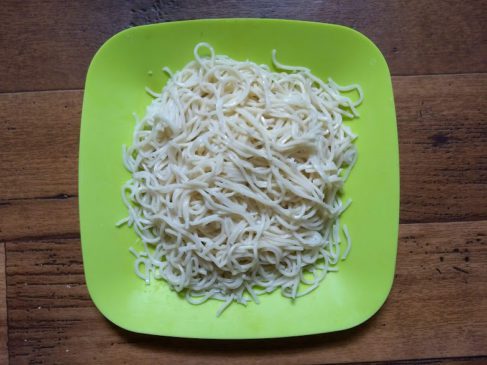 Step 3: Make Veg Hakka Noodles
1. Chop all the required vegetables (onion, carrot, capsicum, mushroom) and grate the cabbage.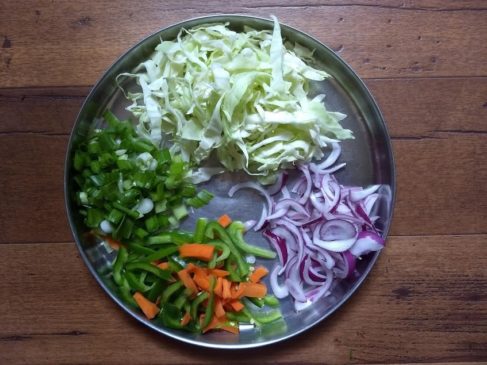 2. Heat olive oil or any other oil of your choice in a pan.
3. Once the oil is heated, add chopped spring onions to the pan. Save some chopped spring onions for garnishing)
4. Saute spring onions for a minute and then add chopped onions.
5. Once onions are medium fried, add grated cabbage to the pan.
6. Stir fry the mixture in the pan for some time and then add chopped carrots, mushrooms(optional) and capsicum to the pan.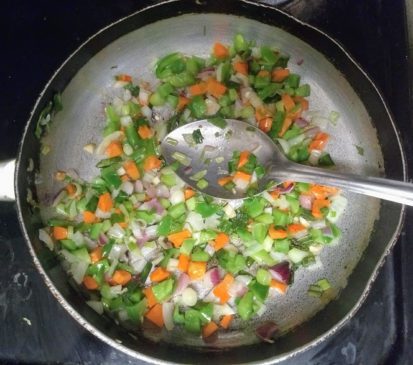 7. Keep frying the vegetables on medium flame. Add one tablespoon of white vinegar and soy sauce and stir-fry the mixture so soy sauce and vinegar get mixed.
8. Now add some red chili powder, salt (as per taste) and Chings Hakka Noodles masala. Stir fry the mixture in the pan.
9. Once all vegetables are cooked enough, add boiled veg noodles
10. Toss the whole mixture in the pan so that noodles get properly mixed up with vegetables.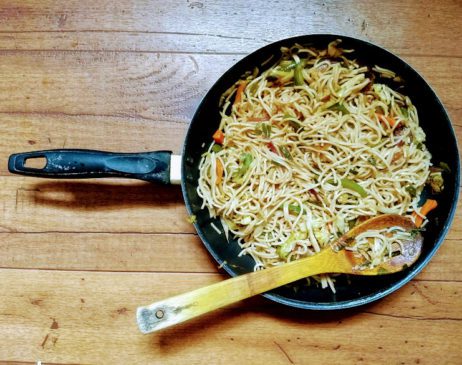 11. Add some Green /Red Chill sauce or Sriracha sauce to the noodles as per your taste.
12. Garnish the prepared noodles with spring onion and serve with other Chinese delicacies (Like Veg Manchurian)
Have you ever made Veg noodles at home, please share your experience with us?