Bollywood has given us many blockbuster hits like Sholay, Dil Wale Dulhaniya Le Jayenge, Kuch Kuch Hota Hai, and Bahubali. These movies have entertained us immensely and till now we like to snuggle in our blankets with a bowl of popcorn and re-live those moments with our family. As we welcome 2019 with joy and happiness, Bollywood bids 2018 goodbye with an open heart because 2018 has been a marvelous year for both box office and Bollywood celebrities. Below is a list of some of the most liked Bollywood movies in 2018.
10. RAID
Release Date – 16 March, 2018
Director – Raj Kumar Gupta
Genre – Crime Thriller
Cast – Ajay Devgan, Ilena D'Cruz, Sheeba Chadda, Saurabh Shukla.
This movie is the 4TH highest grosser after Padmaavat, Baaghi2, Sonu Ke Titu Ki Sweety. Despite getting a huge competition from movies like Hichki and Blackmail it managed to enter the 100 crores club and had the box office collection of 101 crores. The viewers like the entertaining and gripping story. The story revolves around an honest Income Tax Officer who always abides by the rules and after getting an anonymous call goes and investigates about MP Rameshwar Singh.
9. VEERE DI WEDDING
Release Date – 1 June, 2018
Director – Shashanka Ghosh
Genre – Comedy
Cast – Sonam Kapoor, Kareena Kapoor Khan, Swara Bhaskar, and Shikha Talsani
For a movie that is made on the budget of just 42 crores, it was a huge success. In India, it collected the amount of 75 crores and had a worldwide collection of 100 crores. Kareena Kapoor Khan can be seen for the first time on silver screen post pregnancy break. The film finds its appeal in the younger generation who can relate to the dilemmas of the characters. The four friends share an unbreakable bond since childhood and have each other's back in adulthood and are there to pick on another up if anyone stumbles on the path of finding love.
8. SONU KE TITU KI SWEETY
Release Date – 23 February 2018
Director – Luv Ranjan
Genre – Comedy, Romance, Drama
Cast – Kartik Aryan, Sunny Nijar, Nushrat Bharucha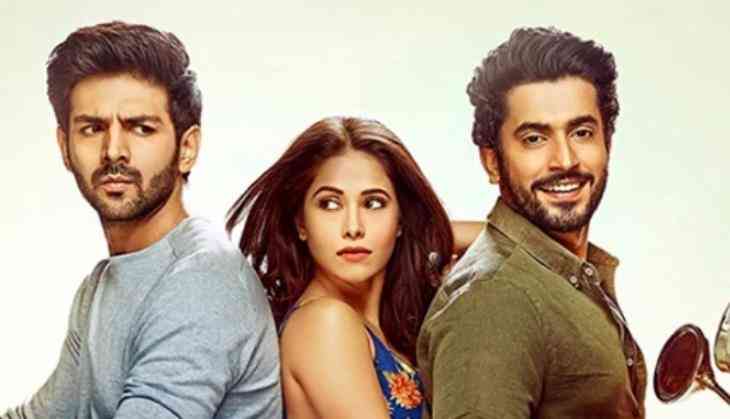 After the grand opening of Padmaavat Luv Rajan's SKTKS bags the place of the second film to score a century on the box office. It is also the 4th highest weekend opening of the year. It has the box office collection of the whooping amount of 150 crores. Sonu and Titu have been best friends since nursery and are now like brothers. Sonu is more outgoing and extrovert whereas Titu is sensitive and naïve, who seems to always fall for devious and controlling women and Sonu like a knight in shining armor saves him every time. Then enters Sweety Sharma who is the potential wife of Titu, but Sonu has his doubts as she is too good to be true.
7. MULK
Release Date – 3 August 2018
Director – Anubhav Sinha
Genre – Drama
Cast – Taapsee Pannu, Rishi Kapoor, Prateik Babbar, and Ashutosh Rana
The budget of the film was 18 crores and it managed to get the box office collection of 21 crores (India) and 29 crores worldwide. Mulk focuses on the hard hitting issues and the prejudice that the nation has against Muslims. As August is the Independence month for India Anubhav Sinha very strategically released the movie as it will attract the attention. The movie brings forth the matters that are often hidden in the matters dealing with terrorism and how a family is torn when one of their own turns out to be a terrorist.
6. SANJU
Release Date – 29 June 2018
Director – Raj Kumar Hirani
Genre – Drama
Cast – Ranbir Kapoor, Sonam Kapoor, Anushka Sharma, and Paresh Rawal
One of the biggest hits of 2018 Sanju has the box office collection of 430 crores (India) and 140 crores overseas, making the grand total of 570 crores. Sanju provides us the emotional look at the most controversial life of Bollywood's superstar Sanjay Dutt. The movie has it all the drama, the emotion, and of course romance with Sanjay Dutt's 308 girlfriends. Raj Kumar Hirani has depicted the story from a biased angle and portrayed the media in a bad light and tried to show Sanjay Dutt as the victim in 1992-93 Bombay Blast and his involvement in possessing drugs and ammunition. Ranbir Kapoor has presented his finest acting as Sanjay Dutt and has proven that he is one of the finest actors Bollywood has.
5. ROBOT 2.0
Release Date – 29 November 2018
Director – S. Shankar
Genre – Science fiction, action, thriller
Cast – Rajnikanth, Akshay Kumar, Amy Jackson, and Sudhanshu Pandey
Robot 2.0 is a semi-sequel of 2010's Endhiran (Robot). The film shows the tremendous work done in 3D which has appealed to people. After the poster release, it became the most anticipated film of 2018 and true to the hard work put in the film it was a huge box office success. In its Hindi version only it collected 177 crores and had a worldwide collection of 652 crores. 2.0 was a huge success overseas as well and collected 145 crores. Both Rajnikanth and Akshay Kumar are at their prime in the film, Akshay Kumar Plays the role of villain very well and matched the energy level of Rajnikanth.
4. PADMAN
Release Date – 9 February 2018
Director – R. Balki
Genre – Comedy, Drama.
Cast – Akshay Kumar, Radhika Apte, Sonam Kapoor
Based on 'The Sanitary Man Of Sacred Land' in Twinkle Khanna's book 'The Legend Of Lakshmi Prasad' which is inspired by the life of Arunachalam Murganatham, a social activist from Tamil Nadu who introduced low-cost sanitary pads. It spreads a social message on the taboo topic which was widely accepted by audiences making it a hit and collecting 78 crores. The film shows us the journey of a caring husband who after coming to know about the difficulties his wife faces in menses but refuses to use sanitary pads because they are costly. He sets on making low-cost sanitary napkins to make the women aware of Rural India.
3. PADMAAVAT
Release Date- 25 January 2018
Director- Sanjay Leela Bhansali
Genre- History, Romance, Action, Drama
Cast- Deepika Padukone, Ranveer Singh, Shahid Kapoor, and Aditi Rao Hydari
ABOUT THE MOVIE- First blockbuster of the year 2018 Padmaavat is also the first Indian film to be released in IMAX 3D. The film was immensely liked by audience and critics alike and collected the whopping amount of 300 crores. The film got its publicity from the members of Karni Sena who opposed to screening of the film saying that their Queen Padmini was not shown in a righteous way. Ranveer Singh playing the role of Alauddin Khilji won hearts in the negative character. Due to vigorous editing and cutting of scenes because of the censor board, the film lost its Sanjay Leela Bhansali touch yet was entertaining to watch.
2. BADHAAI HO
Release Date – 18 October 2018
Director – Amit Sharma
Genre – Comedy, Romance, Drama
Cast – Sanya Malhotra, Ayushman Khurrana, Neena Gupta, Gajraj Rao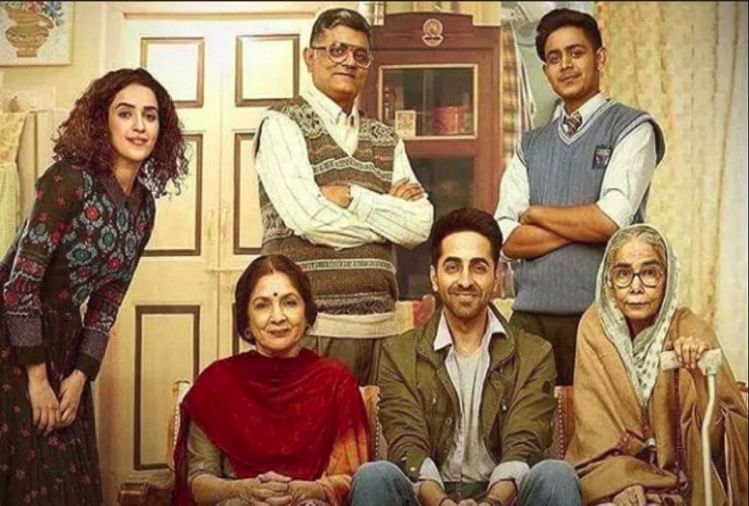 ABOUT THE MOVIE- Amit Shah's directed Badhaai Ho was a hit despite facing tough competition from Robot 2.0 and was also against some big starrer films like Namaste England, Baazar, Thugs of Hindustan and made 132 crores in the domestic box office and 200 crores worldwide. Ayushman Khurrana starrer also broke Bahubali 2: The Conclusion record in week 6 where The Conclusion made 5.35 crores, Badhaai Ho managed to collect 5.95 crores. The story shows a 25- year old son dealing with the unexpected pregnancy of his parents. Need I say more? While in coming to terms with this unusual scenario he also faces the society.
1. ANDHADHUN
Release Date – 5 October 2018
Director – Sriram Raghavan
Genre – Thriller, Mystery
Cast – Ayushmann Khurrana, Radhika Apte, Tabu, Ashwini Kalsekar
2018 seems to be the excellent year for Ayushmann Khurrana as his movie made on the budget of 25 crores was a major success. In India only it collected 74 crores and 105 crores in the worldwide collection. There are moments of tension at some parts of the film and sharp comedy at another. The movie is thriller enough to keep you on the edge of your seats throughout. The movie makes you see the world from a different perspective and makes you the question: What is life?
Many more exceptional movies are expected to release in 2019. Whether they will be a hit or a flop depends on the cinematography, acting, and audiences. Bollywood is changing because the generations are changing, the younger generation wants more content in the film and not just over the top acting, no storyline or shooting in foreign places.
Which Bollywood movies 2018 you liked the most, let us know in the comments section!