17. GANGULY AS AN ENTREPRENEUR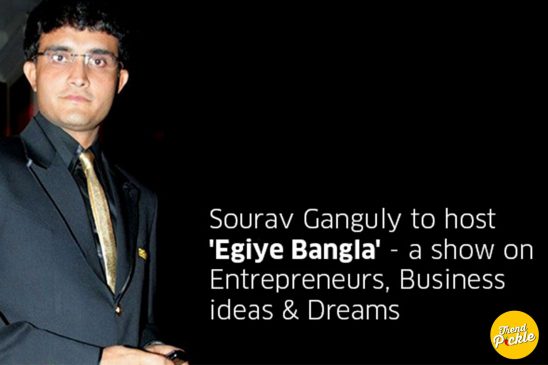 Sourav donned the entrepreneur's hat and opened a three-storey restaurant, Maharaja Sourav's – The Food Pavilion in Calcutta's posh locality Park Street. The restaurant was inaugurated by Sachin Tendulkar in 2004. But right now it is shut down due to various reasons. Sourav Ganguly is a co-owner of Atletico de Kolkata in Indian Super League who are affiliated to Atletico Madrid.
18. CENTURY AND A GOLDEN DUCK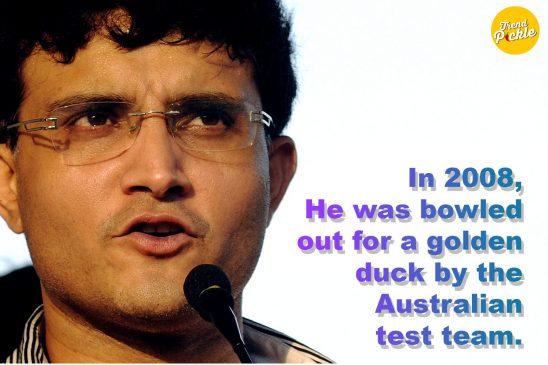 Sourav Ganguly when debuted against West Indies test side in 1996, he scored a hundred and immediately found himself in the spotlight. When he retired in 2008, he was bowled out for a golden duck by the Australian test team. Life came in full circle for Dada.
19. TRUE BLUE BENGALI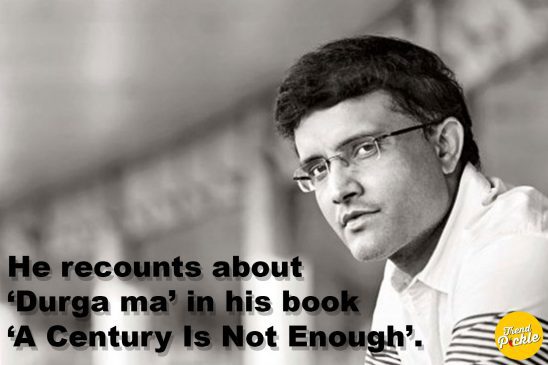 It is a known fact how important and dear is Durga Puja to Bengalis. They wouldn't miss it for the world. It is no different for 'the Prince of Calcutta' either. Former India captain Sourav Ganguly once disguised himself as a Sardar to attend Durga Puja in Kolkata with help of his wife Dona, who arranged for a make-up artist to transform him into a Sikh. "The immersion scene around the river is just indescribable. You have to see it to understand it. Durga Ma, after all, comes only once a year" he recounts in his book 'A Century Is Not Enough'.
20. ROAD FROM SUCCESS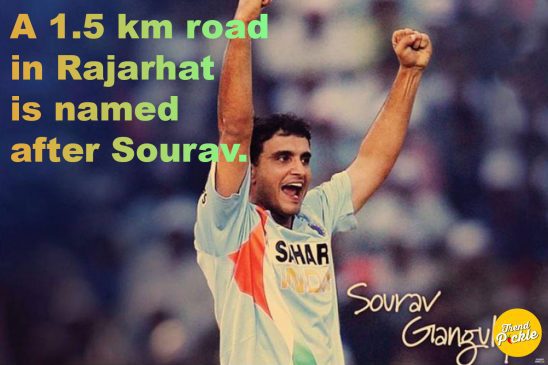 A 1.5 km road in Rajarhat in the North 24 Parganas district of West Bengal is named after Sourav. He himself unveiled a plaque containing the new name of the road, Sourav Ganguly Avenue, at a function organized by the Rajarhat Gopalpur Municipality. After all, he is the 'Prince of Calcutta'!
21. GANGULY HELD AT GUNPOINT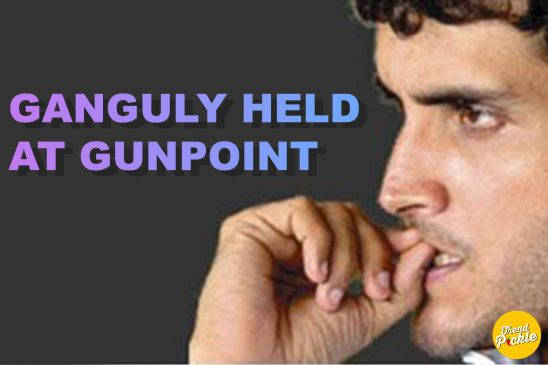 This incident happened when the legendary Indian captain had some free time and decided to go meet some family in Pinner along with Navjot Singh Sidhu from Cavendish in Piccadilly during the England Tour. Both of them were travelling in the Tube when they got into a fight with some lads who sat near them. "There were some punches thrown and, just as we got to a station, I pushed the lad and he fell over. He got up and the next thing I saw was a gun in my face. I thought, my gosh, this is it – my life is going to be over here on this train", he recounts. Thankfully, a girl who saw all these unfold rescued our Dada.
22. THE GREG CHAPTER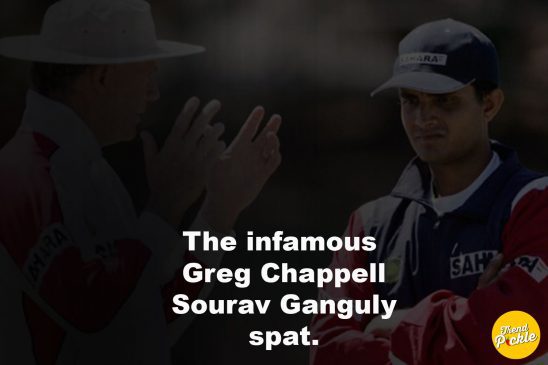 Every Indian cricket fan is aware of the infamous Greg Chappell-Sourav Ganguly spat. But very few know that Chappell was appointed because of active support by the then Indian captain Sourav Ganguly, who had earlier taken batting tips from Chappell during the successful 2003-04 tour of Australia. Ganguly had put forth Chappell's name twice in April 2005, even when other senior members in the national team were not consulted on the matter. We all know what followed after this incident!
23. THE FINAL FAREWELL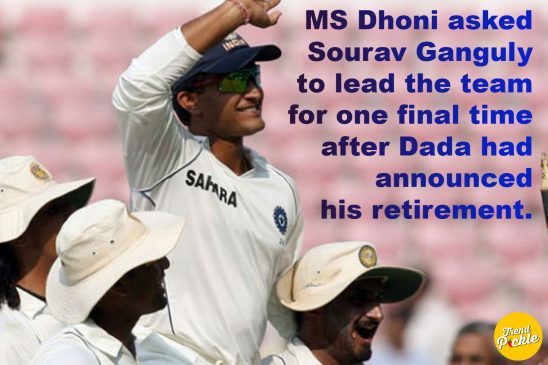 MS Dhoni asked Sourav Ganguly to lead the team for one final time after Dada had announced his retirement post-Australia test match series in 2008. It was Sourav Ganguly who gave MS Dhoni first-ever chance and this is how MS Dhoni's way of respecting Sourav Ganguly. Even after all these years, this moment still remains as one of the most nostalgic moments for all the cricket fans and cricketers.
Even after all these years, the name Sourav Ganguly brings a smile on the faces of Indian Cricket Fans. An able captain, talented cricketer and now a shrewd commentator, our beloved Dada have made a place for himself in hearts of every generation cricket loving Indians.
Do you know any other unknown and interesting facts about Sourav Ganguly, let us know in the comment section!