In this write-up, we are going to see the best documentaries on Netflix right now. The documentary is nothing but using pictures or interviews with people involved in real events to provide a factual report on it. Documentaries connect us all. The element that most viewers lean to drift toward when it comes to documentaries is the quintessence of real life that one obtains from the collection of historical footage, photographs, pre-recorded audio, and sequences of physical excursion.
Through the documentary, we can have the ability to go deeper into a story. Netflix has a plentiful of great documentaries that cover a various range of subjects, from true crime to sports to even filmmaking. Below, we have listed some of the best documentaries on Netflix right now.
1. THE LAST DANCE (2020)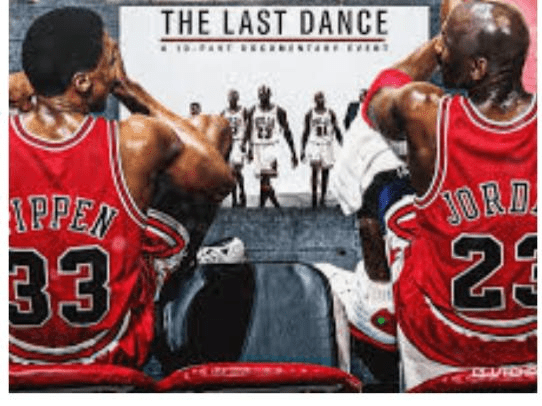 IMDb Rating: 9.1
Director: Jason Hehir
Actors: Michael Jordan, Dennis Rodman, Scottie Pippen, Carmen Electra, Phil Jackson.
The Last Dance is a 2020 American sports documentary directed by Jason Hehir. This documentary gives an account of Michael Jordan's career and the Chicago Bulls, by using never-aired footage from the 1997-98 final season with his team.
Over the course of 10 hours, the story of Michael Jordan's final season with the Chicago Bulls is juxtaposed with the story of his earlier life and career and the careers of his teammates like Scottie Pippen and Dennis Rodman. The flashbacks and forth always keep things interesting. We all for sure amazed at Jordan's skill and drive, because this documentary shows his surprisingly candid moments from one of the greatest athletes to ever live. If you don't really watch basketball, this documentary makes you watch how a man spent his life striving for greatness at all costs.
2. FORMULA 1: DRIVE TO SURVIVE (2019)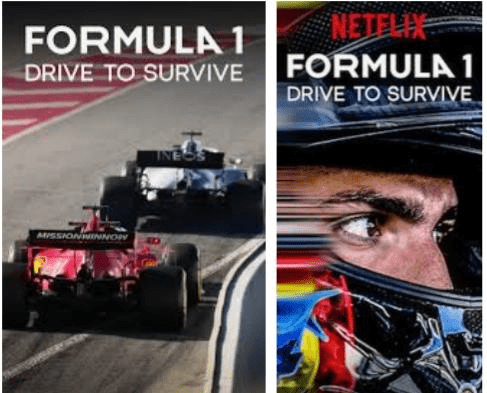 IMDb rating: 8.6
Creator: Formula 1, Netflix
Actors: Daniel Ricciardo, Lewis Hamilton, Charles leclerc, Valtteri Bottas, Sebastian Vettel, Pierre Gasly, Lance Stroll.
Formula 1: Drive to survive is a documentary produced in a collaboration between Netflix and Formula 1 to give a behind scenes at the drivers and races of the formula one World Championship.
This documentary consists of three seasons. The first season covering the 2018 world Championship premiered on March 8, 2019, the second season covering the 2019 world championship premiered on 28 February 2020, and the third season covering the 2020 world championship premiered on 19 March 2021. The first season has unparalleled and exclusive access to the world's fastest drivers, team principles, and owners, as well as formula one's own management team.
The second season includes every team like Ferrari and Mercedes who had not allowed in the first season. The third covered the stories of some drivers such as Daniel Ricciardo's dissatisfaction at Renault and Pierre Gasly's attempts to regain his lost seat at Red bull. It also covered the effects of the covid 19 pandemics on the season.
3. 13th (2016) – Best Documentaries Ever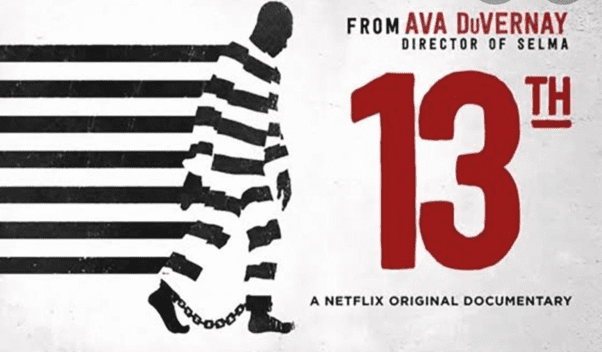 IMDb rating: 8.3
Director: Ava DuVernay
Actors: Angela Davis, Newt Gingrich, Henry Louis Gates Jr., Michelle Alexander, Jelani Cobb, Bryan Stevenson.
13th is a documentary film by director Ava DuVernay. This documentary covers the intersection of racial and mass incarceration in the United States. This is titled after the Thirteenth Amendment to US Constitution, which abolished slavery throughout the United States and ended involuntary servitude.
Ava DuVernay follows up her acclaimed movie Selma with a documentary that looks at the mass incarceration of black people. This documentary points out, it's not just cultural racism that results in the widespread incarceration of African Americans and others. It shows how black people targeted by the media, by the government, and by slavery. This documentary will infuriate you and tends you to action against a system that done harmful to our people.
4. FIVE CAME BACK (2017)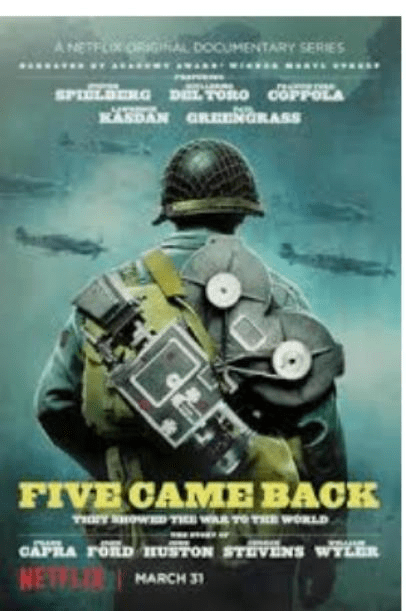 IMDb rating: 8.3
Director: Laurent Bouzereau
Actors: Francis Ford Coppola, Guillermo del Toro, Paul Greengrass, Lawrence kasdan, Steven Spielberg.
Five came back is an American documentary based on the 2014 book Five came back: A story of Hollywood and the Second World War by journalist Mark Harris. This focuses on five directors- John Ford, William Wyler, John Huston, Frank Capra and George Stevens whose war related works are analysed by modern movie makers, Paul Greengrass, Steven Spielberg, Francis Ford, Guillermo del Toro, and Lawrence Kasdan.
These famous directors were teamed up to make various documentaries during the war to rally support, and document terrific experiences. The docuseries is narrated by Meryl Streep and featuring interviews with Steven Spielberg and Guillermo del Toro take a look at their careers before the war, the kinds of films they made for the government during the war, and how it changed their experiences.
5. MY OCTOPUS TEACHER (2020)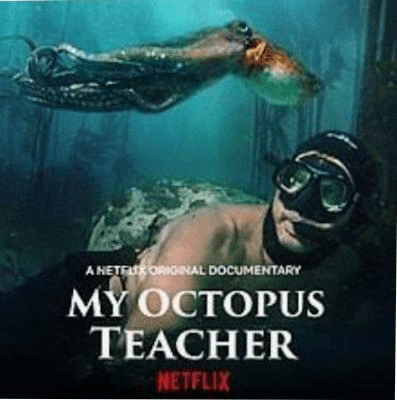 IMDb rating: 8.2
Directors: James Reed, Pippa Ehrlich
Actors: Craig Foster, Tom Foster
My Octopus teacher is a Netflix original documentary film by Pippa Ehrlich and James Reed, which covers a year spent by filmmaker Craig Foster forging a relationship with a wild common octopus in a South African kelp forest.
This is a Lovely documentary that follows filmmaker Craig Foster who goes snorkeling off the coast of South Africa and encounters an octopus. He tries to interact with the octopus every day and learn as much as he can understand about a creature. Through their stunning underwater photography, we see a beautiful and intelligent animal working its way to survive. The film never cheapens the complexity of the underwater world, it gives a visual treat to our eyes.
6. THE KEEPERS (2017)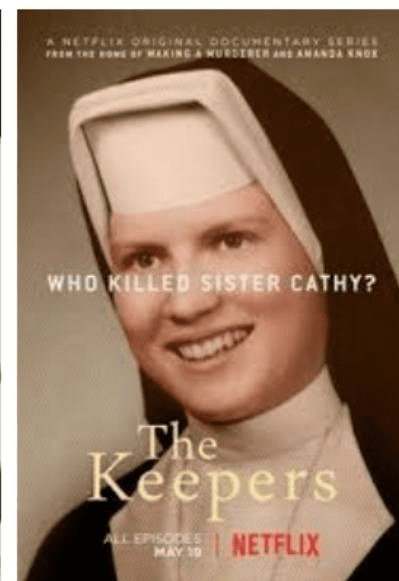 IMDb rating: 8.1
Director: Ryan White
Actors: Gemma Hoskins, Abbie Fitzgerald, Joseph Maskell, Jean Hargadon Wehner, Teresa Lancaster.
The Keepers is a short, seven-episode documentary that explores the unsolved murder case of nun, Catherine Cesnik in 1969. Cesnik taught English and drama at Baltimore's girls Archbishop keough high school.
This documentary shows that the nun, Cesnik may have uncovered horrendous sexual abuse that was going on the all girls school. Specifically, the women came forward with allegations that two priests at the school, especially Father Joseph Maskell, had been forcing female students to perform sex acts on him. The theory, then was that sister Cathy was determined to out and put a stop to the abuse and was murdered in order to silence her.
Then the keepers bring this to light striking, upsetting, but necessary manner. They tell the story and sister Cathy's murder mystery is an emotional one and it paints her as a hero who died trying to do the right thing.
7. ICARUS (2017)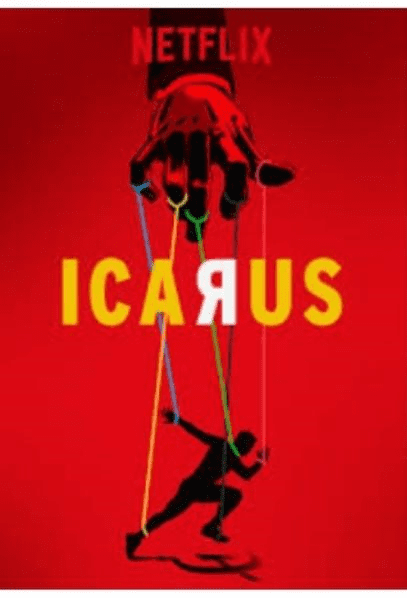 IMDb rating: 7.9
Director: Bryan Fogel
Actors: Bryan Fogel, Grigory Rodchenkov, Dan Cogan, Dick pound, Vitaly Mutko, Don Catlin.
Icarus is a 2017 documentary by Bryan Fogel, which covers Fogel's exploration of the option of doping to win an amateur cycling race and happening upon a major international doping scandal when he asks for the help of Grigory Rodchenkov, the head of the Russian anti-doping laboratory.
This documentary is insane as Bryan Fogel wanted to go on a dosing regimen for the Haute Route to see if he could elude the race's intense drug testing. But as he makes a contact with a Russian expert in doping, he soon becomes embroiled in the athletic scandal history, as his expert turns out to be a mastermind behind Russia's doping of the Olympics. This one is part dark comedy, thriller and it is exciting to watch.
8. UGLY DELICIOUS(2018)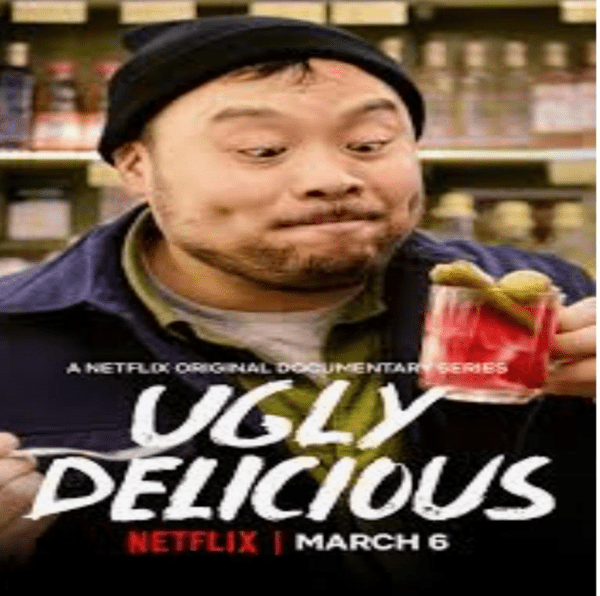 IMDb rating: 7.8
Directors: Eddie Schmidt, Jason Zeldes, Laura Gabbert, Morgan Neville.
Actors: David Chang, Peter Meehan, Aziz Ansari, David choe, Rene Redzepi.
Ugly delicious is a non-fiction original series on Netflix combining travel, cooking, and history. Each episode covers one dish or a concept and explores how it is made in different regions and how it evolves.
The first season covers deep into the foods like Pizza, Barbecue, and tacos as host or executive producer or Chef David Chang explores what makes Pizza a pizza or what technically constitutes a taco. But quickly, the show hit upon the idea of charting culture through food like what does pizza means to people of Italy vs the people ordering delivery? The exploration not just how food changes from place to place, but who people are in each place and why they eat the food, they eat.
The second season explores the theme of parenthood, how displacements affect food culture, and the nature of what a steak diner means to people. But watching this will make you hungry.
9. CONVERSATIONS WITH A KILLER: THE TED BUNDY TAPES (2019)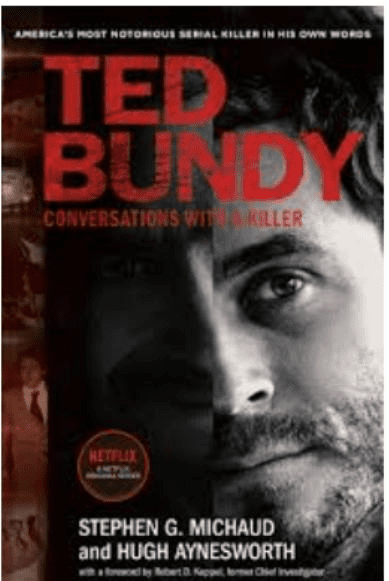 IMDb rating: 7.8
Director: Joe Berlinger
Actors: Hugh Aynesworth, Stephen G. Michaud, Marlin Lee Vortman, Ward Lucas, Ted Bundy.
This documentary aired on Netflix on January 24, 2019, the 30th anniversary of Bundy's execution. These four one-hour episodes were sourced from over 100 hours of interviews and footage of serial killer, Ted Bundy, as well as interviews with his family, friends, surviving victims, and members who worked on his case.
The dangerous serial killer Ted Bundy was unique in that he ultimately didn't confess to his crimes, which includes the murder of at least 30 women before his execution. This documentary pulls from an interview in which Ted Bundy agreed to speak in the third person, analyzing the kind of person who may have committed the crimes attributed to him. The tapes don't provide too much insight, but the documentary does. He interviews only those who interacted with Bundy in person and explores the killer's life and crimes exposing them to the lies Bundy often told about himself.
10. CRIP CAMP (2020)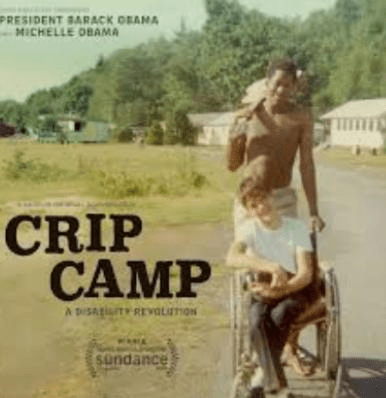 IMDb rating: 7.7
Directors: James Lebrecht, Nicole Newnham
Actors: Judith Heumann, James Lebrecht, Denise Sherer Jacobson, Michelle Obama, Lionel Je Woodyard.
Crip Camp: A disability revolution is a documentary by James Lebrecht and Nicole Newnham. Barack Obama and Michelle Obama serve as executive producers under their productions. It premieres at the Sundance Film Festival where it won the Audience Award.
The documentary shines a light on the individuals who spent more of their adult lives fighting for basic human rights, with many having attended a camp for disabled tends called camp joined in the 1970s. The incredible footage from this camp opens the film, but we then follow the various people we have met as they spend the next few decades passing legislation to make the world accessible for those with disabilities.
This is both inspiring and infuriating to see how tirelessly these people had to push and push and push to affect even the tiniest bit of change.
11. JIM AND ANDY: THE GREAT BEYOND (2017)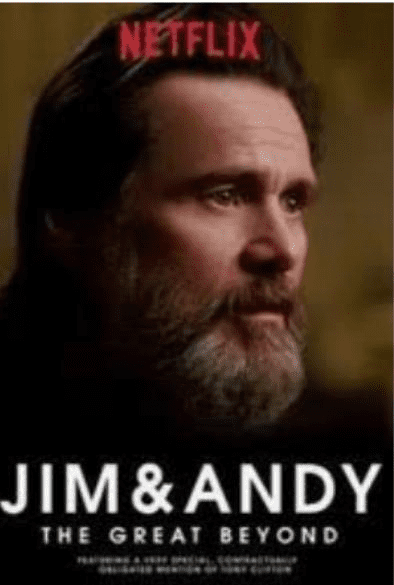 IMDb rating: 7.7
Director: Chris Smith
Actors: Jim Carrey, Milos Forman, Danny Devito, Paul Giamatti.
Jim and Andy: The Great beyond is a documentary that follows actor Jim Carrey as he remains in character as Andy Kaufman during the production of the 1999 film Man on the Moon, directed by Milos Forman.
During the making of the 1999 film Man on the moon, actor Jim Carrey made the decision to go full method into the character of Andy Kaufman. He asked a couple of Kaufman's real-life friends to help document the experience, filming Carrey both on and off set during the difficult shoot. But Universal Pictures prevented the footage.
So this documentary unearths this footage for the very first time. The result is fascinating and it details Carrey's method of acting. This is clear that the Man on the moon affects his life and forever changed how he saw things.
12. TIGER KING: MURDER, MAYHEM, AND MADNESS (2020)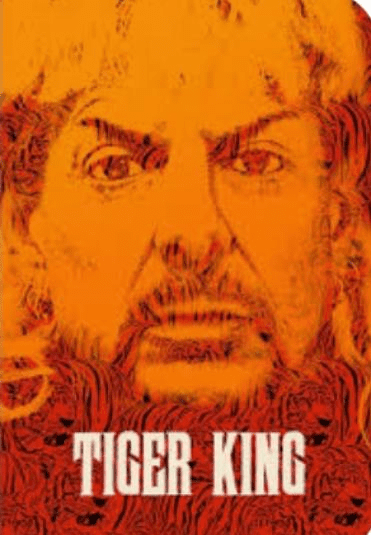 IMDb rating: 7.6
Directors: Eric Goode, Rebecca Chaiklin
Actors: Joe Exotic, Carole Baskin, Jeff Lowe, Bhagavan Antle, Rick Kirkham, Howard Baskin.
This is a true-crime documentary miniseries about the life of zookeeper and convicted felon Joe Exotic. This documentary focuses on the small but deeply interconnected society of big cat conservationists such as Carole Baskin, owner of big cat rescue, and collectors such as Exotic, whom Baskin accuses of abusing and exploiting wild animals.
This seven-episode documentary Tiger King is a crazier one, that you find yourself saying multiple times, well surely things can't possibly get any weirder than this. This documentary follows the exploits of Joe Exotic, a flamboyant and extremely confident owner of a private big cat zoo in Oklahoma. The story of Joe Exotic is stranger than fiction, involving lies, guns, a bid for the US presidency, and a murder-for-hire plot. This is a thing that must be seen to be believed.
13. HIGH SCORE (2020)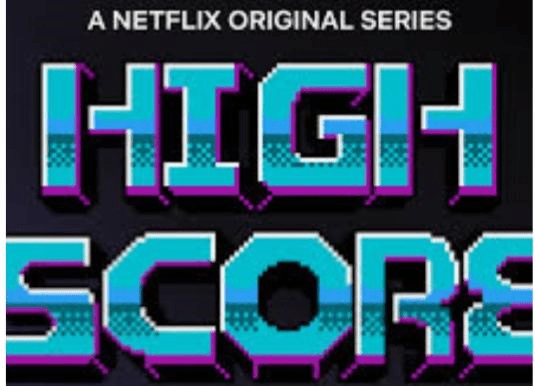 IMDb rating: 7.4
Directors: William Acks, Sam La Croix, France costrel, Mellissa Wood.
High score is a documentary created by France costrel. This features stories and interviews with the developers and creators of early video games in the 1980s and 1990s.
This is a six-episode documentary and one of the best documentaries Netflix has made thus far. This is a deep look at the original story of video games as we know them, as told by people who made them. This begins with a deep dive into the swift from arcade games to in-home consoles and explores everything from the game-changing arrival of the NES to how Sega built a strategy to challenge Nintendo. This is far more in Depth and candid than you are likely expecting.